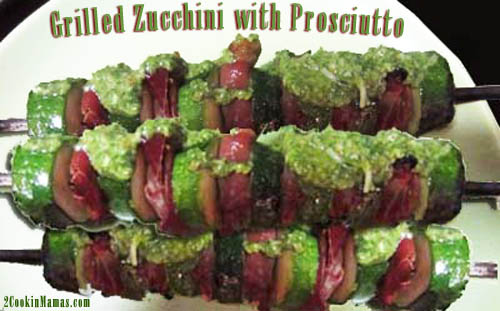 Friday night is a great night to light up the grill and make something delicious and easy. This vegetable and and Prosciutto dish, adapted from a recipe by Giada De Laurentiis, is great to serve as a main dish, side dish or appetizer. The lemon basil pesto just puts it over the top. Enjoy!
Grilled Zucchini with Prosciutto & Lemon Basil Pesto
Prep Time: 15 minutes Cook Time: 10 minutes Total Time: 25 minutes
Ingredients:
Skewers:
Pam or other non-stick spray
3 zucchini
6 thin slices prosciutto
2 Tablespoons olive oil
4 long metal or 6 wooden skewers
Pesto:
2 cups packed basil leaves
⅓ cup toasted pine nuts
2 Tablespoons lemon juice
½ teaspoon minced garlic
salt & pepper to taste
⅓ cup olive oil
⅓ cup Parmesan or Pecorino-Romano cheese, grated
Directions:
Preheat grill. You will need to spray grill with Pam or other non-stick spray just prior to cooking skewers so they don't stick.
Lemon Basil Pesto:
Make the pesto first and store in refrigerator until ready to use. First toast the pine nuts. Preheat oven to 350 degrees. Place pine nuts on cookie sheet and bake in oven for 5 minutes. Let cool.
In a food processor or a blender, pulse basil, pine nuts, lemon juice, garlic, salt and pepper until chopped fine. Gradually add the oil as the machine is running until the mixture looks smooth. Add cheese and stir well.
At this point, if using wooden skewers, soak them in water for 30 minutes to prevent burning.
Grilled Zucchini Skewer prep:
To prepare zucchini and prosciutto, wash then slice zucchini into ½" wide rounds and cut prosciutto into fourths. Begin threading onto skewers starting with a slice of zucchini then a folded piece of prosciutto. Place 5 pieces of zucchini and 4 pieces of prosciutto on each wooden skewer, slightly more on a metal skewer. Drizzle with olive oil and place on hot grill for 5 minutes, turning occasionally.
Place on serving plate and brush with pesto. Serve additional pesto on the side for dipping.
Serves 2.
Note: Use Pecorino-Romano cheese to make this a cow dairy-free meal.