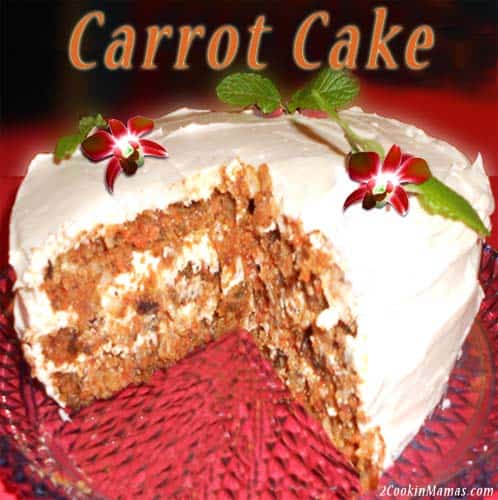 It's my husband's birthday today and I made his all-time favorite dessert – Carrot Cake! When I made this recipe the first time (years ago) it knocked everybody's socks off it was so good. This is an awesome cake with multiple layers of moist goodness and a rich cream cheese frosting. Now it has become a favorite of the whole family and my grandson says that it would be Bugs Bunny's favorite too!
The Best Carrot Cake
Ingredients:
Cake
2 cups King Arthur All-Purpose flour
2 teaspoons baking soda
1/2 teaspoon salt
2 teaspoons ground cinnamon
3 eggs
2 cups sugar
3/4 cup vegetable oil
3/4 cup buttermilk (make buttermilk by mixing 1 cup of milk w/ 1T lemon juice and let stand for 5 min)
2 teaspoons vanilla extract
2 cups grated carrots
1 8-oz can crushed pineapple, drained
3-1/2 ounces flaked coconut (optional)
1 cup pecans or walnuts, finely chopped for batter
Buttermilk Glaze
1 cup sugar
1-1/2 teaspoons baking soda
1/2 cup buttermilk
1/2 cup butter
1 Tablespoon light corn syrup
1 teaspoon vanilla extract
Deluxe Cream Cheese Frosting
12 ounces cream cheese
3/4 cup butter
16 ounces powdered sugar + extra for right consistency
1-1/2 teaspoons vanilla extract
Directions:
Cake
Preheat oven to 350 degrees. Grease three 8″ or 9″ round cake pans then line the bottom with parchment paper. Set aside.
In a medium bowl, sift together flour, baking soda, salt and cinnamon.
In a large bowl, beat eggs then add sugar, oil, buttermilk and extract and continue to beat until creamy and smooth. Add in dry ingredients and continue to beat until well blended.
Fold in carrots, pineapple, coconut and nuts. Pour into prepared cake pans.
Bake in oven for 25-35 minutes or until toothpick in center comes out clean.
Buttermilk Glaze
White cake is cooking, in a medium saucepan, add all ingredients for glaze except for vanilla. Bring to a boil and let boil for 4-5 minutes, stirring constantly. Remove from heat and add vanilla. Let cool for 5 minutes.
When cake is removed from oven pour glaze over each cake pan. Let cake cool in pan for 20 minutes then invert onto wire racks. Remove parchment paper and return to pan so the glaze is on the top. Let cool completely on wire racks. Store covered until next day. (you want them to be slightly dried out when you begin frosting)
Frosting
Make sure cream cheese and butter are at room temperature. Beat both well until smooth. Continue to beat as you add sugar until fluffy. Stir in vanilla extract. (Here you can add additional confectioner's sugar (to make stiffer) or a little milk (to make creamier) to get the icing to the right consistency.)
To assemble
Place one cake layer on serving platter. Frost with cream cheese frosting. Add next layer and repeat. Finally add 3rd layer and frost top and sides. Decorate creatively with flowers, fruits and/or coarsely grind 1-2 cups pecans or walnuts and press into sides of cake.
Store in refrigerator.
Note: You can also make in a large 9×13-inch baking dish and increase cooking time to 40-45 minutes. My husband actually prefers it this way as it gives him more of the carrot cake in one bite rather than so much icing.