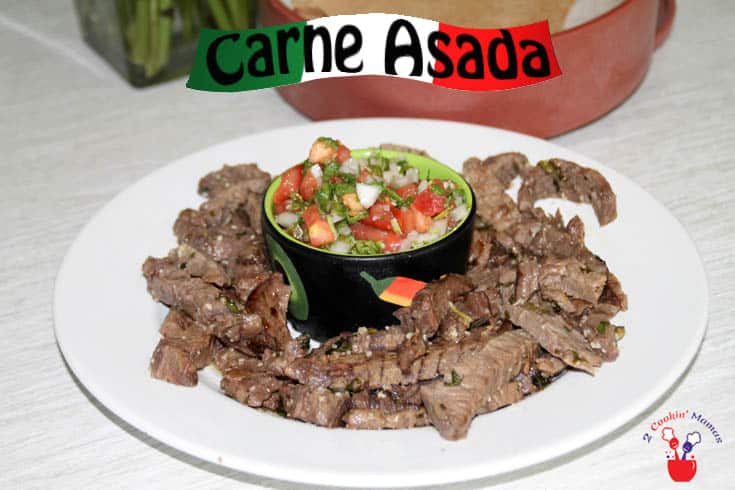 In Mexican cuisine, carne asada means "grilled beef", though any type of dry heat cooking may be used, and is made from a thin marinated skirt steak. In my case, I wanted to use up some leftover standing rib roast that I had made over the weekend (I know you are saying what? leftover prime rib? – that is almost unheard of) so I adjusted a recipe I found online and it came out so delicious that I wish I had more leftovers! I also made a pico de gallo to go with it which was like the icing on the cake – oh it was so gooood!
Carne Asada
Ingredients:
1-1/2 pounds beef, skirt steak or left-over prime rib
Mojo Marinade
(original recipe by Tyler Florence)
2 teaspoons minced garlic
1 jalapeno, chopped
1/2 cup fresh cilantro, chopped
salt & pepper to taste
1/4 cup bottled lime juice
1/4 cup prepared orange juice
2 Tablespoons vinegar
1/2 cup olive oil
Pico de Gallo
4 tomatoes, chopped small
1/2 onion, chopped small
1 jalapeno pepper, chopped small
1 Tablespoon lime juice
1/2 cup fresh cilantro, chopped fine
1-1/2 teaspoons minced garlic
salt & pepper to taste
1 Tablespoon olive oil
Directions:
Cut the beef into long thin strips. Mix all the mojo sauce ingredients together and place meat and sauce in resealable zippered bag. Marinate in refrigerator for at least 1 hour.
Make pico de gallo by mixing all ingredients together then let sit in refrigerator for at least 30 minutes.
Just before serving, heat or cook the beef up quickly in a skillet and serve with warm tortillas (use a gluten free version for a delicious gluten-free meal), grated cheese and the pico de gallo.
Serves 4-6.
Wine Pairing: Stick with a full-bodied red wine that has jammy or fruity characteristics such as a Zinfandel, Malbec or a Rioja.