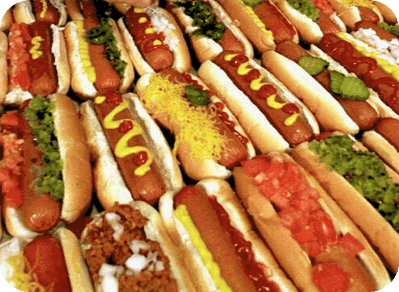 OK, that is one strange title but I thought it would be fun to tie in my wine posting with National Hot Dog Day (and incidentally National Hot Dog Month) and see where it took me.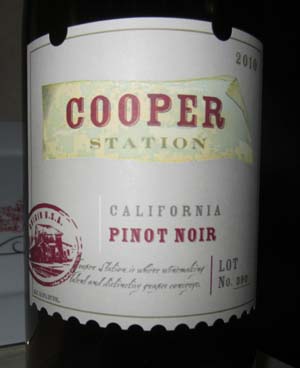 There are three perfect choices for those lovely grilled dogs, plain or with just a little mustard and sauerkraut on top, and they are Rose, Pinot Grigio and Pinot Noir. All are full of fruitiness and crispness that compliment the sausage itself as well as the sour character of the sauerkraut. So this week I bring a delicious and inexpensive Pinot Noir to your attention that goes perfectly with your outdoor barbecue.
And a little extra info for those that like their favorite dogs in other than the classic style.
Chicago-style dogs – stick with a light to medium-bodied crisp white wine that matches the saltiness of the pickles and peppers and choose a Riesling or Sauvignon Blanc.
Chili dogs – opt for a full-bodied Zinfandel or Shiraz that helps cool down the spiciness and cut through the fat.
2010 Cooper Station Pinot Noir
A wonderfully crisp medium-bodied wine with musky floral aromas and smooth berry flavors of cherry, strawberry and blueberry. Notes of spice, cloves and herbs give this Pinot Noir a nice complexity and the hint of toasty oak adds just the right touch. It is a great wine for your backyard barbecue that can hold its own against many of the pricier brands.
Price Range: $9.99-$14.99

Rating: 4 out of 5