2011 Ferrari Carano Fumé Blanc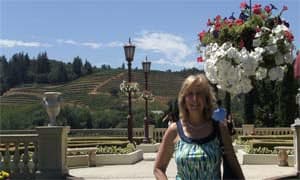 I had the chance to visit Ferrari Carano winery while vacationing with my husband in Sonoma County and it is well worth a stop if you are ever in the area. Healdsburg is a beautiful area and well out of the hustle and bustle of Sonoma/Napa area. They have the most beautiful gardens and their wines are some of the best I have had. Take advantage of the Reserve Tasting Room as the wines will outshine anything else you have on the wine trail.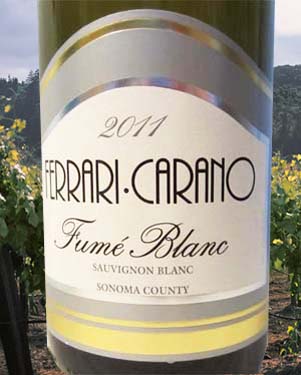 This particular vintage was chosen as one of the top Sauvignon Blanc favorites in the 23rd annual restaurant poll. This light and refreshing wine offers up aromas of lime, citrus and honeydew with just a touch of spiciness and flavors of grapefruit, pineapple and lime. Its finish is wonderfully fresh with the tang of citrus and lingering notes of mango and guava.
The wine is fermented in stainless steel tanks which gives the wine its crispness and the barrel aging in oak lends it some depth and complexity.
Definitely one to stock up on and a great wine for the price.
Food pairing: As a light wine it pairs well with many seafoods such as oysters, mussels, bacon-wrapped scallops, crab-stuffed mushrooms and sole. It also compliments poultry dishes, pastas with cream sauces as well as spicy Asian and Mexican cuisine.
Price Range: $9.49-$15.99

Rating: 3.5 / 5 corks
Check out these Ferrari Carano wines on wine.com.