Disclosure: These healthy turkey chilaquiles, from Jennie-O & Biggest Loser, are easy to make, nutritious & low in calories. Great for a healthy breakfast, lunch or dinner. I received complimentary coupons for Jennie-O turkey products in order to make this recipe. As always, all opinions are 100% my own.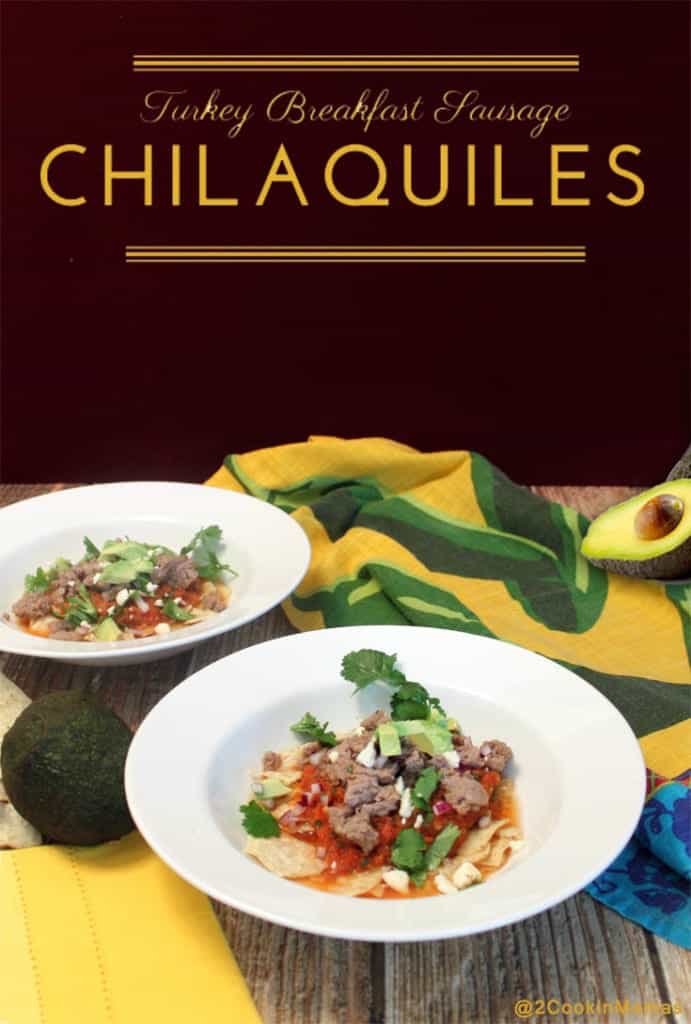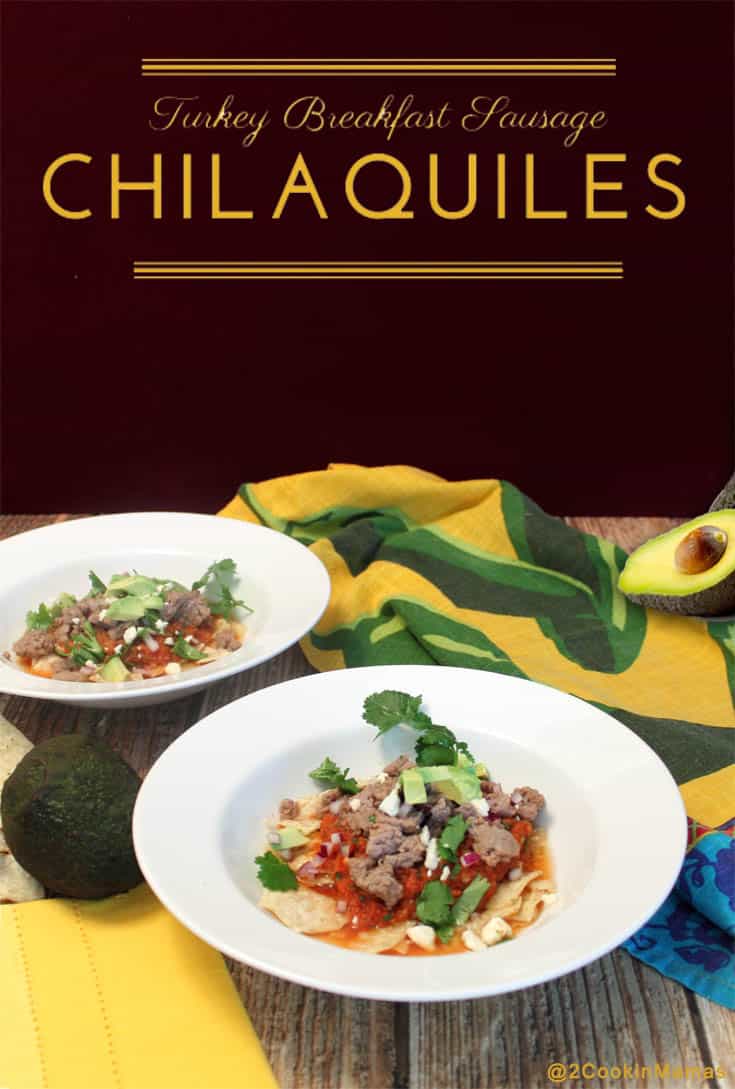 OK, it's February, how many of you are still sticking to your resolutions on achieving a healthier lifestyle? If you are in the majority, you are with the 80% that gave up, thinking it was just too much of a hassle to eat healthy and make those important changes.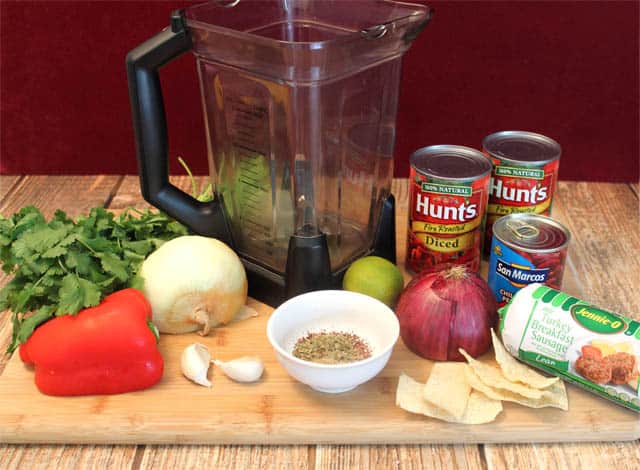 The trainers on NBC's The Biggest Loser see this all the time and suggest making small changes with realistic benchmarks in order to accomplish your goal. This recipe for Turkey Breakfast Sausage Chilaquiles, created by The Biggest Loser chef Cheryl Forberg RD, teaches us all that making healthy dishes can be easy and delicious. This dish has plenty of flavor, is nutritious and, the best part, low in calories too thanks to Jennie-O's turkey products! What more could you want?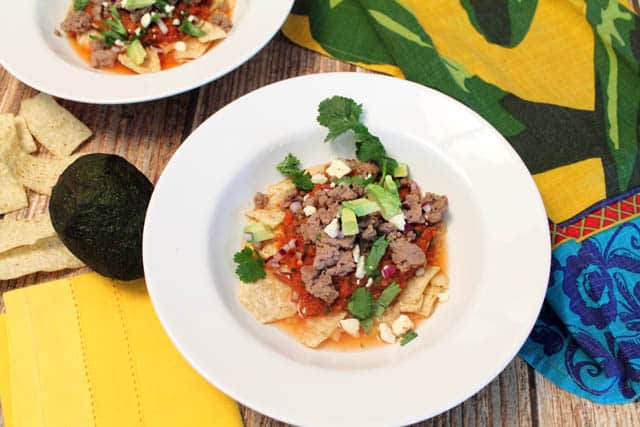 Trainer Jen Widerstrom demonstrated how to make these breakfast chilaquiles on a recent episode but, as Jen suggested, I made it for a quick lunch and would definitely eat it for dinner.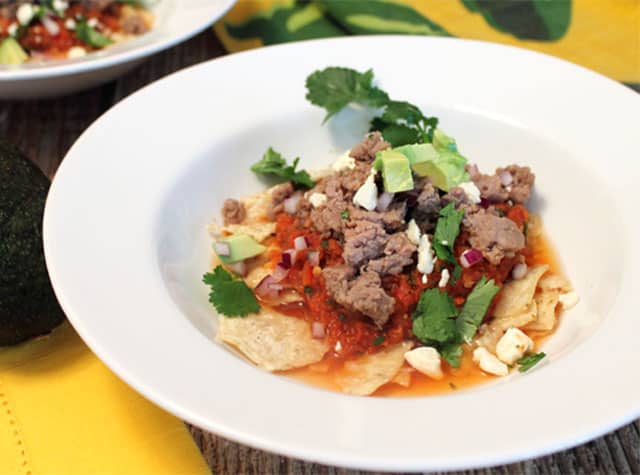 Now I bet you are wondering what in the heck is a chilaquiles! Well it a typical Mexican dish where salsa, either red or green or you can opt for pureed black beans, is poured over crispy tortilla chips. They traditionally make it into a breakfast dish by adding eggs into the salsa towards the end of cooking time, but our recipe today adds turkey breakfast sausage for that much needed protein.
The entire recipe was so easy, came together quickly, and the sauce was absolutely amazing. I will honestly tell you that it tastes like it's got a lot more calories than it does. That's a win-win! The only change I would make would be to spice it up a bit more with some jalapenos. I am definitely keeping that sauce recipe for future Mexican dishes – it was awesome!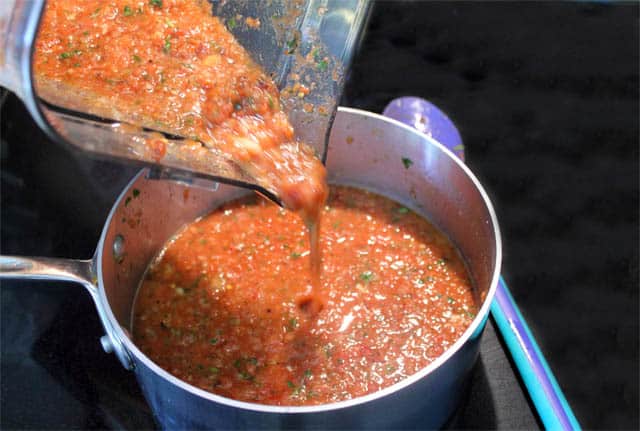 I hope you get to try this tasty, low-cal spin on a Mexican favorite and, while you're at it, check out other recipes from Jennie-O and The Biggest Loser.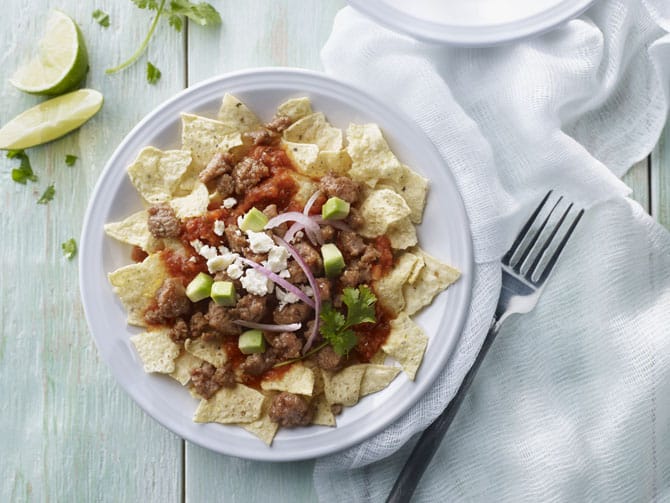 Turkey Breakfast Sausage Chilaquiles
Prep time: 20 mins  Total time: under 30 mins
Ingredients:
Sauce
2 (14.5-ounce) cans diced fire roasted tomatoes
1 cup chopped onion
1 roasted red bell pepper
1 cup fat-free low-sodium chicken broth
¼ cup chopped cilantro
1 tablespoon fresh lime juice
2 teaspoons chopped garlic
½ teaspoon chili powder
½ teaspoon ground mustard
½ teaspoon dried oregano
½ teaspoon ground cumin
1 tablespoon chipotle chili in adobo sauce, if desired
salt and pepper, if desired
Chilaquiles
1 (16-ounce) package JENNIE-O® Lean Mild Turkey Breakfast Sausage Roll
48 baked corn tortilla strips
½ cup thinly sliced red onion
¼ cup crumbled low-fat feta cheese
¼ cup chopped fresh cilantro
1 medium avocado, died or ½ cup guacamole, if desired
Directions:
Sauce
In bowl of food processor or jar of a blender purée all sauce ingredients until smooth. Pour into a 2 quart sauté pan, simmer sauce, stirring, 3 minutes and season with salt and pepper, if desired.  Keep warm. (Sauce may be made 2 days ahead and chilled, covered.) Yield 6 cups.
Chilaquiles
Cook turkey sausage as specified on the package.  Always cook to well-done, 165°F as measured by a meat thermometer.  Set aside.
Assemble Chilaquiles in shallow dishes or soup bowls. Crumble 6 tortilla chips into each bowl.  Top with ¾ cup very hot sauce. Sprinkle with ¼ cup turkey sausage crumbles.  Garnish with onion, feta cheese, cilantro and avocado, if desired.
Serves 8.
**Be sure to follow us on your favorite social media!