2010 Val Do Sosego Albarino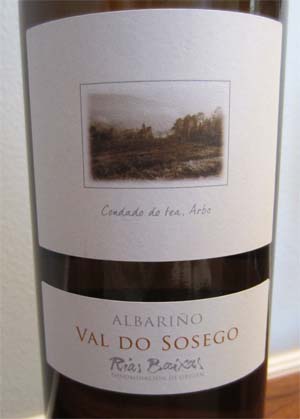 Albarino is a fantastic white wine that is just starting to gain popularity in the United States and it is the perfect wine for hot summer days.
Grown in the Galicia region of Spain, the Albarino is a white grape variety that grows small and sweet with very thick skins that contribute to its acidity and flavor. The best known Albarino wines are from the Rias Baixas area, as is this particular wine, although many other Spanish regions have begun taking more of an interest in this particular grape.
This Albarino is a light straw colored wine that has a crisp, lemony aroma with subtle hints of apple and vanilla, bringing to mind a lovely spring day. Its fresh flavors of apple, citrus, pineapple and a little pepper are wonderfully clean and refreshing. A wonderfully vibrant wine to stock up on. It is now my new summertime favorite.
Food Pairing: This wine is very versatile and can pair with any number of dishes. Pair it with the classic match of fish, seafood and sushi or, with Albarino's low alcohol content and fruit flavors, with spicy and flavorful international dishes from India, Thailand and its own regional Spanish dishes.
Price Range: $12.99-$14.99

Rating: 4 out of 5 corks
Check out these Albarinos on Wine.com.