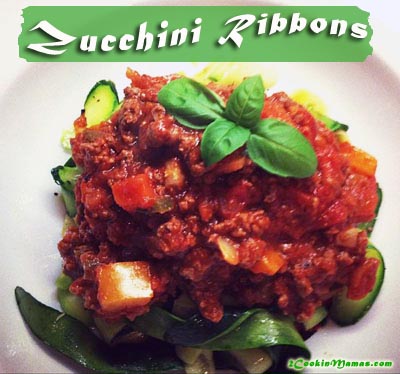 There are great benefits from cutting a little meat out of our diet. These include less fat intake, fewer calories and a lower risk of heart disease and when we substitute lots of fresh leafy vegetables and whole grains we enrich our diet with vitamins, fiber and many other important nutrients that can lead to a healthier, longer life.
Try this fantastic recipe made with zucchini instead of pasta and a wonderful tomato-basil pasta sauce. I also included a link to a Bolognese meat sauce for those that just can't give up  meat.
Zucchini Ribbons with Pasta Sauce
Ingredients:
4 zucchini, washed
4 cups fresh tomatoes, chopped (or 1 28-oz can crushed tomatoes & 1 28-oz can diced tomatoes)
1 Tablespoon olive oil
1/4 cup onion, chopped
4 cloves garlic, chopped
1/2 cup fresh basil, chopped
1/2 cup red bell pepper, chopped
salt & pepper to taste
Directions:
Zucchini:
Using a vegetable peeler, slice the zucchini into thin ribbons. You could also use a slicer that comes on the side of most cheese graters. Blanch the zucchini in salted water by bringing a large pot of water to a boil, dropping in the ribbons, and letting it cook for 1 minute. When time is up immediately drop into a bowl of ice water to stop the cooking and leave for 1 minute. Drain then toss with preferred sauce such as this tomato-basil or primavera sauce and serve with a side of grated cheese.
Sauce:
In a large saucepan, heat olive oil and saute onion and garlic until golden, about 5 minutes. Add in chopped tomatoes (if you like smoother sauces they can be pureed in blender), basil, bell pepper and salt & pepper to taste. Simmer for 30-45 minutes then serve over zucchini ribbons or whole wheat pasta with a side of grated Parmesan cheese.
For all you meat lovers, here is a link to a delicious bolognese sauce from food.com  http://www.food.com/recipe/real-italian-bolognese-sauce-83950
Wine Pairing: The best wines to pair with this light acidic recipe are either a Sauvignon Blanc, such as Slingshot Sauvignon Blanc, or a Pinot Grigio (Kris Pinot Grigio is one of our favorites), both having the mild acidity that blends well with the tomato sauce. If you are into reds only, you might want to try a light Pinot Noir which has its own light acidity and shouldn't overwhelm the dish.
Note: The best utensil, and one of the most popular, to use to make the zucchini ribbons is the Swissmar Borner V-1001 V-Slicer Plus Mandoline
. I don't know what I would do without mine!