My husband is such a special guy and made my Mother's Day so wonderful. It was the first year in a long time with none of our kids nearby, who I really miss, but he showered me with attention and showed off his best cooking skills in the kitchen while I got to relax.
Since we had a late breakfast he thought an appetizer mid-afternoon would suffice before the awesome dinner he had planned - Steak and Scallops with Champagne Butter. That one is coming up on Sunday so don't forget to check back for the delicious recipe.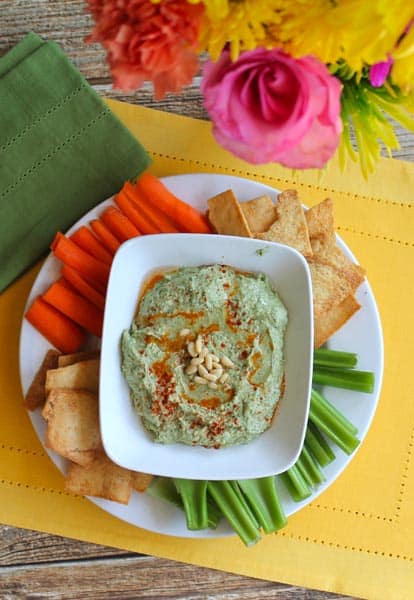 He certainly knows me well when he picked out this recipe for hummus. He knew how important it was to me to serve healthy appetizers and meals and managed to incorporate one of my favs in the mix - kale.
Do you know how good kale is for you? Kale is a low calorie super food, about 40 calories per cup, containing 3 grams of protein, plenty of fiber, and a boatload of  vitamins, such as A,C & K, as well as minerals like potassium, iron, manganese and phosphorus. Eating kale helps maintain healthy skin & hair, strong bones, aids in digestion and lowers blood pressure and the risk for heart disease and stroke. What more could you want from a simple leafy vegetable? Yum!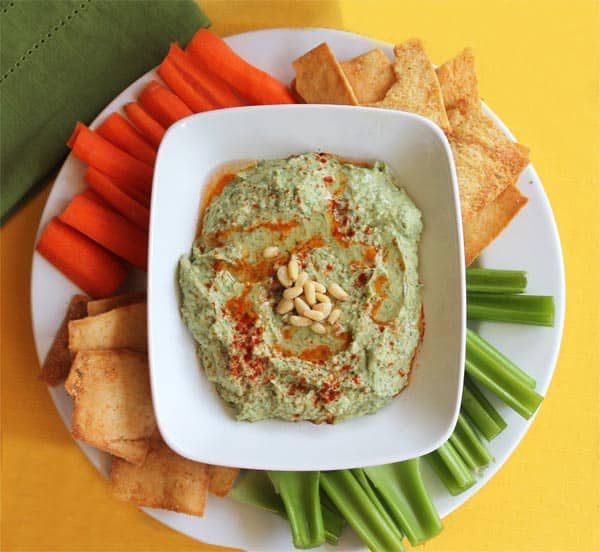 He also knows how much I adore garlic, and as long as he is eating it with me, the more the merrier. And didn't he plate it beautifully too? I must be rubbing off on him. 🙂 It was really one delicious & impressive appetizer! I know you'll enjoy it as much as I did.
Oh, and by the way, it is gluten-free too for all our gluten-free friends out there. May is Celiac Awareness Month so do your part and make sure you always fix something for them to enjoy at a party you host.
If you try making it, please leave a comment as I would love to know what you think.
White Bean, Roasted Garlic & Kale Hummus
Ingredients:
7 cloves garlic
1 14-oz can white cannellini beans, drained and rinsed
1 cup baby kale leaves, tightly packed
¼ cup tahini
2 Tablespoons lemon juice, about 1 lemon
2 Tablespoons olive oil
½ teaspoon salt
2-3 Tablespoons water
Olive oil
Smoked Paprika
Pine Nuts
Dippers - celery, carrots, cucumbers, pita chips, pita bread
Directions:
Wrap garlic cloves, skin on, in aluminum foil. Seal and roast in 400 degree oven for 20 minutes. Remove, open foil carefully and let cool slightly.
In a food processor, add beans, kale, tahini, lemon juice, olive oil and salt. Puree until smooth. Add water until it reaches desired consistency, one that is thick and spreadable.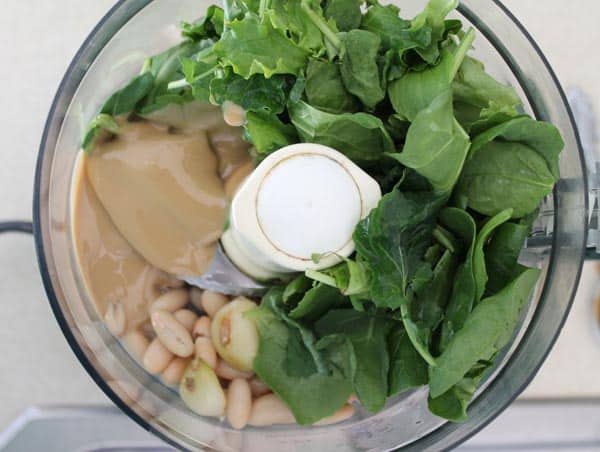 Place in sealed container in refrigerator until ready to serve.
When ready to serve, drizzle with olive oil, sprinkle with paprika and place a small mound of pine nuts in the center. Serve with fresh veggies, such as celery, carrots, broccoli and cucumber, or pita chips.
Note: Hummus will keep up to 3 days in refrigerator or 1 month when frozen.
DON'T MISS A RECIPE!