I first had this at a neighbor's house and was so impressed that I had to ask where he bought it and stock up on some myself. This is a wonderfully delicious wine for that special occasion and one that won't make a big dent in your wallet.
2007 Bodega Norton Privada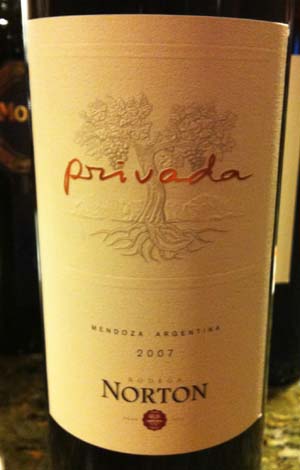 A fruit-forward Malbec/Bordeaux blend from Argentina with just the right amount of spiciness and minerals. Comprised of 40%Malbec, 30% Cabernet and 30% Merlot it is the perfect combination that is both well balanced and full-bodied. Aromas of blackberry, raspberry, chocolate and smoke greet your nose and upon first sip you will be met with flavors of cherry, dark fruit and toasty oak along with a naturally smooth, slightly chocolatey finish.
A great wine for the money. Decant prior to serving to enhance aromas and flavors.
Food Pairing: Pair this wine with steak, braised or barbecued beef, game, lamb, Mexican, Italian or other spicy ethnic foods as well as bratwurst and other hearty meats. Truly a versatile wine!
Price Point: $19.99
Rating: 4 out of 5