I know you are saying – A MERLOT – that is so out of fashion, but it still remains a classic grape that produces some wonderfully delicious wines. Did you know that it is still the most widely planted grape in the Bordeaux region of France? And the French know something about wine! So give this one a try, you won't be sorry.
2011 Blackstone Merlot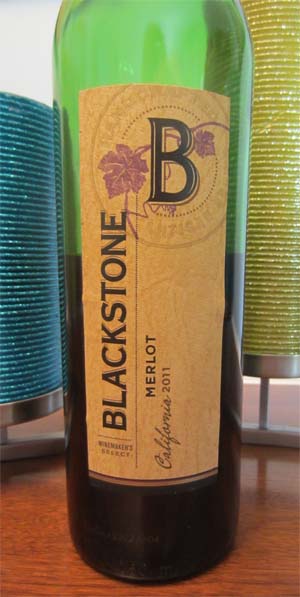 This wine is a blend of several different grapes, predominantly Merlot at 82%, followed by 4% Petite Sirah, 10% Syrah, 2% Cabernet, 1% Cabernet Franc and 1% Rubired. The grapes for this wine are blended together from many of the high quality wineries across central and southern California.
The wine itself is deep red in color with aromas of dark cherry, plum, spicy pomegranate and a rich earthiness. I liked this wine because it was on the dry side and very delicate with cherry and plum flavors and that wonderful hint of vanilla. The finish was pleasant, a lingering crispness with a slightly tangy bite . It is an easy to drink wine and a great value at under $10 and one I will definitely stock up on for my everyday wine.
Food Pairing: Merlot is very much like a Pinot Noir in that it pairs with almost any meal. Serve with dinners of Italian spaghetti and lasagna, pork and veal roasts, dishes with heavier cheese sauces and even barbecue.
Price: $7.99
Rating: 4 out of 5