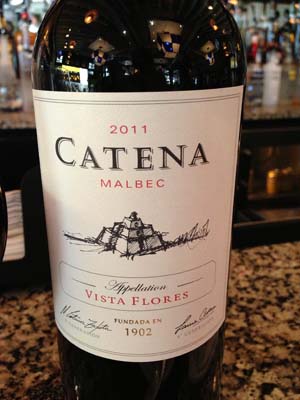 This past weekend I celebrated my wedding anniversary and on Saturday my husband and I stopped by Legal Seafood for a late afternoon drink and appetizer. We both decided to try one of the bartender's recommendations, the 2011 Catena Malbec, Vista Flores. It was a great decision as this wine was not too dry like a Cabernet and not too light like a Merlot.
Catena Malbec is a medium to full-bodied red produced in the Mendoza region of Argentina known for their Malbecs, Cabernets, Syrahs and Tempranillos. This particular wine was a nice dark ruby color, had a slightly peppery nose and flavors of rich plum and blackberry with hints of mocha, fennel and vanilla on the finish.  It was well-balanced and pairs well with many different foods. We thoroughly enjoyed it along with our hot crab dip and wonton appetizers. I will definitely look for this malbec next time I shop for wines and stock up with a bottle or two.
Food Pairing: Malbec is a very versatile wine which can accompany lean meats, lamb, pork , spicy dishes from Mexico, India, Thailand or Italy as well as the sharper, harder cheeses.
Price Average: $15  
Rating: 4 out of 5