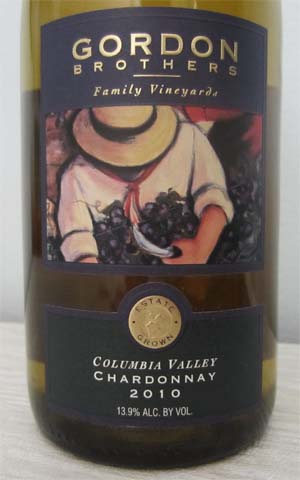 I love trying new Chardonnays, especially in the summer when I want something light and refreshing, and this 2010 Gordon Brothers Family Vineyards Chardonnay really hits the mark.
The wine is comprised of 100% Chardonnay grapes and produced in the oldest estate winery in Washington state, and let me tell you, it is absolutely fabulous! Upon opening, you will be greeted with aromas of apples, pear and melon as well as some toasty floral notes. On your first sip, you will find a wonderfully complex wine with flavors of butterscotch, or maybe it's caramel, tangerine and pineapple and a rich, smooth, lingering finish. A great wine to stock up on and enjoy during the heat of summer.
Food pairing: An excellent wine to accompany turkey, fish, pork, cream-based pasta sauces, salads and a variety of cheeses.
Price: $14.99
Rating: 4 out of 5