Print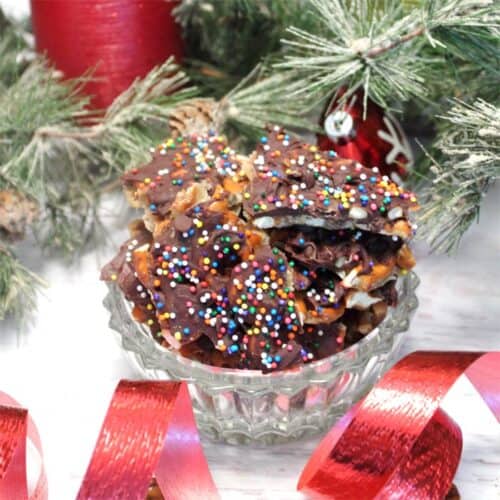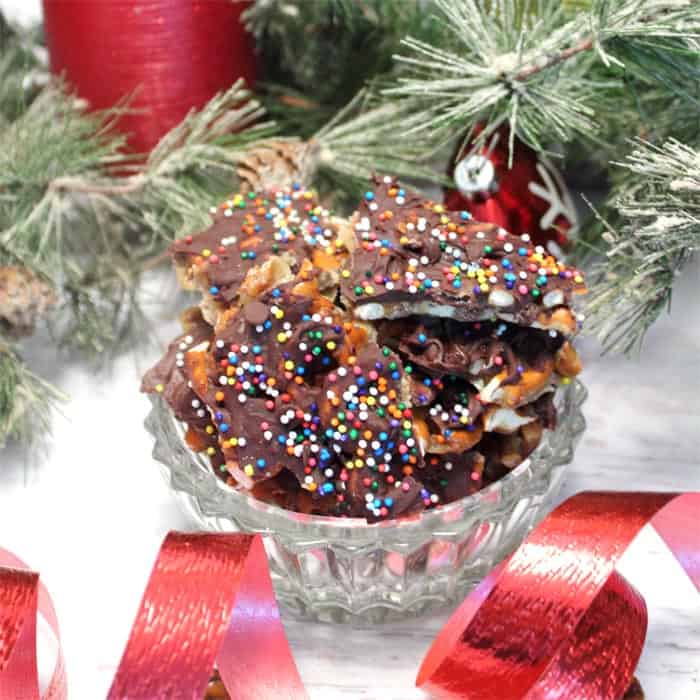 CHRISTMAS BARK AKA CHRISTMAS CRACK
Chocolate, caramel and pretzels combine to make this easy, deliciously crunchy & addictive snack. Great for holiday gifts too!
8

oz.

mini pretzels

1

cup

butter,

2 sticks

1

cup

light brown sugar,

packed

2

cups

semi-sweet chocolate chips

(or I used a combination of semi-sweet and dark chocolate chips)

Colored sprinkles
Preheat oven to 400 degrees. Spray a large cookie sheet, with sides, with nonstick cooking spray. Make sure it covers every nook & cranny.

Break up the pretzels and spread in an even layer on the bottom of the cookie sheet.

In a small saucepan, heat butter and sugar to boiling, stirring to combine. Once it starts a rolling boil, stop stirring, and let it cook for 3-5 minutes. It will start to foam up as it reaches the correct temperature.

Pour the caramel (butter-sugar mixture) evenly over the pretzels. Don't worry if there are little spots it didn't cover as it will spread in the oven.

Place cookie sheet in oven for 5 minutes. Remove and immediately sprinkle chocolate chips over the top. Let sit 3-5 minutes to soften the chocolate then spread evenly over the top with a silicone spatula. Immediately sprinkle with colored sprinkles if you like.

Place in refrigerator to help it set faster. Once it hardens, take out and crack into pieces. Store in airtight container in the refrigerator.