Print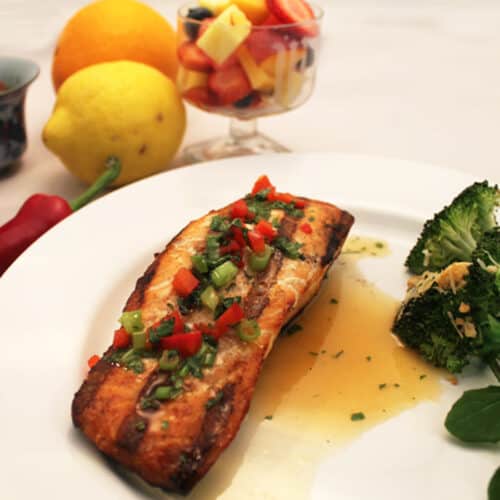 GRILLED SALMON with SPICY ORANGE SAUCE
A simple grilled salmon fillet spiced up with a sweet & tangy sauce. Serve it over brown rice with a side of broccoli for the perfect healthy dinner.
In a small saucepan over medium high heat, bring the orange juice, sake, soy sauce, garlic, orange marmalade, cayenne, chili sauce, lemon zest, rice vinegar and coconut to a boil. Reduce heat and simmer for 10 minutes or until the sauce has been reduced by about 1/3.

Strain mixture, rinse pan and return sauce to pan. Cover and keep warm while grilling salmon.

Preheat grill. Place salmon directly on grill and cook for 7-8 minutes per side, turning halfway through.

During last 2 minutes of cooking fish, turn up heat on saucepan and add red pepper, cilantro and green onion and warm until heated through.

Plate fish and drizzle sauce over fish. Serve immediately.
This sauce will work with any fish - mahi-mahi, swordfish, grouper, etc