Print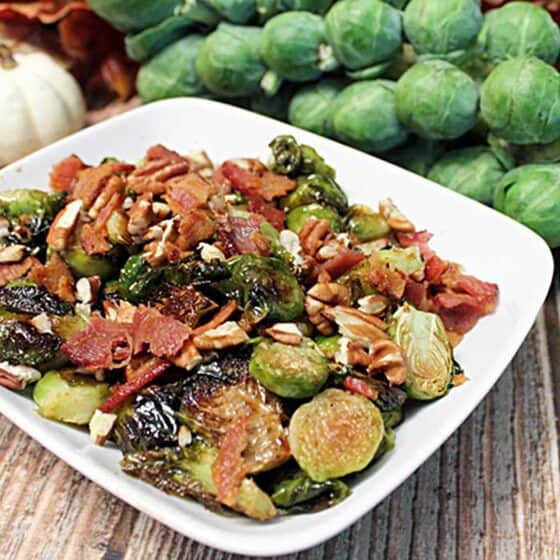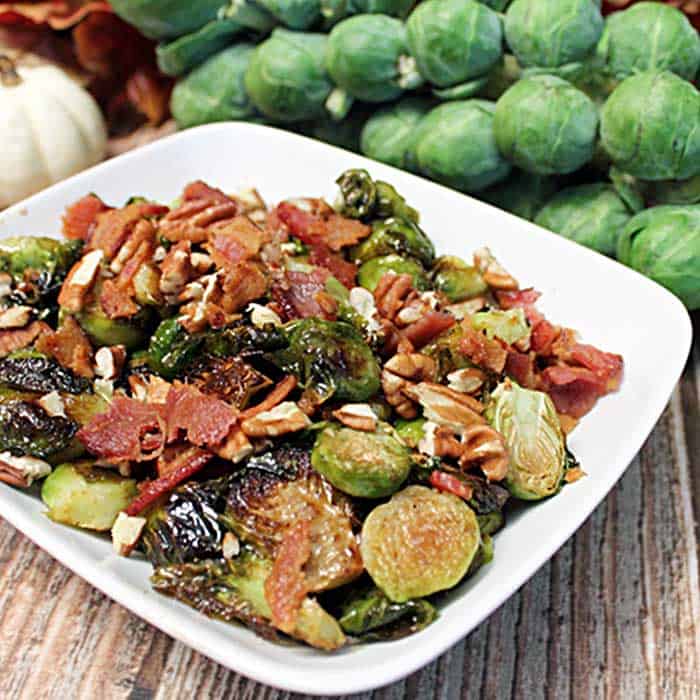 MAPLE ROASTED BRUSSELS SPROUTS with BACON & PECANS
You've never tasted anything so delicious as these crisp Maple Roasted Brussels Sprouts complete with bacon, pecans and a toss with maple syrup & balsamic. It's Brussels Sprouts taken to a whole new level!
Maple Roasted Pecans
1

cup

pecans

1

Tablespoon

butter

1

Tablespoon

brown sugar

1

Tablespoon

maple syrup

1/4

teaspoon

salt

Pinch

of cayenne
Brussels Sprouts
6

slices

bacon

2

lbs.

Brussels sprouts, halved

1

teaspoon

salt

1/2

teaspoon

black pepper

4

Tablespoons

maple syrup

3

Tablespoons

balsamic vinegar
Preheat oven to 350 degrees. Line a baking sheet with parchment paper.

In a microwave safe dish, melt butter and sugar in microwave for 30 seconds.

Stir in maple syrup, salt & cayenne.

Pour butter-maple syrup mixture over pecans and stir well.

Put on prepared baking sheet and bake for 10-12 minutes, turning halfway through.

Let cool.
To prepare brussels sprouts
Turn oven up to 425 degrees. Reline baking sheet with aluminum foil.

Halve brussels sprouts, cut off any excess stem & remove any tough leaves.

In a large skillet, cook bacon until crisp. Remove from heat & lay on paper towel to drain.

Toss brussels sprouts into bacon fat. Add olive oil, salt and pepper and toss to coat.

Pour out on to prepared baking sheet.

Roast in oven for 10 minutes, turn and roast another 10 minutes.

While brussels sprouts are roasting, combine maple syrup and balsamic vinegar together.

Remove brussels sprouts from oven and pour maple mixture over all and add about 3/4 of the bacon. Toss to coat.

Place back in oven for another 4-5 minutes.

When ready to serve top with remaining bacon and roasted pecans.
To cook on stalk: Place whole stalk, or cut in half if necessary, in a large roaster with 2 cups chicken stock or water. Cover and let steam in 350 degree oven for 20 minutes. Remove pan from oven & uncover. Mix 1/2 cup maple syrup with 1/8 cup olive oil. Brush on sprouts then season with salt & pepper. Return to oven and cook another 45 minutes, basting every 15 minutes with pan drippings. You want them to be nicely browned. Serve whole stalk on platter. Pretty cool!