Print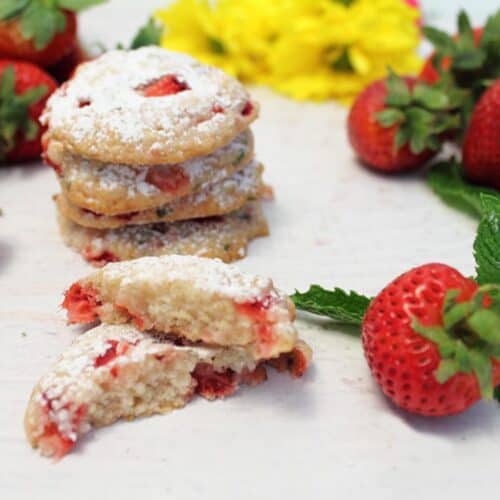 STRAWBERRY MINT COOKIES
Our Strawberry Mint Cookies are soft & rich & packed full of the season's freshest, juiciest strawberries with just a hint of mint.
Preheat oven to 375 degrees. Line cookie sheets with silicone mat or parchment paper.

In a medium bowl, combine strawberries, lemon juice and 1 tablespoon sugar. Stir and set aside.

In large bowl, combine four, baking powder and salt. Cut in butter until mixture looks like coarse crumbs. (I used my hands and pinched in between my fingers to form little crumbs)

Add cream and stir well.

Pour in strawberry mixture. Add chopped mint. Stir.

Using a small cookie scoop, drop batter onto cookie sheet, spacing about 2" apart. Sprinkle lightly with sanding sugar.

Bake for 24-26 minutes. Remove from oven and let cool on cookie sheets on wire racks.

Once cool they can be sprinkled with additional confectioner's sugar.
These cookies are best eaten the same day but they will for an additional day. Want to keep for longer? Try it with dried strawberries instead. Adapted from a recipe found on Martha Stewart website.