Print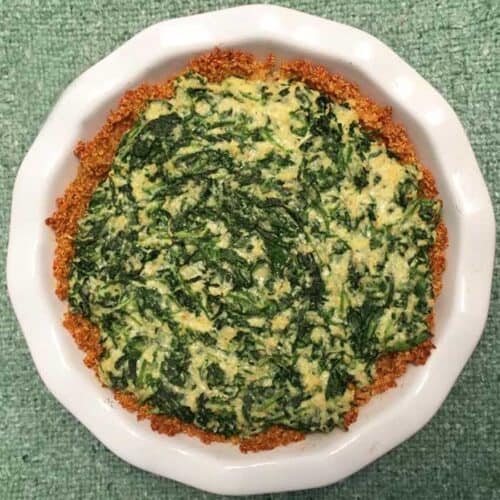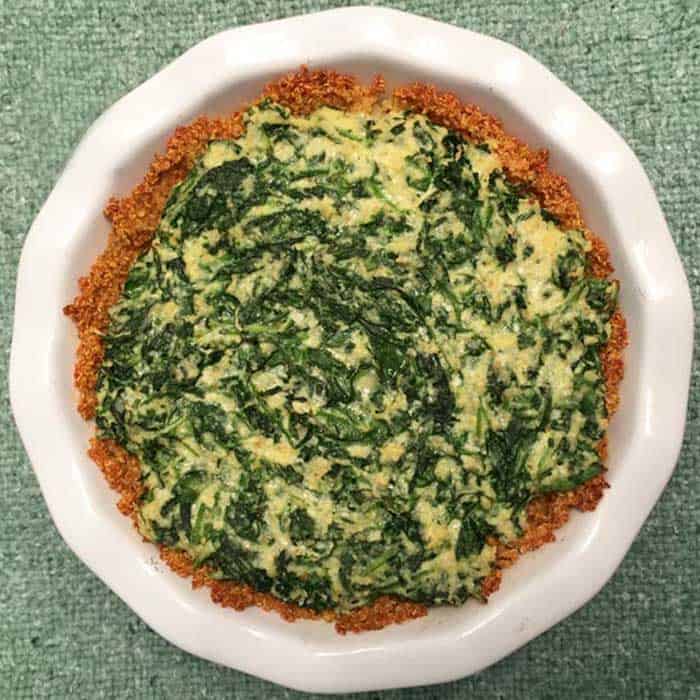 SPINACH PIE with QUINOA CRUST
A delicious gluten-free cheesy spinach pie that even your non gluten-free friends will love! It's a healthy side dish set into a tasty, crunchy quinoa crust.
Cook Time
1
hour
15
minutes
Total Time
1
hour
30
minutes
Crust
1

cup

Earthly Choice quinoa

1

teaspoon

salt

3/4

teaspoon

chili powder

1/4

teaspoon

smoked paprika

1

egg
Preheat oven to 375 degrees. Spray a deep dish pie plate with nonstick spray.

In a medium saucepan, place 2 cups water, salt and seasonings. Bring to a boil. Add 1 cup quinoa and cook, covered for 15 minutes. Remove from heat and let cool at least 15 minutes. You can also cook the quinoa the day before and have it ready to go.

Add 1 egg to quinoa, stir, then press into bottom and up sides of pie plate. Place in oven and bake for 20 minutes. Let cool slightly

While crust is cooking prepare spinach mixture.

Heat olive oil in large skillet over medium-high heat. Add onions and garlic and sauté for 3-5 minutes. Remove half of onion garlic mixture and set aside.

Turn heat down to medium and place half the spinach in skillet with onion and garlic mixture, season with salt & pepper. Sprinkle 2 tablespoons water over spinach. Let spinach steam, stirring often, until it wilts, about 3-5 minutes. Place spinach in colander to drain and cool.

Place remaining onion-garlic mixture back into skillet with remaining half of spinach. Sprinkle 2 tablespoons water over spinach and steam until wilted. Add to colander. Let cool slightly.

%https://2cookinmamas.com/wp-content/uploads/2017/03/Quinoa-Crust-and-Spinach.jpg

Lower temperature of oven to 350 degrees.

Take cooled spinach and squeeze out excess moisture. Place on cutting board and chop. Place in medium bowl and mix with remaining ingredients. Pour into quinoa pie shell.

Bake in oven for 30 minutes. Let rest 5 minutes before cutting.
Cook time includes cooking the quinoa. Cooking ahead of time and storing in refrigerator can cut 15 minutes from dinner prep.