Print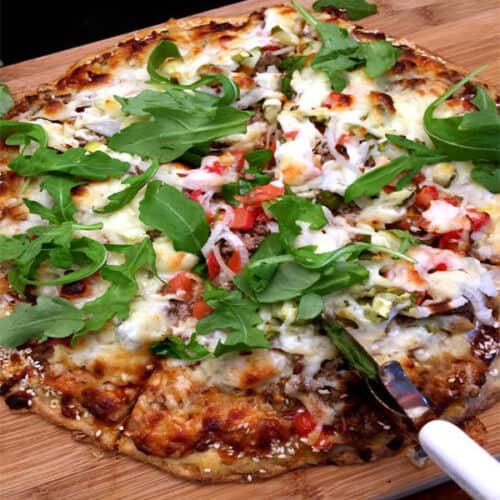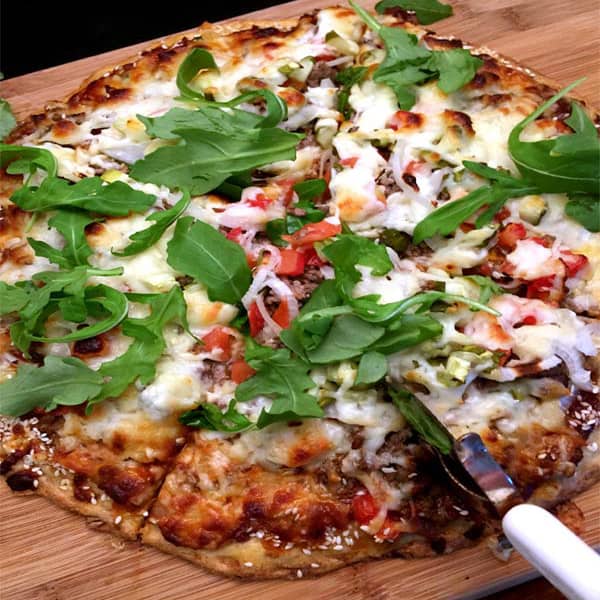 DOUBLE CHEESEBURGER PIZZA
When you can't make up your mind between a cheeseburger & a pizza - have both!
Pizza dough,

from bakery or refrigerated Pillsbury thin crust pizza dough

1

lb

ground beef

1/2

teaspoon

minced garlic or 1 garlic clove

salt & pepper to taste

1

tomato,

chopped

1/2

cup

thinly sliced onion,

cut in half (I use a sweet onion but you could use a yellow or red one)

1-1/2

cup

mozzarella,

shredded

3/4

cup

cheddar cheese,

grated

1

large dill pickle,

chopped small

3/4

cup

favorite spaghetti sauce

3

Tablespoons

barbecue sauce or A1 sauce

1-2

Tablespoons

olive oil

Cornmeal

Garnish: arugula
Remove dough from refrigerator and let sit for 1 hour at room temperature.

When ready to prepare, preheat oven to 500 degrees and place pizza stone in oven for 30 minutes. If you don't have a pizza stone you can skip this step.

Cook ground beef with minced garlic until brown and cooked through.

Grate cheeses and mix together. Chop tomatoes, onions and pickle.

Sprinkle a little cornmeal on counter and roll out to a circle that fits your pizza stone or, if using a cookie sheet, roll into a rectangle to fit. Sprinkle sesame seeds on outer edge of crust and gently tap into place.

To assemble: I like to wait until the pizza stone is hot, generously sprinkle with cornmeal and place dough directly on hot stone then assemble ingredients. If using a cookie sheet, sprinkle with cornmeal and place rolled dough on sheet.

Spread with a little olive oil. Mix spaghetti sauce and barbecue sauce and pour sauce on top, spreading to within 1/2" of edge. You don't want to get it too close or it will overflow onto your oven.

Place cooked ground beef on top of sauce followed by tomatoes, onion and pickle. Sprinkle cheeses on top.

Place in oven and cook for 20-25 minutes or until cheese is melted and crust is crispy to the touch. Remove carefully and slide onto wooden cutting board. Sprinkle with arugula and serve.