Hi! My name is Linda and I live in warm, sunny South Florida. A few years ago, my daughter, Christina, and I got together and decided to join forces and do what we both enjoyed doing, which is having fun in the kitchen. So we started a food blog and co-authored two cookbook to share our love of cooking and how easy it can be.
Cooking has been my passion for over 40 years! (I guess I was an early foodie!) My love of cooking started very young in my Mom & Grandmother's kitchen. They could whip up a delicious meal in no time and party desserts that would make your mouth water. Luckily they always let me lend a hand and even encouraged me to develop recipes all by myself. I guess that is why my kitchen is such a happy place and I can't think of anywhere else I would rather be! And having raised two children and one hungry husband it certainly came in handy.
In between my years as an aerobic instructor and a marketing professional, I grew to love cooking and baking even more, as it helped me to relax and take a break from the hectic pace. I enjoyed allowing my creativity free reign to turn old favorites, as well as new ones, into delicious, healthy and easy to prepare dishes that anyone can make. And then it got even better when I got to share that special place with my daughter.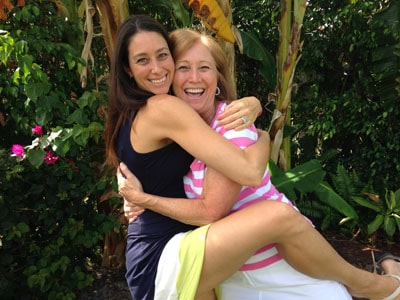 Christina is the other half of the 2 Cookin' Mamas. She is a certified nutritionist and DDPYOGA instructor currently living in beautiful Atlanta. She found a passion for healthy cooking after her son was born. She wanted to get back into shape and was determined to learn to cook quick & healthy meals for her growing family while still meeting the demands of work and baby. So, as she says, she called on the best chef she knew, her mom, to help.
She's come a long way in the last few years and learned that she also suffers with a severe gluten intolerance. This led her to concentrate her efforts on creating new and delicious gluten-free options for her healthy meals. You'll find gluten-free options on our blog but you can also check out her other blog, Body Rebooted, where she writes of her journey towards optimal health.
Both of us believe it's so important, amidst our fast paced lives today, to be able to give our family nutritious and delicious meals that can be put on the table without too much fuss. Our website is our way of giving back and helping other busy moms and professionals do just that.
Of course, no one can do without a few indulgences now and then, after all, everyone can use a little more sweetness in their lives. And besides, we both love baking, so you will inevitably find us satisfying our sweet tooth from time to time.
Hope you enjoy!