Print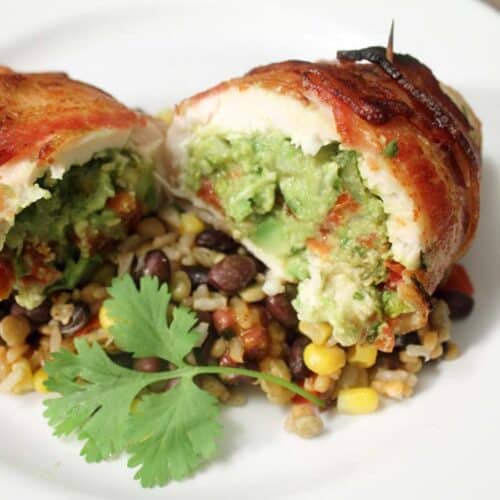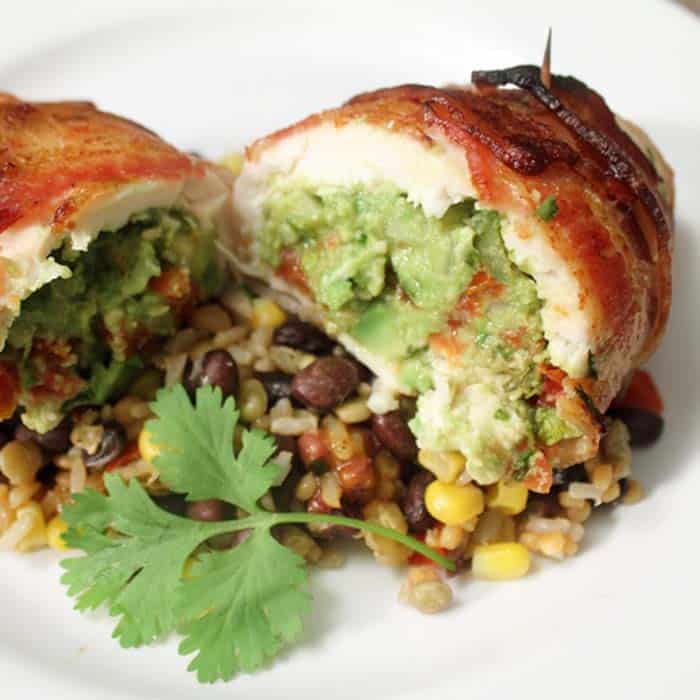 EASY BACON WRAPPED GUACAMOLE STUFFED CHICKEN
Chicken breasts are wrapped around one of everyone's favorite dips, guacamole. Add a little bacon, 'cause everything's better with bacon, for a quick & easy meal that will wow your guests.
2

large or 4 small boneless skinless chicken breasts

1/2-3/4

cup

prepared guacamole

8

slices

hickory or apple smoked bacon
Preheat oven to 350 degrees. Line a large rectangular baking pan with foil. Lay a wire rack in the pan. Spray with nonstick spray.

Pound chicken breasts to about 1/2" thickness. If using 2 large breasts, you can either pound thin as is or cut into 2 portions each. The cut should be made lengthwise so you are starting with a thinner, longer piece.

Lay flat and place a scoop of guacamole on each breast. Roll up starting at one of the short ends.

Wrap each breast in 2 pieces of bacon and secure with toothpicks.

Place each breast on the wire rack making sure they do not touch one another. Bake for 30-40 minutes. During last 8-10 minutes place under broiler to crisp up the bacon.