Print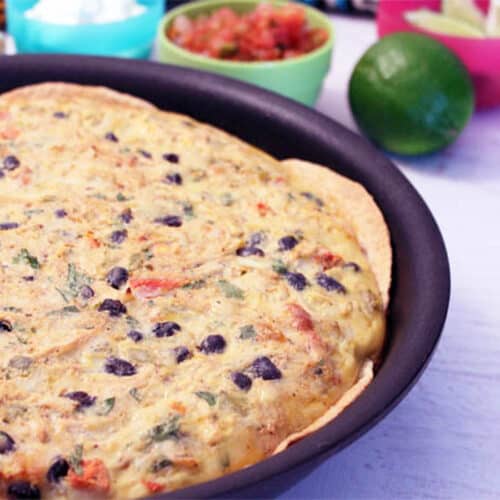 EASY ONE SKILLET MEXICAN FRITTATA
Our Mexican Frittata has all the flavors of Mexico you love in one easy to make skillet dinner. Of course, nothing says you can't have it for breakfast too!
Preheat oven to 450 degrees. Spray a large skillet with non-stick spray.

Cut 3 tortillas in half. Line bottom of skillet with 1 whole tortilla and place the remainder around outside to form the crust.

In a large bowl, toss chicken with taco seasoning. Add grated cheese, black beans, green chilis, tomato and cilantro.

In a medium bowl, whisk eggs and cream together then add to chicken mixture.

Pour into tortilla crust.

Bake 10 minutes at 450 then lower heat to 350 & bake for another 40-50 minutes or until eggs are set. Let sit 10 minutes before cutting for easier serving.

Serve with salsa, additional tortillas, sour cream, guacamole and slices of lime.