Whip up this healthy Strawberry Chicken Salad with the help of rotisserie chicken & fresh seasonal strawberries. It's quick & easy and perfect for lunch or dinner.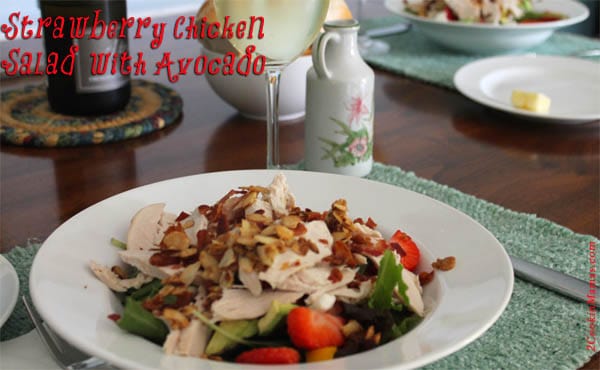 Here in Florida we still have strawberries by the carton-full on sale in our stores. They are so sweet and delicious now that you can make anything with them and it will be fantastic! I have made pancakes & waffles with strawberry topping, yogurt parfaits for breakfast and dessert, smoothies, strawberry shortcakes, breads & muffins, strawberry lemonade and, even easier, just popped them in my mouth for a quick pick-me-up.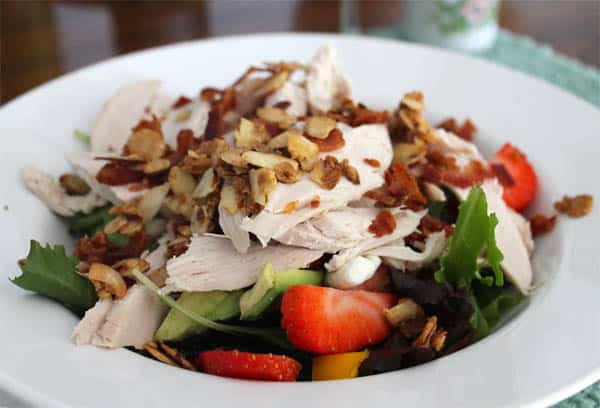 This recipe today is quick and easy and full of lean protein, vitamins, minerals and healthy fat. It is hard to go wrong with a salad that has a mix of everyone's favorite fruits, vegetables and nuts. And buying a rotisserie chicken cuts down on the time substantially and lets you get it on the table in less than 30 minutes. What mom wouldn't love that?
Enjoy!
Strawberry Chicken Salad with Avocado & Bacon 
Ingredients:
4-5 handfuls mixed greens
5 slices bacon, cooked and crumbled
3/4 cup cucumber, chopped
1/2 cup yellow bell pepper, chopped
1-1/2 cups cooked chicken, chopped (I used a rotisserie chicken or you can use leftover chicken or turkey)
1-1/2 cups fresh strawberries, sliced
1 avocado, chopped
1/3 cup goat, feta or blue cheese
1/3 cup slivered almonds, candied (see below)
Favorite raspberry vinaigrette or your own fantastic dressing
Directions:
Place the greens in a bowl. Add all ingredients and toss well.
Divide between bowls and serve with your favorite dressing on the side. Serve immediately.
Note: To candy almonds, place 1 tablespoon brown sugar in a small skillet. Heat until sugar begins to melt, add almonds and toss to coat. Cook until nuts are lightly toasted. At this point you can sprinkle a little cayenne pepper on them if you like a spicier taste. Pour the nuts onto a greased cookie sheet or parchment paper and allow to cool. Once hardened, break into pieces.

DON'T MISS A RECIPE!