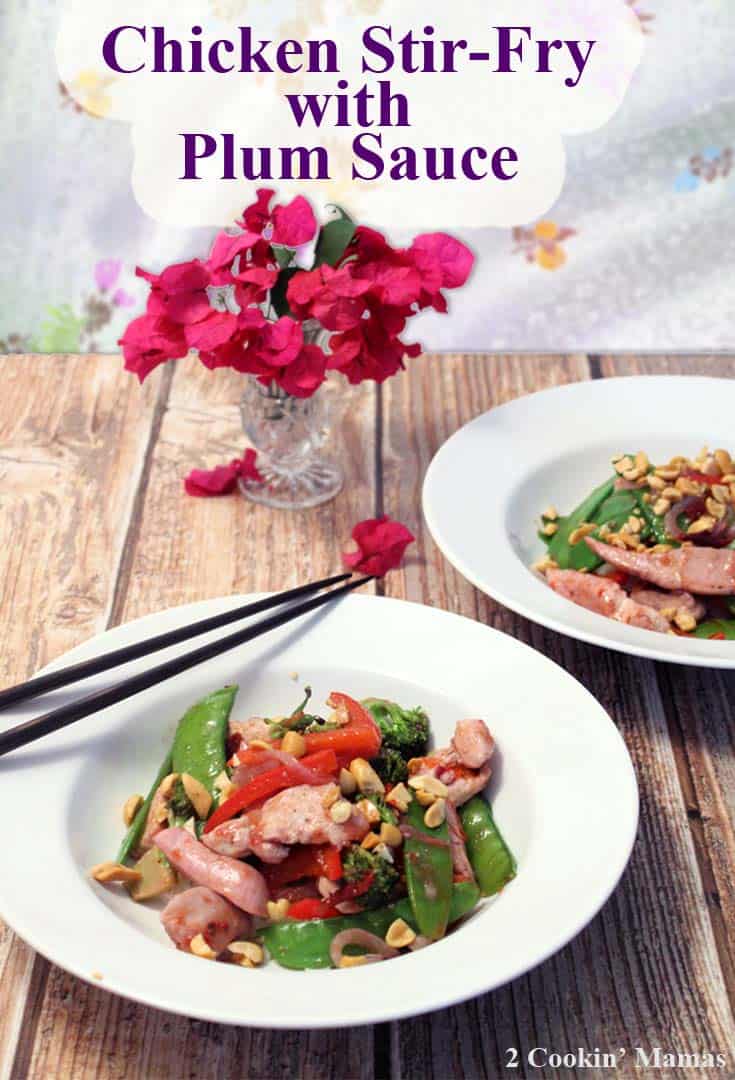 I love quick & easy stir-frys after a busy day and this one is definitely up there with my favorites. I could have made my PF Chang's Copycat Mongolian Beef or Thai Beef with Carrot Basil Salad but this chicken stir-fry was a great change of pace and it's a bit on the healthier side. It's perfect fare for summer as it's a light meal, won't weigh you down (and it will help you on your way to fitting into that bikini) and keeps the kitchen cool. Of course, for me the biggest plus was it used my plums!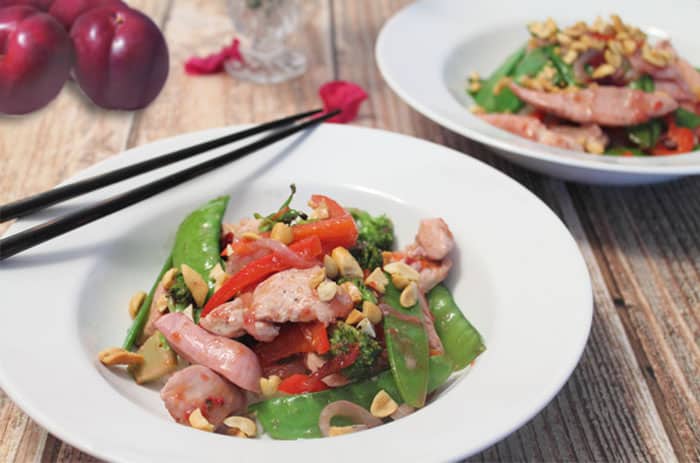 If you read my post last week you will see a familiar theme here – yep, it's plums! This is what I did with all the over ripe plums that I didn't use for my Plum Jam. (check out the recipe because it's super fresh – like liquid fruit on a spoon!). This plum sauce can be made ahead of time and can replace hoisin sauce in any recipe. It makes about a medium jarful and keeps well for over a month.

This recipe is pretty adaptable too. You can change out the snow peas for your favorite quick cooking vegetable like carrots, broccoli (love the broccoli-carrot slaw mixture you can buy prepackaged in your grocer's produce section) or mushrooms. Whatever way you choose to make it, it is fresh, healthy and super tasty!
Serve on top of rice or be a little healthier and try it over quinoa. Enjoy!
Chicken Stir-Fry with Plum Sauce
Ingredients:
Plum Sauce
4 large over ripe plums, pitted & diced
1 clove garlic, minced
2 Tablespoons sugar
2 Tablespoons balsamic vinegar
1/2 teaspoon salt
Chicken Stir-Fry
3 Tablespoons peanut oil
1/2 sweet onion, sliced thin
1 red bell pepper, seeded & sliced thinly
1-lb. boneless, skinless chicken breasts, cut in chunks
salt & pepper to taste
6-oz fresh snow peas
crushed red pepper flakes
2 teaspoons fresh ginger, minced
1/3 cup plum sauce
2 Tablespoons water
1/3 cup peanuts, chopped
Sesame seeds (optional)
Directions:
Plum Sauce
Combine all ingredients in a medium saucepan and cook over high heat for 3 minutes. Reduce heat and let simmer until it starts to thicken and looks like a preserve, about 15 minutes.
Remove from heat and let cool slightly. Pour into a glass jar with lid and store in refrigerator.
Chicken Stir-Fry
Have everything cut and ready to go prior to assembling.
In a large skillet, heat 2 tablespoons of oil over medium to medium high heat. When hot, add sliced onion and cook 2-3 minutes, stirring often. Add red bell pepper and continue to cook until beginning to caramelize, about 4-6 minutes. Remove onion & pepper from skillet.
Season chicken with salt and pepper and add to skillet with remaining oil. Cook stirring constantly until chicken is cooked through and brown on the outside. About 3-4 minutes.
Stir in snow peas and red pepper flakes (the more you add the spicier it will be). Add ginger along with onion-pepper mixture.
Reduce heat to medium low and add plum sauce and water. Toss to coat all vegetables and meat and simmer for 1 minute. Just enough warm snow peas slightly.
Remove to serving bowl and sprinkle with peanuts and sesame seeds.
Makes 4 servings.
Original recipes from Martha Stewart (plum sauce) & Fine Cooking (chicken stir-fry).