This Everything Bagel Foil Baked Salmon is the quickest and easiest dinner for any night of the week. It's a no-muss, no-fuss 30-minute dinner that uses just 7 simple ingredients and tastes incredible. Baking it in foil creates a deliciously flavored, moist fish that is bound to become a family favorite. Plus clean-up is a breeze!
I received a sample box of seafood from Catch Sitka Seafoods to create this post. The recipe and opinions expressed below are 100% my own.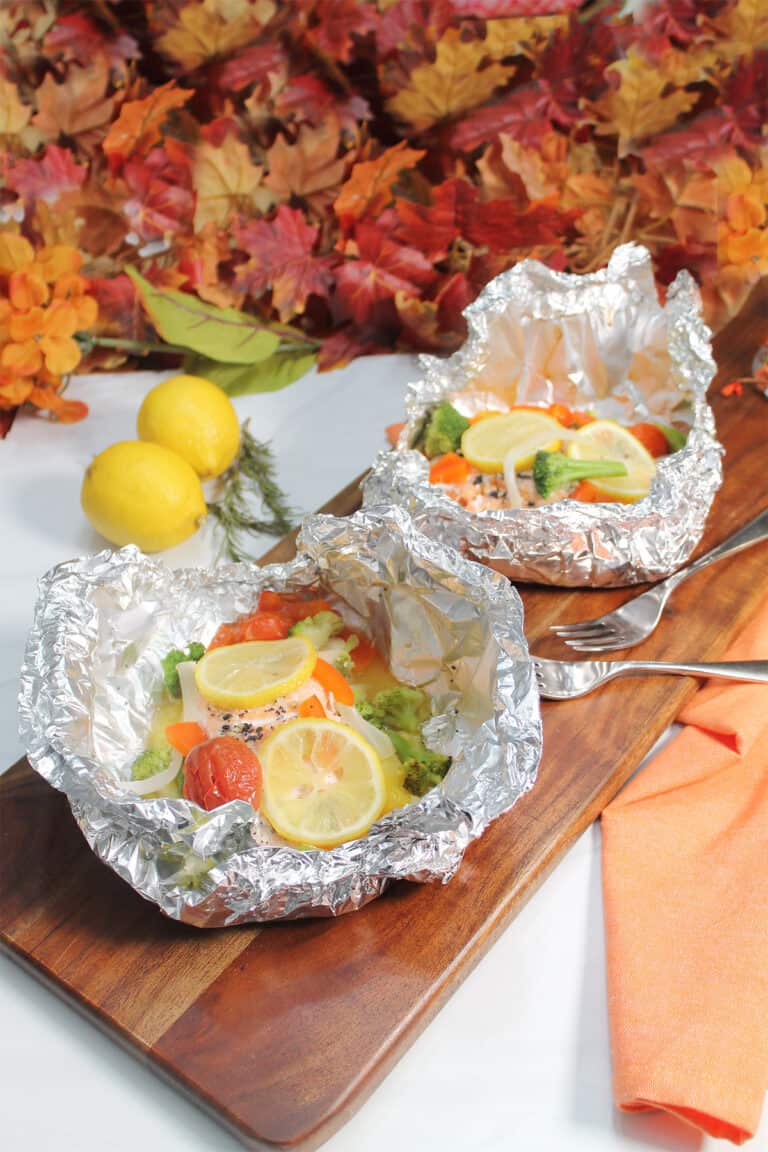 Fish is one of my favorite go-to meals. It has an abundance of vitamins and minerals, is low in fat, and cooks quickly. And salmon has to be at the head of the list. Baking the salmon in foil cooks it to perfection every time. All you need to do is season it, wrap it up in foil, bake it, and serve. It's practically foolproof!
Salmon is a delicious fish that does not need much to make it shine. I love to grill it like my Salmon with Red Pepper Sauce, Air Fry it like my Lemon Butter Salmon, and bake it in foil like this easy recipe.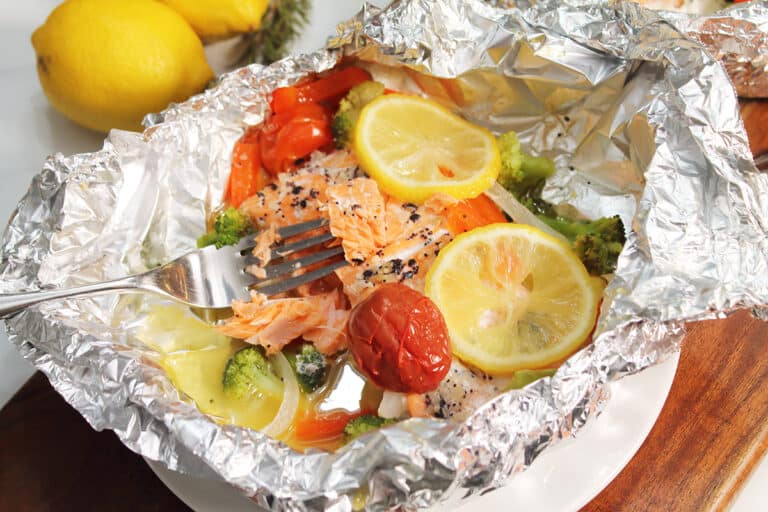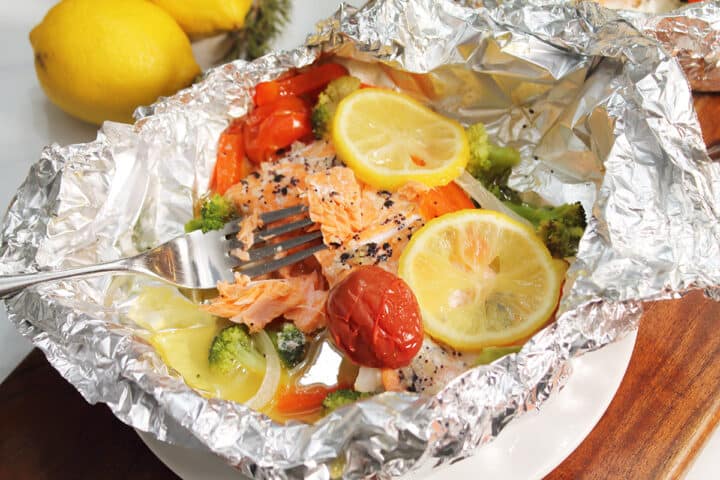 When baking, all you need is some butter or oil and a few seasonings to make one of the best-baked salmon dinners you've ever tasted! The results of foil baked salmon speak for themselves - a flaky fish with a wonderful buttery, slightly toasty flavor, with the added benefit of veggies to complete it.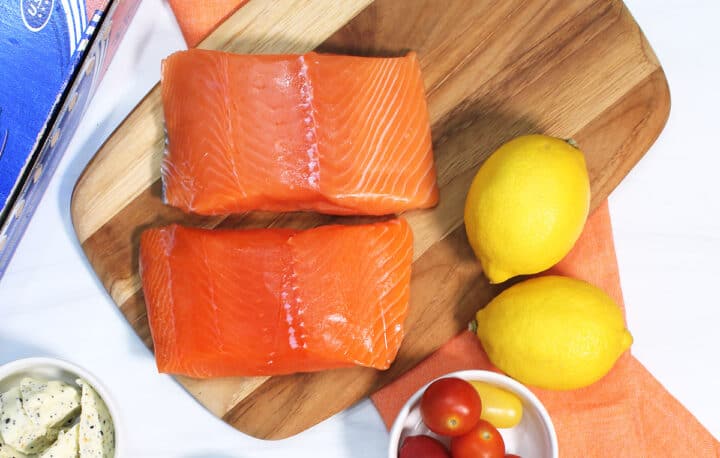 All About Catch Sitka Seafoods
This salmon was received as a sample from Catch Sitka Seafoods, a company that sells fresh-caught Alaskan fish on a per box or subscription basis. Their fish is:
Sustainably caught seafood from the cold Alaskan waters
Caught with hook and line off of small boats.
Flash frozen and vacumn packed to stay as fresh as the day it came out of the ocean.
Packed with dry ice and ice packs and shipped next day air.
When I received the mixed harvest box of freshly frozen fish it was well packed and had the most beautiful cuts of fish I've seen. The color was amazing, the flesh was firm and the mix of king and coho salmon, black cod, and halibut was the perfect combination!
Types of Salmon
There are many types of salmon and each has a "best" method for cooking from baking to grilling to smoking. Wild salmon is the healthiest choice for eating. It can be any kind from king salmon to sockeye to coho.
King Salmon is the filet mignon of the salmon world. It has the highest oil content, an almost buttery flavor, and can be grilled, roasted, pan-seared, or baked.
Sockeye Salmon has a medium oil content, a rich flavor, and is best grilled or smoked.
Coho Salmon is milder with a medium-firm texture. It can be grilled, steamed, poached, or sauteed.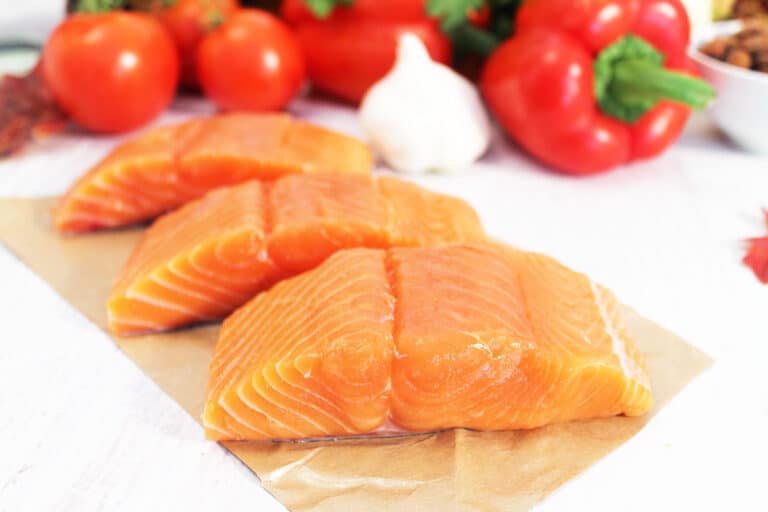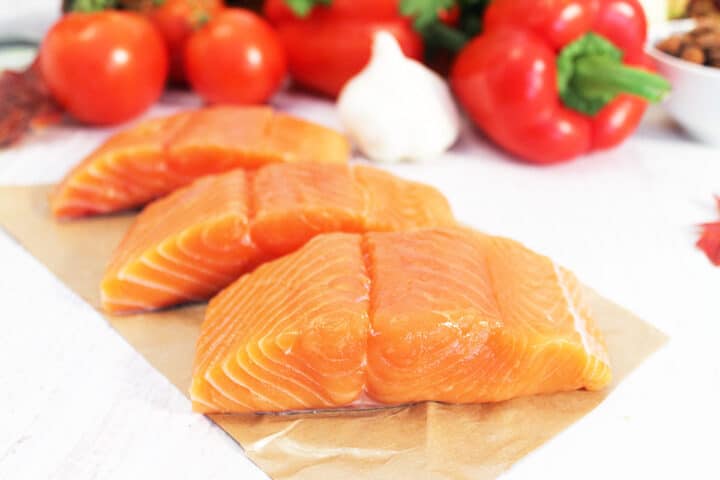 What to look for when buying salmon
Look for fillets with bright bold color
Make sure the fish has no fishy odor
Ask for a fillet with the skin on for the moistest fish
Purchase center cut 6-8 ounce fillets. This cut is the same thickness all over and makes for more even cooking
Baked Salmon Cooking Temperatures & Time
You can bake salmon at different temperatures but normally the higher the temperature, the quicker it cooks and the moister it stays. I like to bake mine at 400 degrees for this reason. The times listed below are for a 1" thick, 1 pound fillet.
350 degrees - bake for approximately 20-25 minutes is best suited for marinated salmon
375 degrees - bake for 15-20 minutes
400 degrees - bake for 12-18 minutes
425 degrees - bake for 7-12 minutes and is best used for dry seasoned salmon for a crispier skin.
FAQs
How can I tell when my salmon is done?
Press on the top of the fillet or twist lightly with a fork in the thickest part. If the salmon flakes, separates easily, it is done. In addition, the flesh will be opaque instead of translucent.
How long will salmon in foil last?
Keep it wrapped in foil or in an airtight container and it will last 3-4 days in the fridge. It can also be frozen for up to 6 months.
How can I reheat baked salmon?
Place the salmon on a square of foil, rub it with some olive oil or drizzle some lemon juice on it, then wrap it tightly and place it on a baking sheet. Warm it in a low oven, 275-300 degrees, for 15 minutes. This method will help preserve the flavor and moistness of the fish without drying it out.
Baked Salmon Ingredients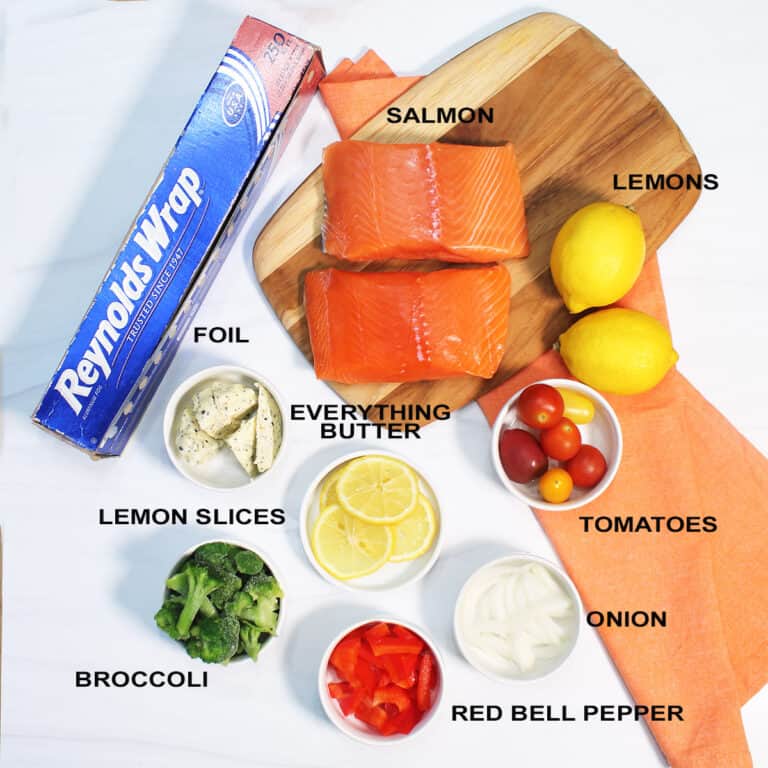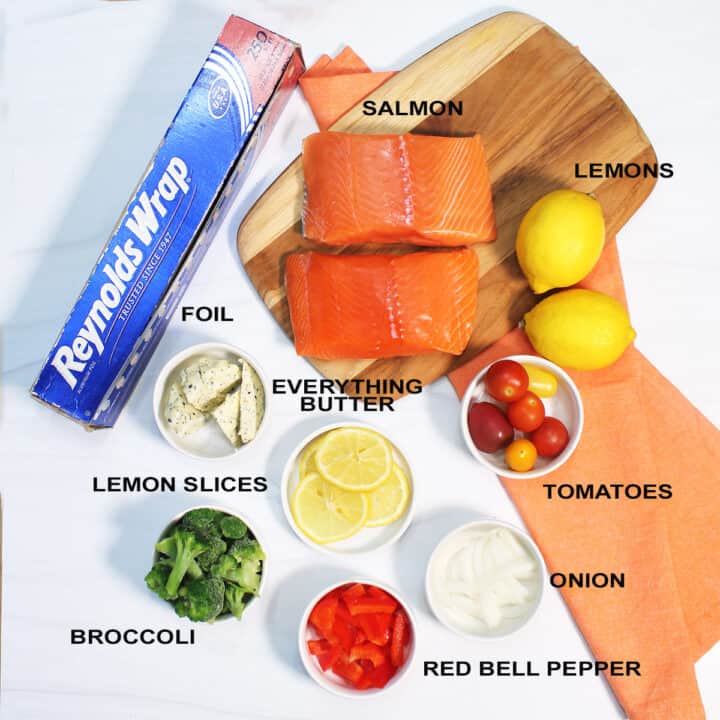 King Salmon is a meaty fish that is perfect for baking. It has a high oil content which keeps it moist when cooked this way. Coho Salmon is also a good choice.
Everything Bagel Butter is an easy salmon seasoning. It flavors the fish with garlic and onion in place of herbs, gives it a toasty hint from the sesame seeds and a little crunch from the poppy seeds. The butter adds the moistness and richness for the perfectly seasoned baked salmon. (see recipe notes for how to make your own)
Broccoli, Onion, Bell Pepper and Tomatoes add your vegetable serving and makes this an all-in-one dinner.
Lemons acid and tartness pair perfectly with fish, giving it the perfect flavor profile.
How to Make Foil Baked Salmon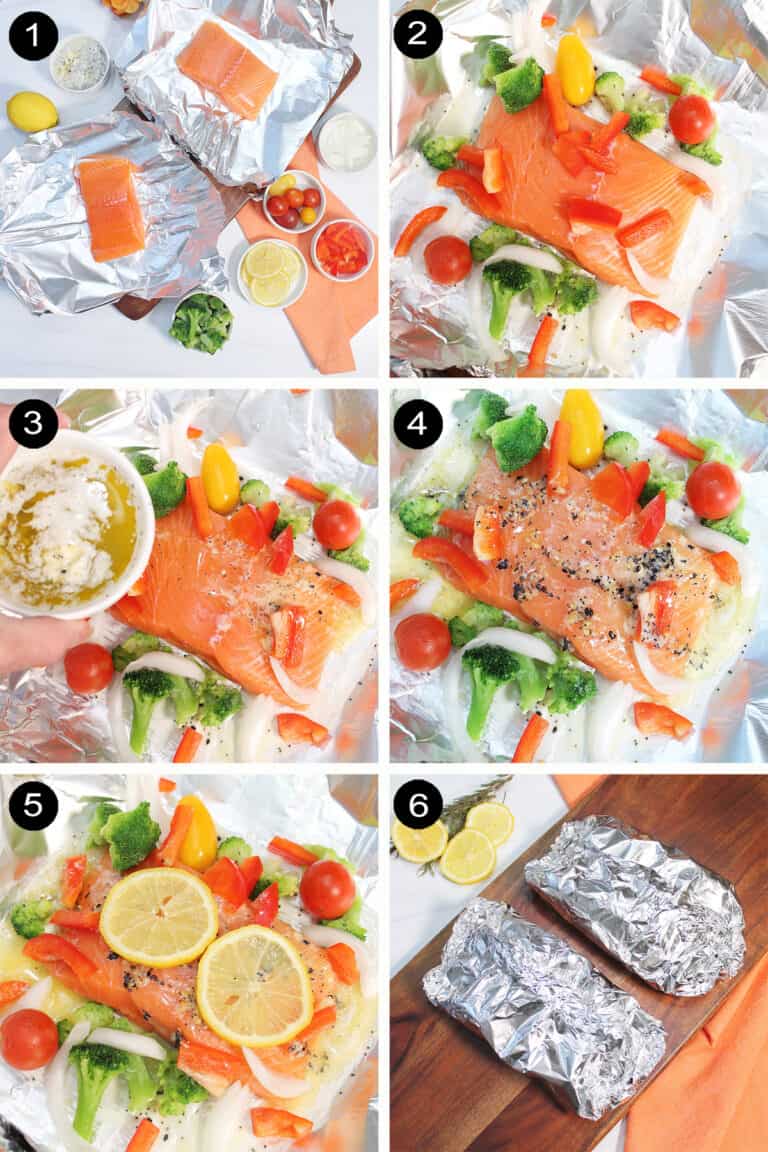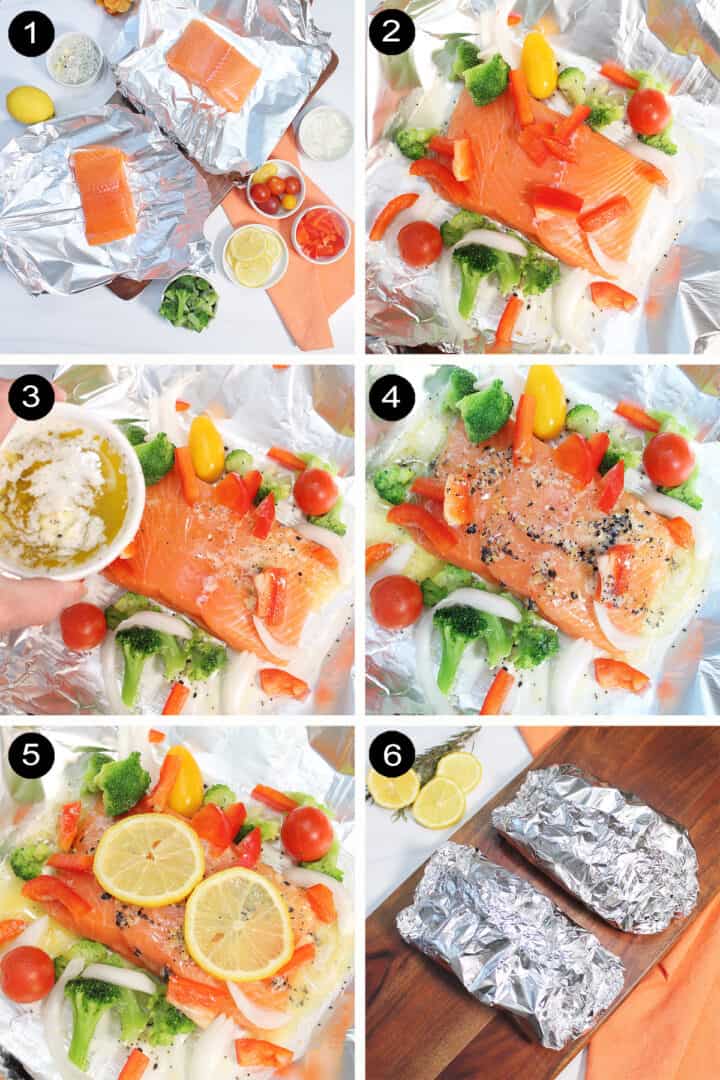 Gather all the ingredients and place each salmon fillet on a square of foil.
Divide the vegetables in half and scatter over the salmon.
Melt the everything bagel butter and drizzle over both the fillets and vegetables
Ready for the final touch.
Place two slices of lemon on top of the fish.
Wrap them in the foil and seal tightly. Bake.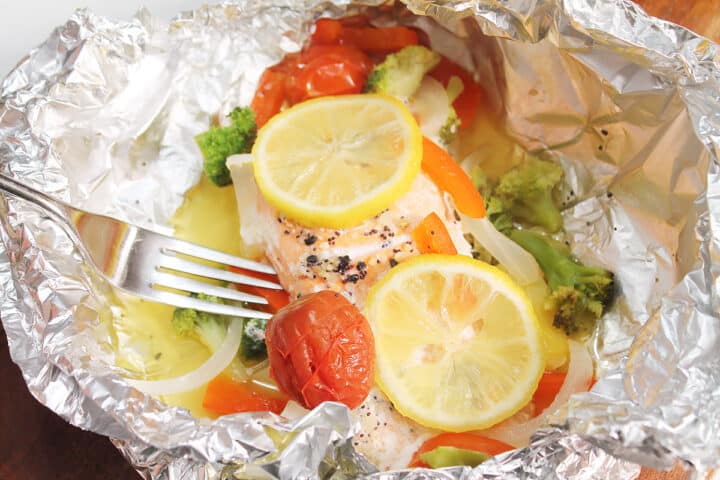 Tada! In less than 30 minutes you have a beautifully cooked piece of foil baked salmon that you can eat right out of the foil packet or serve it nicely dressed on a plate. Great for busy weeknights and delicious enough for company. Plus it's healthy and fits low carb, gluten-free, and keto lifestyles too.
Hint: If using a cut other than the center cut, fold under the thinner ends so they don't dry out or burn.
How to Make Your Own Everything Bagel Seasoning
Just mix 8 teaspoons white sesame seeds, 4 teaspoons black sesame seeds, 4 teaspoons poppy seeds, 4 teaspoons each dried minced garlic and onion, and 2 teaspoons sea salt. Store in an airtight container in a cool, dry place for up to 6 months.
Variations
Want more vegetables? Try adding cubed zucchini, asparagus cut into short lengths, sliced carrots
Love your starches? Add partially cooked sweet potatoes or white potatoes cut into cubes. How about rice? Take 1 cup instant rice and mix with 1 cup chicken stock and let it sit for 5-10 minutes to absorb liquid. Spoon around fish and seal packet.
Seasonings - omit the "everything bagel" butter and fix the fish simply with oil, salt, and pepper. Or try a sprinkle of fresh herbs such as rosemary or basil with oil, lemon juice, and some garlic.
Make it keto - Change out the onions for shallots.
Tomato variety - Use chopped tomatoes in place of cherry tomatoes
Top Tip
Always let the salmon come to room temperature for 20-30 minutes prior to cooking. This ensures that the salmon cooks evenly and stays moist.
What to Serve with Foil Baked Salmon
Also try my Mahi Mahi on the grill in foil with vegetables in the packet too.
LOVE QUICK & EASY RECIPES? FOLLOW ME ON INSTAGRAM, FACEBOOK, & PINTEREST FOR ALL THE LATEST RECIPE INSPIRATION! PLUS JOIN MY EMAIL LIST AND RECEIVE A FREE E-BOOK.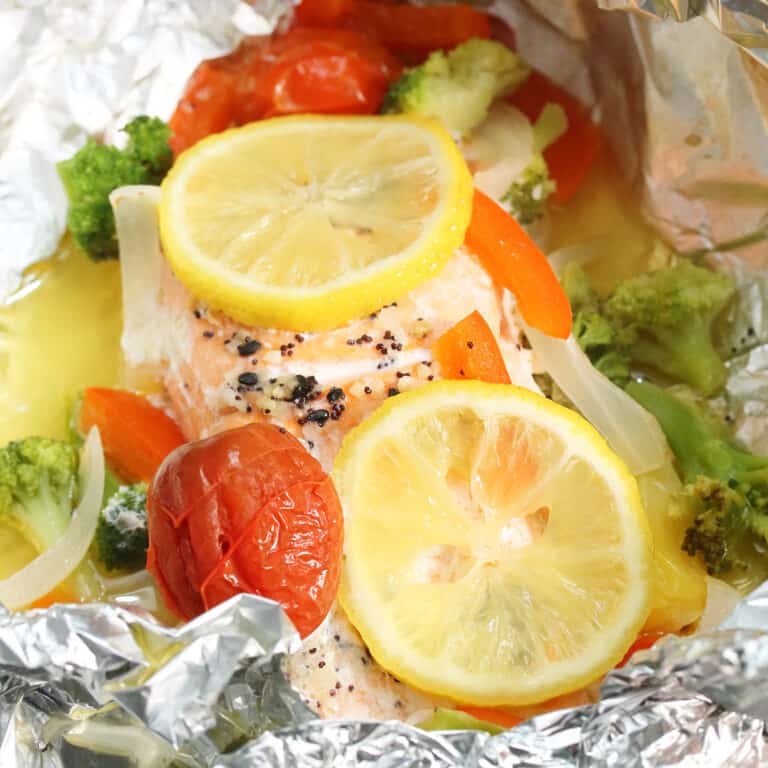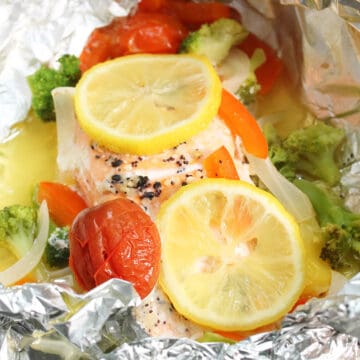 Everything Bagel Foil Baked Salmon
This Everything Bagel Foil Baked Salmon is a moist, flavorful dinner, baked in a packet and ready in 30 minutes! And clean-up is a breeze!
Print
Rate
Ingredients
2

King Salmon fillets

about 6-8 oz each

4

Tablespoons

Everything Bagel Butter

see notes on how to make your own

2-4

slices, thinly sliced onion

(use scallions for keto diets)

1

cup

broccoli florets

½

cup

red bell pepper

sliced

6

cherry tomatoes

4

slices

of lemon
Instructions
Preheat oven to 400 degrees.

Cut 2 pieces of aluminum foil that will fit the salmon and other ingredients and be able to be wrapped securely. Spray foil with nonstick spray.

Place one piece of salmon, skin-side down, on each square of foil.

Scatter half of the onion, broccoli, bell pepper, and tomatoes on top of each fillet.

Melt the butter and divide it between the two foil packets, pouring over the top of both the fish and the vegetables.

Lay two slices of lemon on top of each salmon fillet.

Seal the foil.

Place on a cookie sheet and bake in the oven for 15-20 minutes.

Remove from oven and open carefully to avoid being burned by the steam.
Notes
How to make your own everything bagel butter
In a small bowl, mix 1 stick of room temperature unsalted butter with 1-½ tablespoons everything bagel seasoning. The butter will keep for 1 month in the refrigerator.
How to make your own everything bagel seasoning
Just mix 8 teaspoons white sesame seeds, 4 teaspoons black sesame seeds, 4 teaspoons poppy seeds, 4 teaspoons each dried minced garlic and onion, and 2 teaspoons sea salt. Store in an airtight container in a cool, dry place for up to 6 months.
Nutrition
Calories:
487
kcal
|
Carbohydrates:
10
g
|
Protein:
36
g
|
Fat:
34
g
|
Saturated Fat:
16
g
|
Polyunsaturated Fat:
5
g
|
Monounsaturated Fat:
9
g
|
Trans Fat:
1
g
|
Cholesterol:
154
mg
|
Sodium:
298
mg
|
Potassium:
1206
mg
|
Fiber:
3
g
|
Sugar:
5
g
|
Vitamin A:
2468
IU
|
Vitamin C:
104
mg
|
Calcium:
64
mg
|
Iron:
2
mg
This post has been updated and was first published on November 21, 2021.