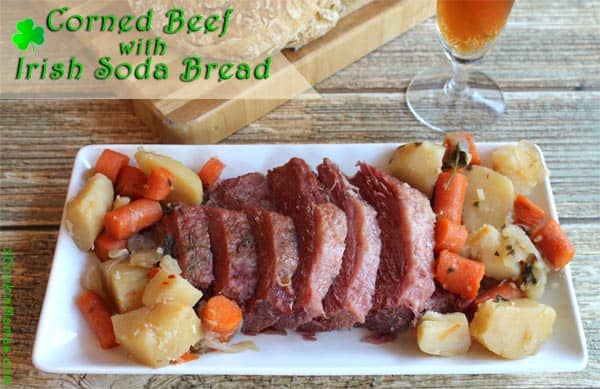 OK, I'm not Irish. I can't even claim the least little bit, but every year on St. Patrick's Day, I pretend I have a wee bit of Irish in me. I love all the traditions and the wearing of the green, so it is fun to take part anyway and just pretend for a day. I love corned beef, just like any good Irish girl would, and I just learned how to make Irish Soda bread too – so I must have some Irish hidden in me somewhere.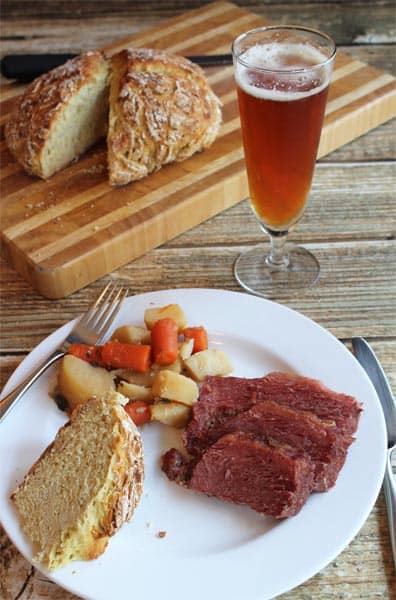 This year I was so busy at work, I decided to try making our dinner in the crockpot.  After reviewing slews of recipes on the web I finally decided on one that involved using beer as part of the broth. I also wanted to try my hand at making Irish Soda Bread, which didn't seem very difficult to make and would go so well with the meal. Who knew a bread could be so easy to make! I surprised both myself and my husband by how good the bread was and it certainly help make the meal a success!
I'd make this again any time! And the leftovers are great for sandwiches or a delish corned beef hash.
Crockpot Corned Beef with Potatoes & Carrots
Ingredients:
1 3-4 lb corned beef brisket + spice packet
2 cups beef broth
2 cups dark beer
4-6 large carrots, cut into large chunks
1 onion, cut in chunks
4 large potatoes, cut in eighths
2 garlic cloves, chopped
3-4 sprigs of thyme
1/4 cup parsley, chopped
Directions:
Place corned beef in crockpot. Add broth and beer and cover. Cook on low for 9-1/2 hours. Halfway through cooking time, about 4 hours before it is done, place remaining ingredients in crockpot, recover, and finish cooking.
To serve: Slice the corned beef and surround it with vegetables & potatoes and some of the cooking liquid. Serve Irish Soda Bread on the side.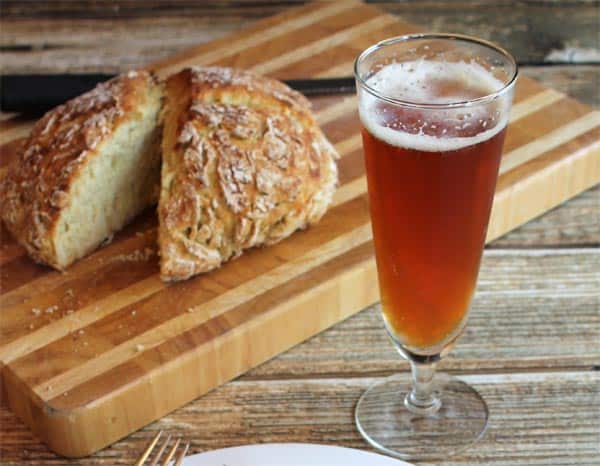 Irish Soda Bread
Ingredients:
4 cups all purpose flour
2 teaspoons baking soda
1 teaspoon salt
1 teaspoon sugar
1-3/4 cup buttermilk (I used a light 1% variety)
Directions:
Preheat oven to 425 degrees. Spray a 9″ cake pan with a nonstick spray and dust with flour. Have another cake pan ready on the side (no prep needed).
In a large bowl, mix dry ingredients. Add buttermilk and mix well to form a dough. Dump out on a floured surface and knead for 30 seconds to incorporate all the flour. Do not over mix or the bread will be tough.

Place dough into prepared cake pan and form into an oval mound. Cut an "X" in the dough, all the way across and about 1/4″ deep. Place the other cake pan on top.
Bake in oven for a total of 40-45 minutes. After 30 minutes, remove top cake pan and let bread cook for another 10-15 minutes to brown the top. Remove from oven and test for doneness by tapping lightly on the bottom of the loaf. If it sounds hollow, it is done. Remove to wire rack to finish cooling.
Makes 1 loaf.