Cold days call for hearty soups and this Instant Pot Sweet Potato Butternut Squash Soup is just what you need. It's quick and easy in the Instant Pot, and full of healthy goodness.
Sweet potatoes and butternut squash are cooked down to a creamy, rich consistency and sweetened naturally with apples and honey. Goat cheese gives an extra flavor boost. It's a healthy lunch or dinner perfect for any day of the week.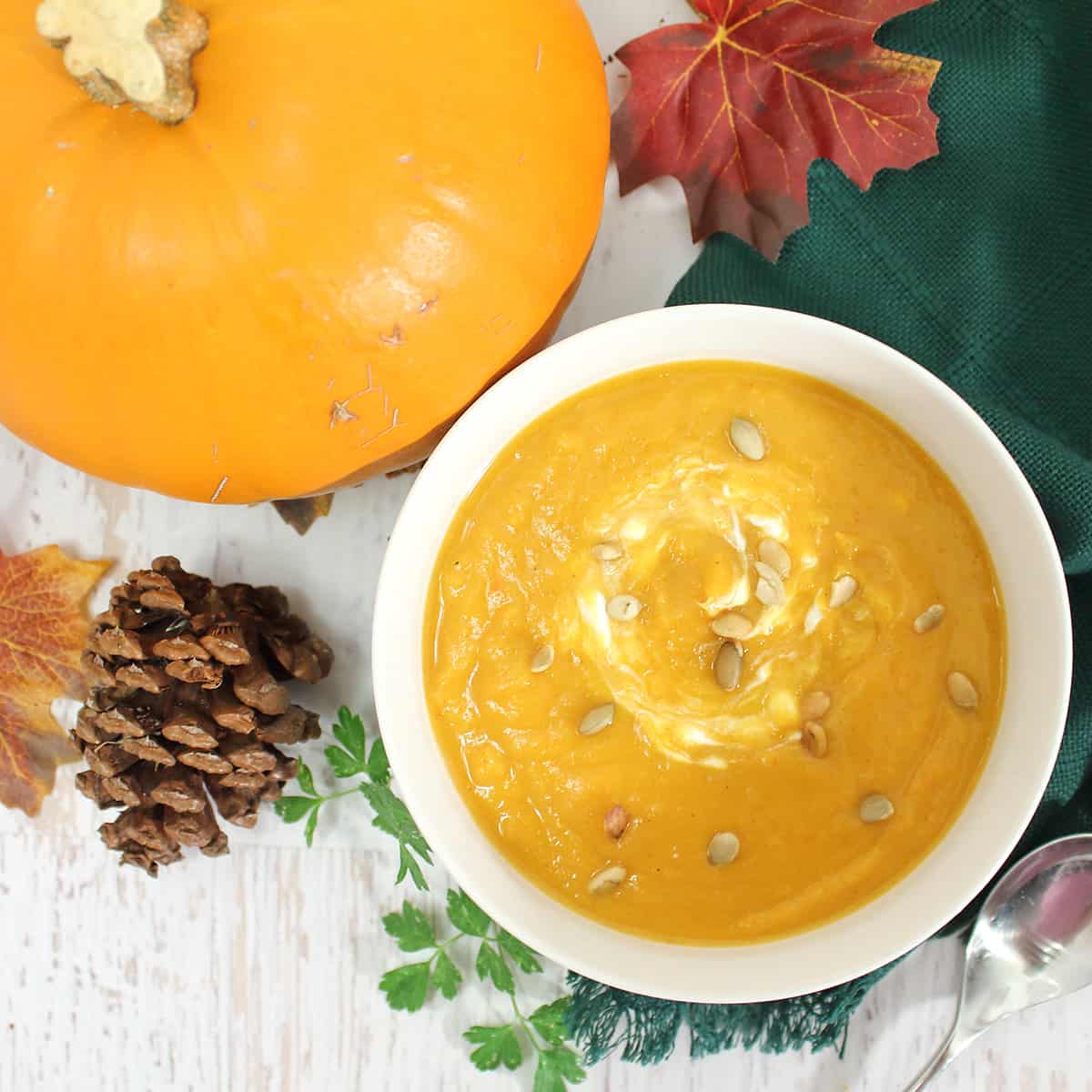 The cooler weather of fall has arrived and that means it's time for some belly-warming soups. Soups are one of my favorite dinners to have in the fall and winter. We have our family favorites, like Broccoli Cheese Soup and Baked Potato Soup but I'm always willing to try something new.
And what could be better than a copycat version of Panera's Autumn Squash Soup with my own twist on it? Like adding my favorite in-season sweet potatoes for a hearty, sweet, and savory sweet potato and butternut squash soup.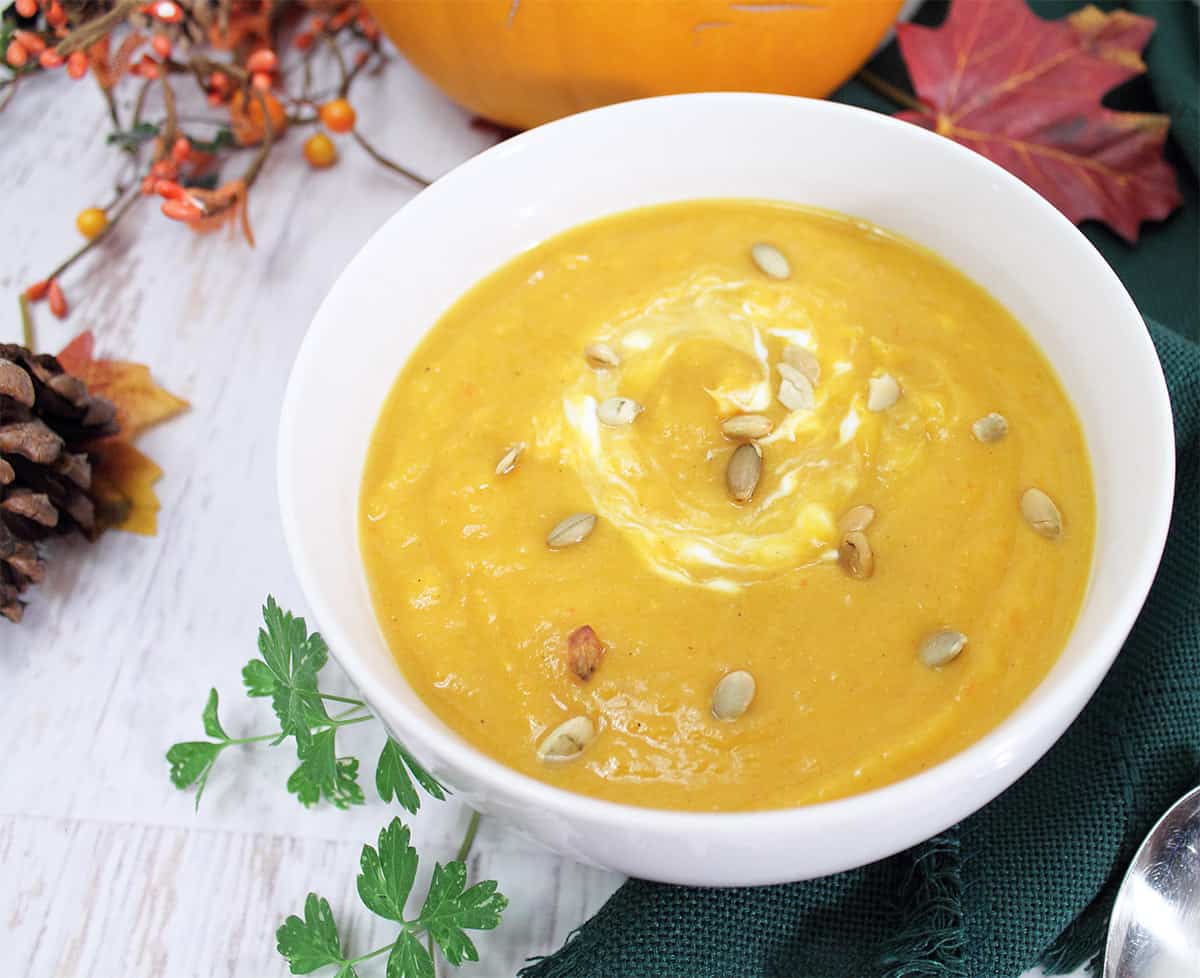 Healthy Benefits of sweet potatoes & butternut squash
If you've never had a sweet potato or squash soup, think pumpkin pie in taste and baked potato soup for the creaminess. It's a hearty soup and really offers tons of healthy benefits.
The sweet potatoes provide Vitamins B6, C & D, and iron to help support a healthy immune system, as well as magnesium which helps with relaxation and de-stressing. And we could all use some of that!
The butternut squash provides many of the same vitamins as well as 214% of your Vitamin A for the day in just 1 cup and more potassium than a banana.
Instant Pots make soup a breeze to make
With just a few simple steps this autumn squash soup comes together pretty quickly. Using an Instant Pot allows you to saute the vegetables and cook the soup in half the time of the stovetop method. And the longest step in the process is letting the Instant Pot depressurize naturally. See, easy peasy!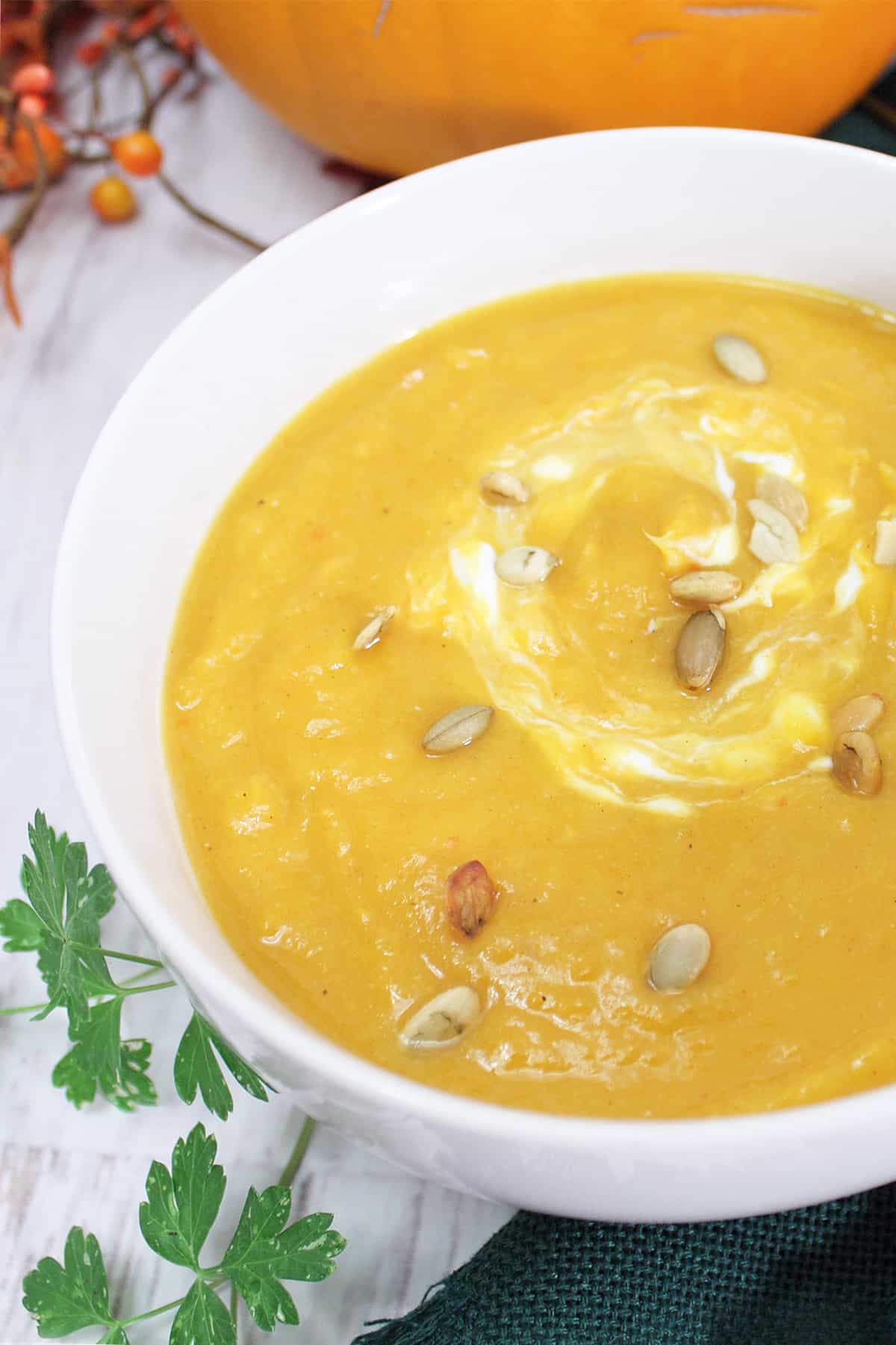 Variations
This recipe is easy to adapt, so you can make it just the way your family likes best. In fact, you just might want to make it every which way to see what their favorite combination is.
Vegetables - Add carrots in place of the apple or cauliflower, acorn squash or leeks in place of the sweet potatoes
Fruit - Try pears in place of the apple or pumpkin in place of the sweet potatoes
Syrup - Replace maple syrup for the honey to get a little flavor with your sweet
Cream - Don't like coconut milk? You can use almond milk, creme fraiche, heavy cream, or half and half
Cheese - Omit goat cheese and swirl in a little cream cheese
Seasoning - Try a dash of cayenne pepper for some added zip or make it more savory and replace cinnamon and nutmeg with a touch of cumin, sage or thyme.
Frequently Asked Questions
Is this butternut squash soup with coconut milk healthy?
It sure is! It's great at boosting the immune system and offers up 214% of your Vitamin A for the day and has more potassium than a banana. It even fits keto and low-carb diets with a few alterations.
Can I freeze this soup?
Most definitely! I love to make extra and freeze for the long cold days of winter. It will keep 2-3 months in the freezer. Just defrost in the refrigerator and reheat when ready to serve.
Is this soup gluten-free?
Yes, it is. Just make sure the vegetable broth is gluten-free that you are using.
Does this soup fit into a keto, paleo, low carb, or vegan lifestyle?
Make the following changes to fit each lifestyle:
Keto - eliminate the honey and apple and use chicken broth in place of vegetable broth
Paleo - Omit the sweet potatoes and replace with pumpkin
Low Carb - Sub pumpkin for the sweet potatoes or opt for cauliflower
Vegan/Vegetarian - use vegan version of parmesan and sub cream cheese for goat cheese
Ingredients
Butternut Squash - gives this soup its creamy base. Look for a large squash to pack all the flavor into this soup that you can.
Sweet Potatoes - are not only healthy but they add a sweet richness to the mix. You can also use pumpkin to replace the potatoes.
Apples - add a sweetness to the base as well as providing healthy benefits.
Coconut Milk - adds more creaminess to the soup as well as richness.
Chicken Stock - is the liquid base. You can also use vegetable broth for a vegetarian option.
Onion, Red Pepper and Garlic - are used to round out the flavor.
Spices - cinnamon, nutmeg and cardamon pair so well with the sweet potatoes and lend the soup a decidedly fall flavor.
Ginger - adds a spicy dimension to this soup and pairs especially well with the squash.
Goat Cheese - OK, this brings the creamy, rich factor and puts it over the top.
Parmesan Cheese - adds a sharp tang to the mix.
How to Make Butternut Squash Soup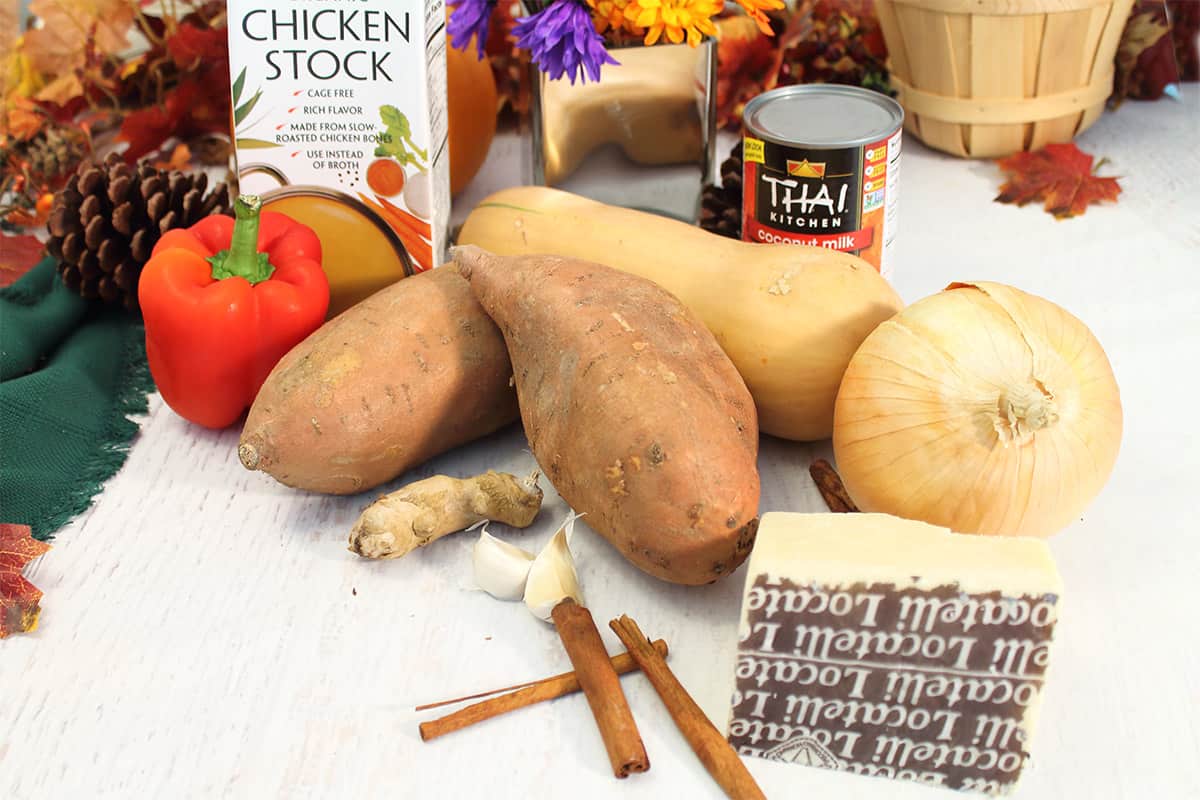 Gather the ingredients you will need - butternut squash, sweet potatoes, apples, onion, red pepper, garlic, ginger, chicken stock, coconut milk, spices, and cheese.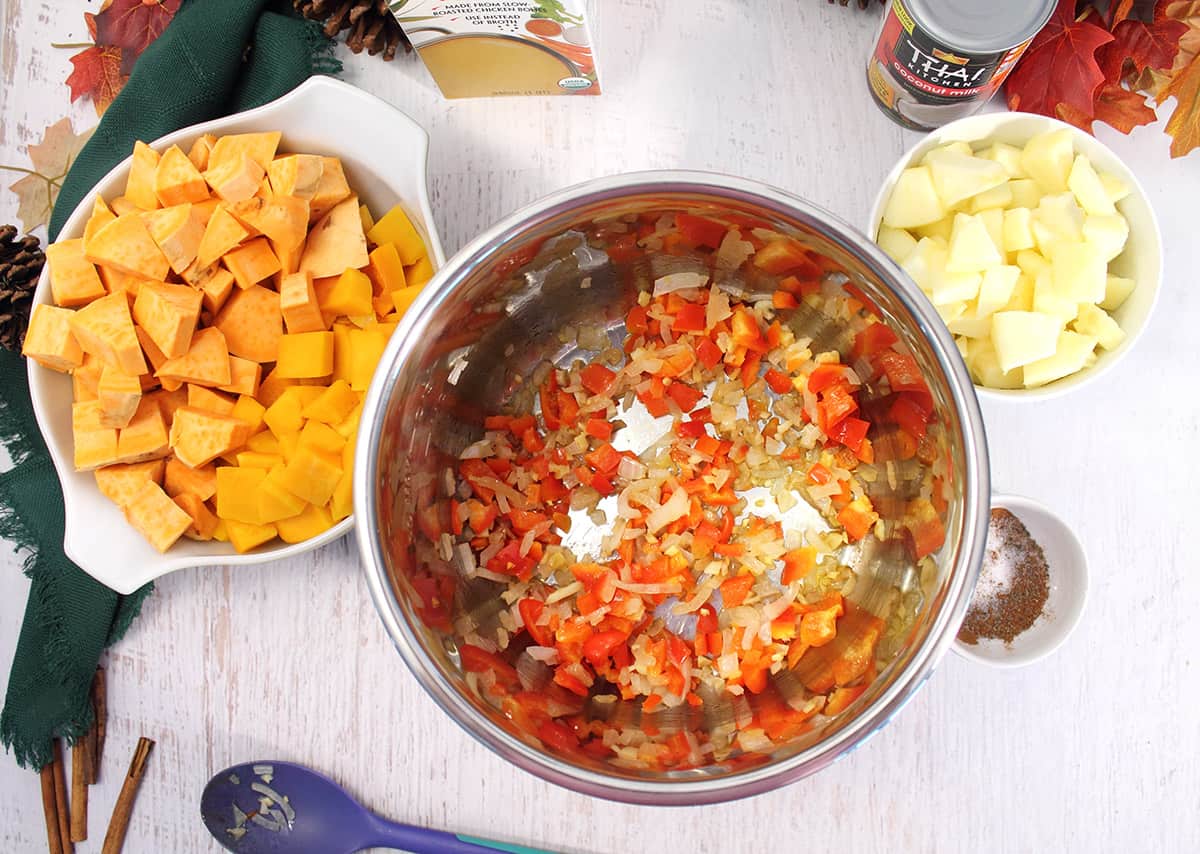 Chop the vegetables and fruit. Turn your Instant Pot to the saute mode and saute onion and red pepper for about 3 minutes. Stir in garlic and ginger and cook 1 more minute. Turn off the instant pot. *For easier butternut preparation, follow expert tip below.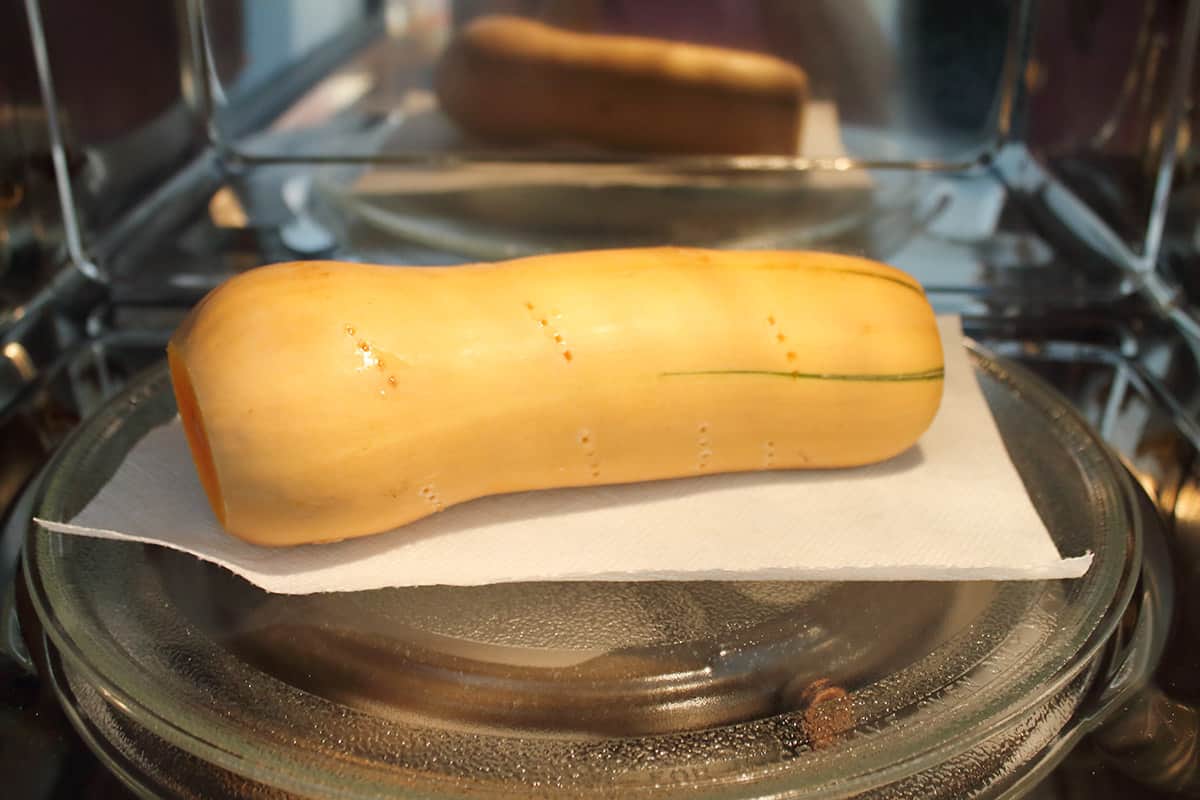 Expert Tip: To help peel & cut butternut squash, puncture skin all over with a fork. Cut off both ends and bake in the microwave, on high, for 3-½ minutes. Allow it to cool slightly then peel and chop. This additional step does not cook the squash or change the flavor.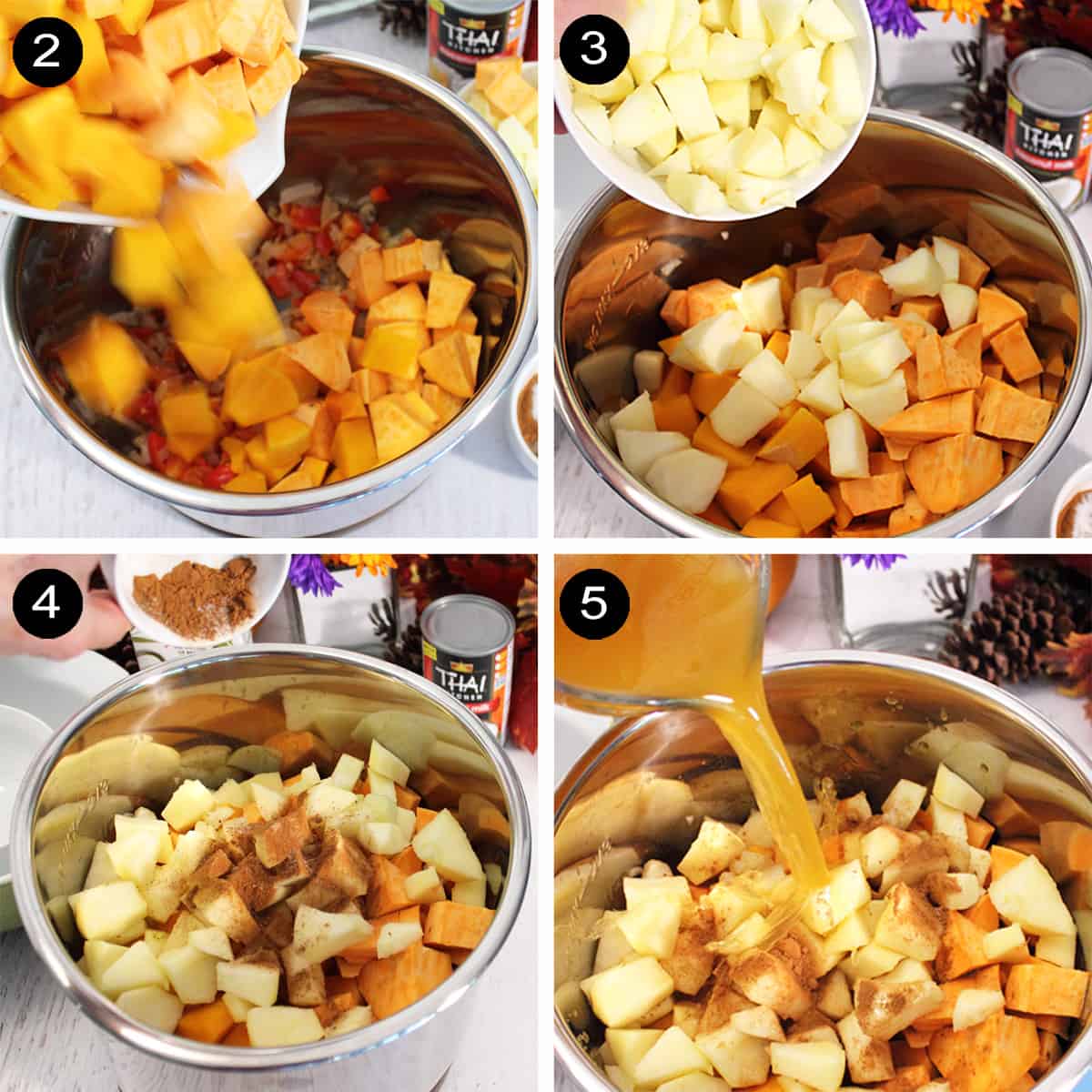 Add chopped sweet potatoes and butternut squash to Instant Pot.
Add chopped apples.
Sprinkle in spices.
Pour in vegetable broth.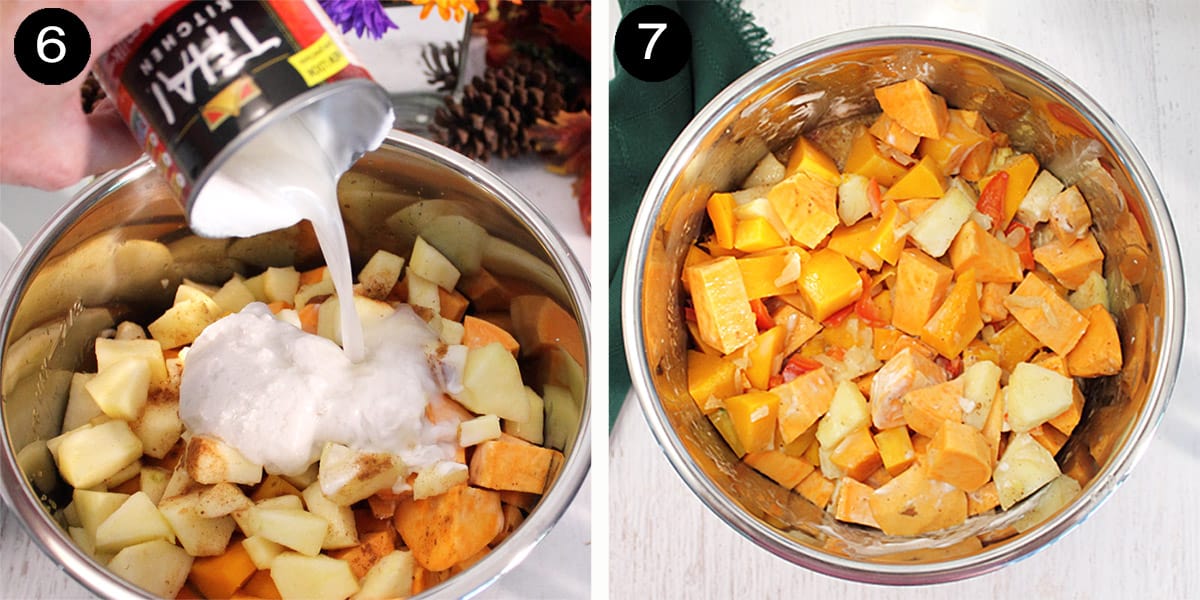 Pour in a can of unsweetened coconut milk.
Stir and you're ready to cook. Cover and lock then set Instant Pot to pressure cooker for 8 minutes. When cooking is completed, depressurize naturally for 10 minutes then do a quick release. When the float valve drops down, remove the lid.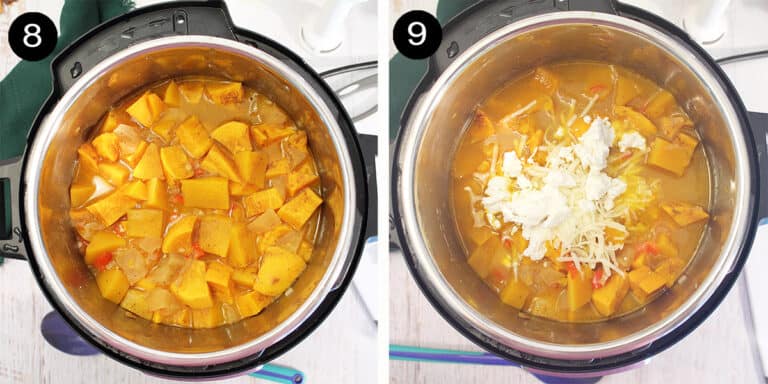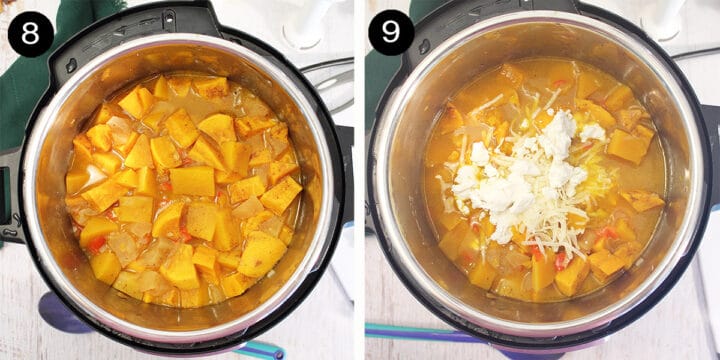 The ingredients are cooked to a soft, aromatic stage and ready to be pureed.
Almost there! Sprinkle in the goat cheese and Parmesan cheese then stir well.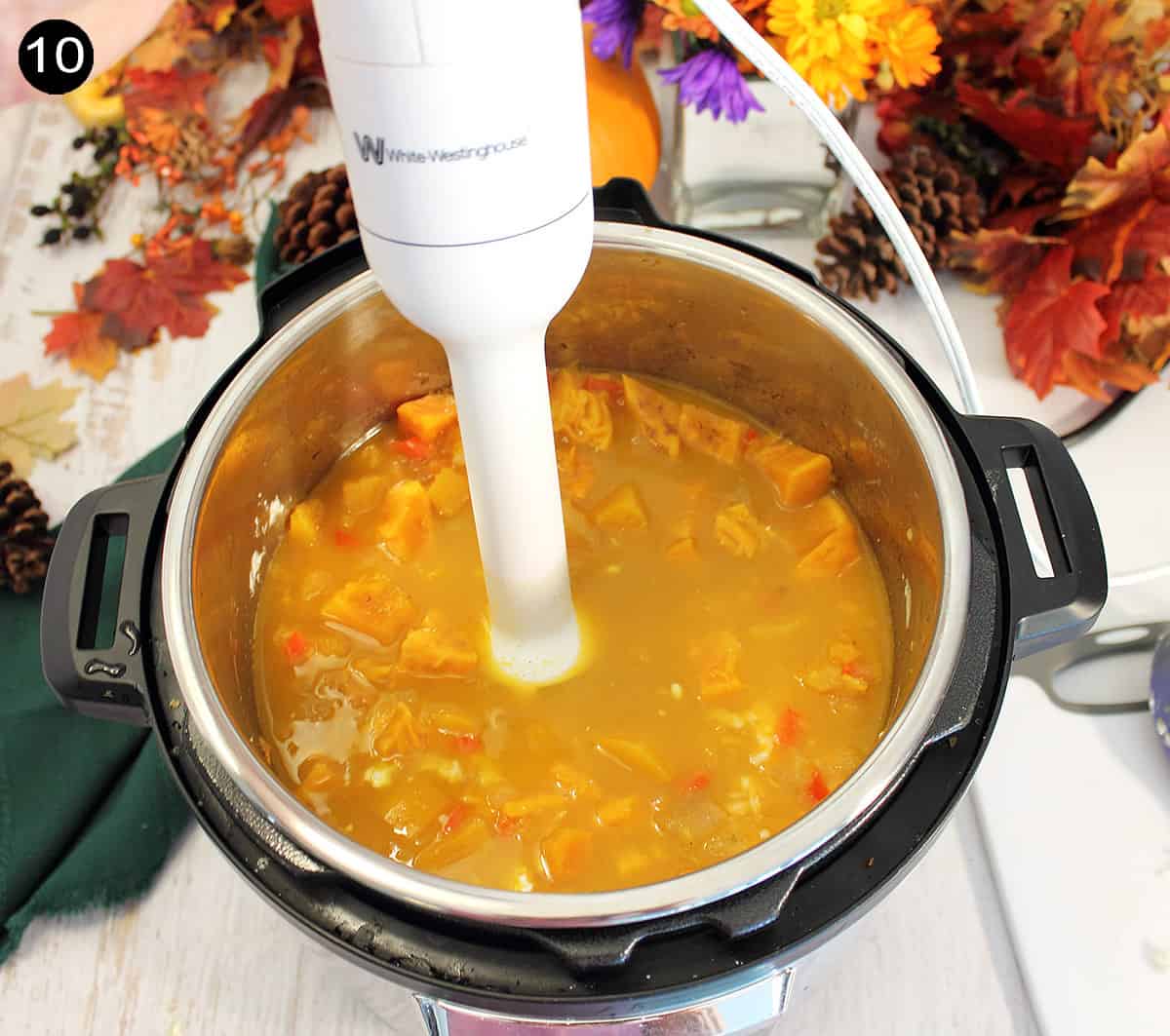 Puree contents by using an immersion blender, or what I like to call a boat motor (an Emeril Lagasse original saying). You can use a blender as well, however, be sure to puree in small quantities so that the contents do not explode out of the blender due to heat build-up.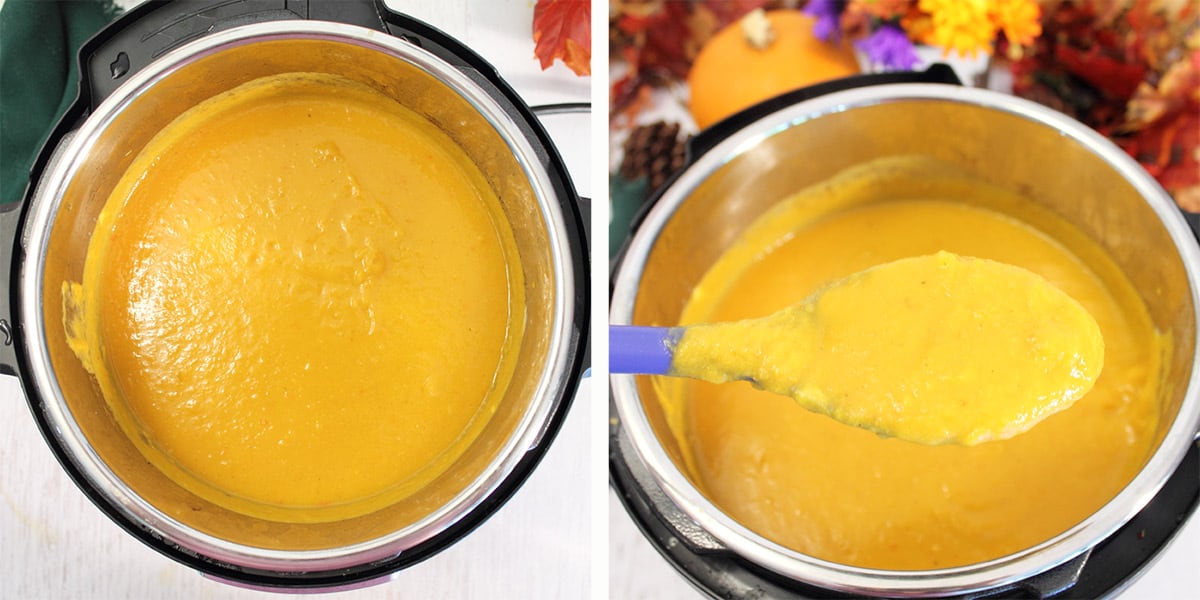 Doesn't that soup look beautiful with its creamy and smooth texture, full of fall color! Plus this butternut squash soup with apples is wonderfully filling and totally good for you too!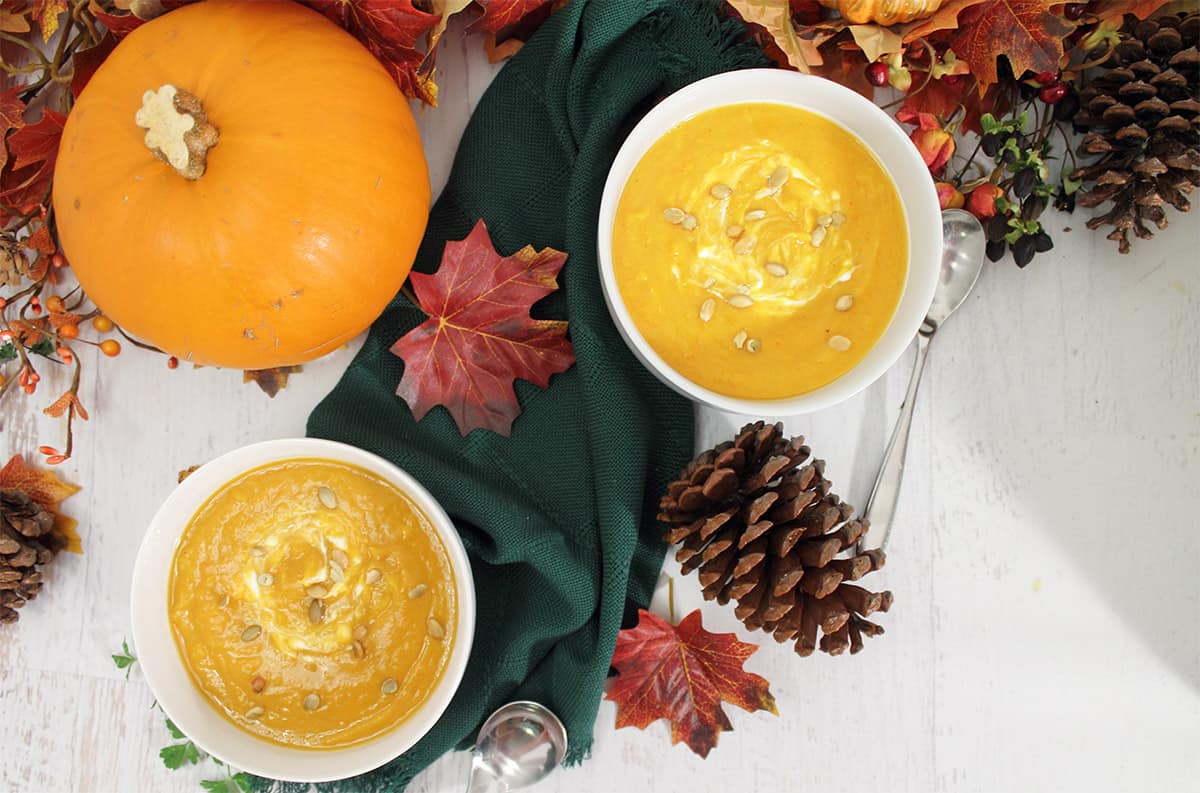 Grab a ladle and fill up those soup bowls! Finish it off with a swirl of goat cheese on top, a sprinkling of pepitas, and a garnish of parsley or cilantro for a pop of color.
More Topping Suggestions
Swirl sour cream or yogurt in place of additional goat cheese
Try a little salty addition of crispy bacon or proscuitto
Try some chopped pistachio nuts or toasted pumpkin seeds for a little crunchy
Add some color with pomegranate arils or extra flavor with dried apples
A savory addition of crispy fried onions or chives
Everyone loves cheese, try subbing crumbled bleu cheese or feta for the extra topping of goat cheese.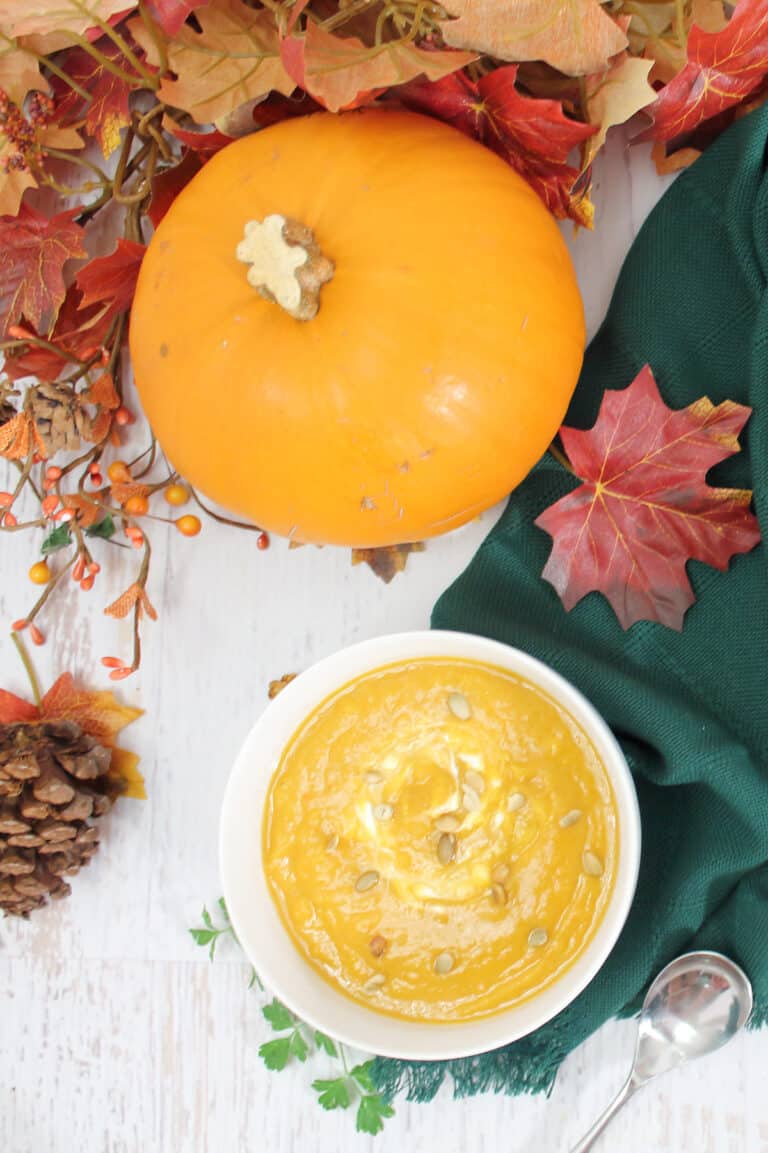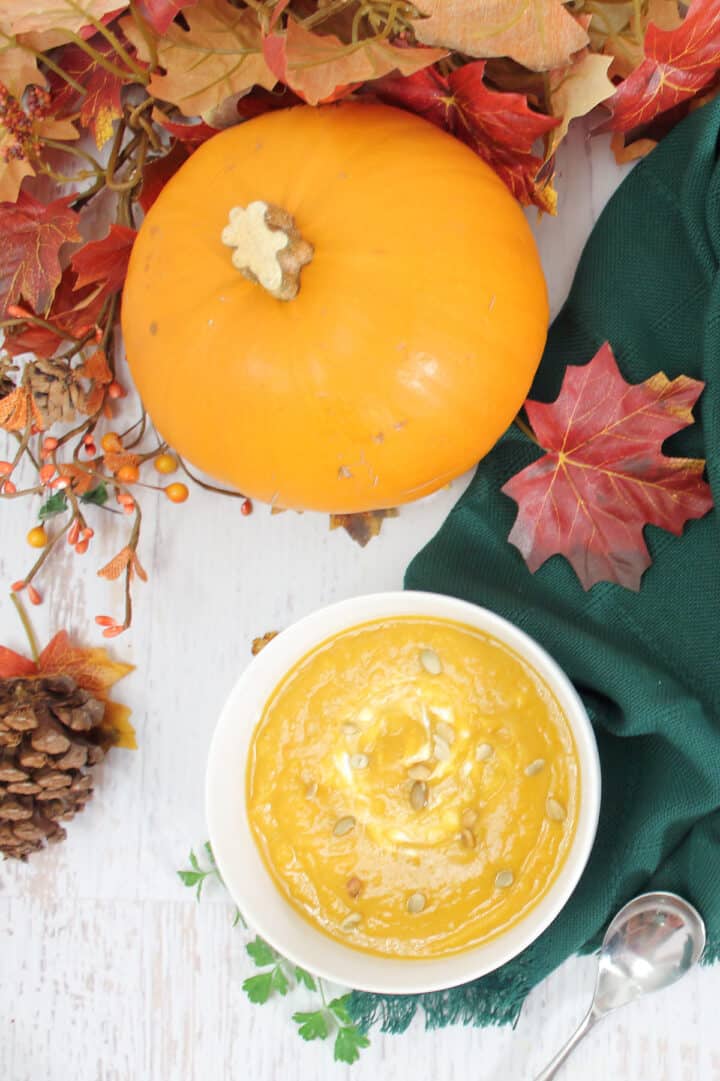 This butternut squash soup with ginger won't disappoint! It's rich, creamy, delicious, and only takes 45 minutes. It's perfect for those that are gluten-free, and with a few adjustments, fits dairy-free, vegan, vegetarian, keto, paleo and low carb lifestyles. Enjoy!
Love butternut squash? Try my Butternut Squash Mac and Cheese made with butternut noodles instead of pasta. Or my Butternut Squash Quinoa Pilaf instead of the usual rice dish.
What to Serve with Butternut Squash Soup
Soup and salad is always a great pairing. Try my Pear Walnut Gorgonzola Salad or Harvest Chicken Salad.
No one ever gets tired of soup and sandwich combos. I love BLTs or club sandwiches with this hearty soup.
For a main course, roasted chicken, turkey, or even ham would be perfect.
More Fall Comfort Food Soups
LOVE QUICK & EASY RECIPES? FOLLOW ME ON INSTAGRAM, FACEBOOK, & PINTEREST FOR ALL THE LATEST RECIPE INSPIRATION! PLUS JOIN MY EMAIL LIST AND RECEIVE A FREE E-BOOK.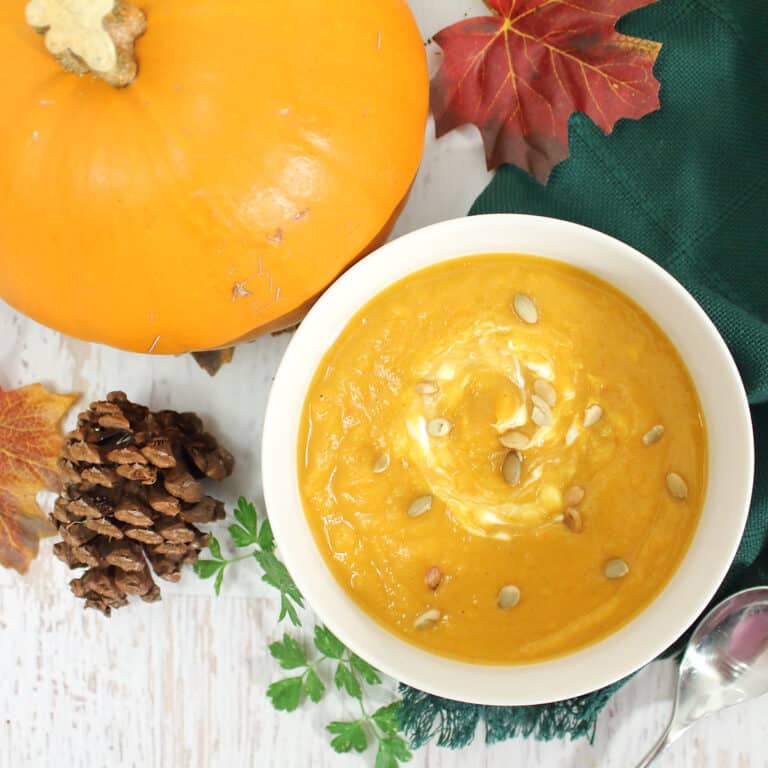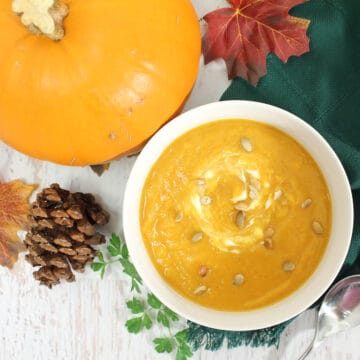 INSTANT POT SWEET POTATO BUTTERNUT SQUASH SOUP
Creamy, rich Instant Pot Sweet Potato Butternut Squash Soup is the perfect lunch or dinner for cold winter days. It's quick,easy & full of healthy goodness.
Print
Rate
Ingredients
Olive oil

¼

large sweet onion

chopped

1

red bell pepper

seeded & chopped

2

cloves

garlic

minced

1

" piece fresh ginger

minced

2

lbs.

sweet potatoes

peeled and chopped

1

butternut squash

peeled, chopped & deseeded (see note for easy way to cut)

2

apples

peeled and chopped

2

cups

vegetable broth

14

oz

unsweetened coconut milk

1 ½

teaspoon

cinnamon

½

teaspoon

nutmeg

¼

teaspoon

cardamom

1

teaspoon

salt

¼

teaspoon

black pepper

⅓

cup

Parmesan cheese

grated

3

oz

goat cheese

you can use cream cheese if you prefer

2

Tablespoons

honey or enough to adjust sweetness to your liking

Garnish: pepitas

goat cheese, parsley, parmesan
Instructions
Plug Instant Pot in and turn dial to saute. When temperature is reached, add olive oil, onion and bell pepper and saute until softened, about 3 minutes.

Add in garlic and ginger and continue cooking for an additional minute.

Press cancel and turn off IP.

Add prepared fruit and vegetables, vegetable broth, coconut milk and spices. Stir.

Place cover on IP and lock into place. Cook on high pressure for 8 minutes.

Depressurize with a natural release for 10 minutes then a quick release. When completely depressurized, remove cover.

Add parmesan cheese and goat cheese and stir.

Using an immersion blender, puree soup until smooth. If using a blender, do in small batches so that liquid does not explode from build up of steam.

Serve in bowl and garnish with a swirl of goat cheese or cream cheese, a sprinkle of pepitas and a parsley sprig.
Notes
How to Easily Peel and Cut Butternut Squash
To help peel & cut butternut squash, which is extremely tough, puncture skin all over with a fork. Cut off both ends and bake in microwave, on high, for 3-½ minutes. Allow to cool slightly then peel, remove seeds and chop. This additional step does not cook the squash or change the flavor.
Nutrition
Calories:
352
kcal
|
Carbohydrates:
50
g
|
Protein:
7
g
|
Fat:
15
g
|
Saturated Fat:
12
g
|
Cholesterol:
7
mg
|
Sodium:
707
mg
|
Potassium:
935
mg
|
Fiber:
8
g
|
Sugar:
19
g
|
Vitamin A:
26810
IU
|
Vitamin C:
45.6
mg
|
Calcium:
161
mg
|
Iron:
2.6
mg
This post has been updated and was first published on October 31, 2018.