Fudge Truffle Cheesecake is a rich, decadent, dark chocolate cheesecake with just a hint of coffee flavor. Impress your guests with this easy to make creamy dessert.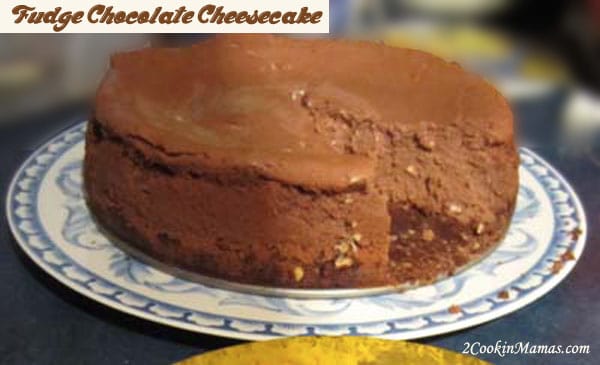 I thought I might have died and gone to heaven when this fudge truffle cheesecake was placed in front of me. My sweet sister made this scrumptious delight when I visited her and every bite was soooo good! It has a dense rich texture full of decadent chocolate and a hint of coffee flavor that puts it over the top! Oh and I can't forget the chocolate crumb crust that brings the chocolate flavor up a notch.
It was so smooth, rich and divine that I just had to share the recipe. Treat yourself, you won't regret it!
Fudge Truffle Cheesecake
Ingredients:
Chocolate Crumb Crust
1-1/2 cups vanilla wafer crumbs
1/2 cup powdered sugar
1/3 cup cocoa (I used Hersheys dark)
1/3 cup melted butter
Cheesecake
2 cups (12 oz) dark chocolate, chopped
3 package (8-oz each) cream cheese, softened
1 can (14-oz) condensed milk
4 eggs
1/4 cup coffee-flavored liqueur
2 teaspoons vanilla extract
Directions:
Preheat oven to 300 degrees.
To prepare chocolate crumb crust:
Stir together vanilla wafer crumbs, powdered sugar, cocoa and melted butter. Press into bottom of 9" springform pan. Set aside.
To prepare cheesecake:
Melt chocolate in microwave in 30 second increments. Stir and return to microwave for another 30 seconds. When most of the chocolate has melted just continue to stir until smooth. Do not heat too much in microwave or it will scorch and dry out.
In large mixing bowl, beat cream cheese until light and fluffy. Gradually add in condensed milk until incorporated. Add melted chocolate, eggs, liqueur and vanilla and mix well. Pour into chocolate crust.
Bake 65 minutes or until center is set. Remove to wire rack, run knife around pan to loosen cake from edges, then let cheesecake cool completely. Remove sides of pan and refrigerate.
Garnish cheesecake with whipped cream around edge just prior to serving.
If you liked this recipe check out our other delicious & decadent desserts here.