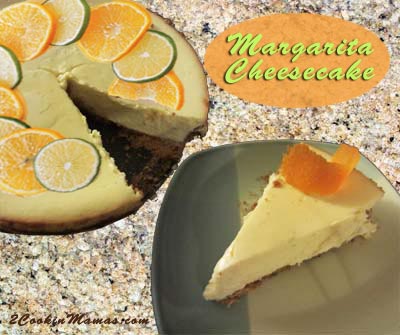 My daughter invited us over to her house for dinner last weekend and she fixed the most delicious dessert – a margarita cheesecake. She knew how much our family loves our margaritas and chose the perfect end for our meal. Of course I had to ask for a picture before we chowed down and for her to send me the recipe so I could share it with all of you. Enjoy!
Margarita Cheesecake
Ingredients:
7 tablespoons butter, melted + additional for greasing pan
5 teaspoons lime peel & ½ cup lime juice (usually takes about 5  limes)
½ teaspoon orange peel (need 1  orange)
8 ounces (65 wafers) vanilla wafer cookies (about 2-1/2 cups crumbs)
4 – 8 oz. packages cream cheese, softened
1 1/4 cups sugar
1/4 teaspoon salt
4 large eggs
8 ounces sour cream
1/4 cup orange-flavor liqueur (orange juice may be substituted)
 Orange and lime slices, for garnish
Directions:
Preheat oven to 350° F.
Prepare springform pan by greasing with butter and, if needed, wrapping the base of pan with tin foil to prevent leakage. This is usually not necessary but sometimes is necessary with older pans.
Place vanilla wafers in food processor and pulse until fine crumbs. You can also use a Ziploc bag and rolling pin to make crumbs if you do not have a food processor. Add 2 teaspoons of lime peel and melted butter to crumbs and stir. Press into springform pan covering bottom and about ½ way up sides of pan. Bake for 15 minutes then let cool completely in pan on wire rack.
In a large bowl beat cream cheese at medium speed until smooth. Gradually beat in the sugar and salt until well blended. On low speed, add eggs one at a time followed by the sour cream, orange liqueur, lime juice, orange peel and 1 Tablespoon lime peel. Mix until just blended.
Pour cheesecake mixture into cooled crust. Return to oven and bake for 45 minutes then turn oven off and leave cheesecake in the oven for an additional hour.
After 1 hour, remove cheesecake from oven and cool completely in pan on wire rack. Cover with saran wrap and refrigerate for at least 6 hours prior to serving.
When ready to serve, slice oranges and limes and garnish top of cheesecake for a beautiful tropical presentation.
Note: This cheesecake will keep very well for up to 4 days in the refrigerator.
If you loved this dessert you might also want to check these out:
DON'T MISS A RECIPE!