It's been a busy week with Christina's move and trying to get our cookbook ready for DDPYoga's review and approval. We are so excited to be working closely with someone who is so into providing people with a way to empower themselves to live healthier and fuller lives. His yoga has been an inspiration to thousands of people who want to get into shape without a heavy toll on their body from high impact. It is not your mama's yoga as it gives you a high aerobic workout just by using your own body's resistance. It's great for flexibility as well as balance. Combined with his belief in eating gluten-free, cow dairy-free and GMO free, it is the perfect program for anybody that wants to feel at the top of their game again.
So our busy schedules called for something that was easy but would satisfy our hunger after moving a houseful of goods into a U-Haul. I didn't feel like pizza, although it is pretty easy with the pre-made crusts, so I opted for another Italian dish, Stromboli, packed with our favorite fillings. You can use whatever fillings your family likes, regular or turkey sausage, salami, ham or  even make it  vegetarian, it is such an easy recipe to adapt.
This is a great idea for dinners as well as to pack in lunches. Heat up for a minute or two in the microwave and it is almost as good as fresh baked. Serve with a salad and you have yourself a delicious and satisfying meal.
Enjoy!
Quick & Easy Stromboli
Ingredients:
Pizza dough (from your local bakery or use Katz or other  GF Pizza Crust)
cornmeal
2 links mild or hot Italian turkey sausage, cooked, drained & cooled (can use regular Italian sausage)
½ red bell pepper, sliced thin then cut in half
¾ cup onion, sliced thin, then cut in half
1 teaspoon minced garlic
Extra virgin light olive oil
¼-1/2 cup your favorite spaghetti sauce
¼ lb. turkey pepperoni (or regular pepperoni, salami or ham)
2 slices provolone cheese, halved
6-8 oz.  fresh mozzarella or buffalo mozzarella
¼ cup Parmesan or Pecorino Romano cheese
Directions: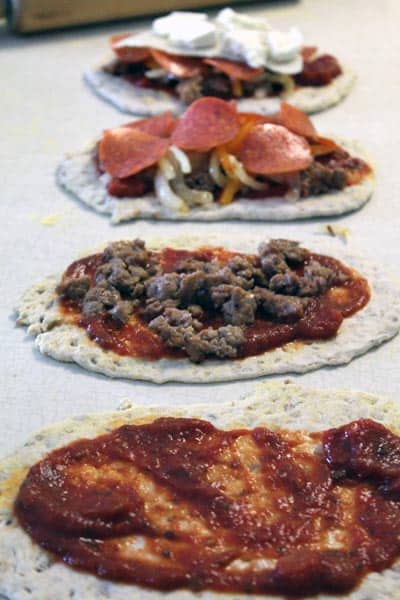 Remove dough from refrigerator and let sit at room temperature for about 1 hour. If making from mix, make dough. Set aside.
Preheat oven to 375 degrees. Spray a cookie sheet with non-stick spray and set aside.
In a large skillet, remove casing from sausage, break up into small pieces and cook until well done. Remove from skillet, drain and let cool.
In same skillet, place a small amount of olive oil and saute garlic, onion and bell peppers for about 5 minutes.
To assemble:
Divide dough into 2 or 4 portions depending on how large you want your Stromboli. Dust a clean surface with cornmeal then roll the dough out into long rectangles. Place a little bit of sauce on each. Top with pepperoni and sausage or other meat of your choice. Place a little of the onion/pepper mixture on top followed by a ½ piece provolone and a sprinkling of mozzarella.
Starting at one end, tuck in the sides then roll up jelly roll fashion. Place seam side down on cookie sheet. Brush with a little olive oil and bake in preheated oven for 20 minutes. Remove from oven, top with Parmesan or Pecorino Romano cheese and return to oven for 5 minutes.
Makes 4 servings.
DON'T MISS A RECIPE!