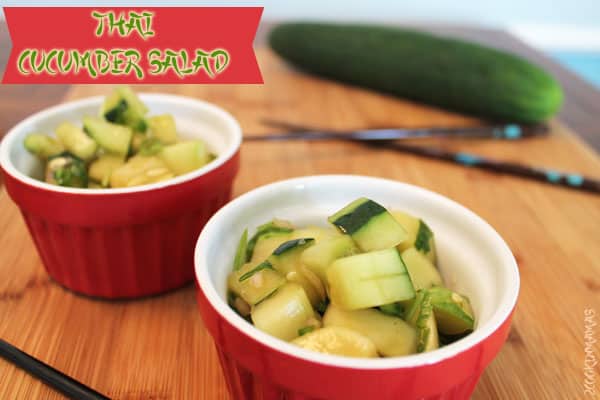 My husband and I love going to the neighborhood's best Asian/Sushi restaurant at least once a month. Every time we visit, they serve a complimentary salad that we love and we're always analyzing it to try and figure out all the ingredients. This salad recipe is as close as I have come so far in delivering the same cooling but slightly spicy flavor of the salad.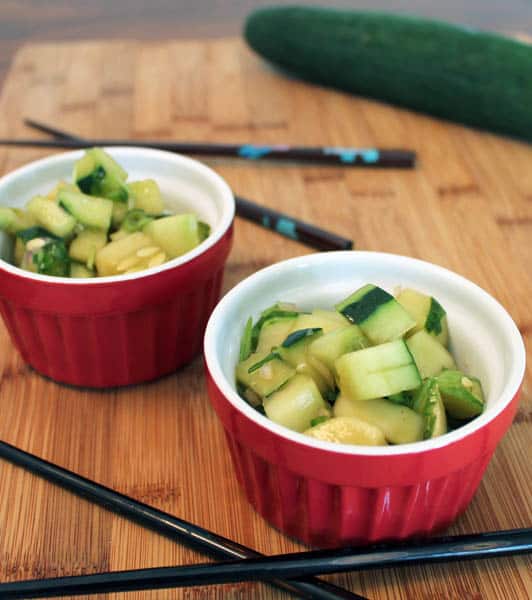 You'll be amazed at how refreshing and delicious this salad is, especially during the hot summer months, but what's even better is that it's healthy too! When you visit your Farmer's Market or grocery store look for organic cucumbers so you can leave the skin on, then stock up on organic peppers and carrots. Buying organic produce allows you to leave the peels on any vegetable or fruit for a much higher nutritional value.
Serve with Asian dishes, such as Baked Honey Garlic Chicken, or just eat it by itself as a snack.
Hope you enjoy!
Thai Cucumber Salad
Ingredients:
2 organic cucumbers, unpeeled (if using regular cucumbers do peel them), cubed
1 shallot, minced
2 green onions, sliced thin
1/4 cup red bell pepper, cubed
1/4 cup slightly cooked carrots, cubed
1/2 cup oranges or grapefruit, cubed (optional)
1/2-1 red chile, minced (depending on how much heat you like)
1/2 cup fresh cilantro, chopped
1/4 cup peanuts, roughly chopped
Dressing:
2 Tablespoons fish sauce
1 teaspoon minced garlic
1 Tablespoon Tamari
1/4 teaspoon cayenne pepper
1 teaspoon sugar
Directions:
Mix all salad ingredients together except for 1/4 cup cilantro and peanuts.
Mix all dressing ingredients and stir until sugar is well incorporated. Pour about half  over salad and toss to coat. Serve remaining dressing on the side.
Garnish with peanuts and remaining cilantro.
Serves 4.