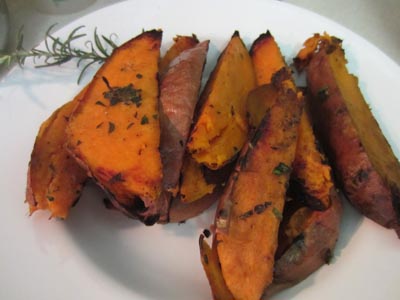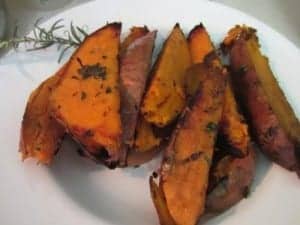 As fall approaches, cooking on the grill becomes much more fun. The fire giving off its warmth to ward off the cool nip in the air and the fun the kids have afterwards cooking their favorite dessert, s'mores. And what better way to prepare a dinner than to cook not only the main course but the accompaniment as well on the grill. Today I am sharing one of my favorite recipes for sweet potatoes - grilled with lime and cilantro. It's oh so good and healthy to boot. (See below for gluten-free, meatless option for dinner)
I also added how to cook white potatoes on the grill along with the sweets just in case there is someone in your family that doesn't like sweet potatoes.
Lime & Cilantro Grilled Sweet Potatoes
Prep Time: 10 minutes Cook Time: 48 minutes Total Time: 58 minutes
Ingredients:
Sweet Potatoes
2 sweet potatoes, washed & scrubbed
¼ cup olive oil
salt & pepper
pinch of cayenne
¼ cup fresh cilantro, chopped
White Potatoes
2 White baking potatoes, washed & scrubbed
¼ cup olive oil
salt & pepper
1 teaspoon minced garlic
1 Tablespoon combination of rosemary, oregano and parsley
Parmesan cheese, grated
Directions:
Preheat oven to 350 degrees.
Wash & scrub all potatoes well then pierce several times with a knife or fork. Cook all potatoes, directly on the oven rack, for 45 minutes.
Remove carefully, let cool for 5 minutes, then slice sweet potatoes into eights lengthwise, white potatoes into quarters lengthwise.
Preheat grill or leave on after cooking your main dish.
Mix all remaining ingredients for sweet potatoes in a small bowl. Spray a grill pan (one with holes is best) with non-stick cooking spray. Lay sweet potatoes on pan and brush with olive oil mixture, coating all sides.
Repeat mixing olive oil and spices for white potatoes and lay white potato slices on grill pan next to sweet potatoes. Brush with olive oil mixture on all sides to coat.
Cook on grill for 2 minutes per side. Remove and place potatoes on platter. Sprinkle cilantro on the sweet potatoes and some grated Parmesan cheese on the white potatoes. Serve hot.
Serves 4.
Tip: Make this a true meatless meal by placing 1 15-oz can black beans in a small casserole. Sprinkle with ⅓ cup Manchego cheese and place in microwave for 2-3 minutes on high. Remove and place on top of sweet potatoes, garnishing with green onions, guacamole and salsa. This also makes a great gluten-free meal!