This Mediterranean Quinoa Salad is a delicious cold salad that's perfect for the warm summer days ahead. Quinoa is combined with cucumbers, tomatoes, and the best of Greek flavors, olives, and feta cheese. It's dressed with a red wine vinegar and olive oil dressing to give you a heart-healthy lunch, vegetarian dinner, or an easy side dish.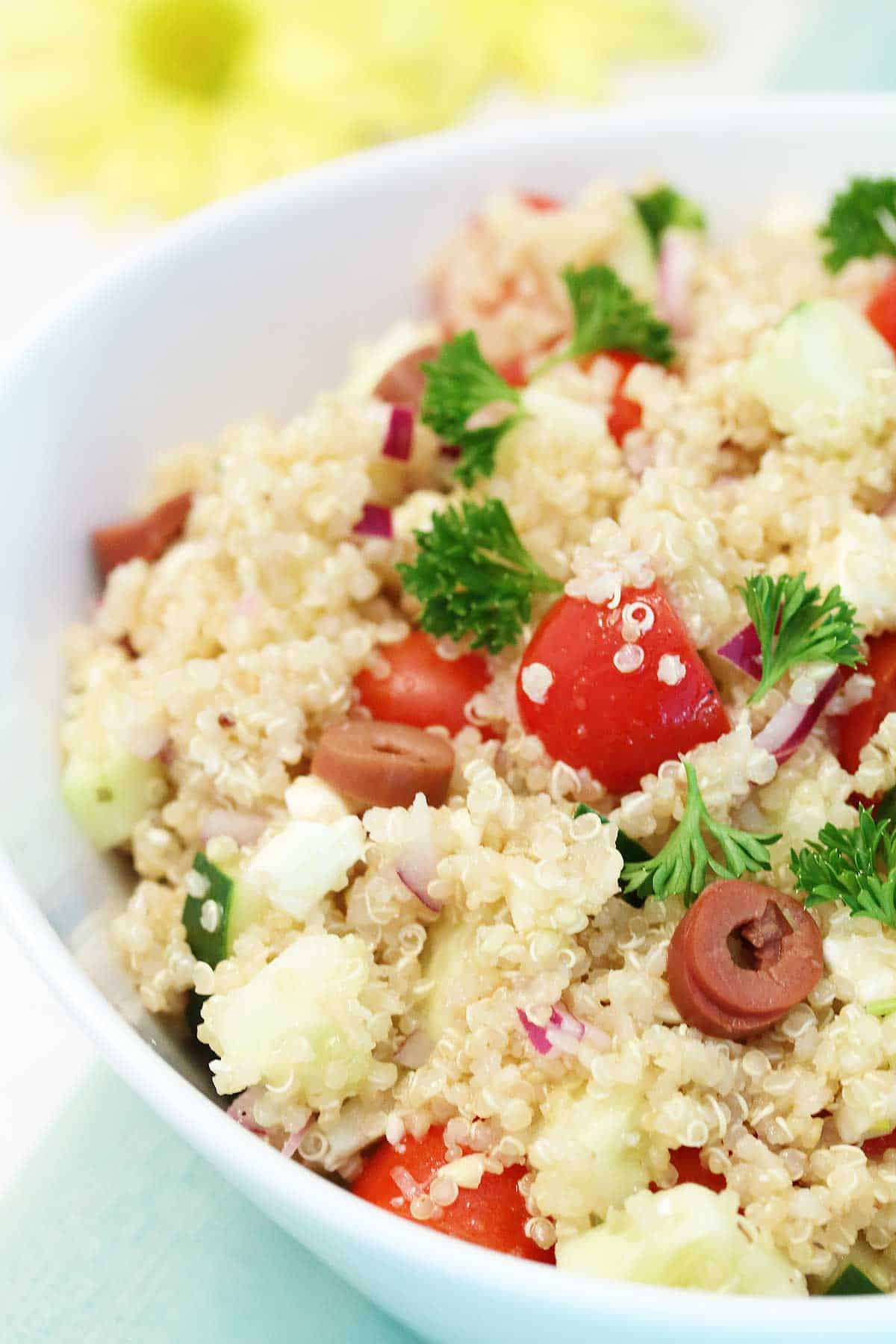 Benefits of Quinoa
I love quinoa! There I said it! It seems that since it exploded on the market in 2013 it has gone through ups and downs in popularity but there are some of us who love what this protein-rich grain brings to the table, no matter what.
Quinoa is a healthy, protein-rich whole grain and is so versatile that it can be used as an ingredient in breakfast waffles, salads, and main meals or substituted for rice in side dishes like this Spanish Quinoa.
It is also naturally gluten-free. For those that are trying to eat a little healthier this whole grain delivers essential vitamins, minerals, and fiber as opposed to pasta and rice which are simple carbohydrates and are quickly digested leaving little or no nutritional value.
Besides being the perfect protein, quinoa is high in anti-inflammatory phytonutrients and heart-healthy fats too! It's a win-win to add this to your diet.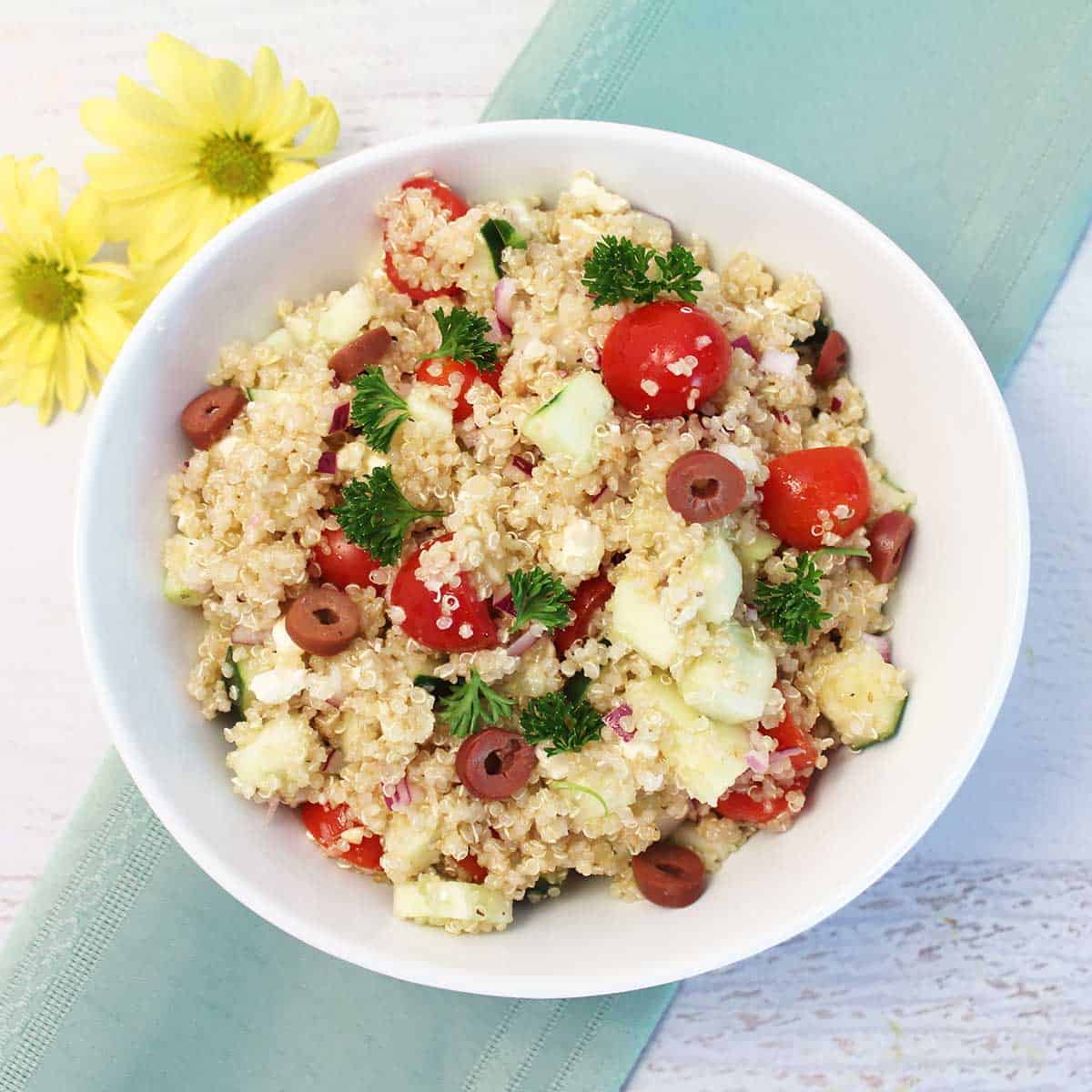 Why This is the Best Mediterranean Quinoa Salad Recipe
Quick and Easy - This quinoa salad is so easy to pull together and quick too as it can be on the table in as little as 10 minutes with prior-cooked quinoa or about 30 minutes if starting from scratch. In fact, I'd venture to say, cooking the quinoa is the hardest part.
Great for Lunch - Pack it up for weekday lunches. And, if you're like me, double the recipe so you can keep eating healthy all week.
Flavorful Side Dish - Goes great with meat and seafood.
Versatile - Change it up by adding, removing, or substituting ingredients to suit your preferences. See variations below.
Meal Prep and Make Ahead
If you're in the habit of prepping some of your meals on the weekend for the busy week ahead, you can cook up a batch of quinoa on Sunday and use it in a number of recipes throughout the week.
Recipes like Sriracha Shrimp and Chorizo, Quinoa Tabouli, and, of course, this Mediterranean Quinoa Salad.
Ingredients
For the Mediterranean quinoa salad: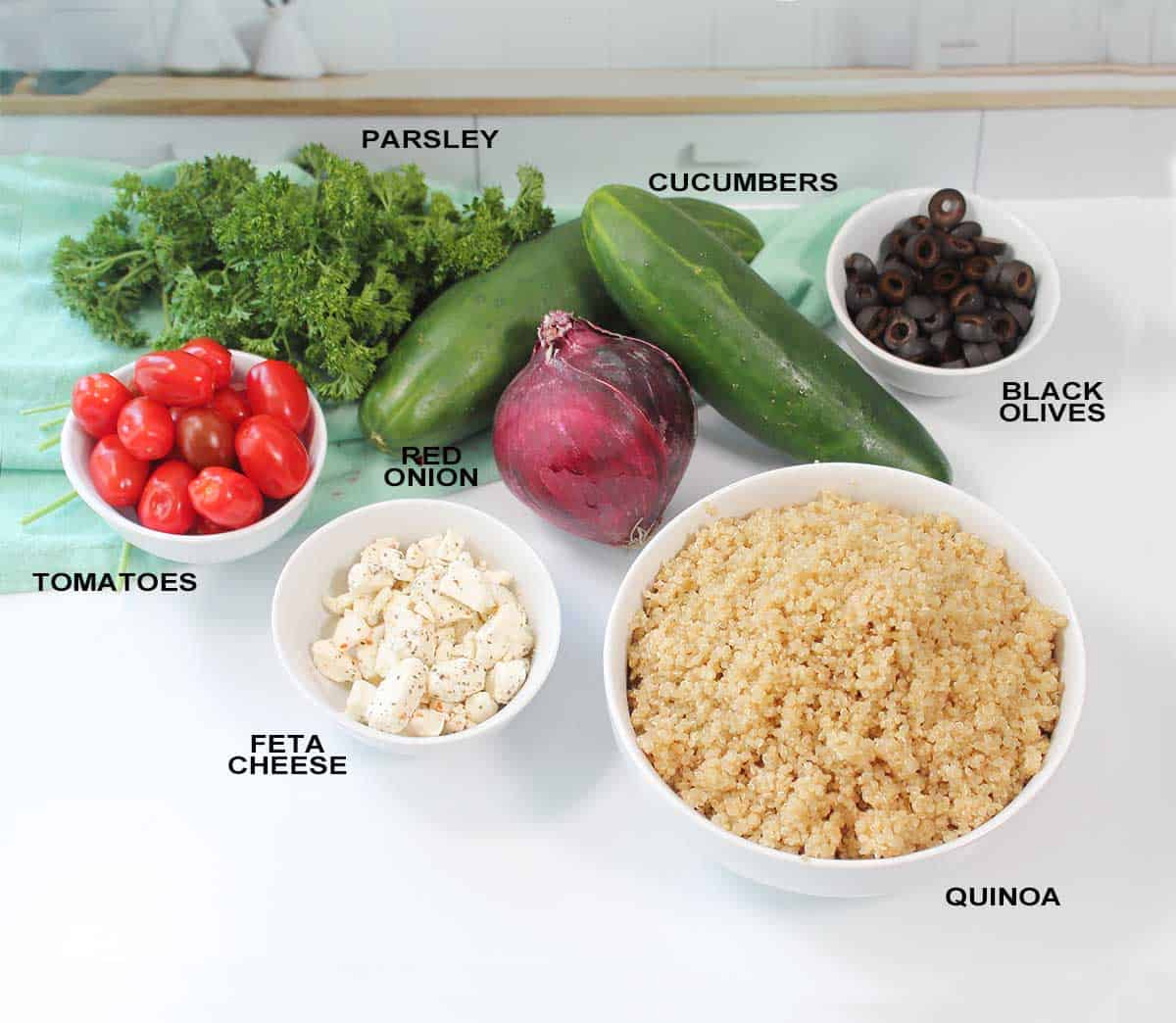 Cooked quinoa - 1 cup cooked in either 2 cups or chicken broth or water
Cucumbers
Grape tomatoes
Red onion
Black olives
Feta cheese crumbles
Fresh parsley
For the Mediterranean quinoa salad dressing: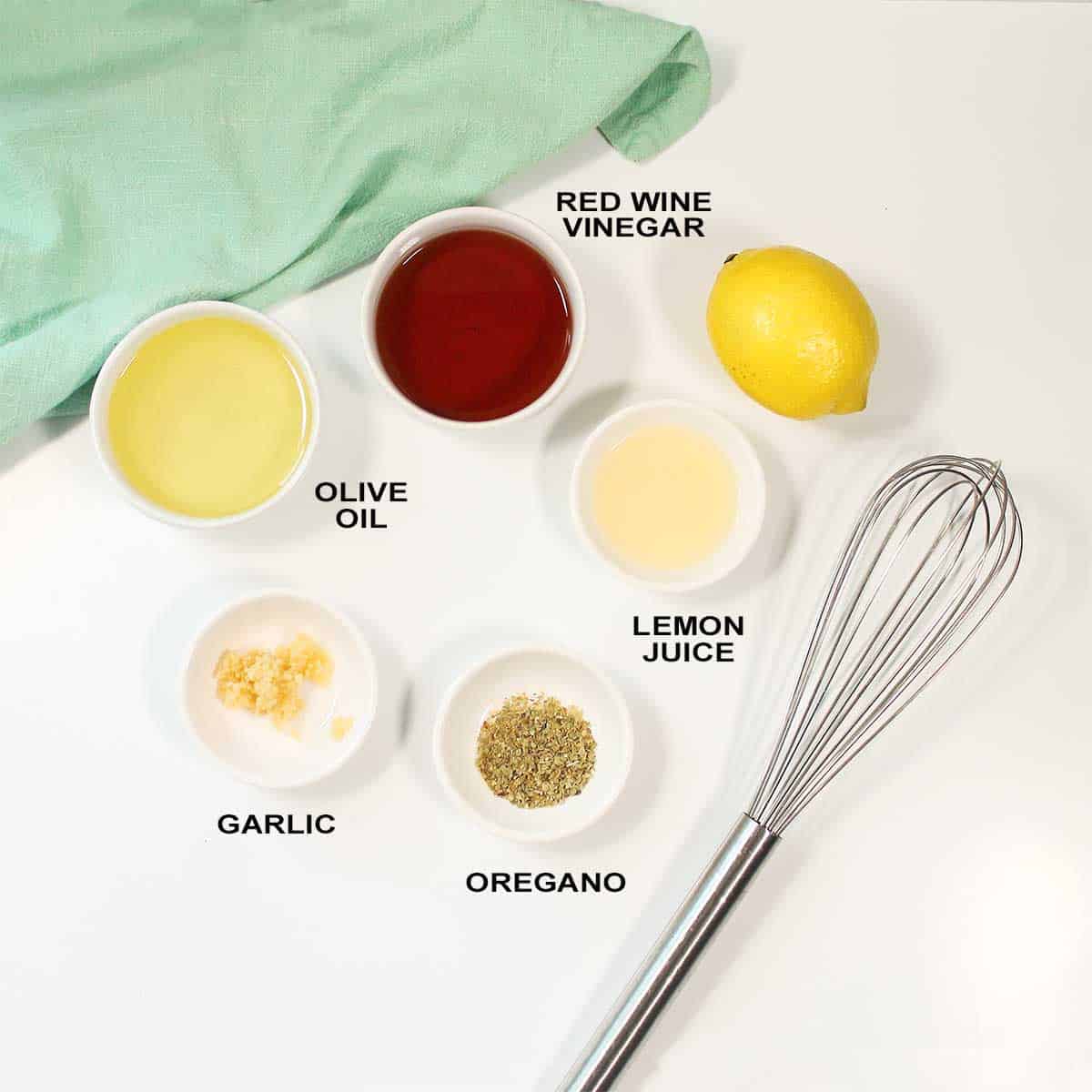 Olive oil
Red wine vinegar
Lemon
Garlic clove
Dried oregano
How to Make Dressing for Quinoa Salad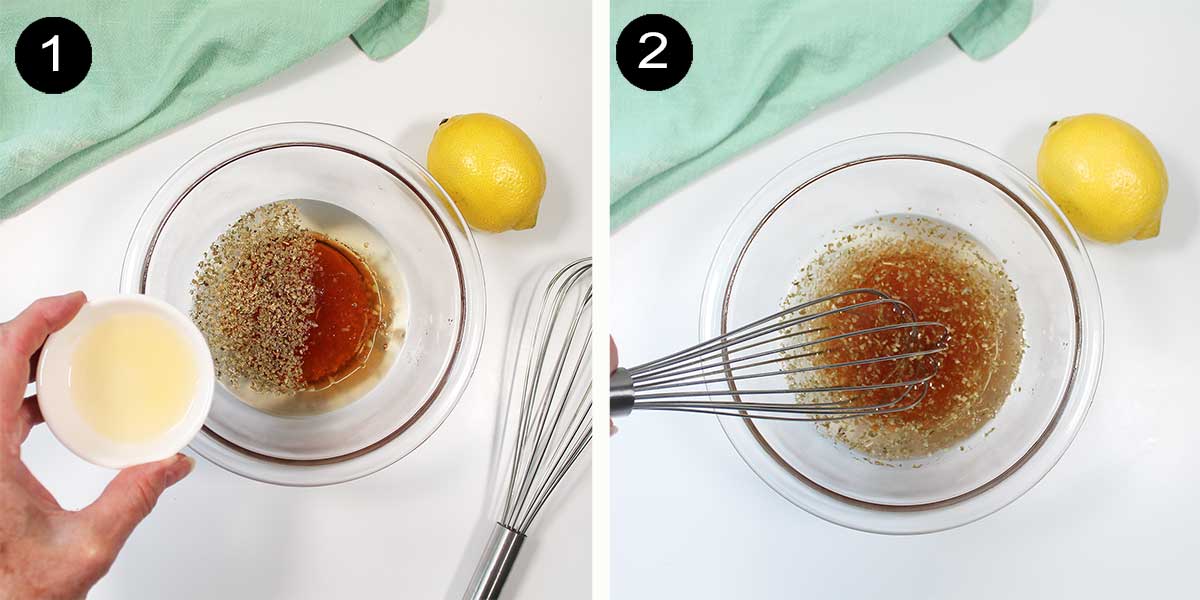 In a small bowl, combine olive oil, red wine vinegar, minced garlic, and oregano. Add lemon juice.
Whisk together until blended.
How to Make a Quinoa Salad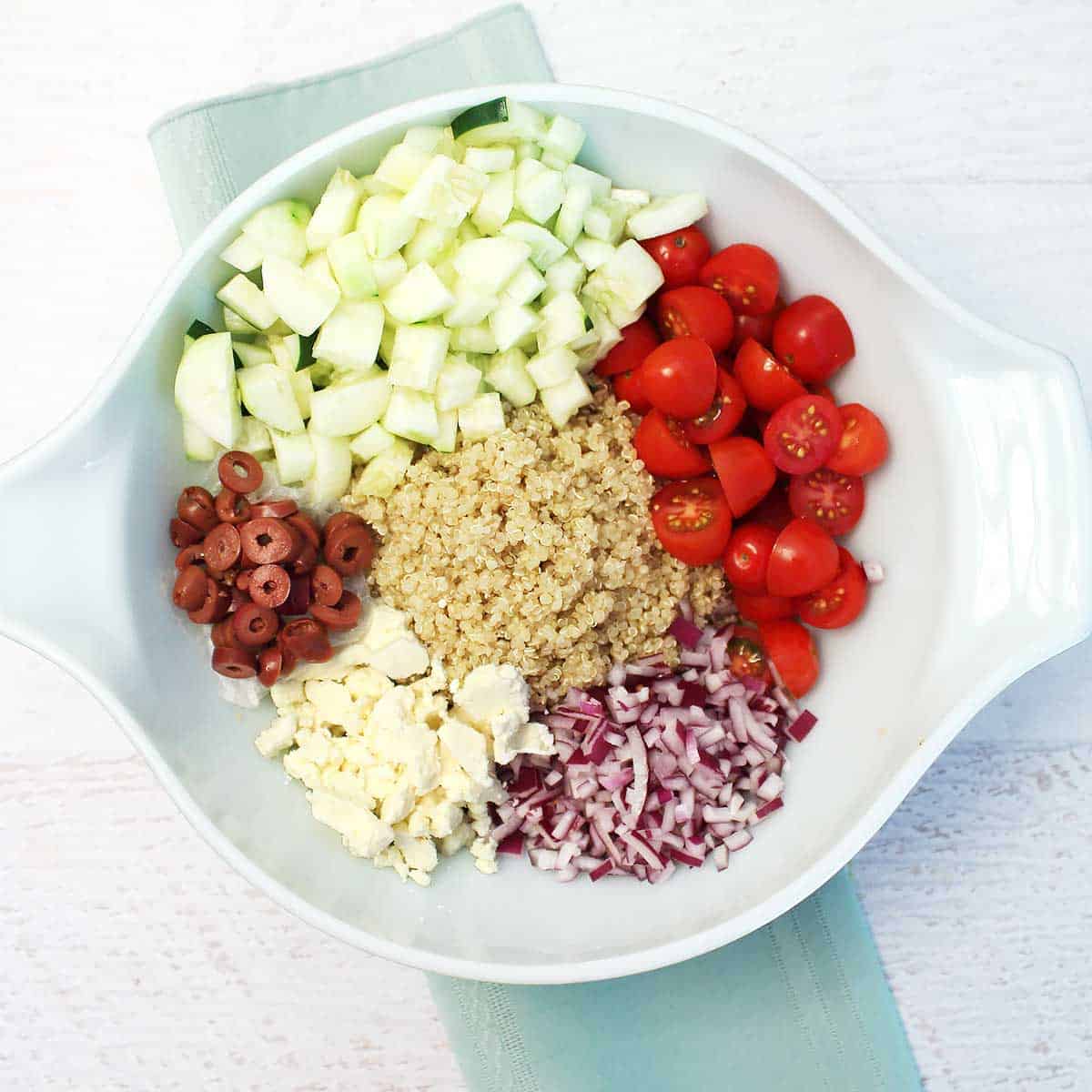 In a large bowl, combine cucumbers, halved tomatoes, diced red onion, sliced olives, and feta cheese with cooked quinoa.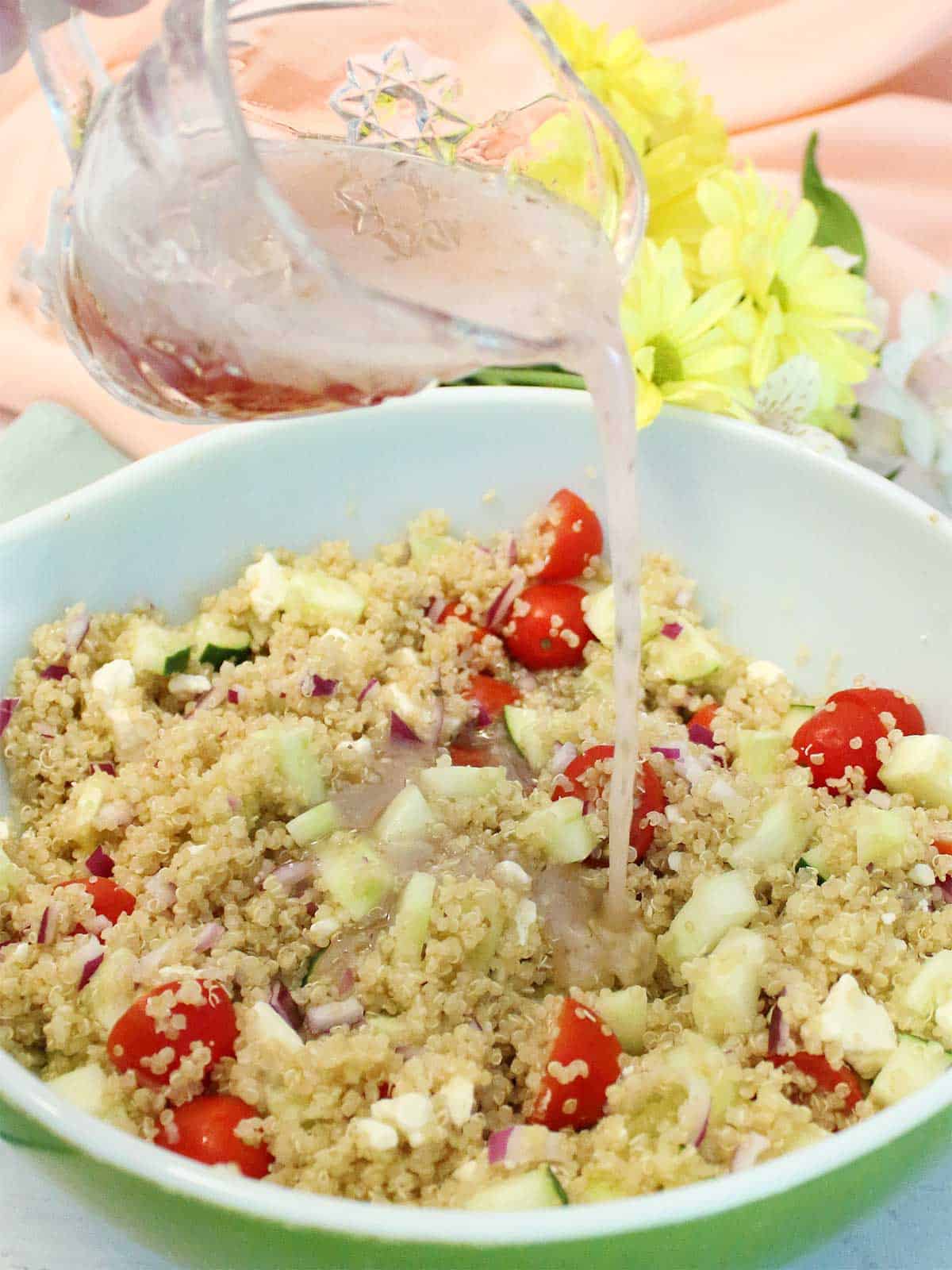 Drizzle the salad dressing over the quinoa salad and let it set for an hour or overnight so that the flavors marry.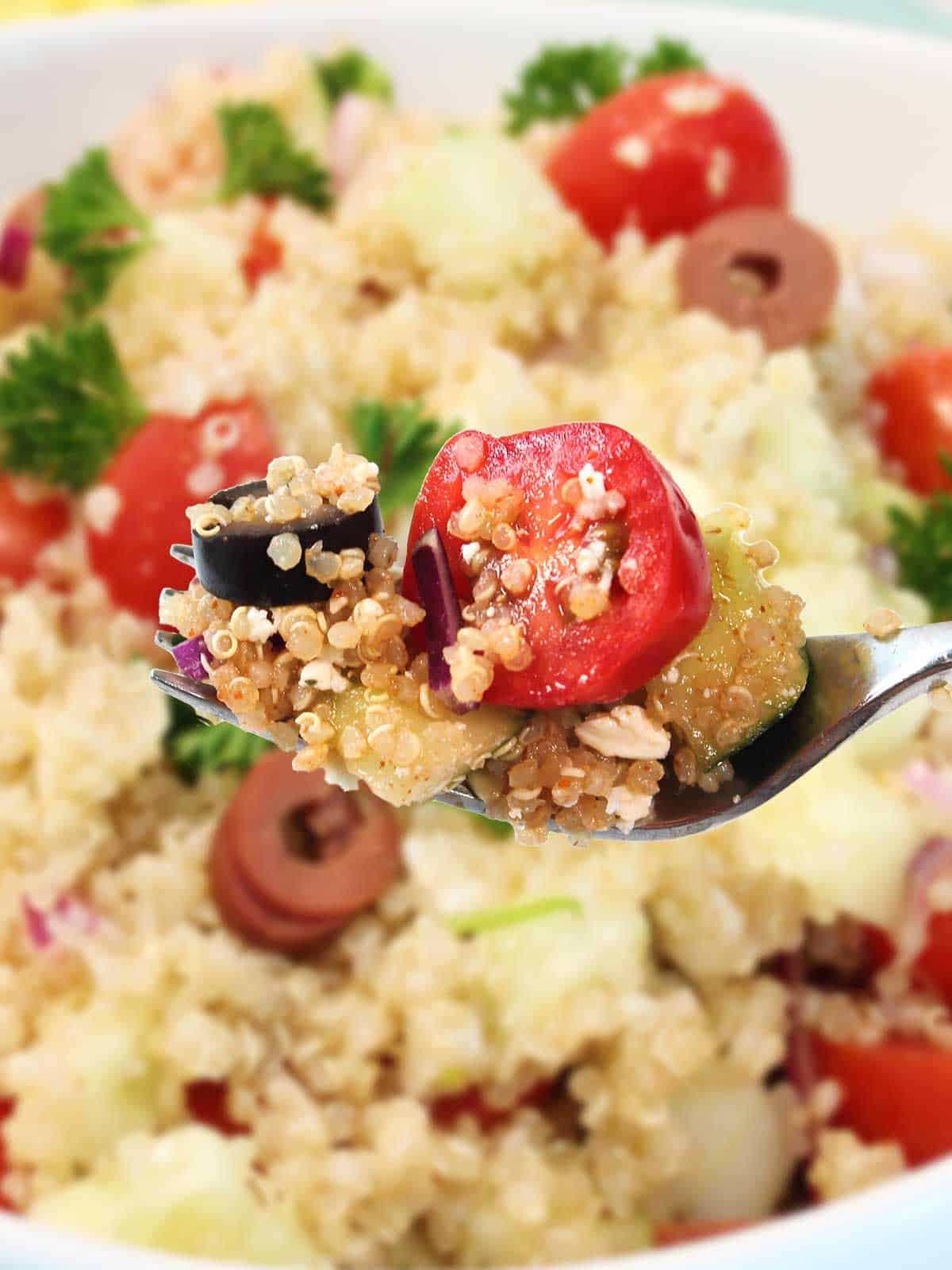 Now take a bite of this deliciously light, flavorful, and satisfying cool summer salad.
Recipe Tips
Spread the cooked quinoa on a baking sheet and refrigerate it for faster cooling and to help prevent it from clumping in the salad.
Make the quinoa the day before to save prep time and help it to absorb more of the flavors from the dressing and vegetables.
Rinse the quinoa prior to cooking to bring out the nutty flavor.
Recipe Variations
You can customize this salad in lots of ways. Here are some ideas for quinoa salad:
Cheese - Use goat cheese instead of feta.
Dressing - Use Greek dressing, Italian dressing, balsamic dressing, or hummus dressing instead of the homemade red wine vinaigrette dressing.
Grains - Substitute the quinoa with amaranth, brown rice, or farro.
Greens - Add 2 to 3 cups of baby arugula, kale, or spinach.
Herbs - Add fresh chopped mint, oregano, thyme, or basil.
High Protein Meat & Seafood - Add chicken, salmon, or shrimp on top.
High Protein Vegetarian - Add chickpeas or toasted pine nuts for extra protein.
Vegan - Use vegetable broth instead of chicken broth and substitute the feta with vegan cheese or tofu.
Make a Mediterranean Quinoa Bowl by placing the quinoa in the bottom of the bowl and topping it with the remaining ingredients instead of tossing them together. Add a big dollop of Greek yogurt or hummus on top. Sliced avocado would also be a great addition.
What to Serve with Quinoa Salad
How to Store
Store quinoa salad in an airtight container in the refrigerator for up to 4 days.
Freezing is not recommended because fresh vegetables will become mushy when they are frozen and thawed.
Frequently Asked Questions
Does quinoa need to be rinsed?
Yes, quinoa should be rinsed before cooking. This step is important because quinoa naturally has a coating of saponins, which can taste bitter or soapy. While most quinoa sold commercially in grocery stores is pre-rinsed, it doesn't hurt to rinse it again at home just to ensure all the saponins are removed.
Can you eat quinoa raw?
Quinoa should not be eaten raw because it is hard and difficult to digest. It needs to be cooked in order for it to become edible and digestible. Even if it's sprouted or soaked, raw quinoa can still be quite tough to digest. When cooked, quinoa expands and softens, making it much easier for your body to process.
Is quinoa gluten free?
Yes, quinoa is naturally gluten-free. This makes it a great choice for those with celiac disease or a sensitivity to gluten. However, always check packaging labels, as quinoa can sometimes be processed in facilities that also process gluten-containing grains, which may cause cross-contamination.
How is quinoa pronounced?
Quinoa is pronounced as "keen-wah".
What's the difference between white, red, and black quinoa?
The main differences between these types are the color and a slight variation in texture and flavor. White quinoa has the most delicate flavor and lightest texture and cooks up a bit fluffier than other types. Red quinoa has a richer taste, slightly chewier texture, and somewhat nuttier flavor compared to white quinoa. Black quinoa has an earthy and sweet flavor and is somewhat crunchier than white and red quinoa.
More Healthy and Hearty Salad Recipes
Find lots of delicious and easy salad recipes right here on 2CM!
LOVE QUICK & EASY RECIPES? FOLLOW ME ON INSTAGRAM, FACEBOOK, & PINTEREST FOR ALL THE LATEST RECIPE INSPIRATION! PLUS JOIN MY EMAIL LIST AND RECEIVE A FREE E-BOOK.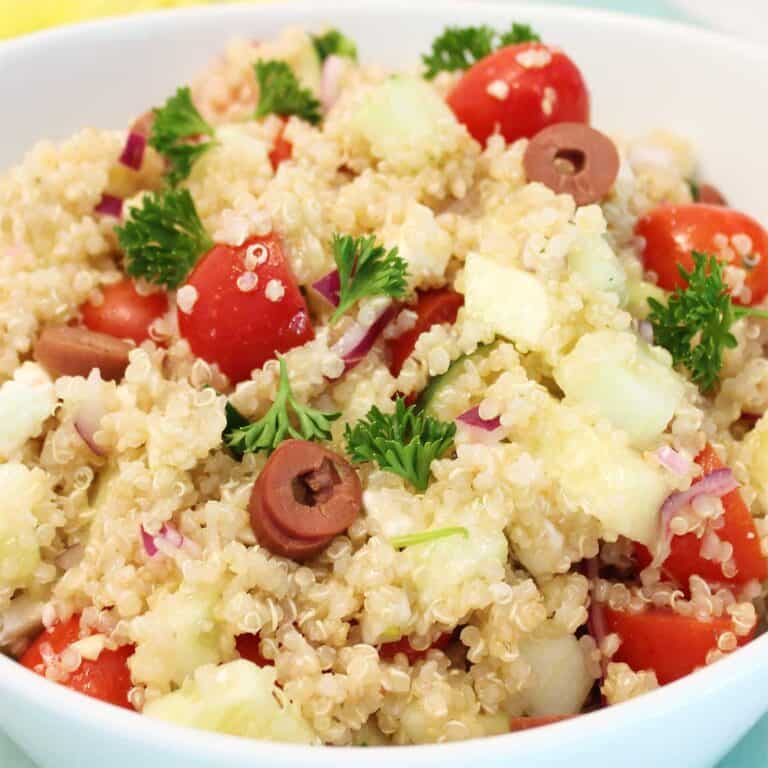 Mediterranean Quinoa Salad
This Mediterranean Quinoa Salad is a hearty and healthy recipe that's perfect for the warm summer days ahead. Quinoa is combined with cucumbers, tomatoes, and the best of Greek flavors, olives and feta cheese. It's finished with a drizzle of olive oil dressing perfect for a heart-healthy lunch, vegetarian dinner, or an easy side dish.
Print
Rate
Ingredients
Salad
3

cups

cooked quinoa

(1 cup raw quinoa cooked in 2 cups water or chicken broth)

2

cucumbers,

peeled and diced

1

cup

grape tomatoes,

halved

½

cup

red onion,

diced

½

cup

black olives,

thinly sliced

½

cup

feta cheese,

crumbled

Garnish: chopped fresh parsley,
Dressing
½

cup

olive oil

¼

cup

red wine vinegar

Juice of ½ lemon (about 1 tablespoon)

1

garlic clove,

minced

½

teaspoon

dried oregano
Instructions
Earlier in the day or the day before, cook quinoa with chicken broth or water according to the package directions.  Drain and transfer quinoa to a medium bowl and fluff with a fork.  Chill in the refrigerator.

In small bowl, whisk dressing ingredients together until emulsified.

In a large bowl, combine cooked quinoa with cucumber, tomato, onion, olives, and feta.

Drizzle the dressing over the quinoa mixture and stir. 

Cover and refrigerate for 1 hour to overnight.  Serve chilled with a garnish of parsley.
Notes
HOW TO STORE
Store quinoa salad in an airtight container in the refrigerator for up to 4 days.
Freezing is not recommended because fresh vegetables will become mushy when they are frozen and thawed.
Nutrition
Calories:
347
kcal
|
Carbohydrates:
26
g
|
Protein:
7
g
|
Fat:
24
g
|
Saturated Fat:
5
g
|
Polyunsaturated Fat:
3
g
|
Monounsaturated Fat:
15
g
|
Cholesterol:
11
mg
|
Sodium:
330
mg
|
Potassium:
406
mg
|
Fiber:
5
g
|
Sugar:
4
g
|
Vitamin A:
386
IU
|
Vitamin C:
13
mg
|
Calcium:
109
mg
|
Iron:
2
mg
This post has been updated with step-by-step instructions and more helpful information. It was first published on April 27, 2018.