Butternut Squash Quinoa Pilaf is a healthy, easy side dish to add to your Thanksgiving dinner. It is a combination of quinoa with roasted butternut squash and peas that's lightly flavored with garlic & Parmesan cheese. Don't just have it for Thanksgiving! It makes a delicious gluten-free or vegetarian side for any fall meal and is delicious enough to serve as a hearty main meal.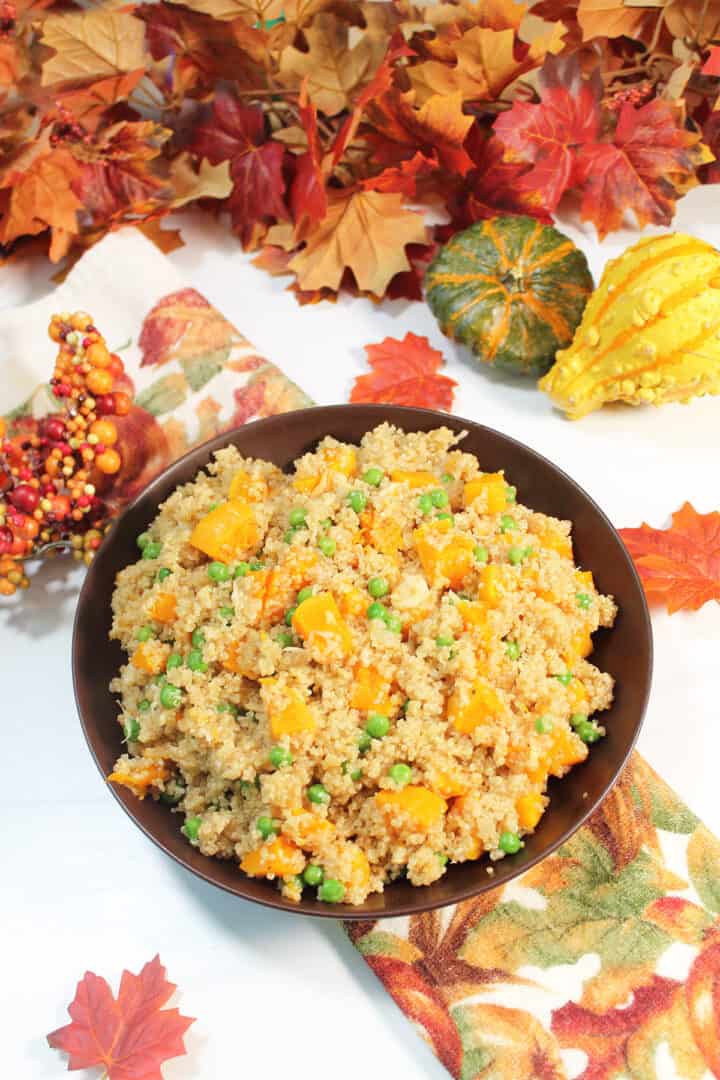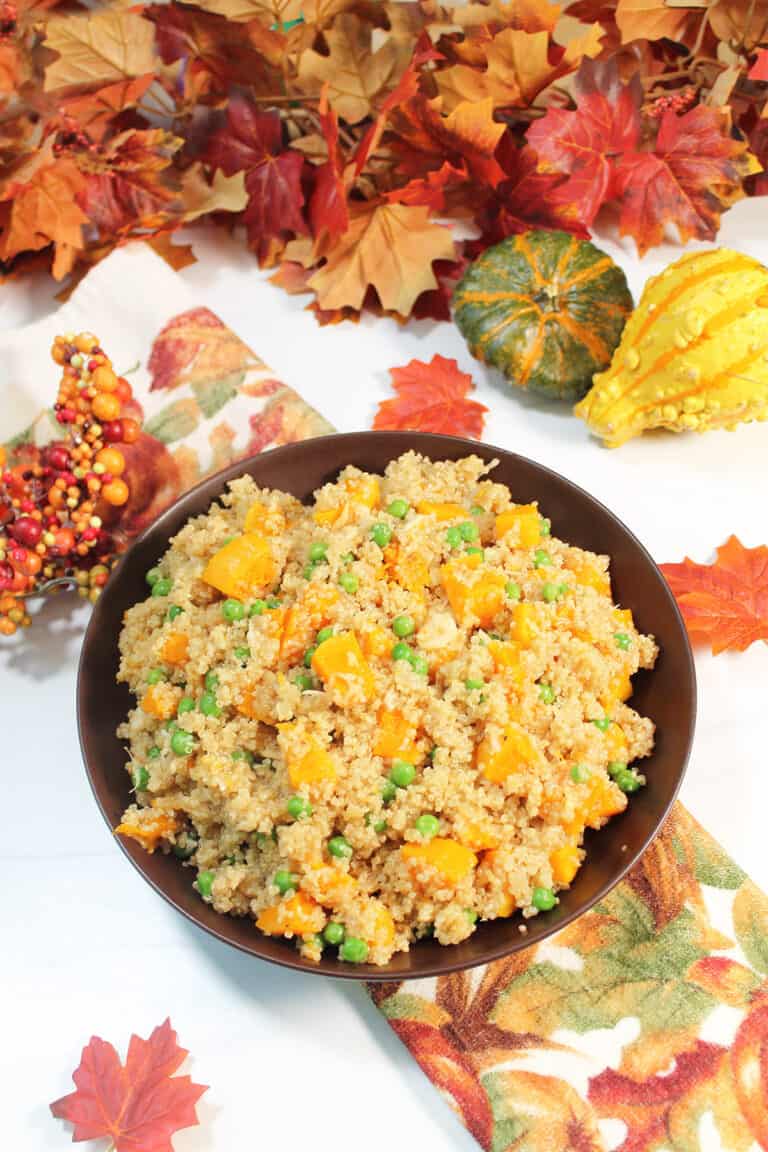 Fall is the time of year that I love to spend more time in the kitchen. The crisp, cool days make the warmth of the kitchen so comforting. Plus there are so many wonderful fall vegetables to create new side dishes that make dinner time a little more interesting.
This Butternut Squash Quinoa Pilaf was one of those combos that did everything right. It has the sweetness of roasted butternut squash, the quinoa gives it heft and a little chew and the garlic and onions give that pop of flavor. It's a nutritious side dish that pairs well with chicken, beef, ham and, of course, that roasted Thanksgiving turkey.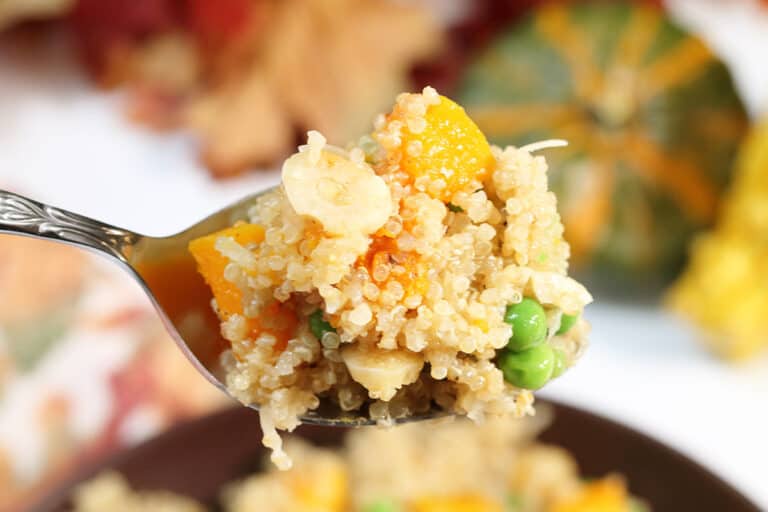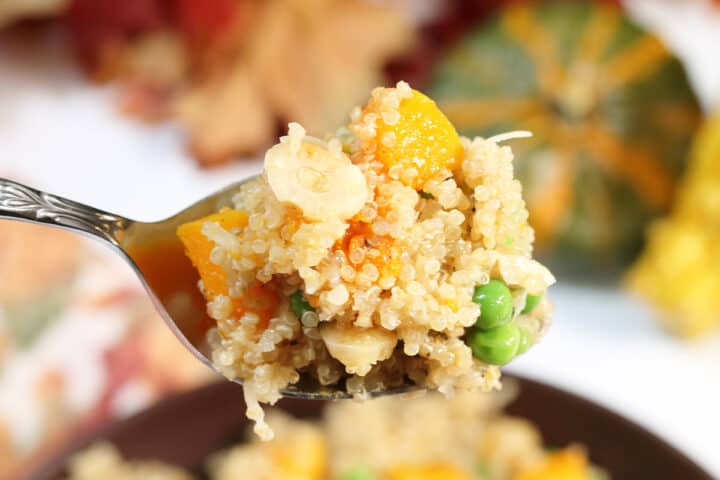 What is Butternut Squash
Butternut Squash is a winter squash that grows on a vine and has a nutty, sweet taste that is enhanced when it is roasted in the oven. It is low in calories, high in Vitamins A and C as well as potassium and magnesium. It contains some fiber and is an excellent source of antioxidants.
I've found it makes the most delicious Butternut Squash Soup, an extra layer of nutritious goodness in my Chicken Lasagna, and pairs really well with polenta in my Cheese Polenta and Butternut Squash Casserole. Not to mention you can serve this recipe as a warm Quinoa Butternut Squash Salad.
Ingredients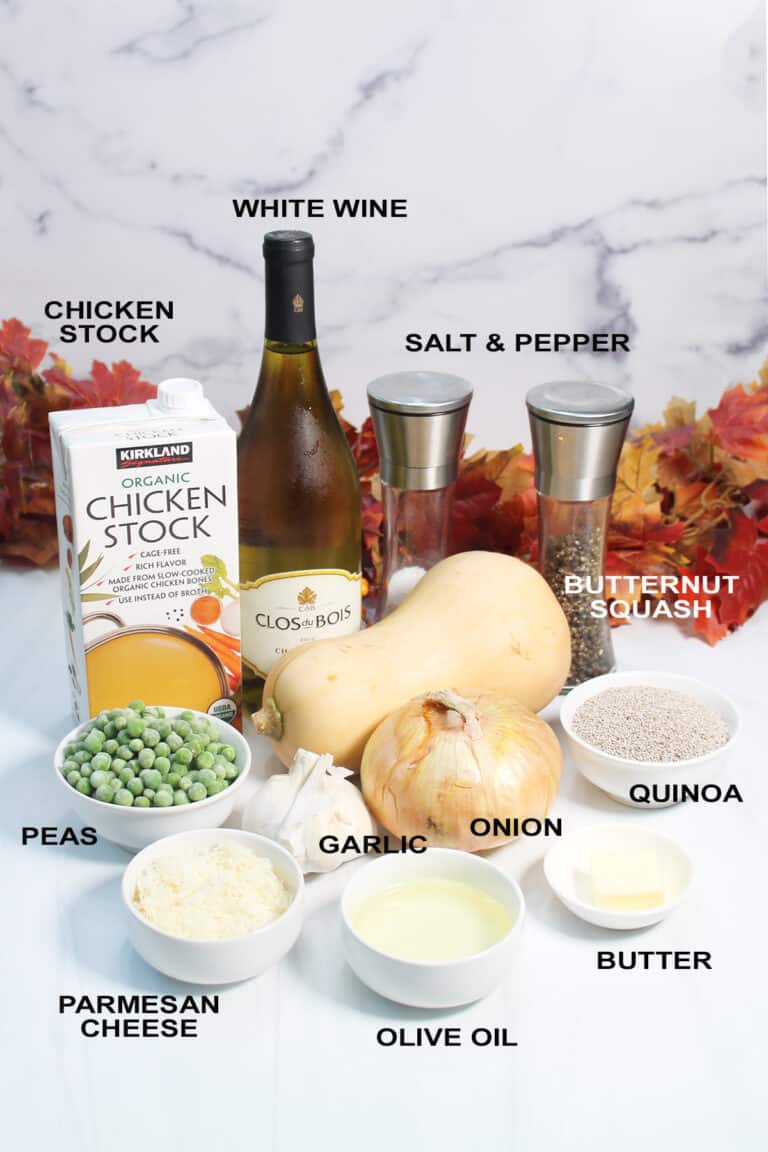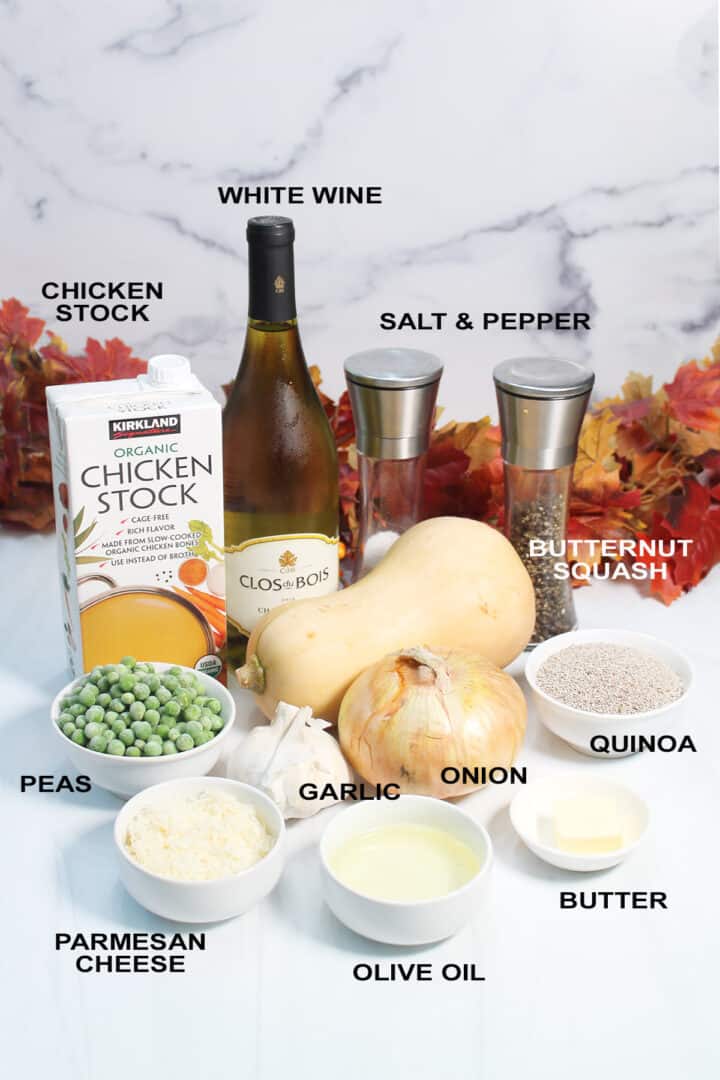 Butternut Squash – You can buy a whole butternut squash like I did and peel and roast it or purchase a package of pre-chopped butternut squash in the produce section.
Quinoa – is a healthy grain that is high in protein, dietary fiber, B vitamins as well as anti-inflammatory properties. I like to use the white quinoa in this quinoa vegetable pilaf recipe as it has a much more tender texture.
Olive Oil – helps create the caramelization of the squash during roasting. If you prefer, you can sub avocado oil for the olive oil.
Sweet Onion- lends a touch of flavor and sweetness to the pilaf
Garlic – Caramelizes in the roasting process along with the squash. This lends a little more sweetness to the pilaf. You can add more or less depending on your tastes.
Broth – I love the flavor chicken broth adds to the quinoa as well as adding a bit more protein to the mix. For a vegetarian/vegan option, you can substitute vegetable broth.
White wine – I love to use wine in cooking. It adds acidity to the dish which makes all the flavors richer. You can easily omit and substitute with more broth or even water.
Salt and Pepper – enhances the flavors in the dish
Peas – add not only important vitamins but color to the pilaf. Plus it wouldn't be pilaf without the peas, right?!
Butter - adds flavor and moisture. It can be omitted for vegan/vegetarian diets.
Parmesan Cheese - Last but not least, the cheese adds a bit of tang and an added layer of flavor. For vegan/vegetarian diets, either leave out the cheese or substitute a vegan cheese.
Variations
Rice or wild rice - can be substituted for quinoa
Dried Cranberries or Pomegranate Seeds - add more of a holiday touch. Toss it in at the end when the cheese is added.
Nuts - for more crunch, add sliced toasted almonds.
Goat Cheese - can be subbed for the parmesan. Add dollops just before serving.
How to Make Quinoa Pilaf with Butternut Squash
How to Cook Butternut Squash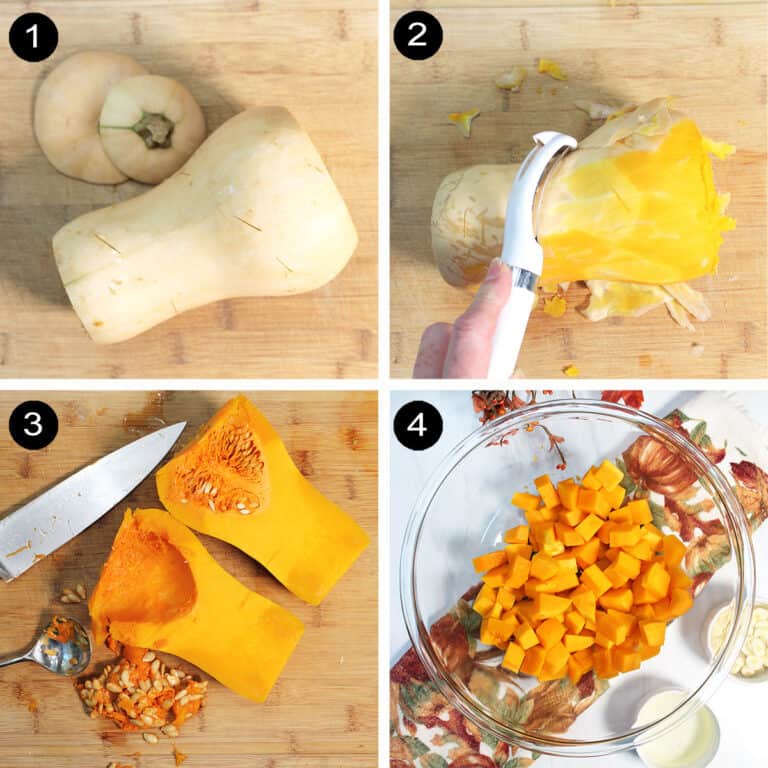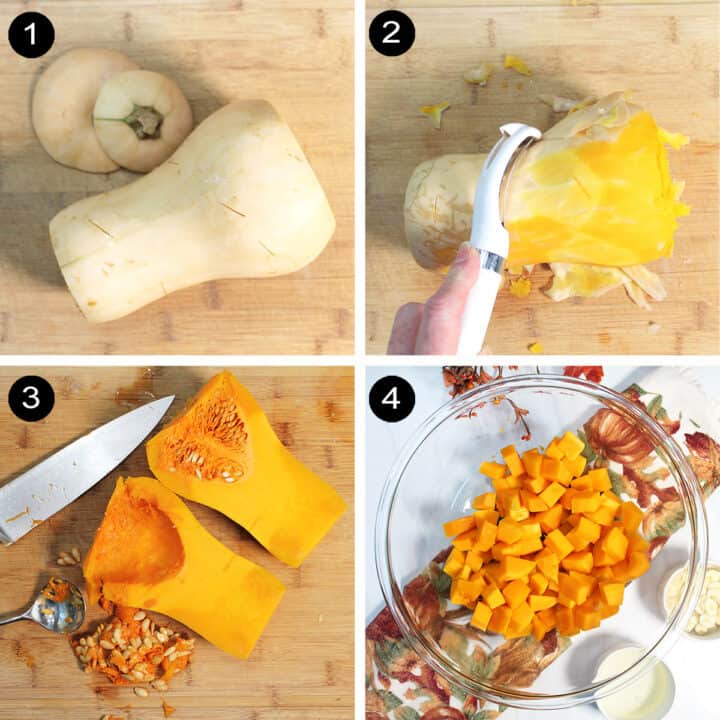 To help make this hard squash a little easier to work with, I put it in the microwave.
To prepare for the microwave, cut about ¼" from the top and bottom of the butternut squash. Pierce the skin all over with a knife or fork to help the steam escape. Cook on high for 3-5 minutes.
Peel the skin off the squash with a vegetable peeler.
Cut in half and scoop out the pulp and seeds with a spoon.
Cube and place in a large bowl.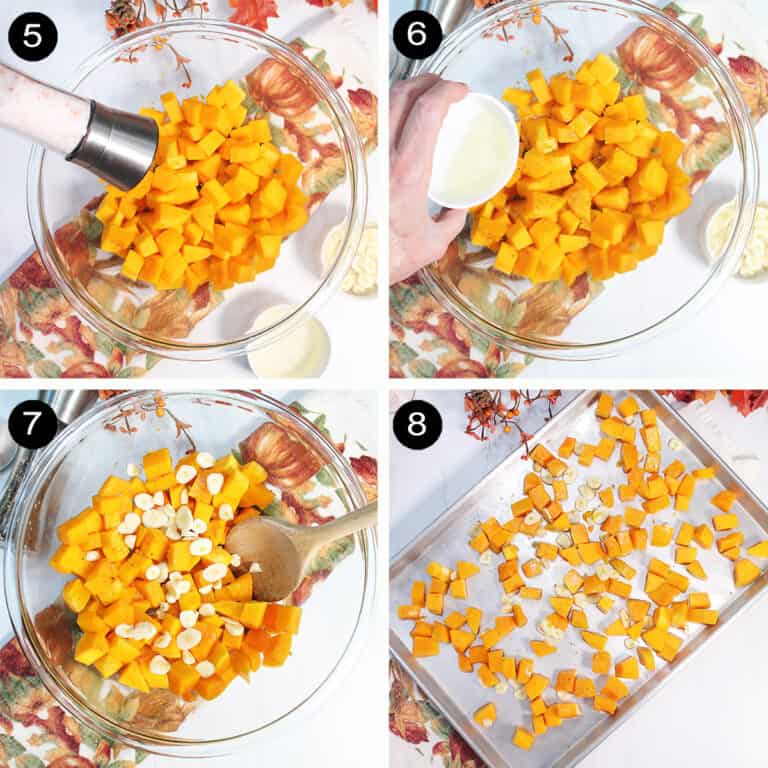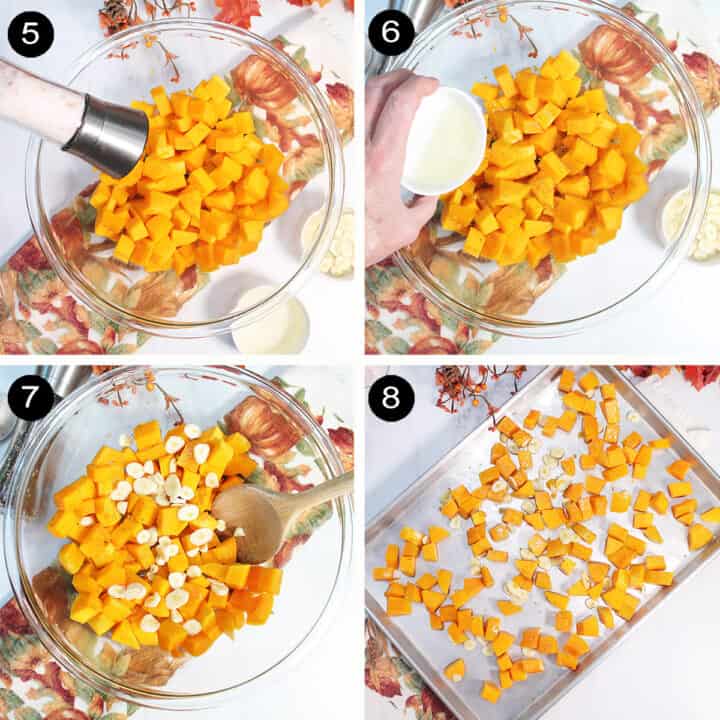 Season the butternut squash with salt and pepper.
Pour olive oil over squash.
Add sliced garlic cloves and toss together.
Place on baking sheet that has been sprayed with nonstick spray. Bake for 25-30 minutes.
How to Prepare Quinoa
While squash is baking, prepare quinoa.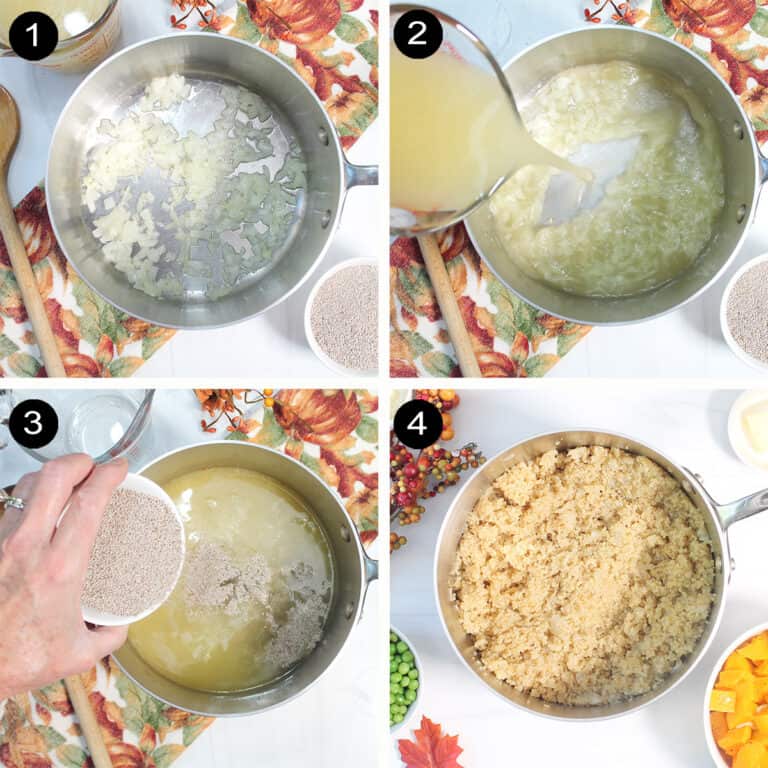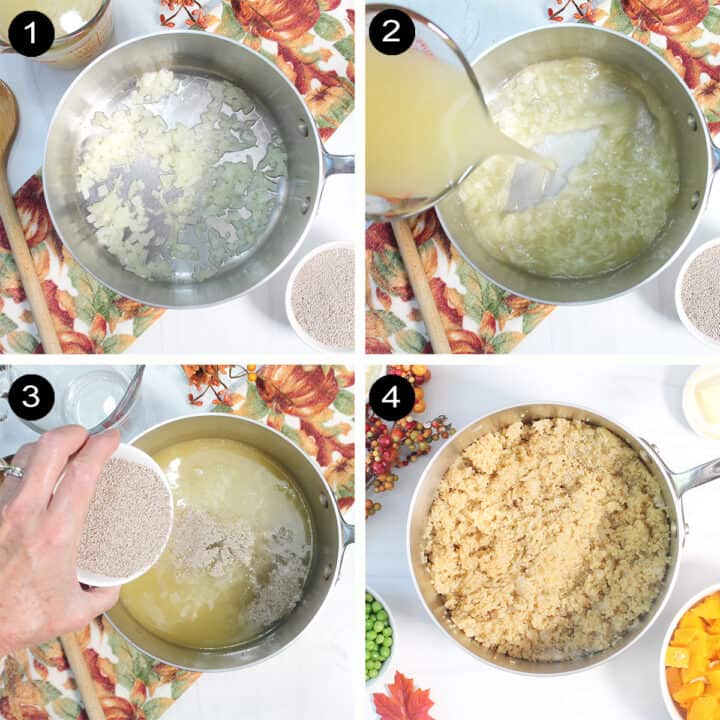 Place olive oil in medium to large saucepan. Add onions and saute for 4-5 minutes or until softened.
Add chicken borth and white wine to onions.
Sprinkle in quinoa and bring to a boil. Lower heat, cover and cook for 15-20 minutes or until all liquid has been absorbed.
Fluff quinoa with fork.
How to Assemble Quinoa Vegetable Pilaf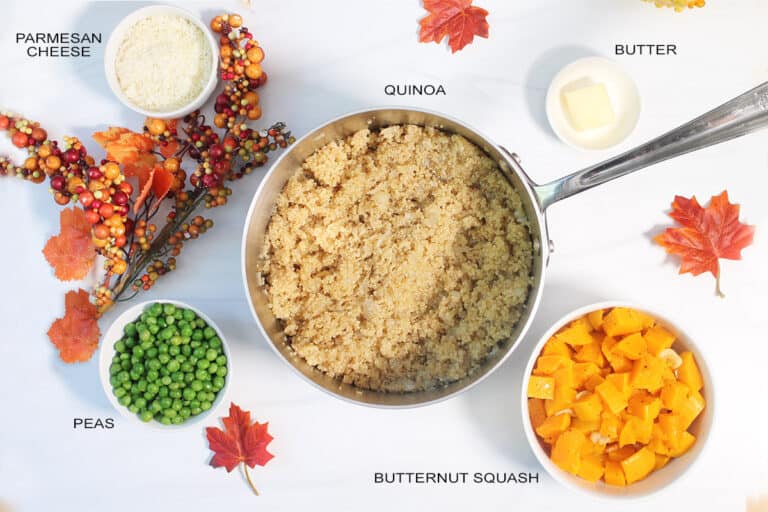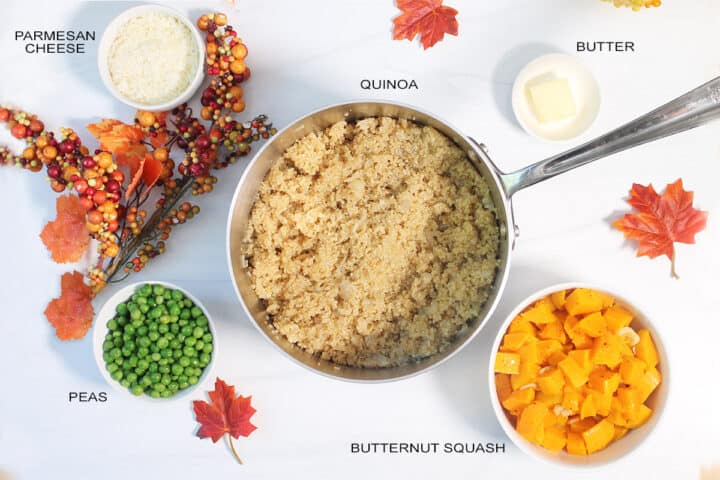 Gather the ingredients to be mixed together to finish this beautiful butternut squash and quinoa recipe.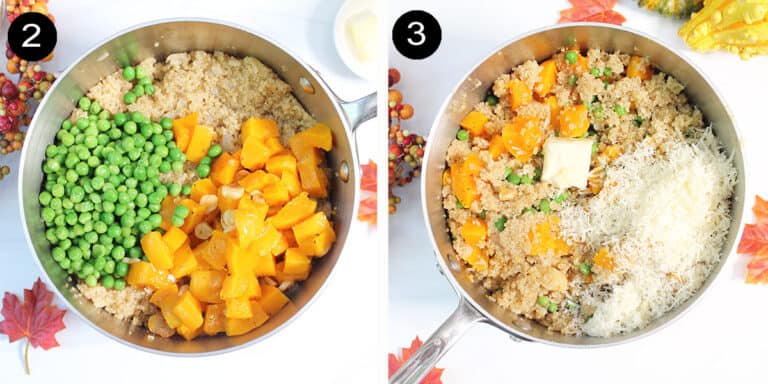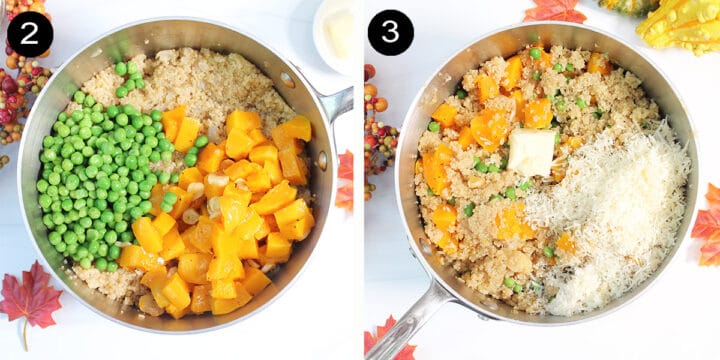 Add roated butternut squash and cooked or canned peas to the quinoa.
Finish with butter and paremsan cheese and gently toss together. Pour into serving bowl.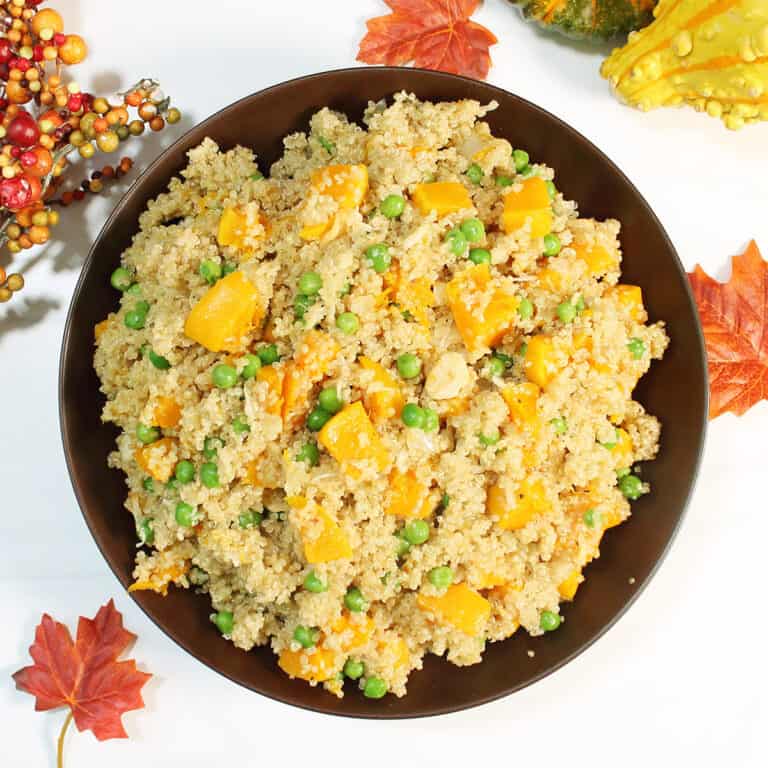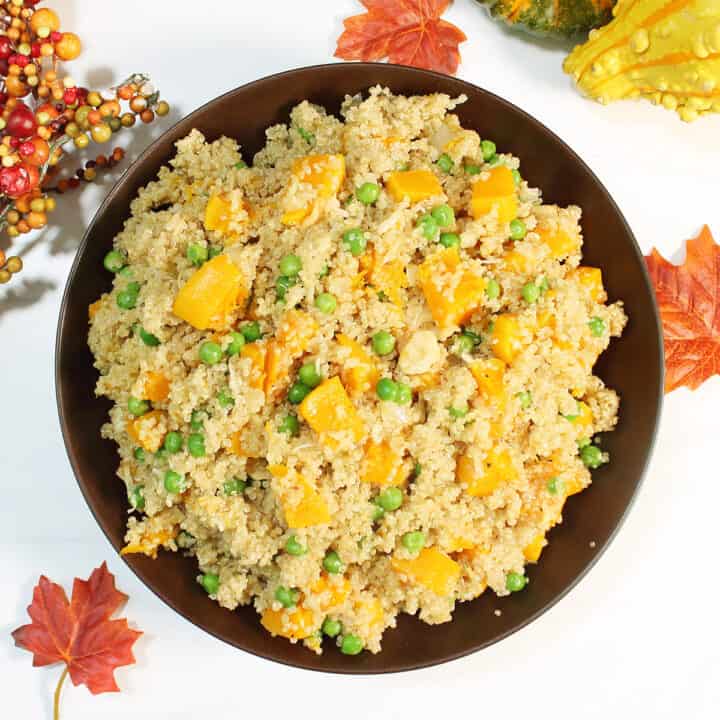 This butternut squash and quinoa recipe will surprise you with its many layers of flavor. It's a great addition to weeknight dinners and can even be served as a healthy meatless meal. But don't stop there! This delicious side dish pairs perfectly with roasted turkey for your Thanksgiving table. And it looks so festive too!
It is naturally gluten-free and can be adapted for vegetarian and vegan diets. Enjoy!
More Side Dish Recipes
Stuffed Acorn Squash -is an easy, healthy side dish of maple-flavored squash that's been stuffed with quinoa, apples & pecans.
Butternut Squash Mac and Cheese - is not your run-of-the-mill mac and cheese. Nope, it's made with spiral butternut squash noodles drenched in a creamy, cheesy sauce.
Spanish Quinoa - think Spanish rice but with quinoa. All the flavor of the original with extra protein.
Baked Cauliflower Casserole from Whole Lotta Yum - just 5 ingredients makes a tasty elegant side dish.
Maple Roasted Brussels Sprouts - are roasted up nice and crispy with bacon, pecans, maple syrup, and balsamic.
Find lots of fall recipes here on 2CM!
LOVE QUICK & EASY RECIPES? FOLLOW ME ON INSTAGRAM, FACEBOOK, & PINTEREST FOR ALL THE LATEST RECIPE INSPIRATION! PLUS JOIN MY EMAIL LIST AND RECEIVE A FREE E-BOOK.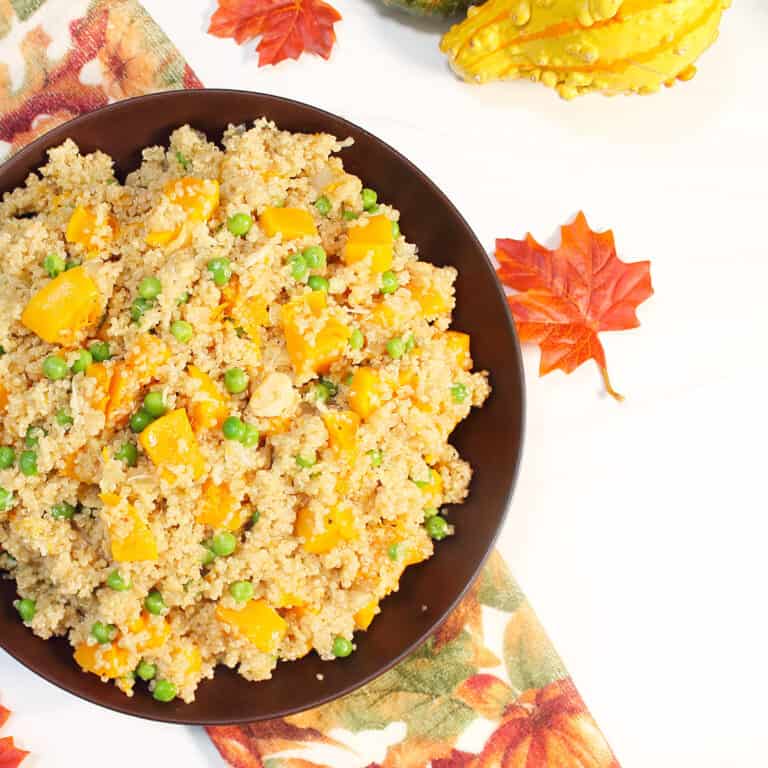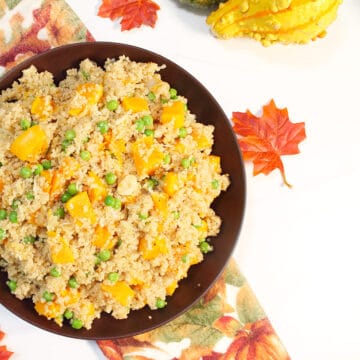 Butternut Squash Quinoa Pilaf
Butternut Squash Quinoa Pilaf, flavored with garlic & Parmesan, is an easy side dish or a healthy, meatless meal. Perfect for busy weeknights as well as your thanksgiving table.
Print
Rate
Ingredients
1

butternut squash

4

Tablespoons

light olive oil

divided

salt & pepper to taste

6-8

cloves

garlic

peeled and sliced

¼

large sweet onion

chopped

1

cup

raw quinoa

¼

teaspoon

salt

1 ½

cups

chicken or vegetable stock

(vegetable can also be used for vegetarian diets)

½

cup

white wine

1

cup

peas

cooked

1

Tablespoon

butter

¼

cup

Pecorino-Romano cheese

grated
Instructions
Preheat oven to 400 degrees. Spray a baking sheet with a non-stick spray.

Prepare the butternut squash. Peel and remove seeds then cut into chunks and place in bowl.

Coat with 2 tablespoons olive oil and season with salt & pepper. Toss in garlic cloves and dump on to prepared baking sheet.

Roast in oven for 25-30 minutes or until tender.

While squash is roasting, heat a large saucepan with 2 tablespoons olive oil over medium heat.

Add onion and cook until softened, about 4-5 minutes.

Add the quinoa, salt, chicken or vegetable stock and wine to saucepan, cover, lower heat, and simmer for approximately 15-20 minutes.

Cook peas while quinoa is cooking or just use peas from a can.

When squash is done, pour into large serving bowl and add cooked quinoa and peas. Toss together with butter and cheese and serve immediately.
Notes
Butternut Squash is a very hard squash. To make it easier to cut into cubes follow the easy directions below:
Cut about ¼" from the top and bottom of the butternut squash.
Pierce the skin all over with a knife or fork to help the steam escape.
Cook in the microwave on high for 3-5 minutes.
Let cool slightly until you can handle it easily.
Nutrition
Calories:
342
kcal
|
Carbohydrates:
41
g
|
Protein:
10
g
|
Fat:
15
g
|
Saturated Fat:
4
g
|
Polyunsaturated Fat:
2
g
|
Monounsaturated Fat:
8
g
|
Trans Fat:
1
g
|
Cholesterol:
11
mg
|
Sodium:
260
mg
|
Potassium:
768
mg
|
Fiber:
6
g
|
Sugar:
6
g
|
Vitamin A:
13554
IU
|
Vitamin C:
38
mg
|
Calcium:
136
mg
|
Iron:
3
mg
This post has been updated with step-by-step directions and new photos. It was first published on March 3, 2014.