One Pot French Onion Pasta is a savory and comforting dish that brings together the classic flavors of French onion soup with the heartiness of pasta in a single pot!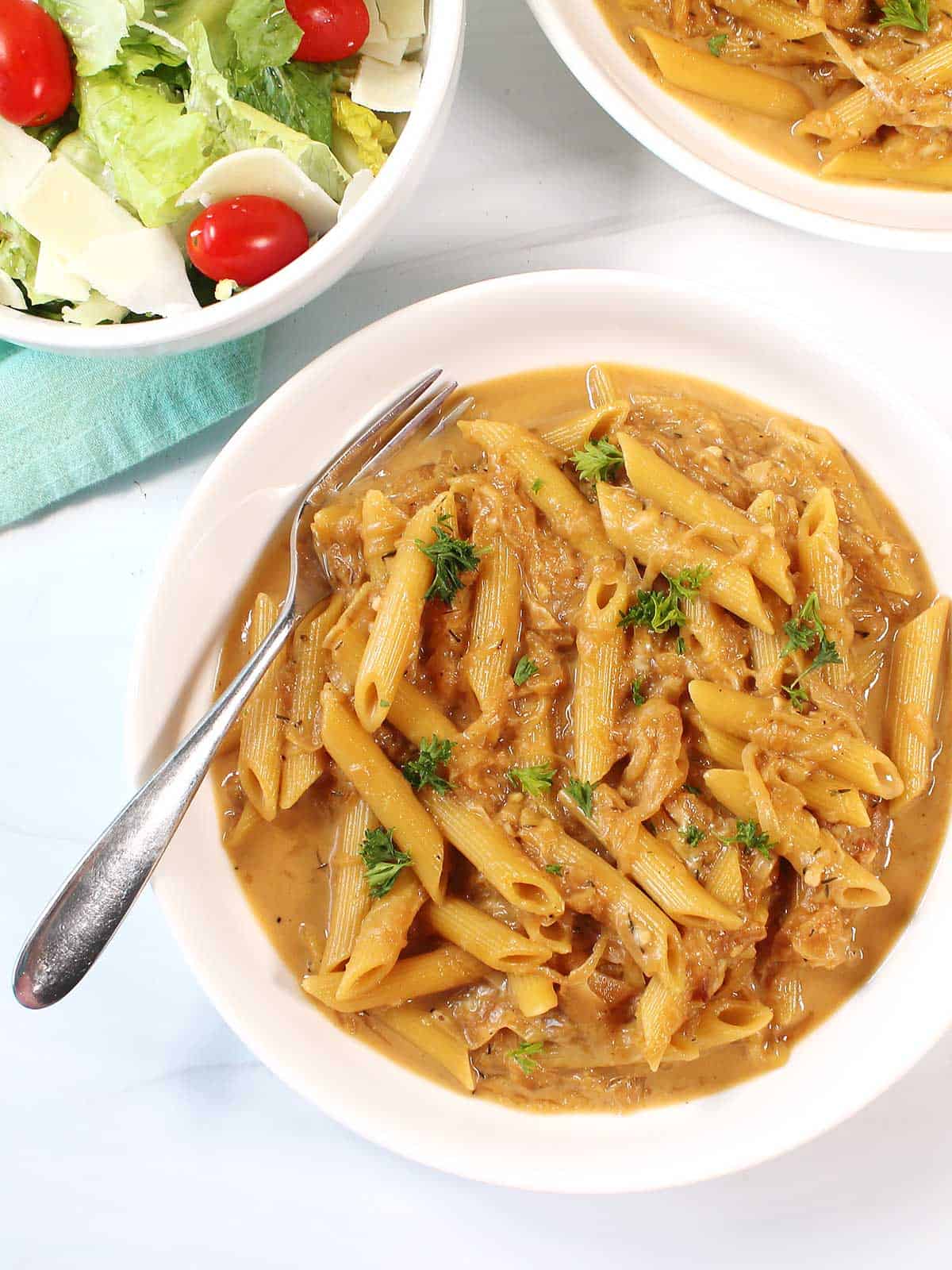 FYI - This post contains affiliate links. As an Amazon Associate, I earn from qualifying purchases. All links are products I use when making my recipes.
Easy One Pot Recipes
Easy one-pot recipes are a necessity for busy people who want delicious home-cooked meals without all the hassle of cleanup. These recipes offer the convenience of cooking an entire meal in a single pot and still deliver all the rich and delicious flavors you desire.
Whether it's a hearty pasta dish like this French Onion Pasta, a flavorful seafood stew, a comforting hamburger soup, or a simple skillet dish of chicken with lemon sauce, one-pot recipes save time and effort in the kitchen, making them perfect for weeknight dinners or lazy weekends.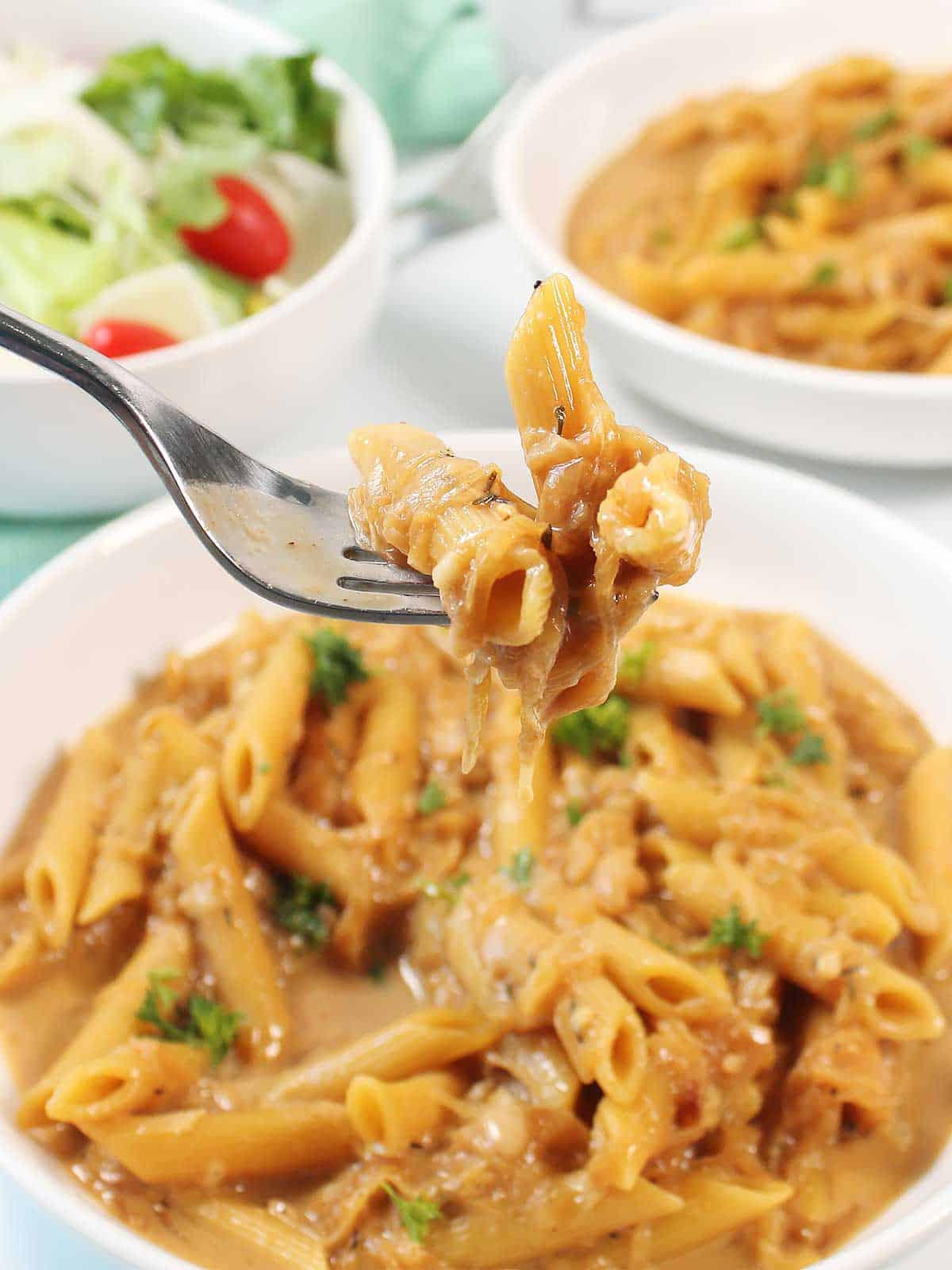 Why You'll Love This French Onion Pasta Recipe
This pasta recipe packs in all the rich, savory, and sweet flavors of French onion soup, but with a delicious twist. The caramelized onions give the dish an incredible depth of flavor, and the beef broth lends a satisfying umami kick.
The addition of cheese and cream to the pasta results in a dish that is not only flavorful but also wonderfully creamy. It's the ultimate comfort food, perfect for a cozy night in or a weekend family dinner.
Making this pasta in one pot means less hassle and fewer dishes to clean. Plus, the simplicity of the process of caramelizing onions, adding seasonings, pasta, broth, and finally cheese and cream allows even beginner cooks to handle this recipe with ease.
It's a real treat for cheese lovers. The melted cheese not only adds richness and creaminess to the pasta but also contributes to its overall appeal.
For those looking to shake up their regular pasta night, this French onion pasta recipe is a delightful deviation from the standard marinara or alfredo. Its unique blend of flavors will impress guests and delight family members.
The recipe can easily be customized. Whether someone wants to add a protein like chicken or switch up the cheese for a different flavor profile, there's room for creativity and personal preferences.
Onions aren't just flavorful, they also come packed with beneficial nutrients like vitamin C, B vitamins, and potassium. This makes the pasta not just tasty, but also a healthier choice compared to other cream-based pasta dishes.
This recipe makes for a hearty meal that's both satisfying and filling. It's perfect for those nights when you crave something a bit indulgent, but still want it to be easy to prepare.
Ingredients for Caramelized Onion Pasta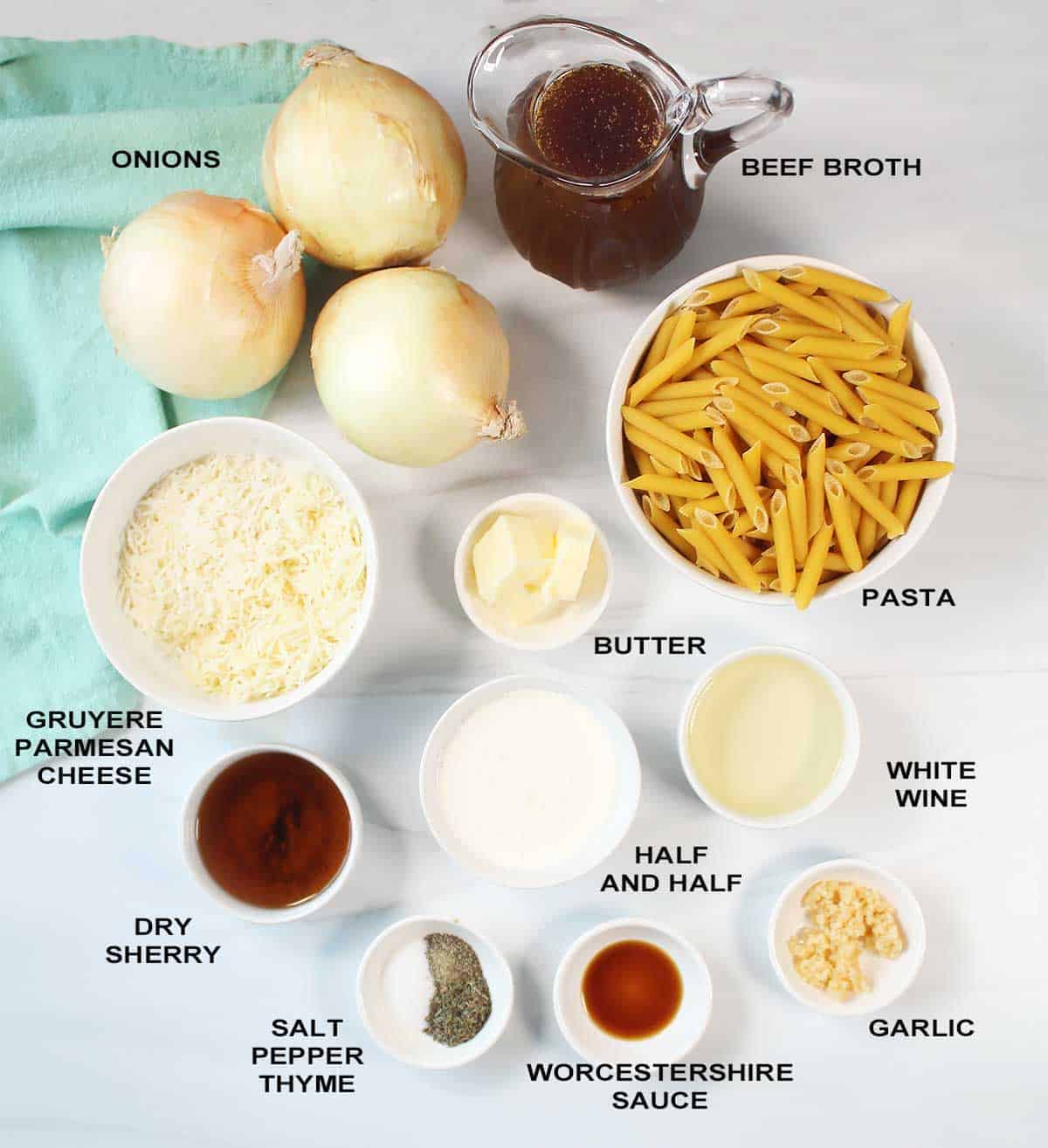 Onions - see below for the best onions to use
Butter
Dried thyme - if you have it, opt for 1 tablespoon fresh thyme for even more flavor
Garlic cloves
Dry sherry
Dry white wine
Salt
Pepper
Worcestershire sauce
Short pasta - penne or rigatoni
Beef broth
Gruyere cheese
Parmesan cheese
Half and half or heavy cream
Parsley for garnish (optional)
Best Onions for Making Carmelized Onions
Yellow Onions: These are often the go-to choice for caramelized onions. Yellow onions have a nice balance of sweetness and astringency, which becomes mellow and deeply savory when caramelized.
Vidalia Onions: These onions, grown in Vidalia, Georgia, are known for their sweet flavor, which becomes even more pronounced with caramelization. They can make your dish slightly sweeter than yellow onions would.
Sweet Onions (like Walla Walla or Maui): Like Vidalia onions, these are bred to be sweet. They caramelize beautifully and can add a slightly different, often more mellow flavor compared to regular yellow onions.
White Onions: White onions are also suitable for caramelizing, but they have a more potent, sharp flavor than yellow onions. This sharpness mellows out during caramelization, but they will generally have a slightly less sweet end result compared to yellow or Vidalia onions.
Red Onions: While not as common for caramelization, red onions can still work if you want a sharper, more vibrant flavor profile. They also give a rich, dark color to your caramelized mixture.
Remember, the key to great caramelized onions is patience. Regardless of the type you choose, slow and gentle cooking is the secret to bringing out the natural sugars and achieving that deep, sweet, and savory flavor that caramelized onions are known for.
Best Way to Cut Onions for Caramelizing
Slice off the top stem end of the onion then cut the onion in half from the top end to the root end.
Once halved, peel off the papery outer layers of the onion.
Starting from one end, slice the onion into thin, evenly-sized slices. Cut along the grain (pole to pole, from top to root), not across it. This means slicing along the lines or the length of the onion, not making rings. Cutting the onions this way helps them break down better during the long cooking process, resulting in a smoother texture.
After slicing, use your fingers to separate the layers of the onion. This ensures that each piece cooks evenly, helping to prevent any pieces from burning while others are still cooking.
Remember to slice the onions thinly and as uniformly as possible. If the slices are too thick, they'll take longer to caramelize and you won't get that soft, melt-in-your-mouth texture that caramelized onions are known for. If some slices are much thicker than others, they'll cook unevenly.
How to Make French Onion Pasta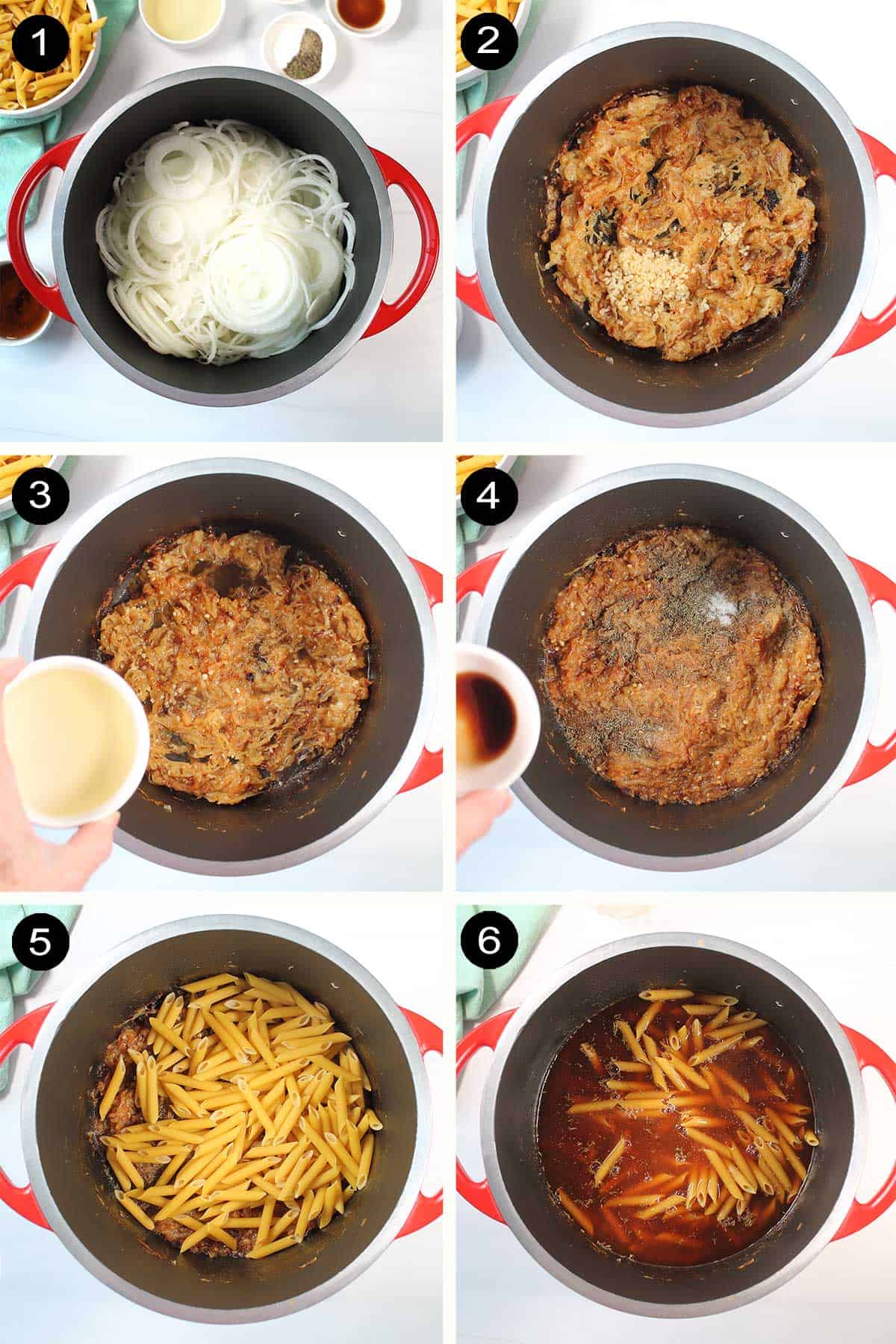 Heat butter in Dutch Oven or large stockpot then add sliced onions.
Cook over medium heat for 5 minutes then add ½ teaspoon of salt. Continue to cook for another 30-60 minutes, stirring occasionally until caramelized. Add minced garlic and cook one minute more.
Deglaze pan by adding wine and sherry and scraping the bottom to get up any nicely browned bits that are stuck to the pan.
Stir in black pepper, thyme, the remaining salt, and Worcestershire sauce.
Add uncooked pasta.
Pour in beef broth and stir.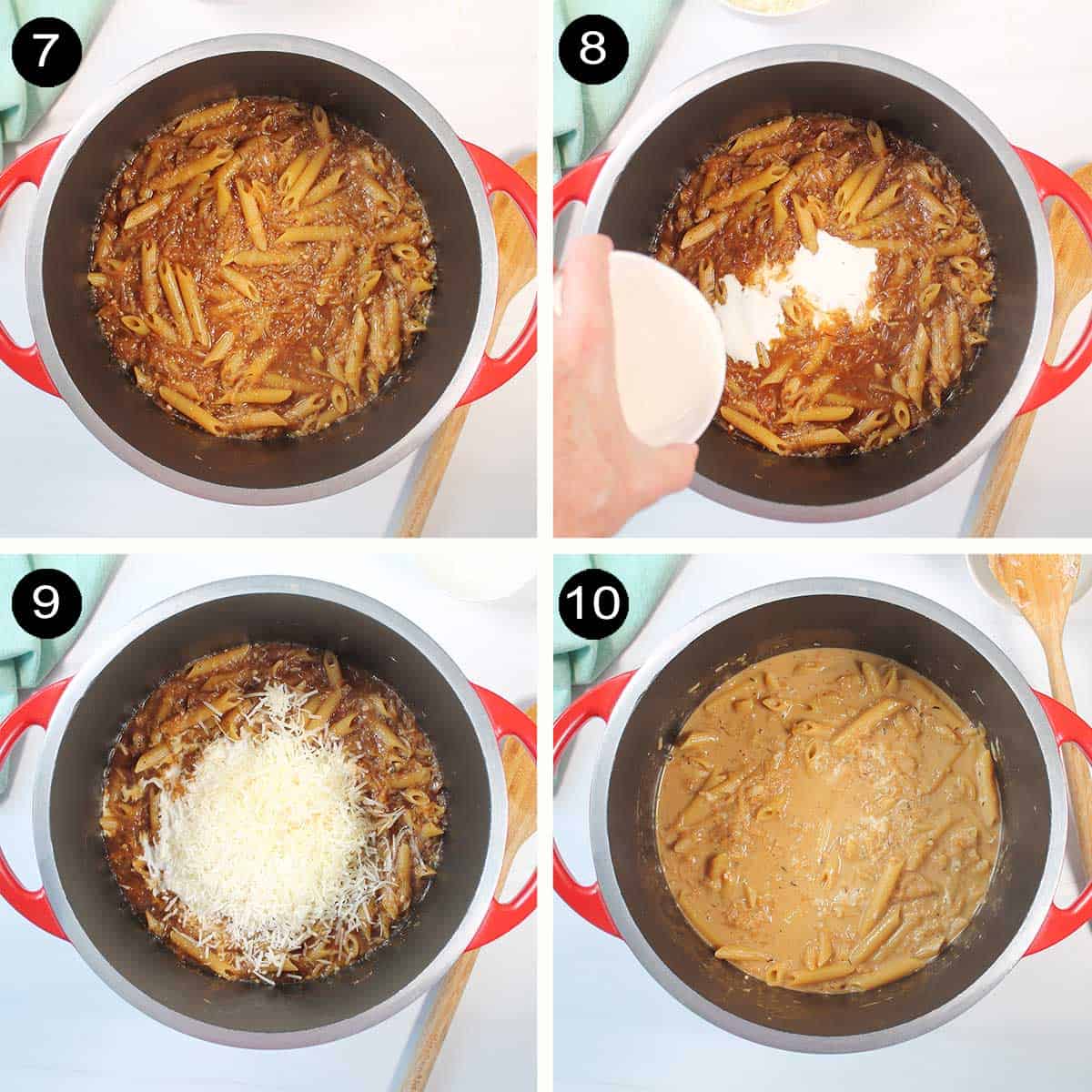 Bring to a boil and cook pasta for 8-10 minutes or the time indicated on the pasta package for al dente.
Once the pasta is done, remove Dutch Oven from the heat and add cream.
Sprinkle in cheeses.
Stir until combined. Taste and add a little more salt if needed.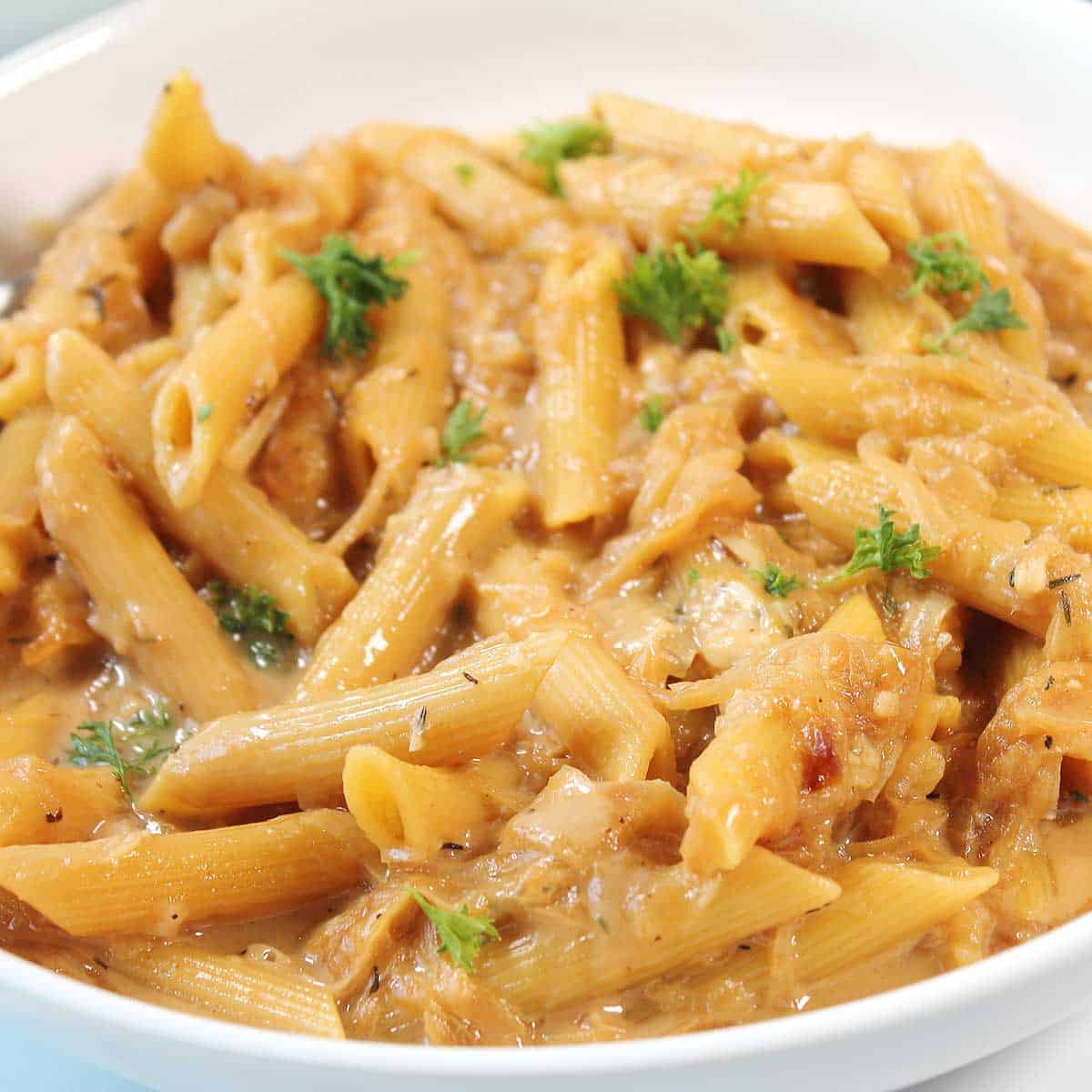 Serve hot with a garnish of chopped parsley and a side of grated Parmesan cheese. A tossed green salad goes beautifully with this one-pot pasta dish and a few slices of garlic bread is always a plus! Enjoy!
Recipe Tips
Choose the Right Pot: A wide, heavy-bottomed pot, such as a Dutch Oven, is the best choice for this recipe. The wide surface area helps the onions to cook evenly, while the heavy base prevents scorching.
Take Your Time Caramelizing Onions: Patience is key when caramelizing onions. Resist the urge to turn up the heat to speed up the process. Low and slow is the way to go. This will ensure that your onions become beautifully sweet and flavorful, rather than burning and becoming bitter.
Stir Regularly: Make sure to stir your onions regularly to ensure even caramelization. But don't stir too often because the onions need time in contact with the pot to develop their rich brown color.
Deglaze the Pot: After caramelizing the onions, be sure to add the wine and sherry and scrape the bottom of the pot well. This deglazing process helps to lift any caramelized bits (fond) from the bottom of the pot, which adds a ton of flavor to your pasta.
Grate Your Own Cheese: Pre-shredded cheese often contains anti-caking agents which can lead to a less smooth and creamy finish. Grating your own cheese can result in smoother, creamier pasta.
Add Cream Last: Add the cream at the very end of the cooking process. High heat can cause cream to curdle, so it's best to stir it in right before serving.
Recipe Variations
Gluten-Free - Use gluten-free pasta and broth.
Vegetarian - Substitute beef broth with vegetable broth. Add a splash of soy sauce or tamari or a tablespoon of nutritional yeast to provide an umami boost. Also, make sure the cheese you're using is vegetarian.
With Mushrooms - Add 2 cups of sliced mushrooms when you add the garlic after caramelizing the onions.
With Sausage - Cook ground sausage in the pot first. Remove it from the pot and then add it back in before serving.
Without Wine and Sherry - To make the pasta without alcohol, substitute dry sherry with apple cider vinegar or red wine vinegar. Substitute regular white wine with non-alcoholic white wine, white grape juice with a tablespoon of lemon juice, or more broth.
What To Serve With It
Crusty Bread: A loaf of warm, crusty bread like a baguette would pair beautifully with the pasta. It can be used to mop up any extra sauce and complements the flavors in the pasta.
Garlic Bread: Garlic bread is always a popular side for pasta dishes. Its aromatic, savory flavor and crisp texture make it an excellent accompaniment.
Cheese Bread: Serve the pasta in a bowl and put the cheese bread on top to mimic French onion soup.
Green Salad: A simple green salad with a light vinaigrette can provide a fresh, crisp contrast to the rich, creamy pasta.
Roasted Vegetables: Roasted vegetables like Brussels sprouts and asparagus can add color, additional nutrients, and a pleasant texture contrast.
Steamed Green Beans or Broccoli: If you'd like something simpler, lightly steamed green beans or broccoli make a healthy, easy side that complements the pasta without competing with its flavors.
Meat: Beef or chicken can round out the meal, especially grilled. The smoky flavors from the grill would contrast nicely with the creaminess of the pasta.
A Glass of Wine: If you drink alcohol, a glass of crisp, dry white wine such as Sauvignon Blanc or Pinot Grigio can balance the rich flavors of the dish.
How to Store, Freeze, and Reheat
Storing: Allow the pasta to cool completely. Transfer the pasta to an airtight container. Refrigerate the pasta. It should stay good for about 4 days.
Freezing: After allowing the pasta to cool, portion the pasta into freezer-safe containers or heavy-duty freezer bags. Freeze the pasta. It should stay good for about 3 months. Thaw it in the fridge overnight.
Reheating: Place the pasta in a pot and heat over medium-low heat, stirring occasionally. If the pasta seems too dry, you can add a splash of broth or water to help rehydrate the pasta.
If you're in a hurry, you can also reheat the pasta in the microwave. Use a microwave-safe dish, cover it with a microwave-safe lid or parchment paper, and heat in 1-minute intervals, stirring in between until hot.
More Pasta Recipes
Find lots of delicious and easy pasta recipes right here on 2CM!
LOVE QUICK & EASY RECIPES? FOLLOW ME ON INSTAGRAM, FACEBOOK, & PINTEREST FOR ALL THE LATEST RECIPE INSPIRATION! PLUS JOIN MY EMAIL LIST AND RECEIVE A FREE E-BOOK.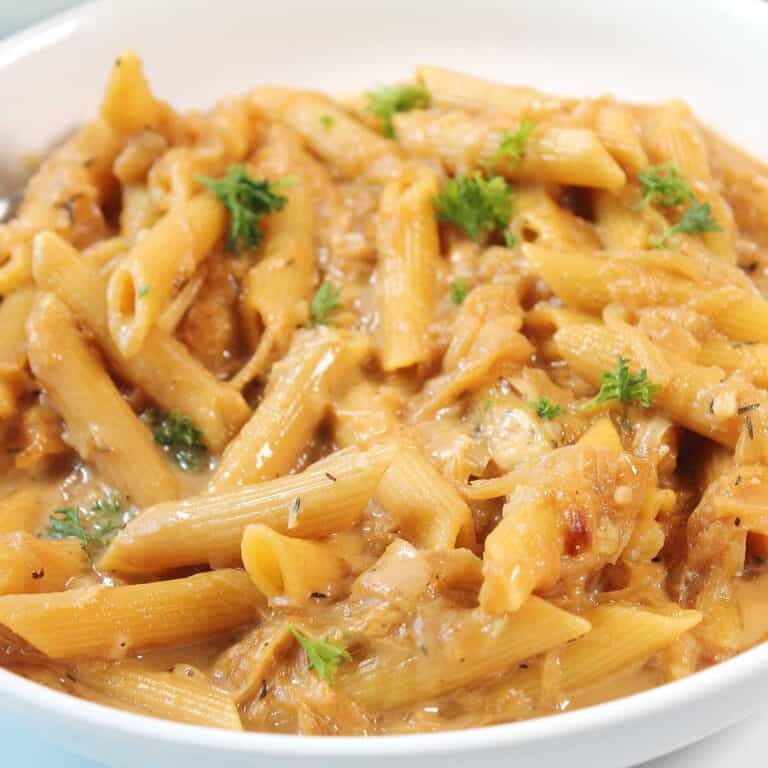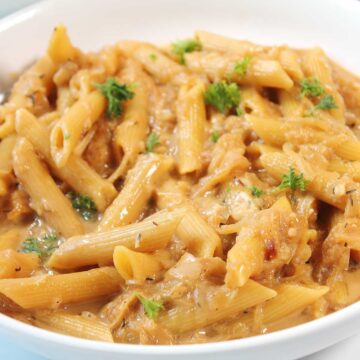 One Pot French Onion Pasta
French Onion Pasta is a savory and comforting dish that brings together the flavors of French onion soup with the heartiness of pasta in a single pot!
Print
Rate
Ingredients
3

Tablespoons

butter

3

large yellow

sliced thin

1

teaspoon

dried thyme

4

garlic cloves

minced

¼

cup

dry sherry

¼

cup

white wine

1

teaspoon

salt, divided

½

teaspoon

pepper

1

teaspoon

Worcestershire sauce

12

ounces

short pasta

4

cups

beef broth

½

cup

Parmesan cheese

grated

¼

cup

Gruyere cheese

shredded

½

cup

half and half or heavy cream

Garnish: chopped parsley
Instructions
Melt the butter in a large Dutch Oven or stockpot over medium heat.

Add the onions and cook until they start to soften, about 5 minutes. Add ½ teaspoon of salt, stir, then let them cook for about 30-60 minutes, stirring occasionally. When they start sticking to the pan, let them sit a bit to brown then stir so they don't burn. You will have to stir more often as they reach the caramelized (golden brown) stage. Note: If they are not browned sufficiently after 30 minutes try turning up the heat slightly but watch them carefully to prevent burning them.)

Add the garlic and cook for an additional minute.

Add the sherry and wine into the stockpot to deglaze it, scraping up any nicely browned bits from the bottom. Let simmer for 5 minutes.

Season the mixture with ½ teaspoon salt, pepper, thyme, and Worcestershire sauce.

Add the uncooked pasta and beef stock, and bring to a boil. Lower heat. cover and let cook for the amount of time specified on the pasta package for al dente. Stir occasionally.

Remove the stockpot from the heat. Stir in the cheeses and half and half.

Serve in individual pasta bowls and garnish with parsley, if desired.
Notes
STORE/FREEZE/REHEAT
Storing: Transfer cooled pasta to an airtight container. Refrigerate for about 4 days.
Freezing: Place cooled pasta into freezer-safe containers or freezer bags. Freeze for about 3 months. Thaw it in the fridge overnight.
Reheating: Place the pasta in a pot and heat over medium-low heat, stirring occasionally. If the pasta seems too dry, you can add a splash of broth or water to help rehydrate the pasta.
Nutrition
Calories:
397
kcal
|
Carbohydrates:
50
g
|
Protein:
15
g
|
Fat:
13
g
|
Saturated Fat:
8
g
|
Polyunsaturated Fat:
1
g
|
Monounsaturated Fat:
4
g
|
Trans Fat:
0.2
g
|
Cholesterol:
34
mg
|
Sodium:
1233
mg
|
Potassium:
367
mg
|
Fiber:
3
g
|
Sugar:
5
g
|
Vitamin A:
373
IU
|
Vitamin C:
5
mg
|
Calcium:
222
mg
|
Iron:
2
mg