This Cheese Polenta and Butternut Squash Casserole makes an easy cheesy side dish to the holiday meal. It covers the stuffing (think cornbread) and vegetable all in one creamy dish. And it's gluten-free!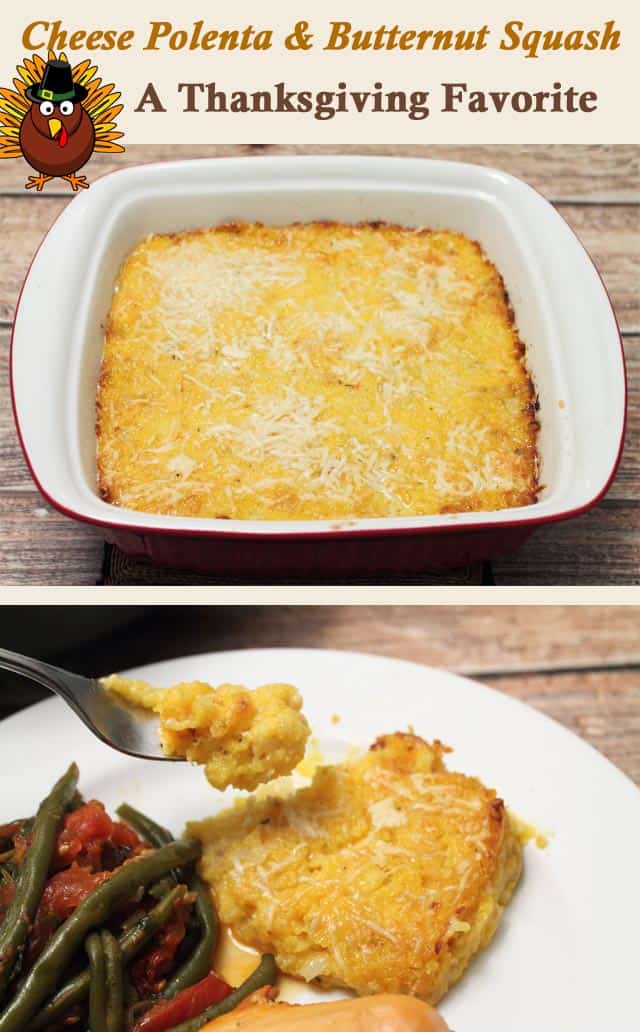 Can you believe it is already November and Thanksgiving is just around the corner?! Yikes! Time to put some ideas together for my Thanksgiving menu!
I've been busy this past week experimenting with different dishes to serve for the big meal. I have my daughter, who is gluten-free, and her family coming to visit and wanted to make a meal that we could all enjoy together. I know that she wants all the traditional tastes of Thanksgiving that she loves from her Mom's kitchen but now they have to be gluten-free. (better get my thinking cap on!)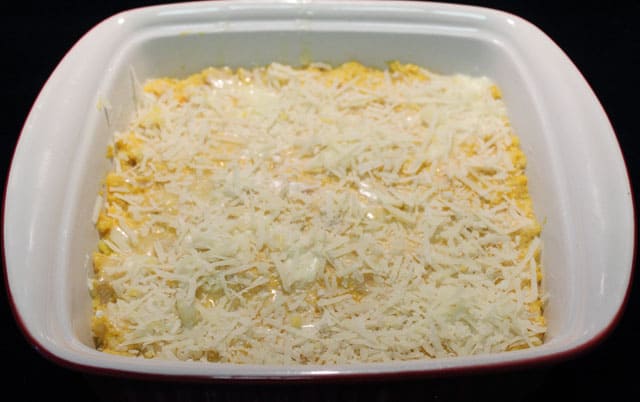 Last year I replaced my well-loved turkey stuffing with a gluten-free quinoa turkey stuffing. The bread in the stuffing was replaced with quinoa, with extra flavor from bacon, sausage, and apples, AND we still got to stuff the turkey, which resulted in some awesome flavors. It also became a new favorite to add to our Thanksgiving meal list.
This year I decided to try a polenta and squash dish which I adapted from one found on Food & Wine. It will make a great gluten-free side that covers both a stuffing (think cornbread) and a vegetable dish. Now that is not to say I won't have stuffing too and another veggie on the table but this one could easily be a main side dish all by itself.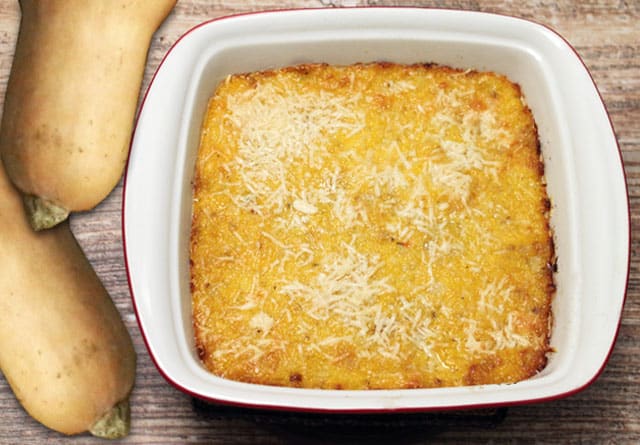 Once you taste this, you won't believe how creamy, cheesy, and delicious it turns out. And the great part is, you can make it up the day before and bake it along with the turkey.
And, just because we are always rushed for time on the big day, there are ways to make this dish even simpler. Purchase frozen mashed butternut squash, a roll of pre-made polenta, and, BAM!, you can whip this up in no time. (Just look at that delicious cheesy, creamy goodness below!)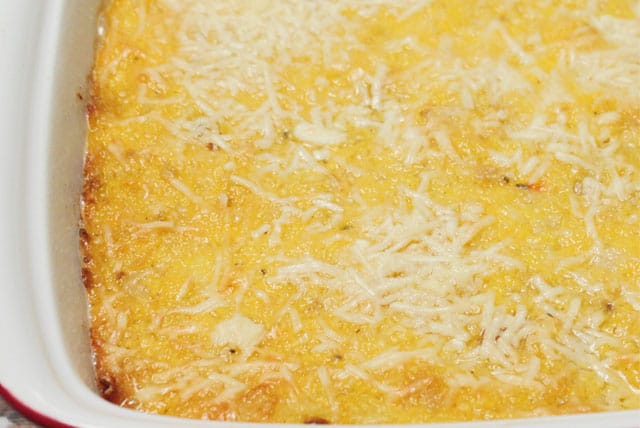 Keep checking back for more delicious suggestions for your Thanksgiving meal including dessert. I recently made pumpkin chiffon tarts with a nut crust that is just to die for!
Want more? Take a look at Apple Dumplings, served with my Grandma's special vanilla sauce.
Enjoy!
For another fall or Thanksgiving side dish, try my Quinoa Squash Pilaf made with butternut squash and flavored with garlic and Parmesan cheese.
Find even more healthy Thanksgiving recipes here on 2CM!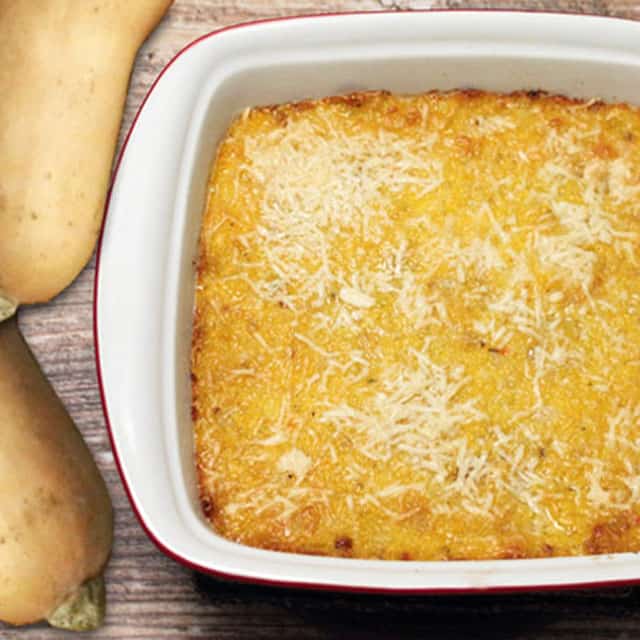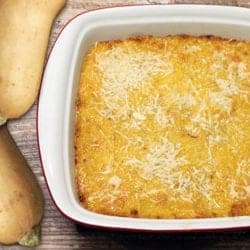 CHEESE POLENTA & BUTTERNUT SQUASH CASSEROLE
An easy cheesy squash side dish that covers the stuffing (think cornbread) and vegetables all in one creamy dish. Great to accompany the big holiday meal.
Print
Rate
Ingredients
½

large butternut squash, cubed & cooked

(or use frozen mashed squash)

3

Tablespoons

butter, divided

3

Tablespoons

pine nuts

1

Tablespoon

light olive oil

½

large onion, chopped

¾

teaspoon

chopped fresh sage or ¼ teaspoon dried sage

18

oz

pkg pre-cooked polenta roll or 2 cups cooked

2-

oz

Smoked Gouda

(about ½ cup)

½

cup

Pecorino Romano or Parmesan cheese, grated, divided

Salt & pepper to taste
Instructions
To cook squash, place cubed squash in a saucepan with enough cold water to cover. Bring to a boil then simmer for 10-15 minutes or until tender. Add 1 tablespoon butter and mash coarsely.

In a medium skillet, toast pine nuts until they become fragrant and start to brown, about 4-5 minutes. Remove from pan and chop coarsely.

To the skillet, add olive oil and heat. Add onions and sage, cover, and cook until onions are browned and translucent, about 20-25 minutes, stirring often. If onions start to stick and dry out, add a little water.

Prepare large casserole dish by spraying with nonstick spray.

In a large bowl, combine squash, pine nuts, onions, polenta, Gouda and ¼ cup of Pecorino Romano cheese. Salt & pepper to taste. Pour into prepared casserole dish and pat down, spreading to edges. Place in refrigerator for 3 hours to firm up.

When you are ready to cook, preheat oven to 375 degrees. Remove polenta-squash casserole from refrigerator. Melt remaining 2 tablespoons butter and rub over the top of the casserole. Sprinkle with rest of Pecorino Romano cheese and bake for 1 hour.

Top will be crisp and lightly browned. Let sit for 20 minutes to make cutting easier.
This post has been updated and was first published on November 4, 2015.

Got any great side dishes you love to fix for Thanksgiving? We would love to hear all about your favorite. Drop us a comment below.