Butternut Squash Mac and Cheese Casserole is a delicious and low-carb option to everyone's favorite comfort food, mac and cheese. Spiral-cut butternut squash noodles are mixed with a creamy, cheesy sauce with a hint of nutmeg and baked for the perfect winter comfort food. It's a perfect vegetarian side dish and, with modifications, also works for people on keto as well as gluten-free diets.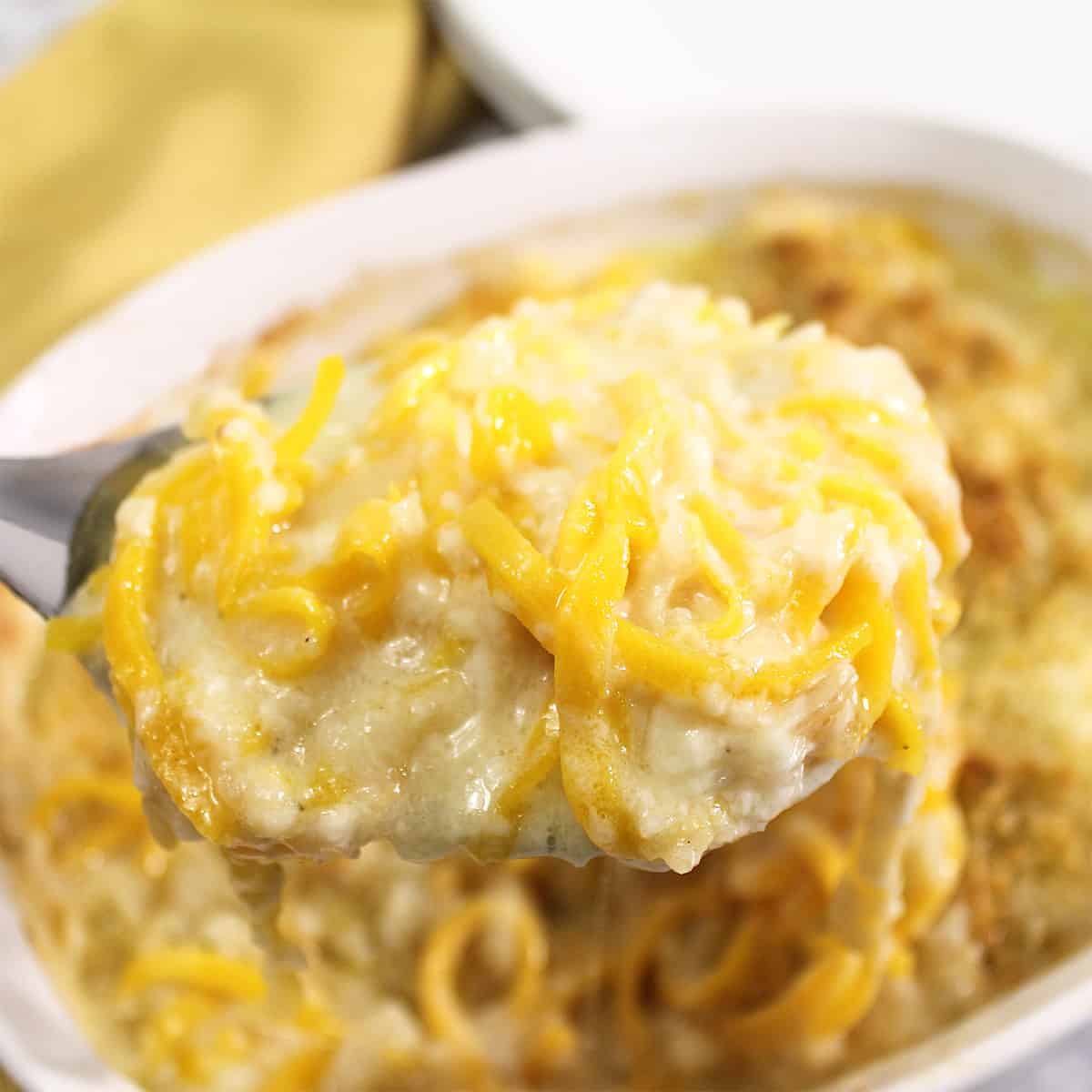 My husband and I love to keep things simple for dinner and, for the most part, eat a relatively low-carb diet. However, one of the things that we miss most of all is those pasta-laden comfort foods.
Those foods just taste so good when the weather is cold and rainy outside, don't they? That's when this Butternut Squash Mac and Cheese Casserole comes to the rescue.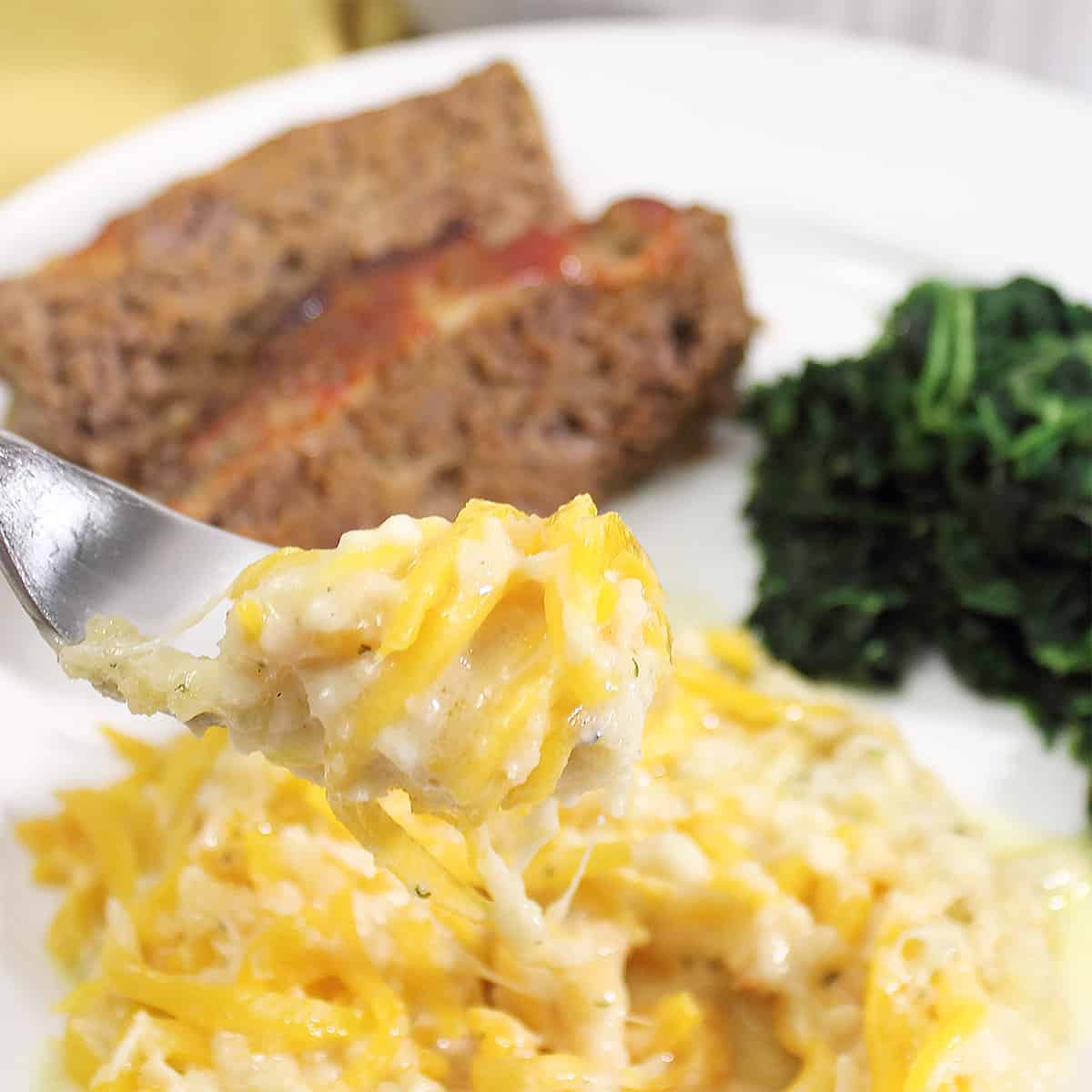 It seemed kind of a long shot but I took the pasta out of the classic mac and cheese and subbed it with butternut squash spirals. What??!! Yep, I really did and it came out sweet, cheesy, and satisfying.
It may be a little sweeter than your normal mac and cheese but the natural flavor of the butternut squash paired excellently with the cheeses and just a touch of nutmeg made it perfect.
Butternut Squash Benefits
It's a good source of fiber and antioxidants
It's high in potassium, in fact, there's more potassium in squash than there is in a banan
It also contains iron, Vitamin C, calcium and magnesium among other vitamins and minerals
1 cup provides your daily dose of Vitamin A
Findings have found squash is beneficial for digestion, lowering blood pressure, increasing energy levels and contributes to healthy skin and hair.
Make it a Keto Butternut Squash Casserole
This dish is not only low-carb but, with a few substitutions, this Butternut Squash Bake can be an excellent keto dinner dish.
Sub almond flour for the all-purpose flour
Omit the panko crumbs in exchange for either ground pork rinds or keto bread crumbs
Make it creamier by adding half and half in place of the milk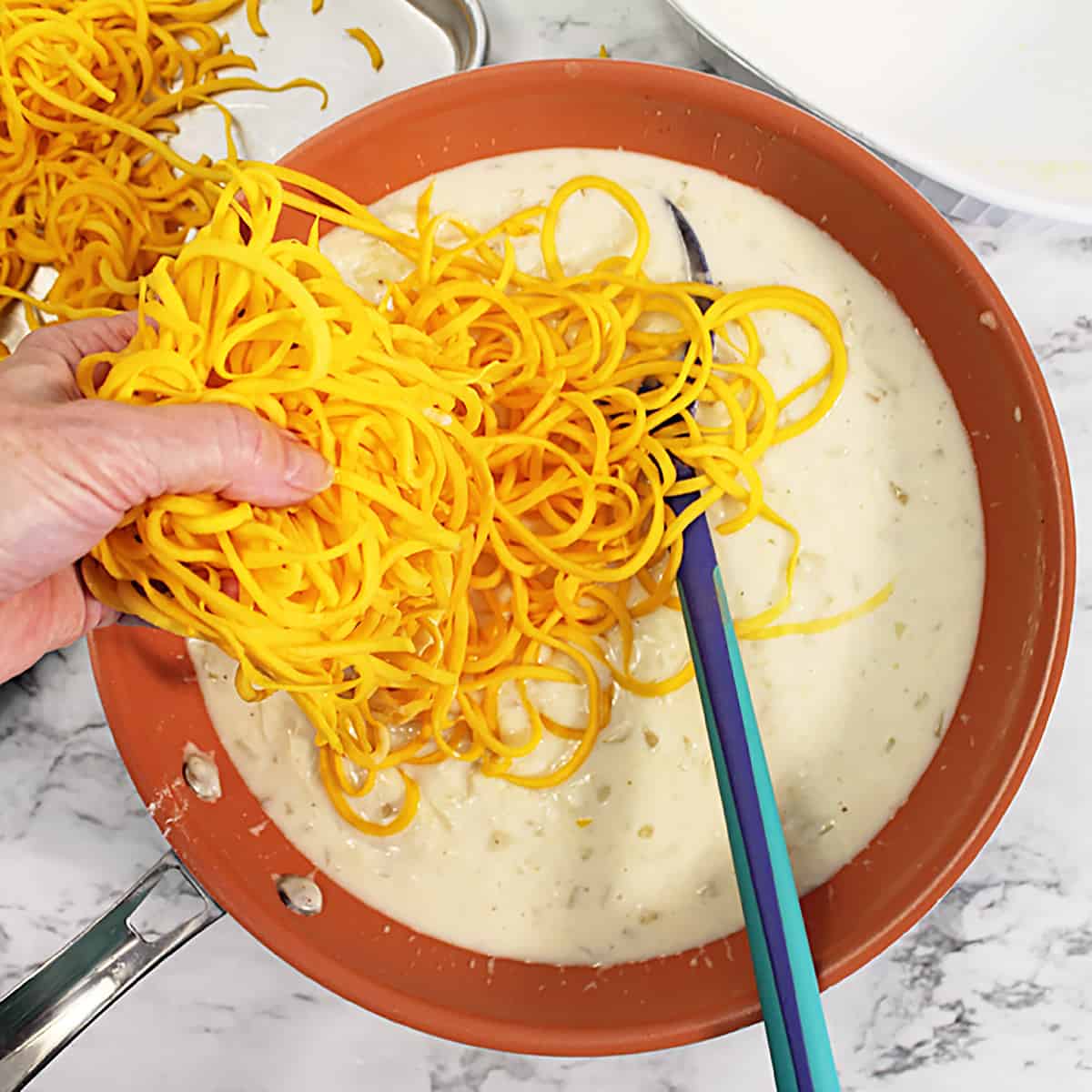 Butternut Squash Spirals or Noodles
It's just amazing what you can do with butternut squash! You can roast it, steam it or pressure cook it, treat it as a side dish or add it to soups and salads or, as I did in this recipe, make noodles out of it. What?? Noodles, you say? Absolutely!
How to Make Butternut Squash Noodles
Using a spiralizer is the best way to make noodles out of butternut squash. Just follow these simple steps:
Choose a squash that has the longest, straightest neck possible and the smallest bulbous bottom.
Cut the roundish bottom off the squash. This is the part that contains all the seeds. Retain this for cubing and roasting for sides or salads or boil for soups.
Cut off the stem top.
Peel the squash with a vegetable peeler. Be sure to cut away all the skin as well as the white layer underneath.
Now you should have one long piece of squash about 6" long. Cut it in half so you have two pieces about 3" long each.
Place into spiralizer, with the thickest noodle setting, making sure to anchor well into teeth, and turn on spiralizer or tun handle. Repeat with other half.
Loosely run your fingers through noodles to separate.
If you don't have a spiralizer, which I highly recommend, (I use an attachment for my KitchenAid) you can use a mandolin, vegetable peeler or a box grater. Take note, the butternut squash is one of the hardest squashes and will take some muscle when using these other methods.
How to Cook Butternut Squash Noodles
There are several ways to cook butternut squash.
Boil - You can boil them on the stovetop by dropping them into salted boiling water for 2-4 minutes. Watch carefully as they can get very soft, very quickly and who want mush for noodles! Combine them with marinara or alfredo for a great pasta alternative.
Saute - This is a great way to make them into a tasty side dish. Saute onion and garlic in olive oil then add squash noodles and cook for 7-10 minutes. Toss frequently while sauteing. When serving, you can toss with a little parmesan, herbs or roasted red peppers.
Oven Roasted - is my favorite and the one I chose for this Butternut Squash Mac and Cheese Casserole. When serving them as is and not adding to a casserole, cook them for about 10 minutes. My Air Fryer Salmon and this squash make the perfect pairing.
Frequently Asked Questions
How long does a butternut squash last?
If left whole and stored in a cool, dry place, this squash will last 2-3 months. Cut up squash will last about 5 days in the refrigerator or about 1 year in the freezer.
Can you freeze butternut squash?
Yes, it freezes very well. Peel and cut squash into cubes and lay on a cookie sheet in the freezer until frozen. The squash can be either raw or cooked. Store in a ziplock bag for up to one year.
How long do you cook butternut squash?
Boiling the squash takes about 2-4 minutes, sauteing takes 7-10 minutes and oven roasting about 10 minutes.
How to make Healthy Butternut Squash Gratin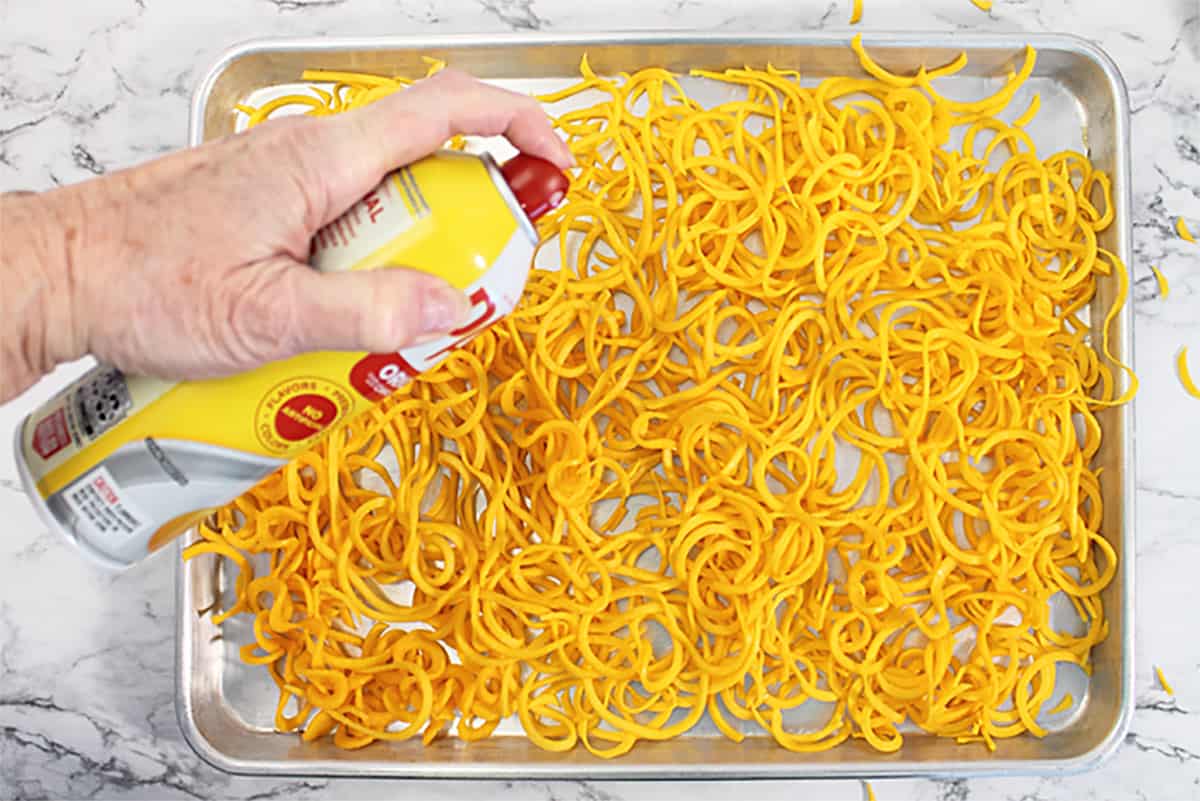 Purchase the spiral butternut squash or make your own with a spiralizer or mandolin and place on a large cookie sheet. Spray with nonstick spray and bake. This is an important step as it will help dry the squash out so it doesn't water down the mac and cheese.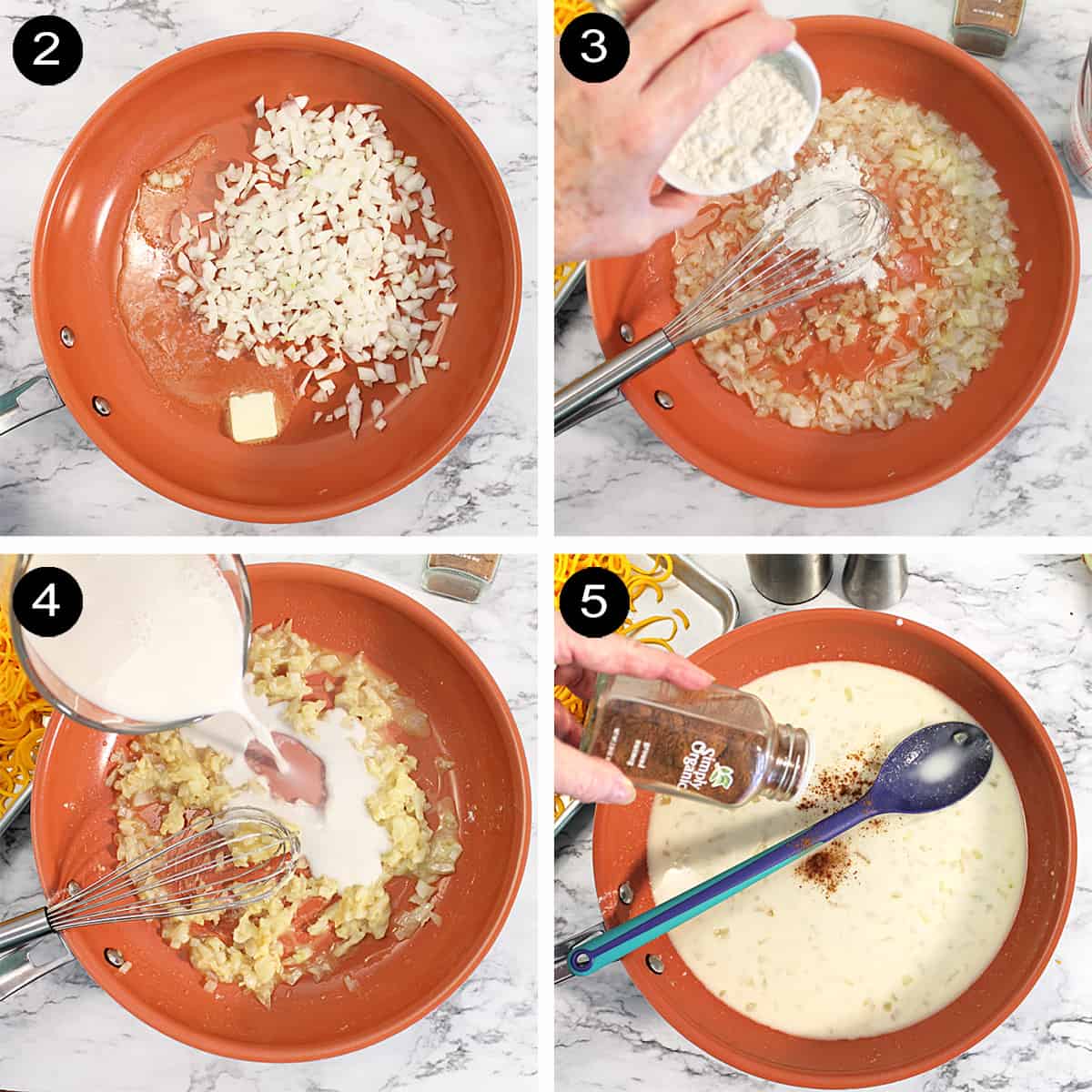 Melt butter in skillet and saute onions for 5 minutes.
Whisk in flour. (Use almond flour for keto diets and gluten-free flour for gf diets)
Gradually add milk, whisking until it's smooth and starts to thicken.
Add a dash of nutmeg.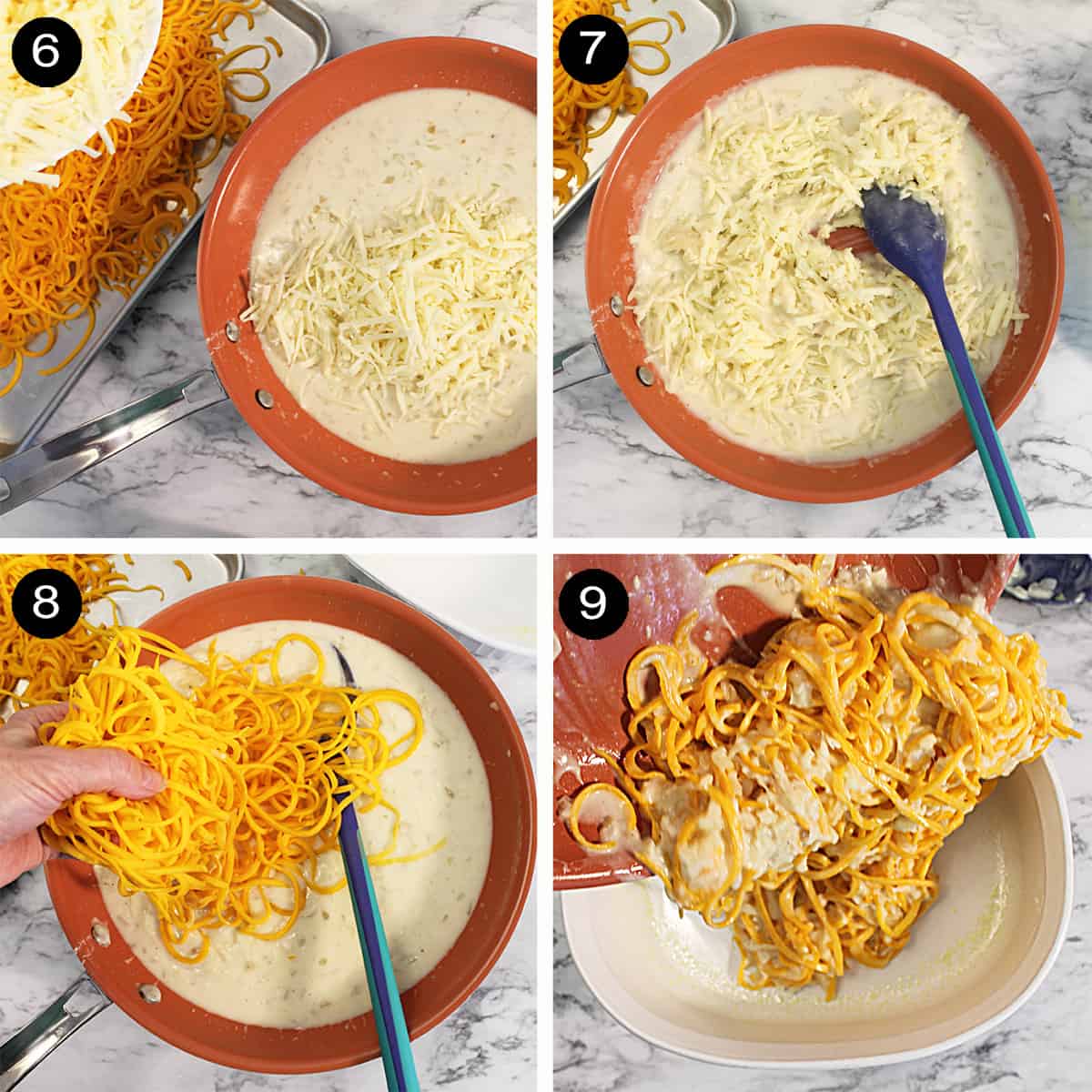 Add cheeses.
Stir well until melted and smooth.
Toss in spiral cut butternut squash noodles.
Pour into baking dish sprayed with nonstick spray.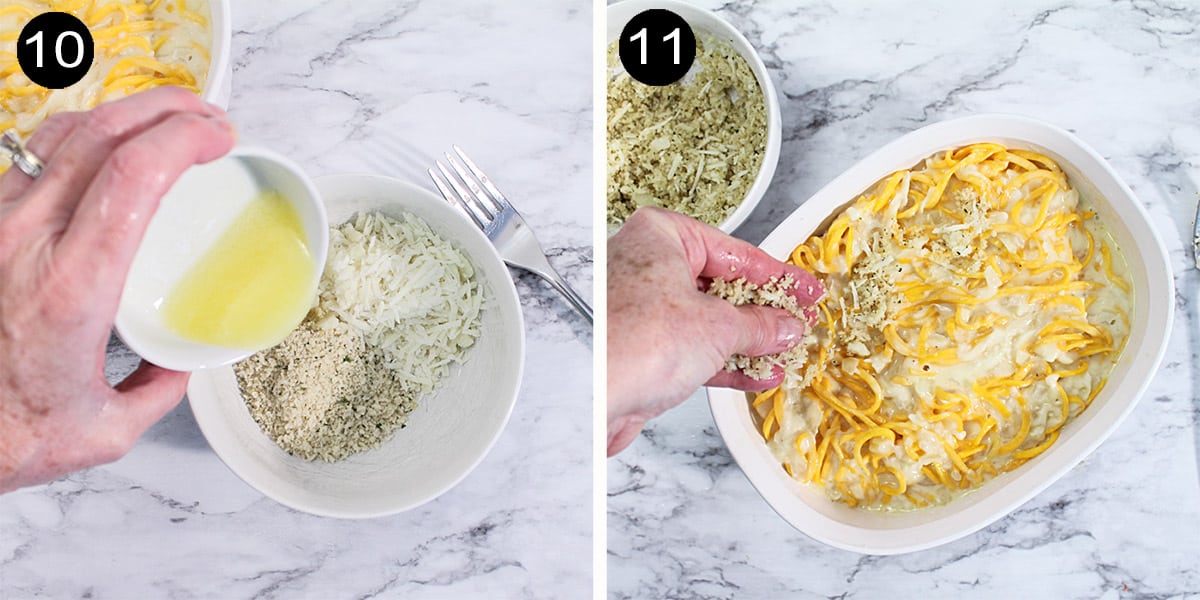 For the crumb topping, mix melted butter with grated parmesan cheese and panko crumbs. (Use ground pork rinds or specialty keto crumbs for keto diets and a gluten-free bread crumb mixture for gluten-free diets)
Sprinkle top of casserole with crumb mixture.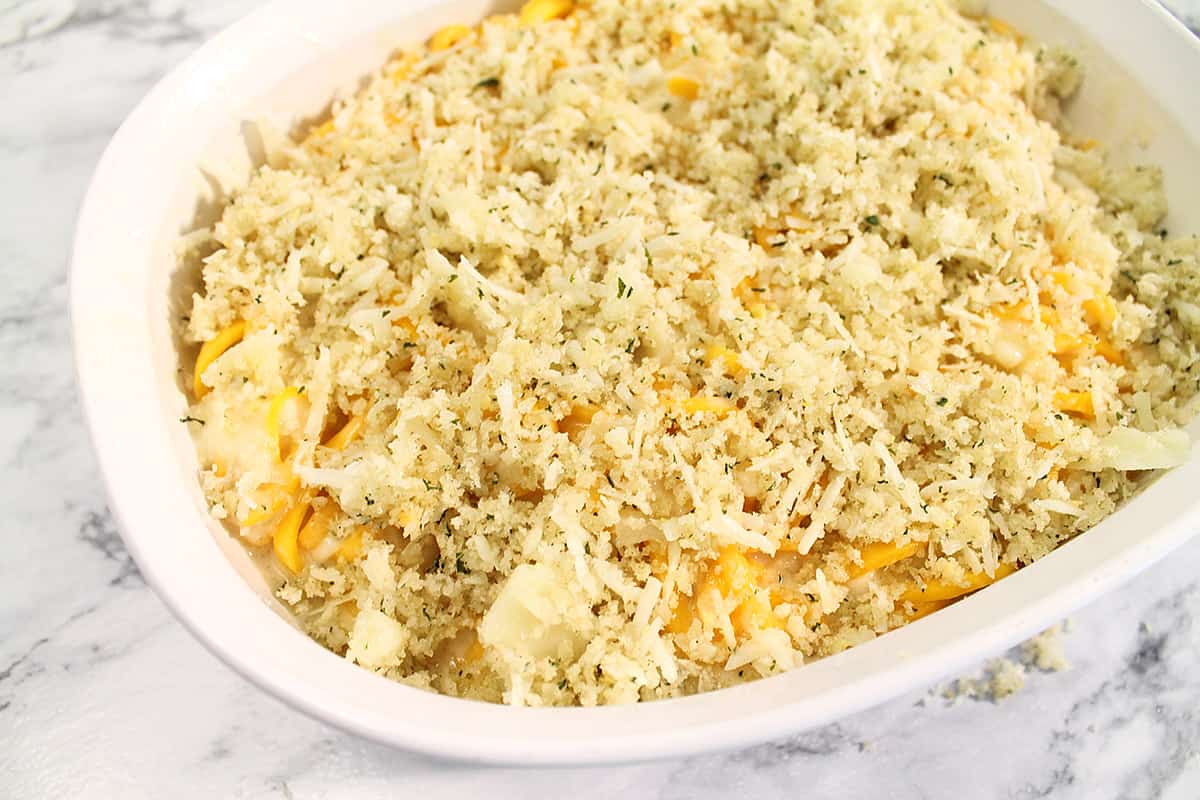 Ready to bake.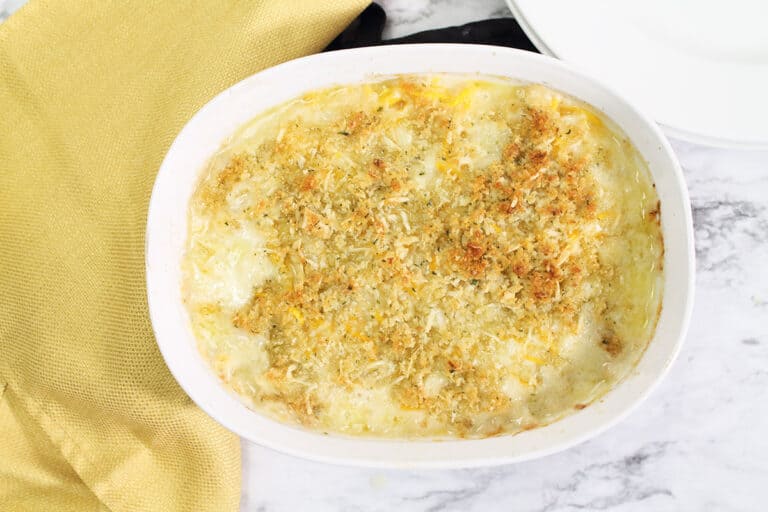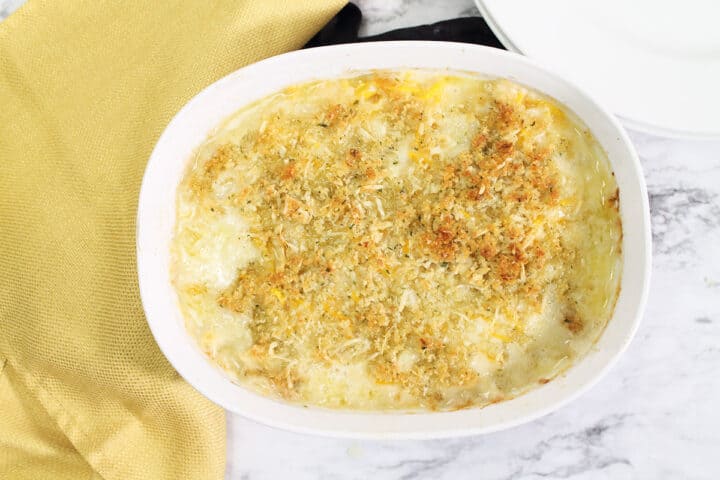 Once this casserole is done baking it's ready to be served. If you prefer a browner top, you can place it under the broiler for 2-3 minutes.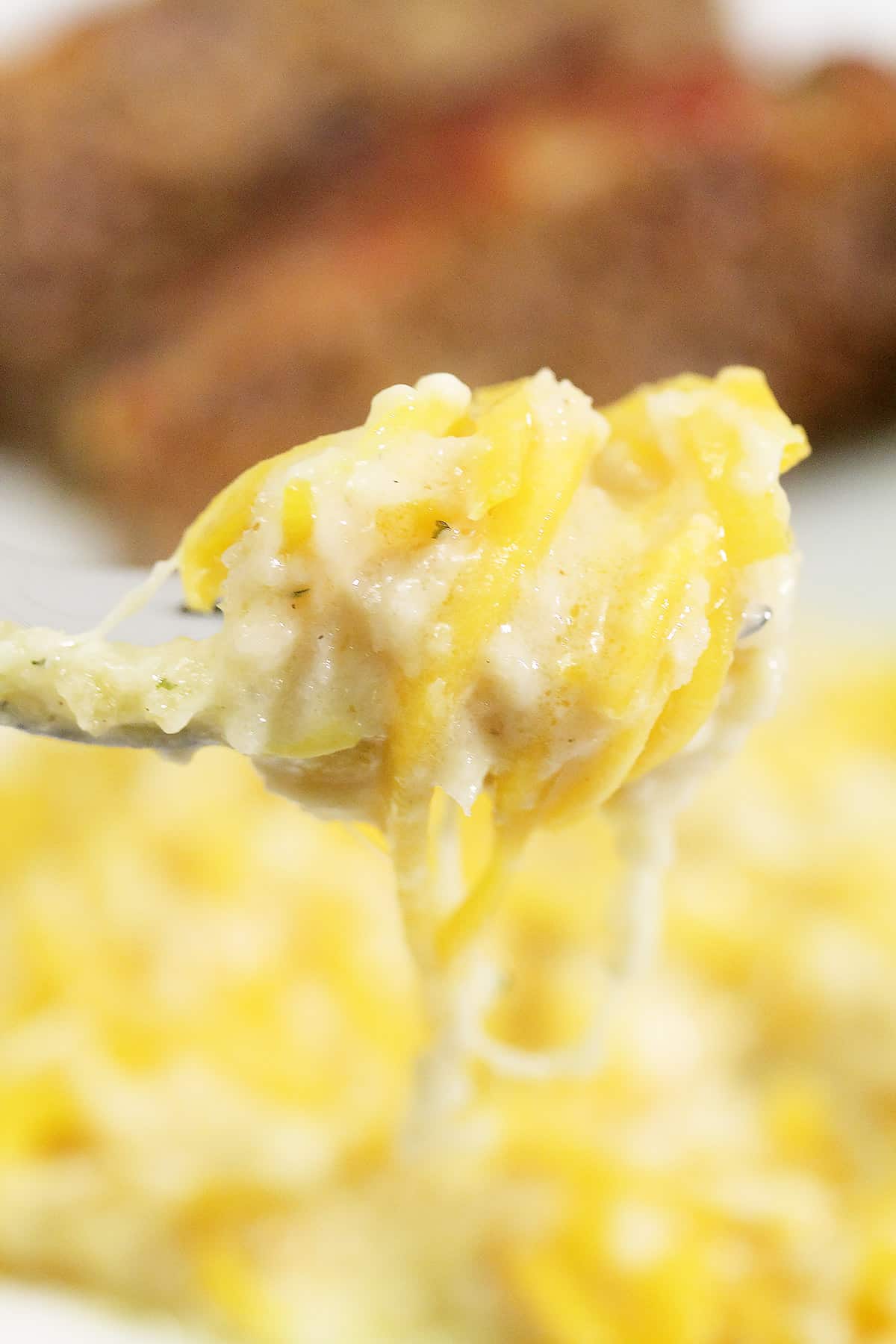 Just look at that bite of cheesy deliciousness! I'm drooling just looking at this incredible winter squash casserole!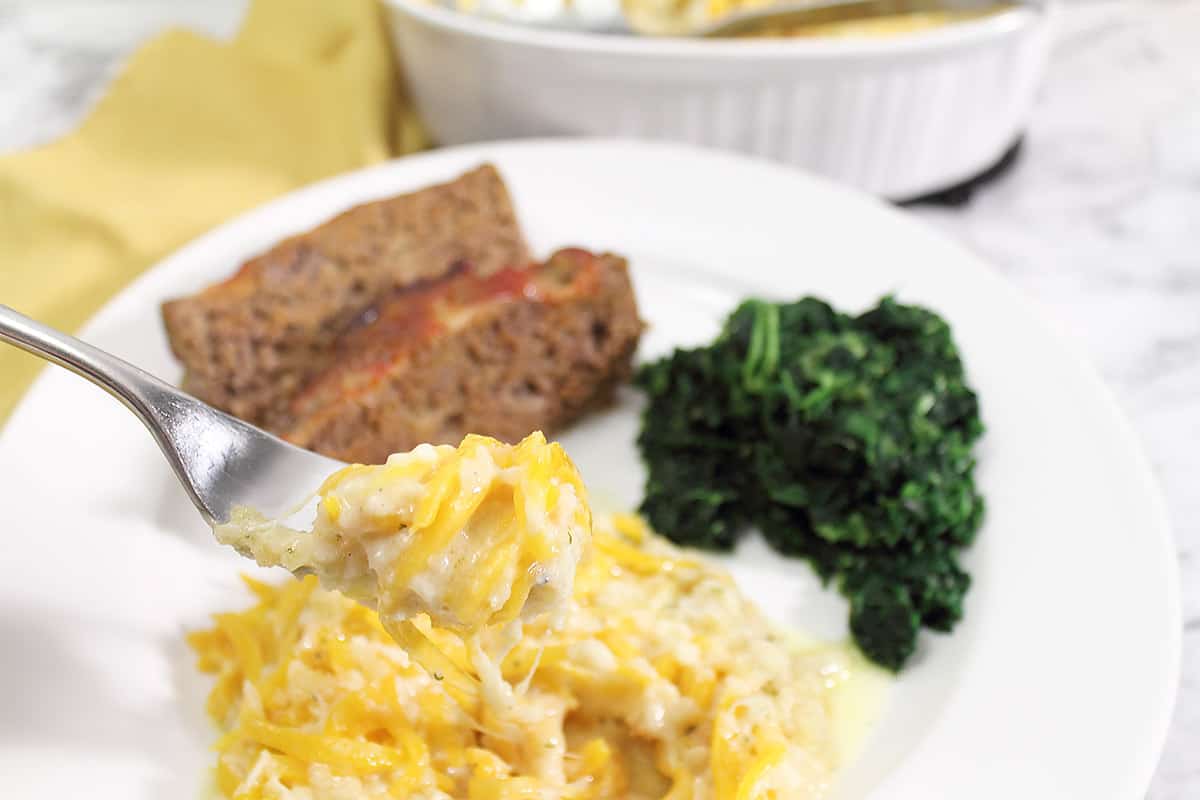 I served my butternut squash bake last night with another ultimate comfort food, slow cooker Italian meatloaf, but I've also had it with Salmon with Red Pepper Sauce and Air Fryer Boneless Pork Chops.
So if you are looking for the best butternut squash recipe to make for a side dish, you found it for sure! It's a total game-changer. Enjoy!
More Squash Recipes
Squash Casserole with Pimentos - Yellow squash is combined with cheddar cheese, bacon bits, pimento peppers, and Cheez-It crackers for a rich, delectable side dish that can accompany any meal. One of our favorites for Thanksgiving dinner.
Pumpkin Butternut Squash Soup - is a combination of butternut squash, pumpkin, and apple cider, spiced up with cinnamon & nutmeg. Perfect for the fall & winter days to come.
Roasted Butternut Squash, Cranberry and Spinach Salad from Taste and See - is a fantastic fall side dish filled with roasted squash, dried cranberries, spinach, parmesan cheese, roasted pepitas, and drizzled with a warm cran-cabernet dressing.
Butternut Squash Pilaf - is made with quinoa instead of rice and flavored with garlic and parmesan cheese.
Butternut Squash Sweet Potato Soup - made in an Instant Pot with apples and coconut milk is creamy and perfectly spiced with ginger and cinnamon.
Find even more healthy squash recipes here on 2CM!
LOVE QUICK & EASY RECIPES? FOLLOW ME ON INSTAGRAM, FACEBOOK, & PINTEREST FOR ALL THE LATEST RECIPE INSPIRATION! PLUS JOIN MY EMAIL LIST AND RECEIVE A FREE E-BOOK.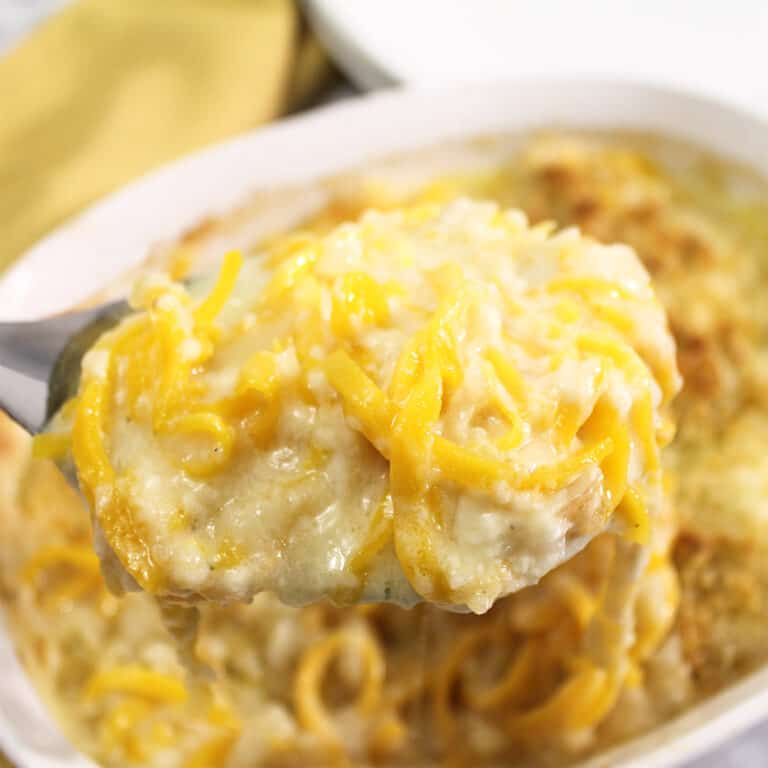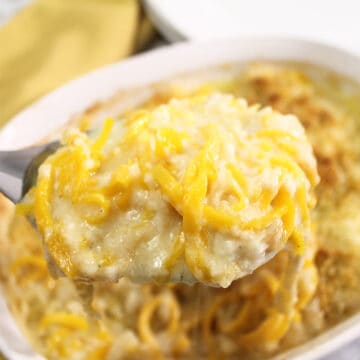 Butternut Squash Mac and Cheese Casserole
Butternut Squash Mac and Cheese Bake is a low-carb option to everyone's favorite comfort food. Spiral-cut butternut squash in a cheesy sauce is fall's perfect side dish. Options for keto and gluten-free.
Print
Rate
Ingredients
1

lb.

butternut squash

spiral cut

3

Tablespoons

butter

⅓

large

sweet onion

chopped

3

Tablespoons

all-purpose flour

use almond flour for keto & cornstarch for gluten-free diets

1 ¼

cups

milk

cream or half 'n half (I used almond milk)

dash

nutmeg

Salt & pepper

to taste

1 ½

cups

cheddar cheese

shredded

1 ½

cups

gruyere cheese

shredded

⅓

cup

Panko crumbs

leave off if on a keto diet or use GF bread crumbs for gluten-free diets

3

Tablespoon

parmesan cheese

grated

2

Tablespoons

butter
Instructions
Preheat oven to 400 degrees.

Spray a cookie sheet with nonstick spray and lay butternut spirals on sheet. Spray them with a light coating of nonstick spray.

Bake in oven for 5-7 minutes. This will dry them out a little so the mac and cheese does not come out too watery.

Turn oven down to 350 degrees.

In a large skillet, melt butter and saute onions for 5 minutes.

Whisk in flour until smooth.

Pour in milk and stir until the liquid starts to thicken.

Add nutmeg and salt and pepper.

Stir in cheeses until melted and smooth.

Add baked butternut spirals to cheese mixture and stir well.

Pour mixture into a buttered casserole dish.

Mix crumb topping by combining panko and parmesan cheese with melted butter.

Stir well and sprinkle over top.

Note: At this point you can place in refrigerator until you are ready to bake. Bake an extra 10-15 minutes if cold.

Bake in oven for 30 minutes and serve hot.
Notes
For keto diets eliminate all-purpose flour and use almond flour. For topping, use only the Parmesan cheese.
For gluten-free diets, use cornstarch in lieu of all-purpose flour and gluten free bread crumbs in place of panko.
Nutrition
Calories:
441
kcal
|
Carbohydrates:
18
g
|
Protein:
21
g
|
Fat:
32
g
|
Saturated Fat:
19
g
|
Cholesterol:
97
mg
|
Sodium:
460
mg
|
Potassium:
416
mg
|
Fiber:
1
g
|
Sugar:
5
g
|
Vitamin A:
9025
IU
|
Vitamin C:
16.7
mg
|
Calcium:
672
mg
|
Iron:
1.2
mg
This post has been updated and was first published on January 27, 2019.