A delicious white chicken lasagna layered with chicken, spinach, squash in a creamy, ooey, gooey cheese sauce. A complete all-in-one dinner for any night of the week.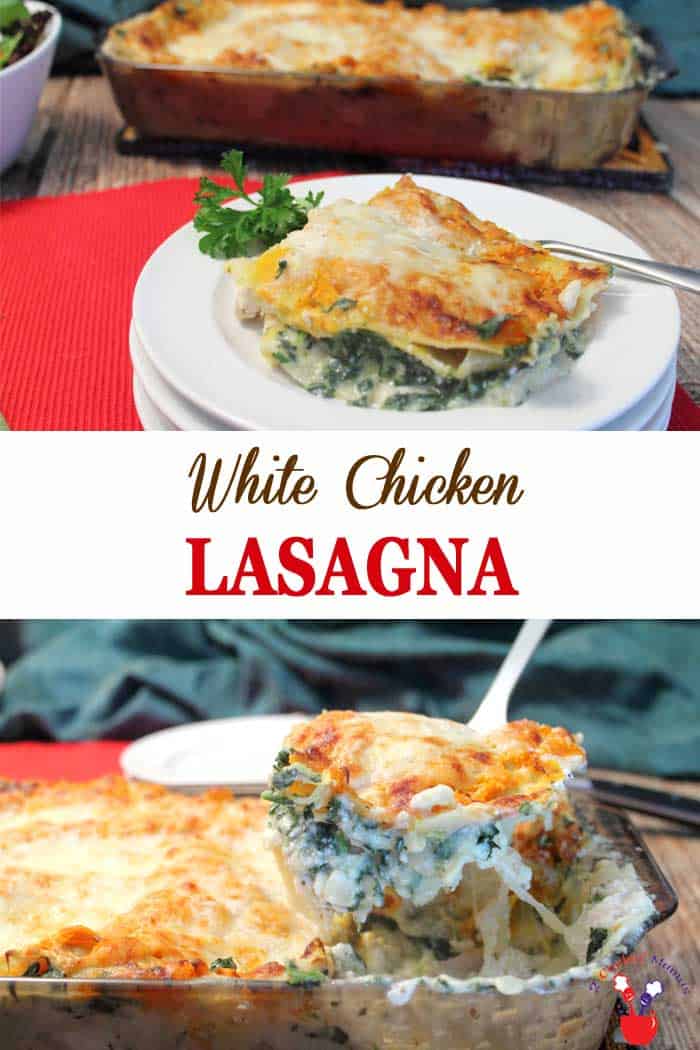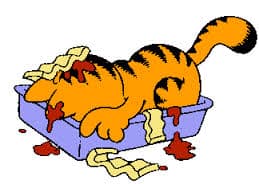 It's National Lasagna Day so, of course, I've brought you a delicious but , by no means, run of the mill lasagna. OK, let me get this off my chest first – there is no tomato sauce in this lasagna. I know some of you are gasping with horror at this point- what do you mean there is no tomato sauce! Well, think of it this way, it's just like ordering a white pizza, there is no tomato sauce there either but it sure is yummy!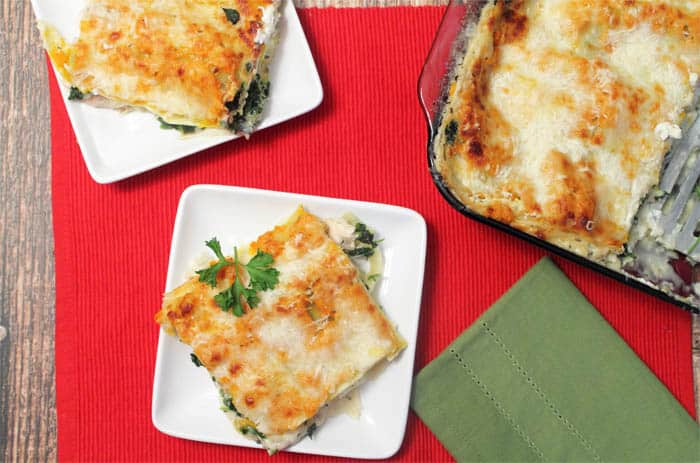 However, take a breath, stop a minute, and look at what I did add. Something just as good or maybe even better than a red sauce – a creamy ooey gooey cheesy sauce. Yes! (fist pump here)  It's a great start to this delicious white chicken lasagna that is like an entire dinner all in one pan.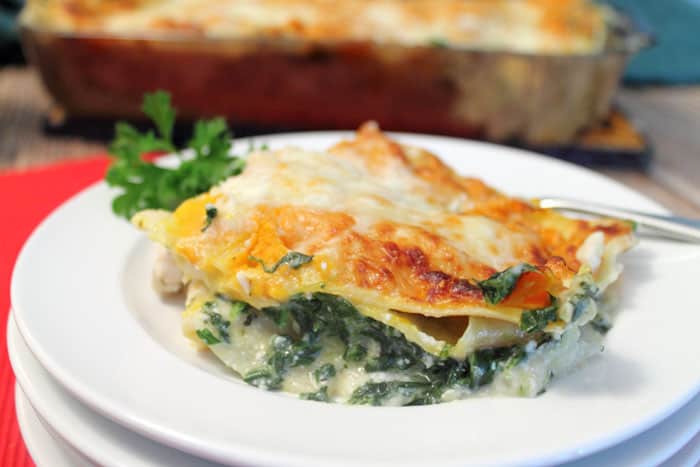 This lasagna makes up pretty quickly too, another plus, using bake-ready noodles, the ones that don't have to be cooked first, a rotisserie chicken, some frozen veggies (yes there are veggies in there) and cheese. Not only does this have your carbs, protein and veggies but you can also make it a pure vegetarian meal by substituting mushrooms for the chicken and zucchini for the noodles.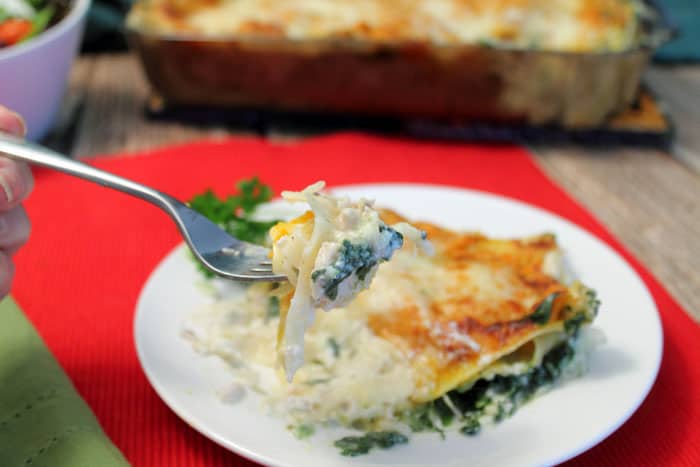 It's so good you might want to be sure to make enough as it goes fast! I like to serve it for dinner the first night then cut it up and freeze it in individual portions for work lunches or when you don't feel like cooking one night. It serves 6-8 easily except if you have a hollow leg teenage boy in the house.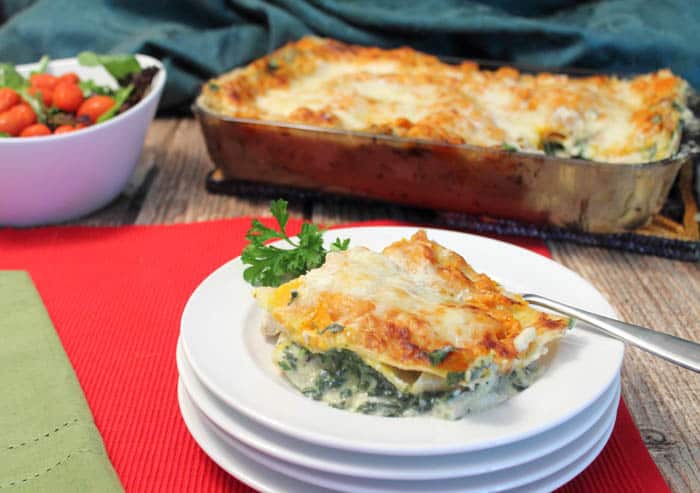 If you love lasagna in any form, opt for Lasagna Stuffed Peppers or Lasagna Stuffed Spaghetti Squash for a change of pace. Enjoy!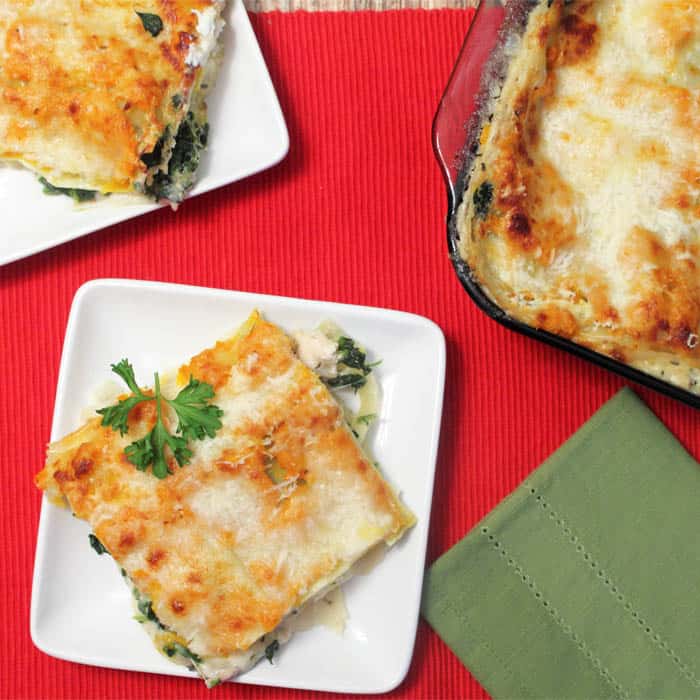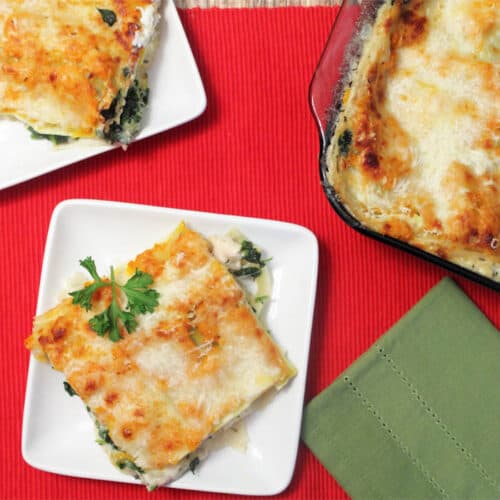 WHITE CHICKEN LASAGNA
A delicious lasagna layered with chicken, spinach and squash in a creamy, ooey, gooey cheese sauce. An easy all-in-one dinner for any night of the week. Gluten-free & meatless version available.
Ingredients
9

ready to bake lasagna noodles, Gluten-Free noodles or thinly sliced zucchini

1/4

cup

olive oil

1

onion,

minced

2

heaping teaspoons minced garlic

1/2

cup

flour or gluten-free flour

2

cups

white wine

(chicken broth can also be used)

1-3/4

cups

low fat milk or plain almond milk

1/2

teaspoon

salt

1/4

teaspoon

ground pepper

4

cups

part-skim mozzarella cheese,

shredded

1

cup

Pecorino Romano cheese,

grated

2

Tablespoons

fresh basil,

chopped or 2 teaspoons dried basil

1

teaspoon

dried oregano

3

cups

cooked chicken,

chopped or use mushrooms for a meatless option

1

cup

part-skim ricotta

9-

oz

box frozen chopped spinach,

thawed

12-

oz

box frozen mashed butternut squash,

thawed or change it up with a 15-oz can of pure pumpkin
Directions
Preheat oven to 350 degrees. Spray a 13? x 9? baking dish with Pam or other non-stick spray.

Cook lasagna noodles if not using ready to bake type. Rinse in colander & set aside.

Heat olive oil in a large pot over medium heat. Add onions and garlic (and mushrooms if using them to replace chicken) then cook for 5 minutes or until onions are translucent.

Add flour and stir well, cooking for about 1 minute.

Add white wine or chicken broth slowly, stirring constantly to avoid lumps forming. Add milk, salt and pepper and cook for 2 minutes.

Remove from heat and add 2 cups of mozzarella cheese, 1/4 cup Parmesan cheese, basil and oregano. Set cheese mixture aside.

Lay out remaining ingredients - mozzarella cheese, Parmesan cheese, ricotta cheese, cooked chicken (if using), spinach (that has been squeezed to get out all liquid) and squash.

Begin assembling lasagna by putting a small amount of cheese sauce in the casserole dish and spreading to cover bottom. Place 3 lasagna noodles/zucchini strips on top of sauce forming the first layer. Place 1/2 of the remaining cheese sauce on top of noodles/zucchini strips, 1/2 of the chicken (ignore if omitting chicken) and then spread ricotta cheese on top. Layer 3 more noodles/zucchini strips. Spread remaining cheese sauce on top of noodles and top with chicken (if using), spinach and 1 cup of the shredded mozzarella cheese. Add last layer of pasta/zucchini strips and spread butternut squash over the top. Add remaining mozzarella cheese and Parmesan cheese.

Cover with aluminum foil and bake for 30 minutes. Remove the foil and allow cheese to brown, about 15 minutes. If cheese is still not browning, turn on the broiler and watch carefully until browned.

Let the lasagna cool for about 10-15 minutes then cut and serve.
Recipe Notes
Note: If using zucchini strips, cut into 1/8" thick long strips, lightly salt, and let sit for 15 minutes. Lightly dab with paper towel to help get rid of excess moisture. On a grill or under broiler, cook zucchini strips for 1-2 minutes per side then place on paper towels to drain. Continue with step 3 above. Additional note: You can prepare ahead of time, up to the covering with foil then store in refrigerator until ready for dinner. You may need to cook it slightly longer since the casserole will be cold.
Wine Pairing: Choose a wine that will compliment the cheeses such as a Sauvignon Blanc or one that will suit the spinach and squash as well like a nice oaked Chardonnay or a Viognier.