This delicious creamy chicken lasagna is a rich, cheesy comfort food perfect for the cool days ahead. Each of the towering layers are filled with their own flavor and texture. Layers of rotisserie chicken, ricotta cheese, spinach and squash (yeah, the kids will never know it's there) are all nestled in a creamy, ooey, gooey cheese sauce that's sure to have them drooling. A complete all-in-one dinner for any night of the week.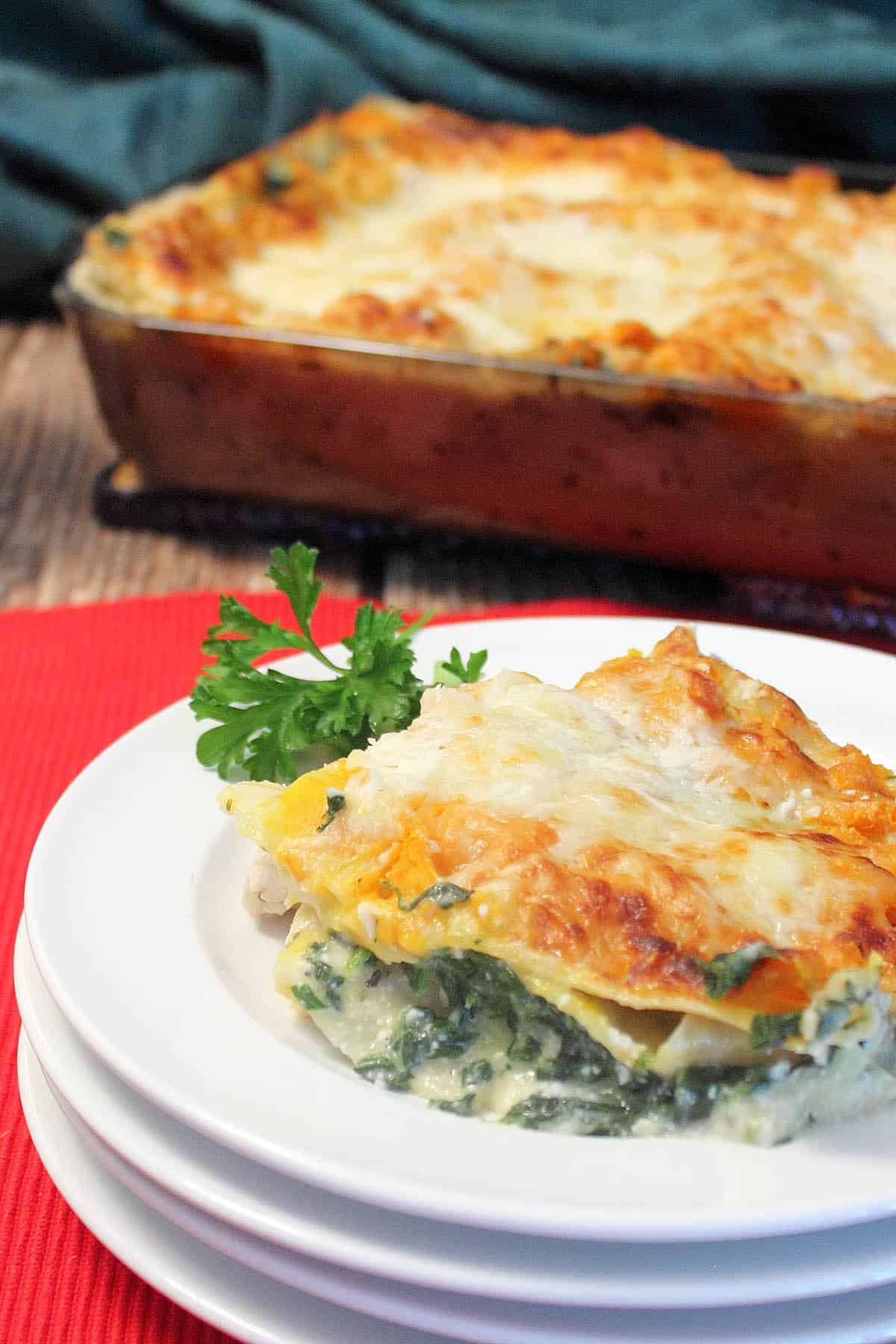 I love lasagna! I mean, who doesn't! So I thought I would bring you a delicious but , by no means, run of the mill lasagna recipe. OK, let's get this out of the way first - there is no tomato sauce in this lasagna. I know some of you are gasping with horror at this point- what do you mean there's no tomato sauce! Well, think of it this way, it's just like ordering a white pizza, there is no tomato sauce there either but it sure is yummy! If you're still saying no way, you can get your lasagna fix with my delicious red sauce Meat Lasagna too. It's just as deliciously cheesy as this white sauce chicken lasagna but with a rich tomato sauce.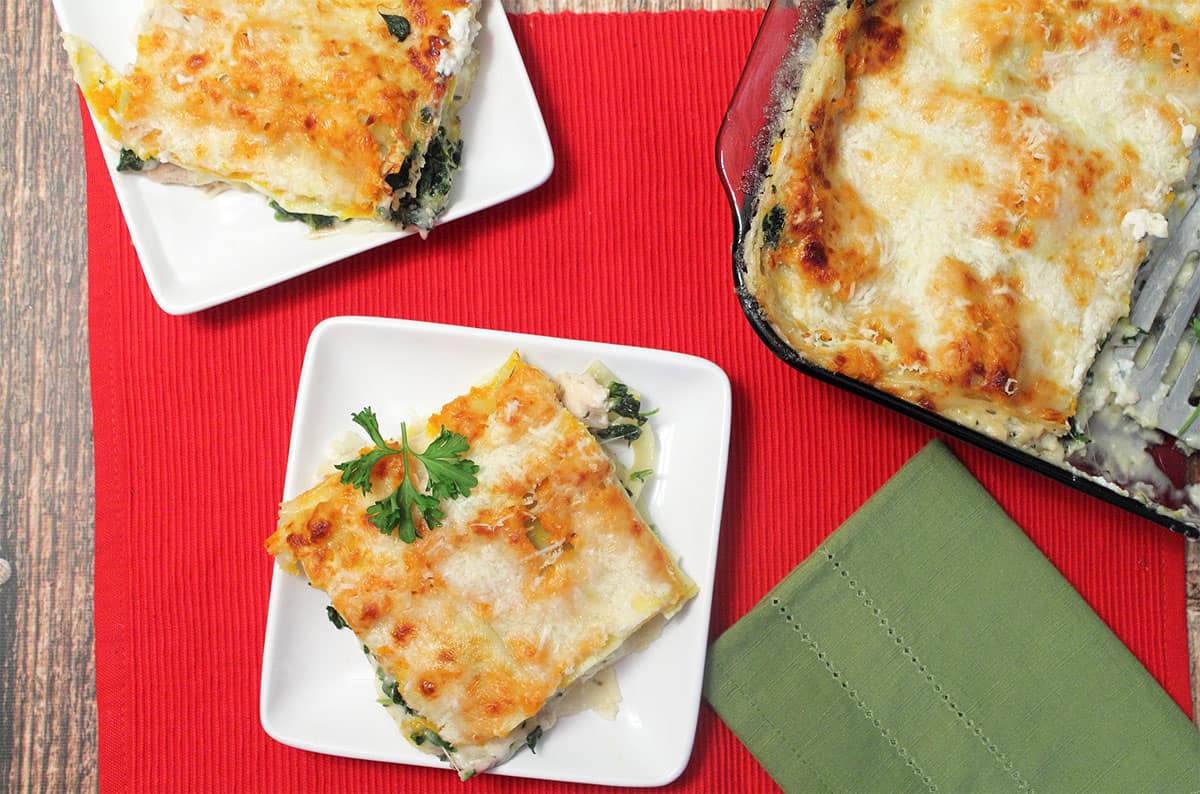 However, take a breath, stop a minute, and look at what I did add. Something just as good or maybe even better than a red sauce - a creamy ooey gooey cheesy sauce. Yes!(fist pump here) It's a great start to this delicious white chicken lasagna that is like an entire dinner all in one pan.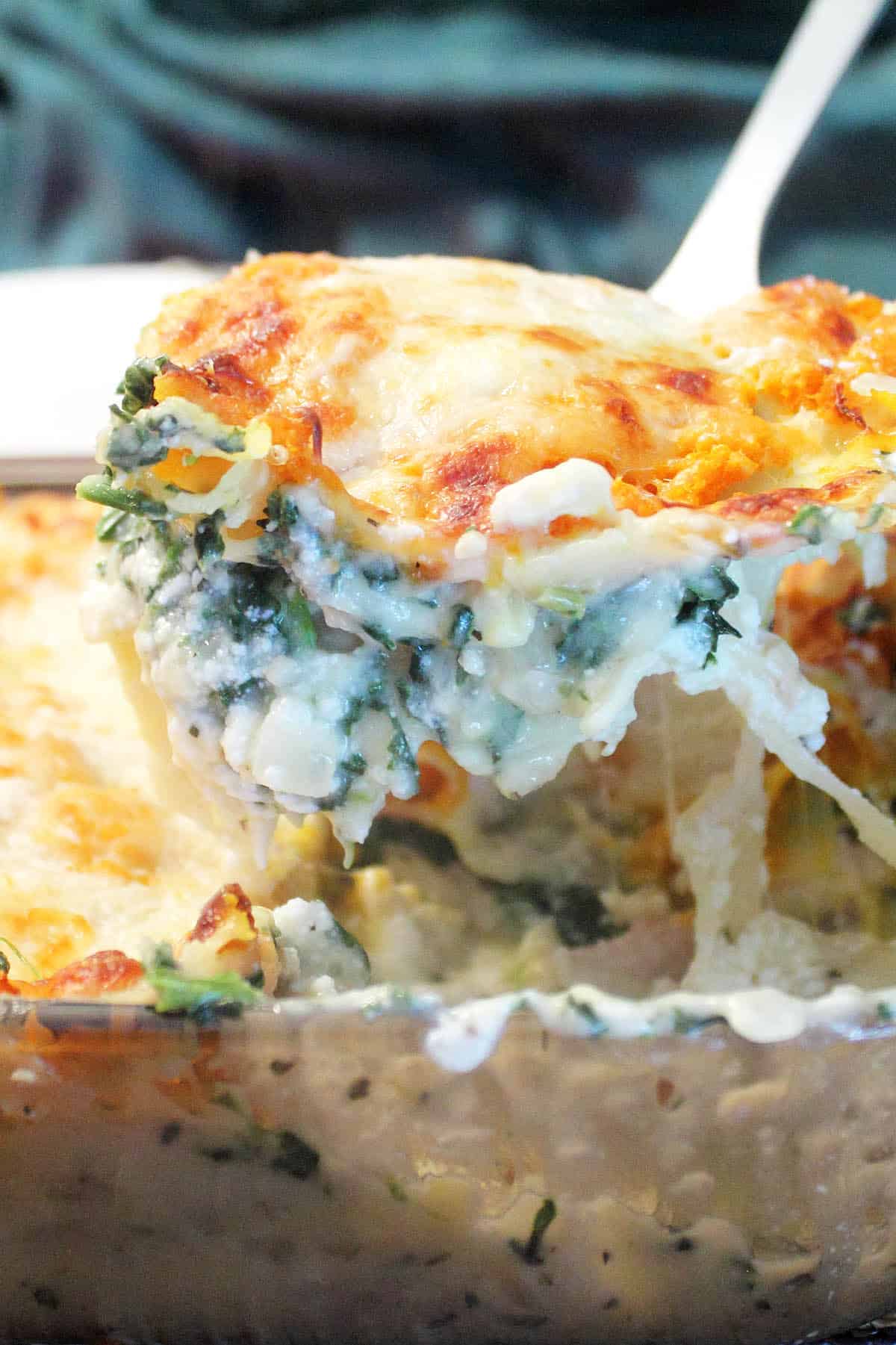 This creamy chicken lasagna whips up quickly too. Using bake-ready noodles, a rotisserie chicken, some frozen veggies (yes there are veggies in there) and shredded cheese cuts the prep time substantially. This recipe is a complete dinner, containing all your carbs, protein and veggies but it's also adaptable. Check it out below to see how to make this an easy peasy dinner for everyone!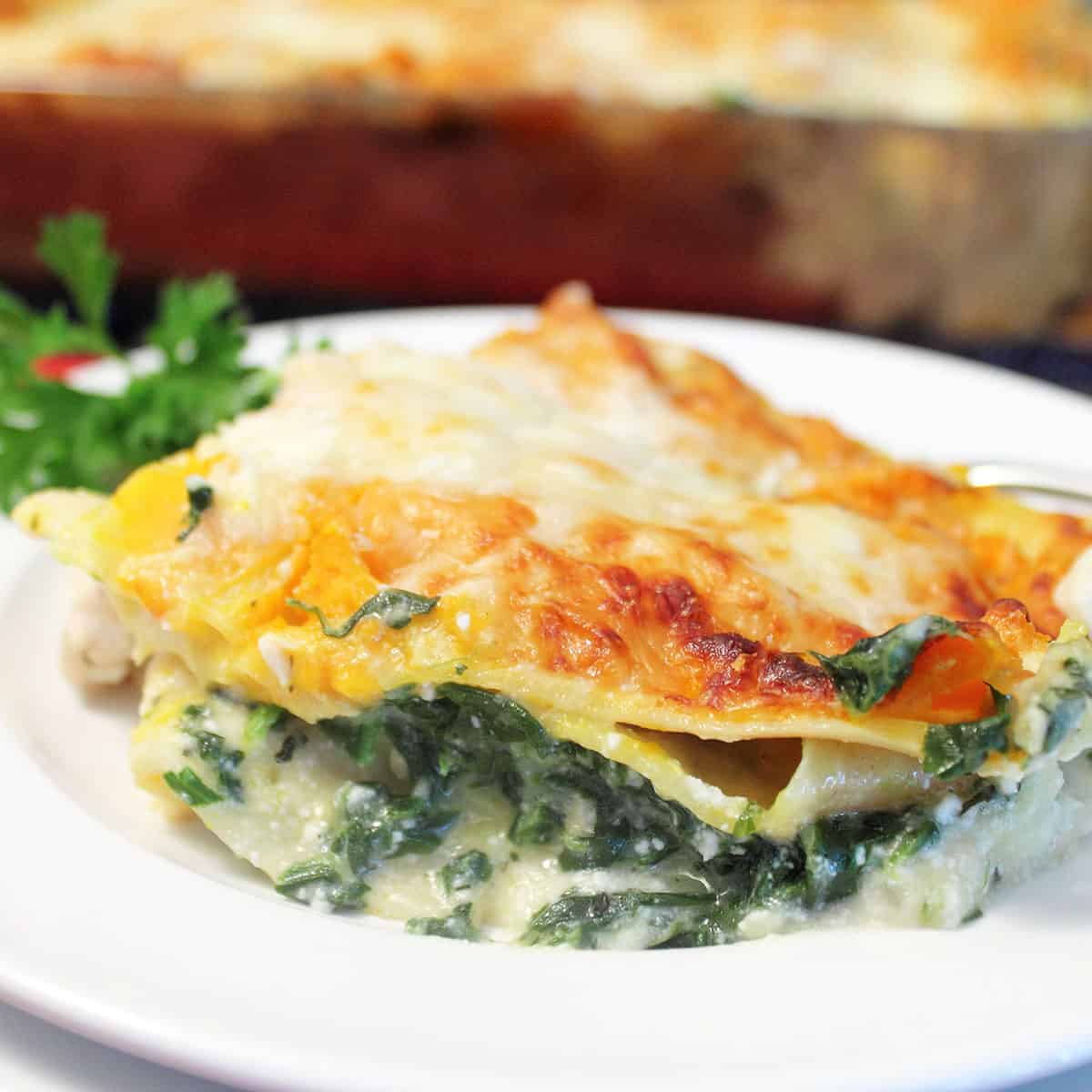 Variations
Vegetarian - substitute mushrooms for the chicken
Low Carb - change out the regular noodles for zucchini strips
Gluten free option - Use gluten free pasta noodles or zucchini strips for the regular pasta and gluten free flour for the all-purpose flour
Flavor changer - sub in pumpkin puree for the butternut squash
How to make creamy white sauce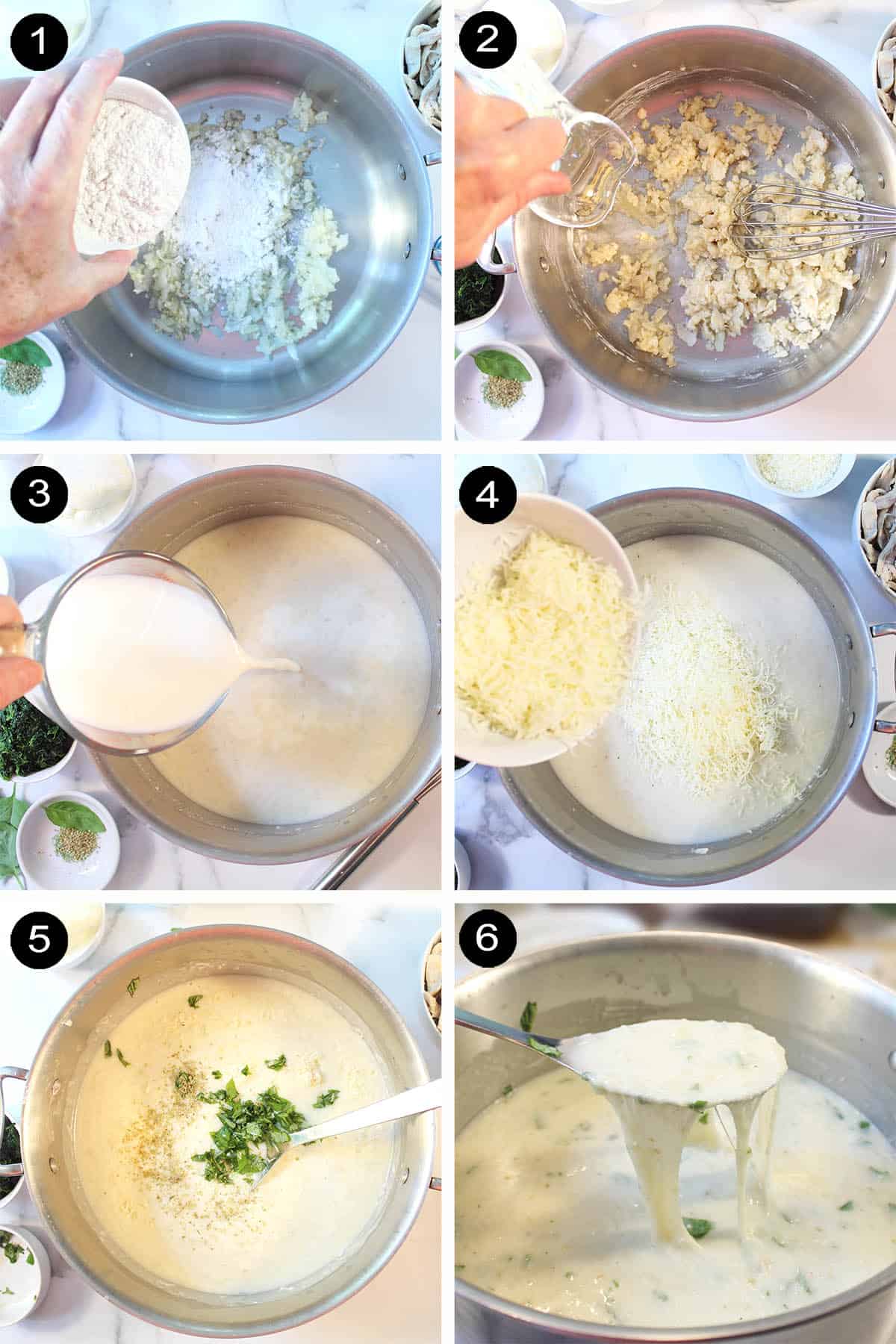 Brown onion and garlic in oil in a large stockpot. The onions will take on a translucence when they are done, about 5 minutes. If you are making the vegetarian version, add mushrooms to this step as well. Add flour and continue whisking for about 1 minute. The mixture will be very thick. (photo 1)
Slowly add in the wine while whisking continuously until smooth. This shouldn't take long. (photo 2)
Pour in milk and season with salt and pepper and cook for 2 minutes. It will start to thicken up to a beautiful rich consistency. (photo 3)
Remove from the heat and add some of the mozzarella and Parmesan cheese. (photo 4)
Flavor it all with basil and oregano. Stir well. (photo 5)
It will be very thick and have that special ooey gooey cheese pull. Can you say heaven?! (photo 6)
How to assemble white chicken lasagna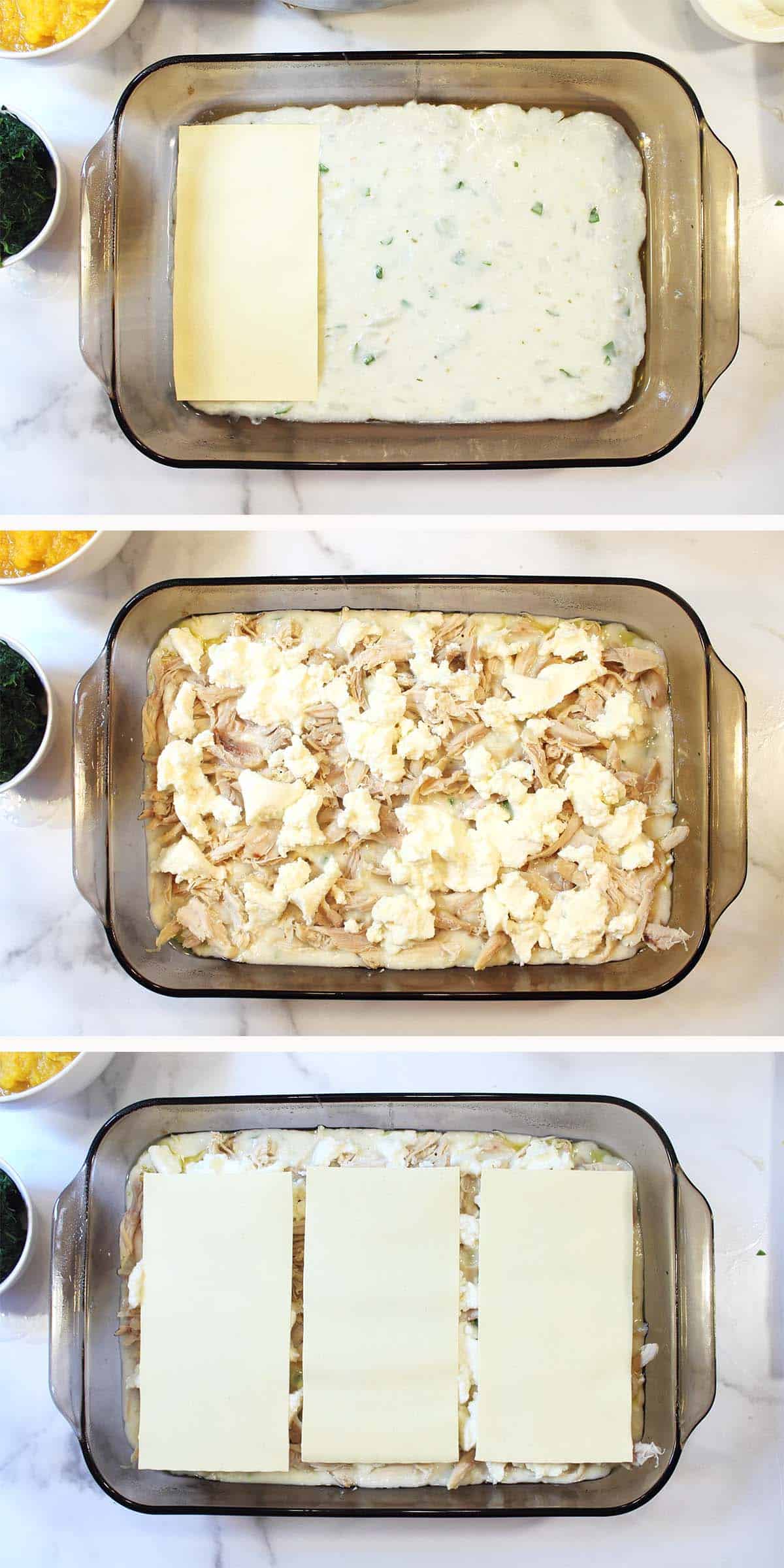 Spread some cheese sauce on the bottom of prepared baking dish. Add layer of lasagna noodles, usually 3 pieces is enough. They can be the ready to bake kind or you can use lasagna noodles that you have cooked according to package instructions.
Ladle half the cheese sauce over noodles, sprinkle half the chicken on top then drop small quantities of the ricotta cheese over it.
Cover with 3 more lasagna noodles.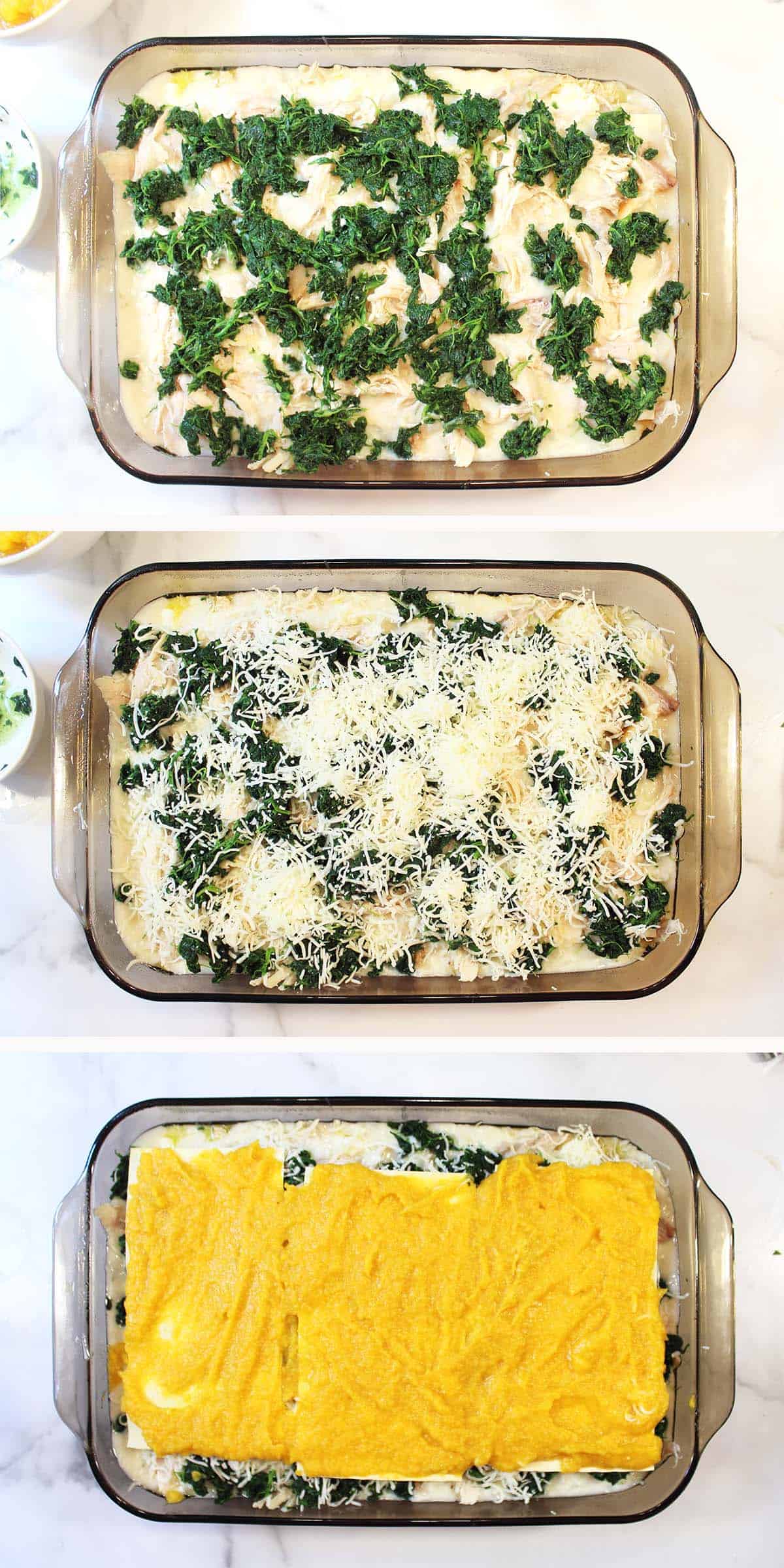 Repeat with remaining sauce, remaining chicken and then spread spinach on top. Make sure the spinach has been cooked and squeezed of any excess liquid.
Top with 1 cup mozzarella cheese.
Add last layer of noodles then spread thawed butternut squash over the top.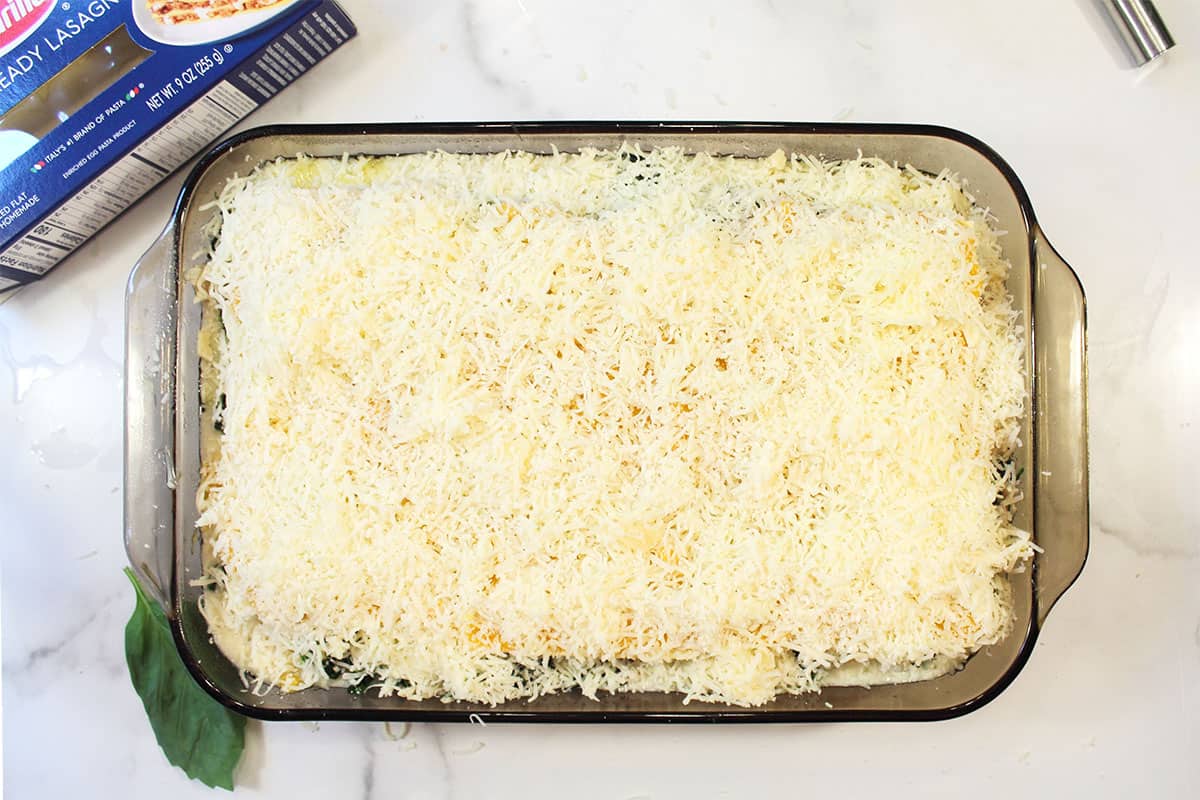 Sprinkle remaining mozzarella cheese and Parmesan cheese over squash. Cover with foil and it's ready to bake.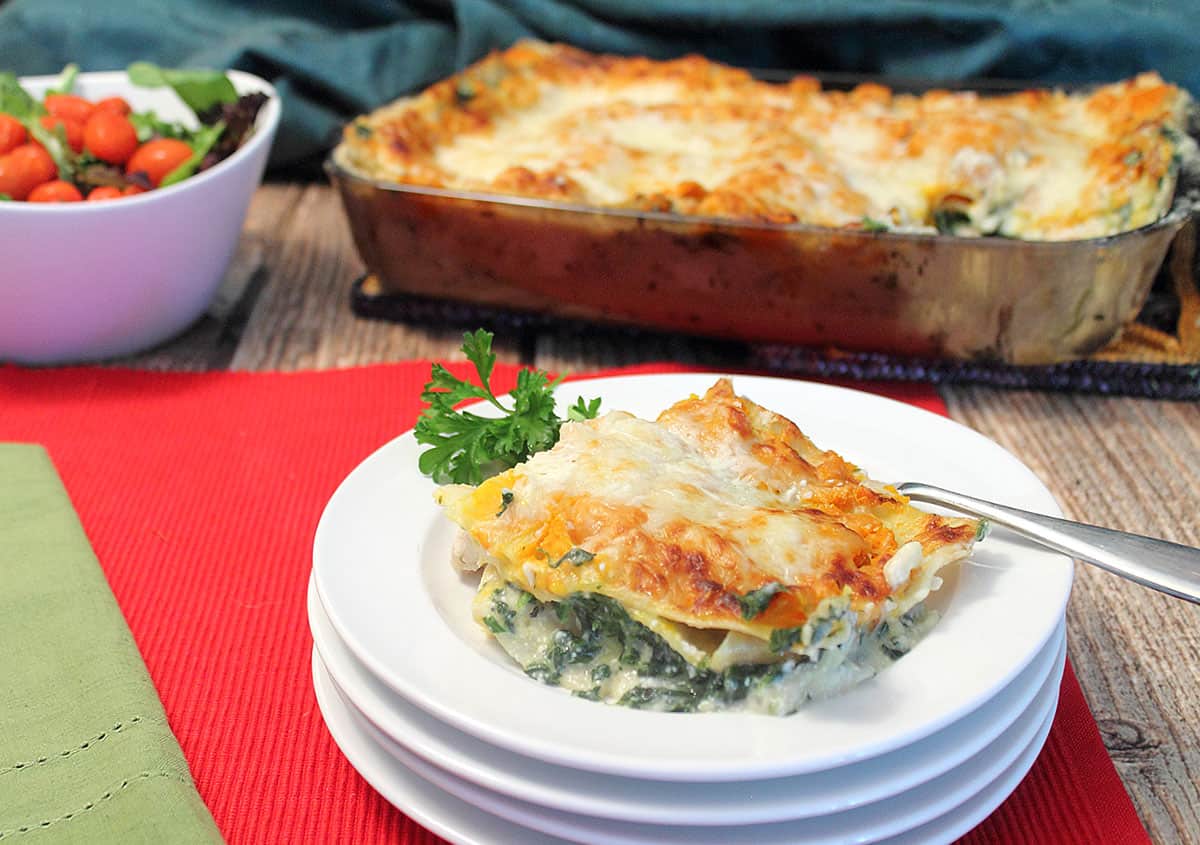 This creamy chicken lasagna so good you might want to make enough for leftovers! I like to serve it for dinner the first night then cut it up and freeze it in individual portions. It will keep for 3 months in the freezer and it's great for work lunches or when you don't feel like cooking one night. It serves 6-8 easily except if you have a hollow leg teenage boy in the house. Enjoy!
More lasagna recipes
Lasagna Stuffed Peppers are a great way to get your lasagna fix without all the carbs! A delicious mix of ground beef, orzo & tomato sauce is stuffed into peppers, topped with cheese and baked.
Lasagna Stuffed Spaghetti Squash has all the delicious flavor of your favorite lasagna stuffed in a spaghetti squash. Healthy and low carb plus you use the squash as a bowl!
Chicken Ravioli Lasagna is one easy weeknight casserole! Layers of your favorite filled ravioli, chicken and broccoli are covered with a creamy, cheesy sauce and topped with plenty of mozzarella cheese. Can you say yum?!
Love quick & easy recipes? Follow me on Instagram, Facebook, Pinterest & Twitter for all the latest recipe inspiration! Plus join my email list here and receive a free e-book.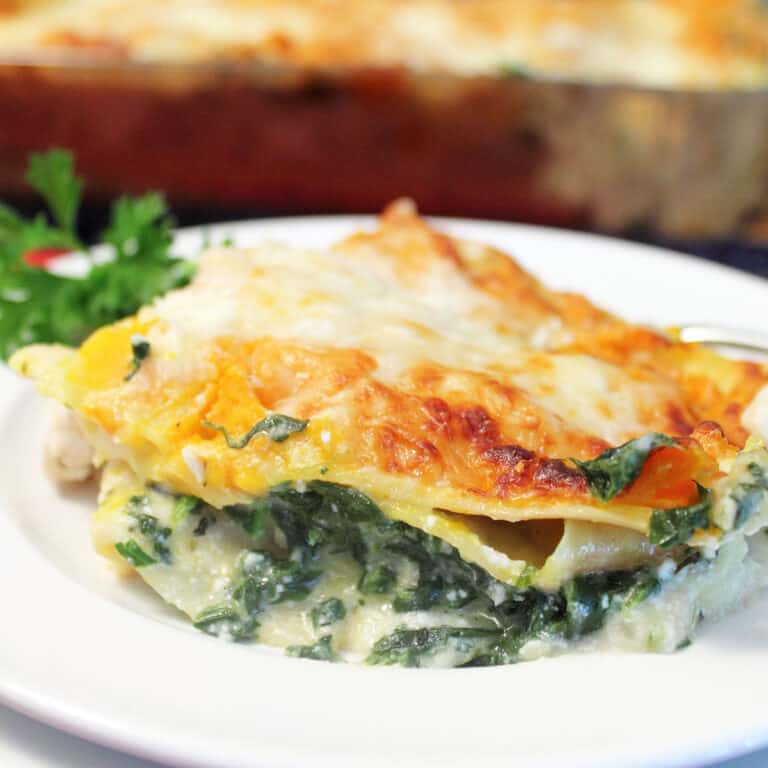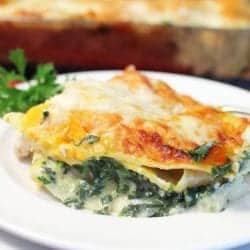 Creamy Chicken Lasagna
A delicious lasagna layered with chicken, spinach and squash in a creamy, ooey, gooey cheese sauce. An easy all-in-one dinner for any night of the week. Gluten-free & meatless version available.
Print
Rate
Ingredients
9

ready to bake lasagna noodles

option: gluten-free noodles or thinly sliced zucchini can be used

¼

cup

olive oil

1

onion

minced

2-3

teaspoons

minced garlic

½

cup

flour

or gluten-free flour

2

cups

white wine

(chicken broth can also be used)

1 ¾

cups

low fat milk

½

teaspoon

salt

¼

teaspoon

ground pepper

4

cups

part-skim mozzarella cheese

shredded

1

cup

Parmesan or Pecorino Romano cheese

grated

2

Tablespoons

fresh basil

chopped or 2 teaspoons dried basil

1

teaspoon

dried oregano

3

cups

cooked rotisserie chicken

chopped. Option: use mushrooms for a meatless option

1

cup

part-skim ricotta

9

oz

box frozen chopped spinach

thawed

12

oz

box frozen mashed butternut squash

thawed or change it up with a 15-oz can of pure pumpkin
Instructions
Preheat oven to 350 degrees. Spray a 13" x 9" baking dish with non-stick spray.

If you opt for regular lasagna noodles, cook them according to package directions while making cheese sauce. Rinse in colander & set aside.
Making cheese sauce
Heat olive oil in a large pot over medium heat. Add onions and garlic (and mushrooms if using them to replace chicken) and cook for 5 minutes or until onions are translucent.

Add flour and stir well, cooking for about 1 minute.

Slowly add white wine or chicken broth, stirring constantly to avoid lumps forming.

Add milk, salt and pepper and cook for 2 minutes.

Remove pot from heat and add 2 cups of mozzarella cheese, ¼ cup Parmesan cheese, basil and oregano. Set cheese mixture aside.
Assembling lasagna
Lay out remaining ingredients - lasagna noodles, mozzarella cheese, Parmesan cheese, ricotta cheese, chicken, thawed spinach (that has been squeezed to get out all liquid) and thawed squash.

Spread a small amount of cheese sauce in the casserole dish to cover bottom.

Place 3 lasagna noodles on top of sauce forming the first layer. Ladle on ½ of the remaining cheese sauce, followed by ½ of the chicken, then spread ricotta cheese on top.

Layer 3 more noodles on top of ricotta cheese. Top with remaining cheese sauce, followed by remaining chicken then spread thawed spinach on top. Sprinkle 1 cup of shredded mozzarella cheese over spinach.

Add last layer of pasta then spread butternut squash over them. Sprinkle on remaining mozzarella cheese and Parmesan cheese.
Baking & browning lasagna
Cover with aluminum foil and bake for 30 minutes.

Remove the foil and continue cooking for 15 more minutes to allow cheese to brown. If cheese is still not browning, turn on the broiler and watch carefully until browned.

Let the lasagna cool for 10-15 minutes to make it easier to cut into servings.
Notes
Low carb version: If using zucchini strips, cut into ⅛" thick long strips, lightly salt, and let sit for 15 minutes. Lightly dab with paper towel to help get rid of excess moisture. On a grill or under broiler, cook zucchini strips for 1-2 minutes per side then place on paper towels to drain. Continue with assembly steps and use in place of pasta.
Vegetarian version: Use mushrooms in lieu of chicken and cook with onions and garlic then add to cheese sauce.
You can meal prep this by preparing up to the baking step. cover with foil and store in refrigerator until ready for bake. You may need to cook it slightly longer, 10-15 minutes, since the casserole will be cold.
Nutrition
Calories:
529
kcal
|
Carbohydrates:
23
g
|
Protein:
42
g
|
Fat:
26
g
|
Saturated Fat:
12
g
|
Cholesterol:
103
mg
|
Sodium:
1103
mg
|
Potassium:
516
mg
|
Fiber:
2
g
|
Sugar:
6
g
|
Vitamin A:
4362
IU
|
Vitamin C:
3
mg
|
Calcium:
797
mg
|
Iron:
2
mg
This post has been updated with step-by-step instructions. It was first published on July, 29, 2013.