A small honey roasted turkey breast can make a delicious feast for two for the holidays or any time of year. It's so easy & cleanup is a breeze!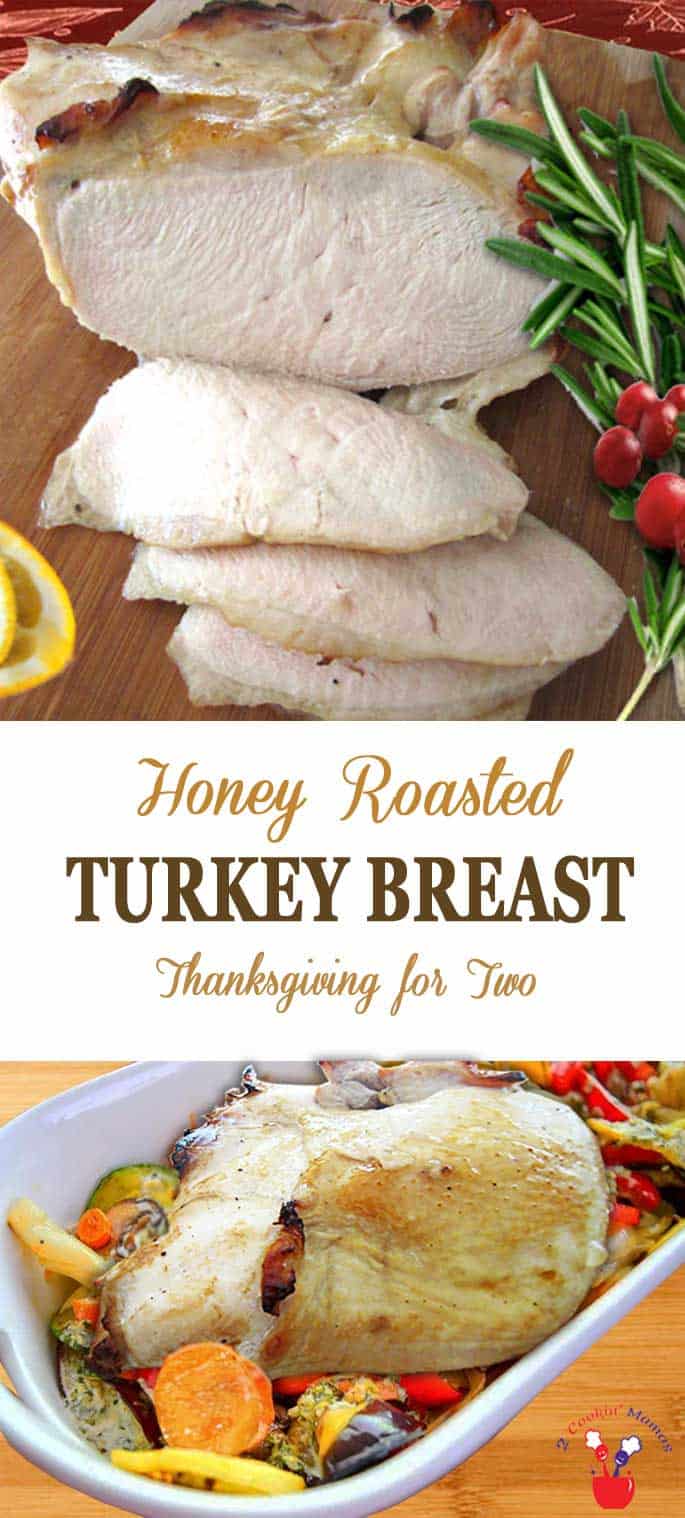 We are lucky this year for Thanksgiving as my husband and I have our daughter and her family plus our nephew coming to celebrate with us. When there's a crowd coming it's so much fun to fix the biggest turkey you can find, ours this year is a good 23 lbs., but I also like to fix a big one even when its just the two of us! Why? Because I love so many recipes you can make with leftover turkey, like Turkey Soup, Turkey Tetrazzini and Turkey a la King.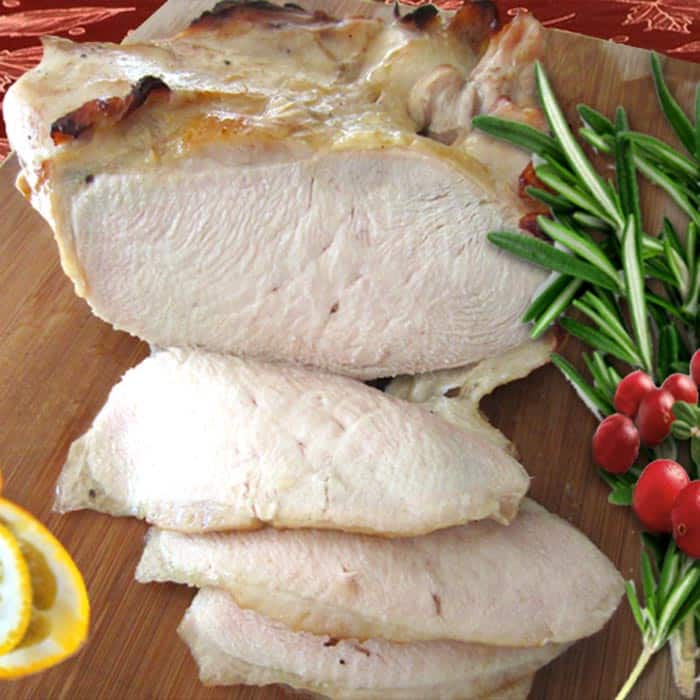 But, if you are cooking for just two of you, and don't want to fuss with that big dinner, the best thing to fix is this roasted turkey breast. Now, a turkey breast  is not just delicious for Thanksgiving but any time of year and this one is so simple that you might want to keep the recipe handy. Everything is thrown into an oven bag, which not only helps keeps the turkey super moist but makes clean up a breeze too. Serve with a vegetable, mashed potatoes and cranberry sauce and you have an easy and delicious Thanksgiving feast for two.
Enjoy!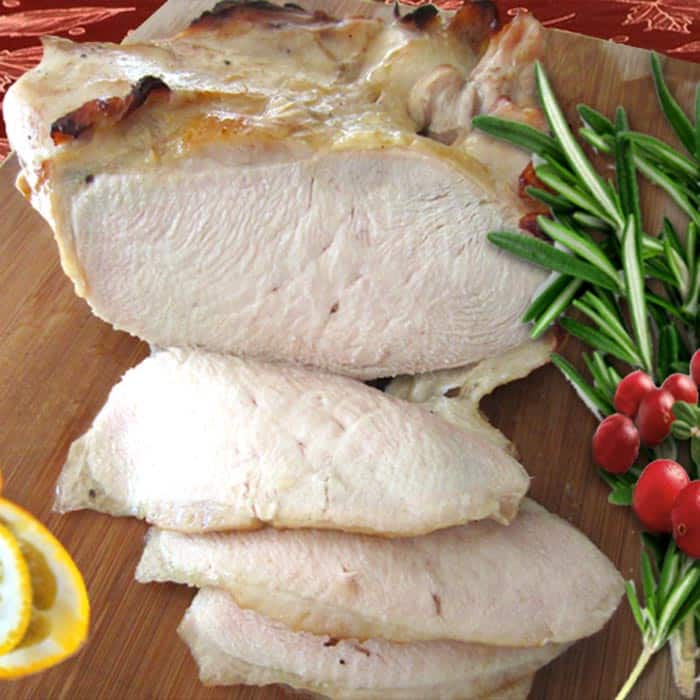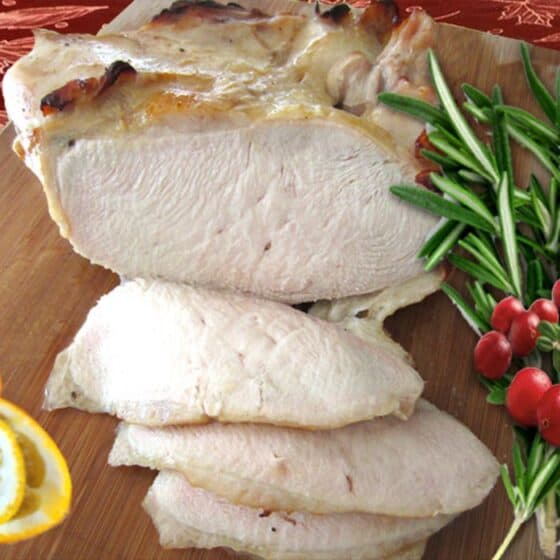 HONEY ROASTED TURKEY BREAST
A small honey roasted turkey breast can make a delicious feast for two for the holidays or any time of year. It's so easy & cleanup is a breeze!
Ingredients
Large Reynolds Oven Bag

1

Tablespoon

flour

1/2

cup

butter

1/2

cup

honey

1/2

cup

white wine

1

sprig fresh rosemary,

about 6" long

2

lb.

turkey breast,

fresh

Fresh ground pepper
Directions
Preheat oven to 350 degrees.

Prepare bag by adding the flour to the bag and shake to disperse.  Place in pan that is at least 2" deep to prevent spills.

In a medium sauce pan, combine butter, honey, wine and sprig of rosemary and gently simmer for 5 minutes. Remove from heat and discard rosemary.

Use a knife and puncture the turkey at intervals.  Place in oven bag and drizzle the honey-butter mixture on top of the breast.  Season with pepper.  Close bag with nylon tie and cut six ½" slits in top of bag. Cut off any excess above tie.

Place in oven and cook 1 to 1-1/2 hours or until the turkey reaches an internal temperature of 160 degrees.

Remove from oven, open bag carefully to let steam escape, lift turkey breast out and wrap in foil for 15 minutes before carving.

Strain drippings from turkey bag and serve on the side.
Wine Pairing: The perfect wines to complement your turkey dinner range from a Pinot Grigio to a Sauvignon Blanc to Chardonnay. Check out our Thanksgiving wine pairing post for more suggestions.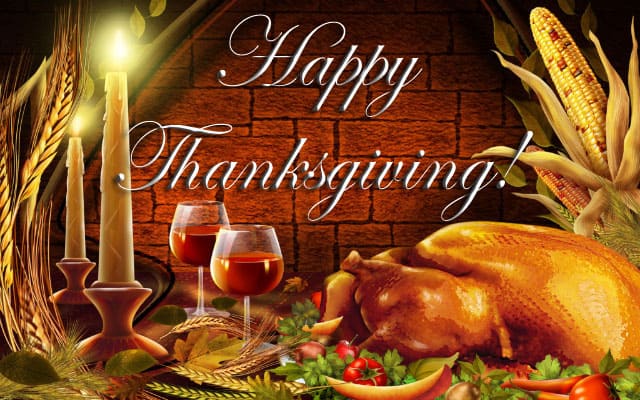 We are so thankful for each and every one of you that read our blog, follow us on Facebook, Twitter or Instagram and take the time to leave comments.  It's been wonderful to get to know so many of you and share our love of cooking with you. You are all AWESOME and we wish you and your family a beautiful, safe and happy Thanksgiving holiday!
DON'T MISS A RECIPE!