This Air Fryer Turkey Breast with Herb Butter is the quickest and easiest way to make the most deliciously moist turkey for your holiday dinner. It takes less than one hour and comes out tender and juicy with crispy skin and so much rich buttery herb flavor you'll want to make it for every meal. This recipe works for boneless or bone-in turkey breasts.
This recipe has been sponsored by Minerva Dairy. All opinions expressed are 100% my own.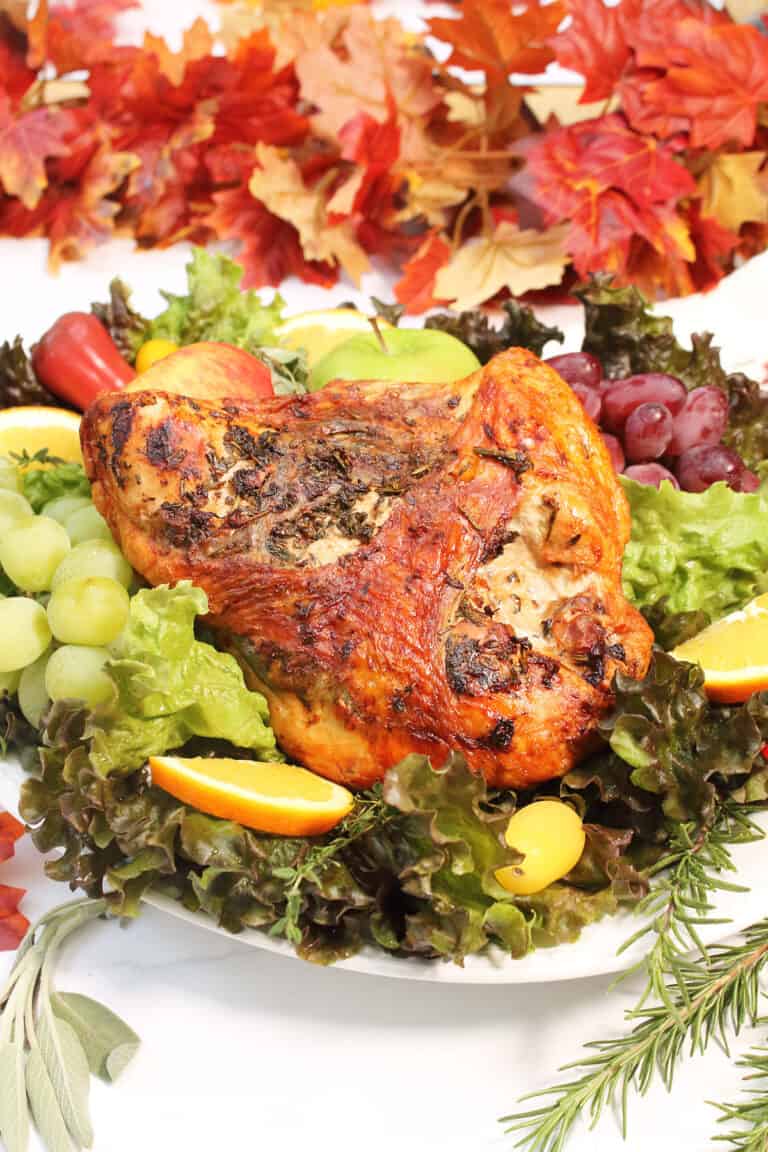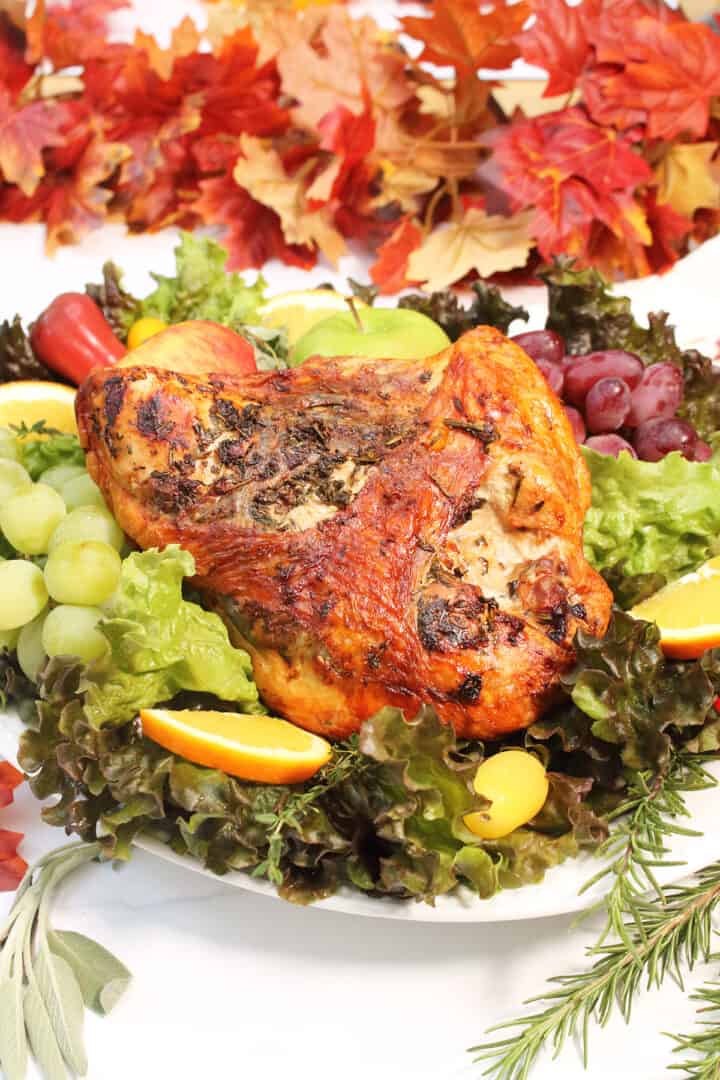 Yes! You can cook a turkey breast in the air fryer! And it's amazing! Why air fry a turkey breast? Turkey breasts are the perfect size for two or small families but also work well when you need extra servings for Thanksgiving or large family gatherings.
It's also a quick and easy way to get a delicious and healthy dinner on the table in less than an hour. With a little help from this herb butter made with the richest and creamiest Minerva Dairy butter and fresh herbs, you'll be amazed at how flavorful, moist, and tender the turkey breast comes out.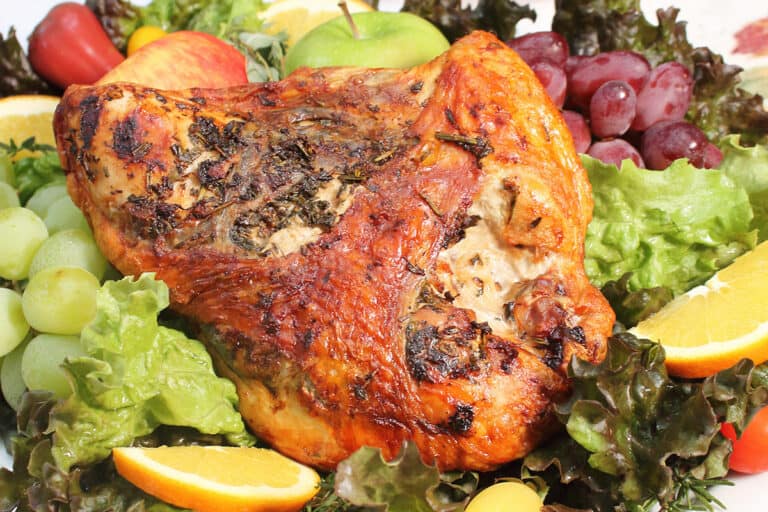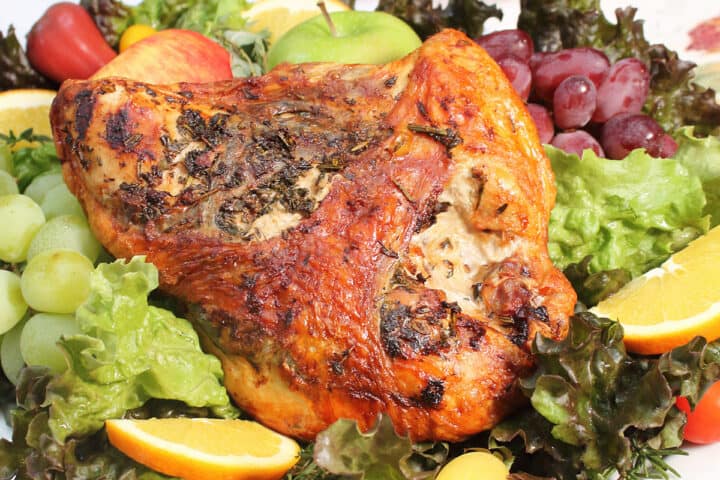 Are you a crispy skin lover? I got you covered! (I wish mine had come with a better covering of skin) You won't believe how nicely brown and crispy the skin comes out. Bonus - cleanup is a breeze with just a swish of soapy water and a drying towel, you're air fryer is clean and ready to go another round. In fact, I don't know if I'll cook a turkey breast any other way from now on!
Why Use an Air Fryer
Cooking time is short and sweet. Approximately half the time as roasting in the oven.
The circulating air of an air fryer aids in cooking the turkey more evenly and still gives you that brown, crispy skin everyone loves!
It frees up your oven for all those delicious sides like corn pudding and green bean casserole.
Cleanup is a breeze!
Frequently Asked Questions
What size turkey breast is best suited to an air fryer?
You want to make sure the one you purchase will fit into the basket of your air fryer. Most 5-quart air fryers will fit a 3-5 pound turkey. Also, look for the breasts that are flatter and less domed.
What type of turkey breast should I buy?
You can use any type of turkey breast. It can be with skin or skinless, boneless or bone-in, and full or half breast. I love to leave the skin on to help keep the turkey moist as well as for the extra crispy skin to enjoy.
How long should I cook the turkey breast?
The timing depends on the weight and type of turkey breast you are using. A bone-in half breast will take less time than a full bone-in breast while a boneless breast will take the most time.
How many people will a turkey breast feed?
A half breast will feed 2-4 people while a full breast will feed 6-8 people.
What temperature should a turkey be cooked to?
Use a digital thermometer with all poultry and make sure that it reaches an internal temperature in the thickest part of 165 degrees.
Ingredients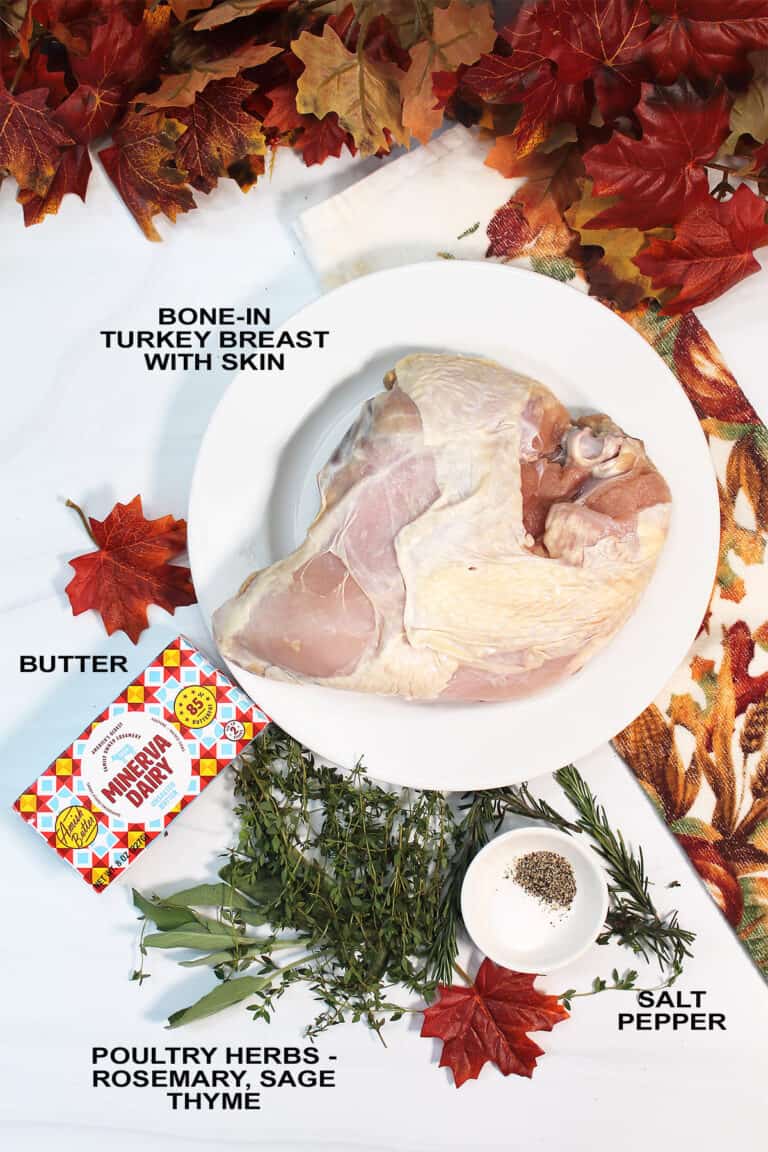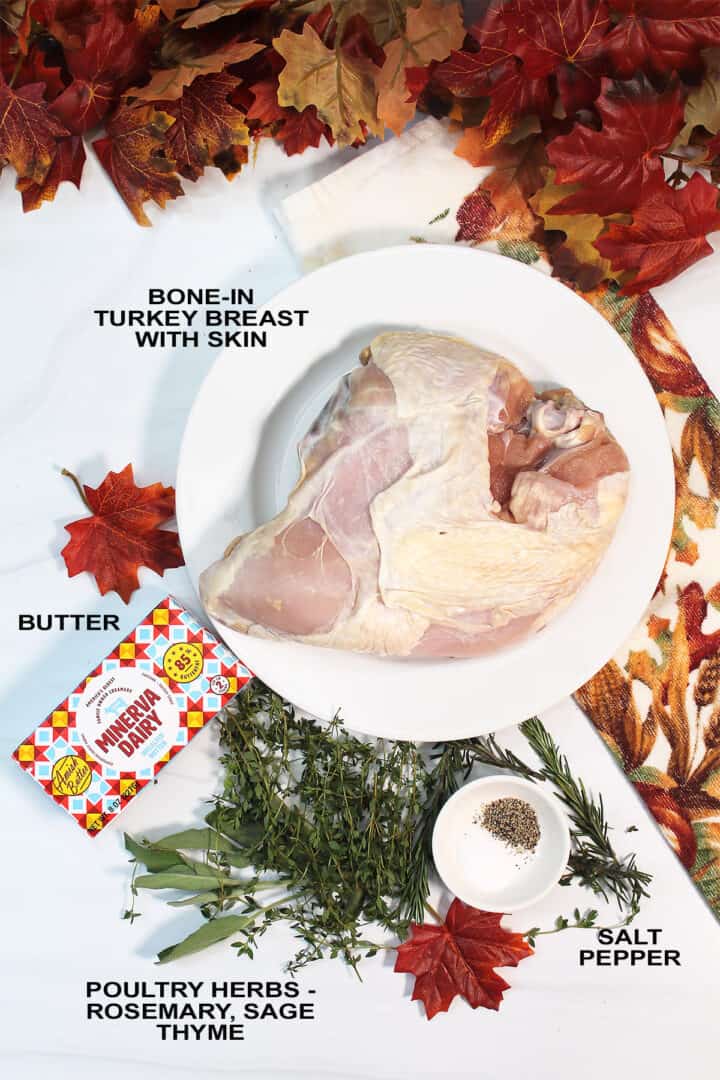 Turkey Breast - is a low-calorie, low cholesterol meat option with its share of protein. In this recipe, you can use either a half breast or full breast, bone-in or boneless, and with or without skin.
Minerva Dairy Butter - I like to use their unsalted butter variety and add my own salt to know how much salt is being added. No matter which butter variety you use, the 85% butterfat makes them a rich and creamy option for any recipe. Try their flavored butters including their newest Everything Bagel Butter - it's awesome!
Poultry Herbs - it wouldn't be Thanksgiving without adding these fragrant herbs to the mix. I like to purchase a packet of poultry herbs containing rosemary, sage, thyme, sold at the grocery store but, if you can't find them, you can substitute poultry seasoning.
Salt & Pepper - enhances the flavor of both the turkey and the herb butter.
See recipe card for quantities.
How to Cook a Turkey Breast in the Air Fryer
How to make herbed butter for turkey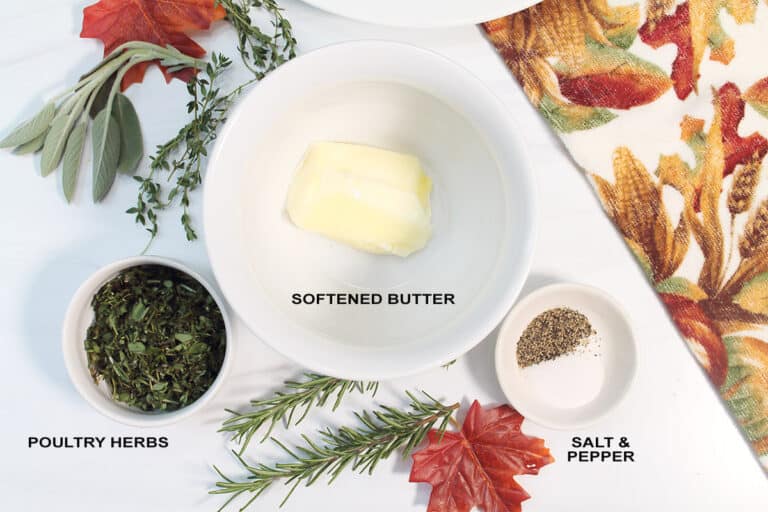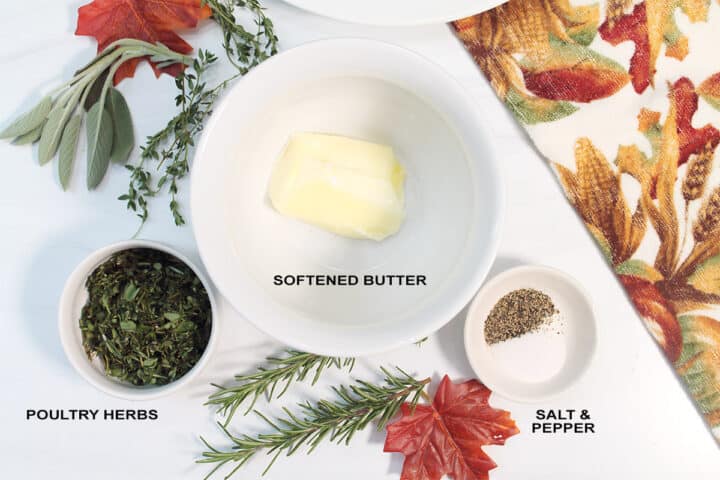 Gather ingredients for herb butter making sure butter is softened to room temperature. Leaving it sit on the counter for one hour is usually sufficient.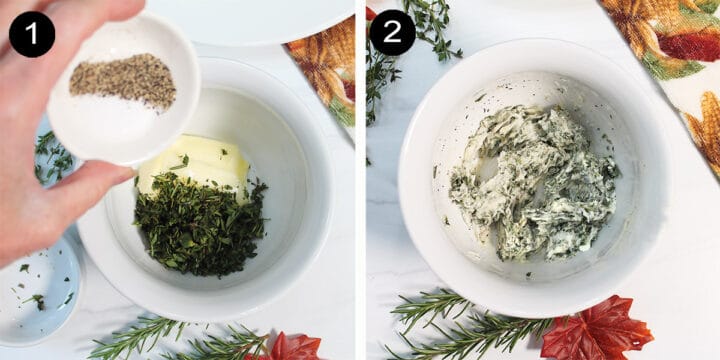 Combine softened butter with fresh poultry herbs or opt for 1 ½ tablespoons of poultry seasoning.
Stir until well blended. Set aside.
Preparing butter roasted turkey breast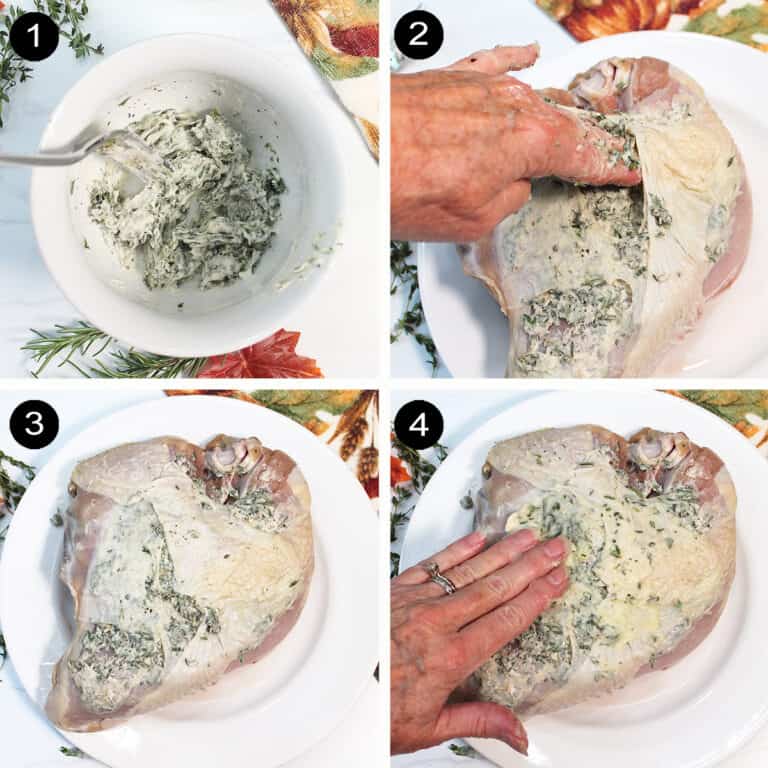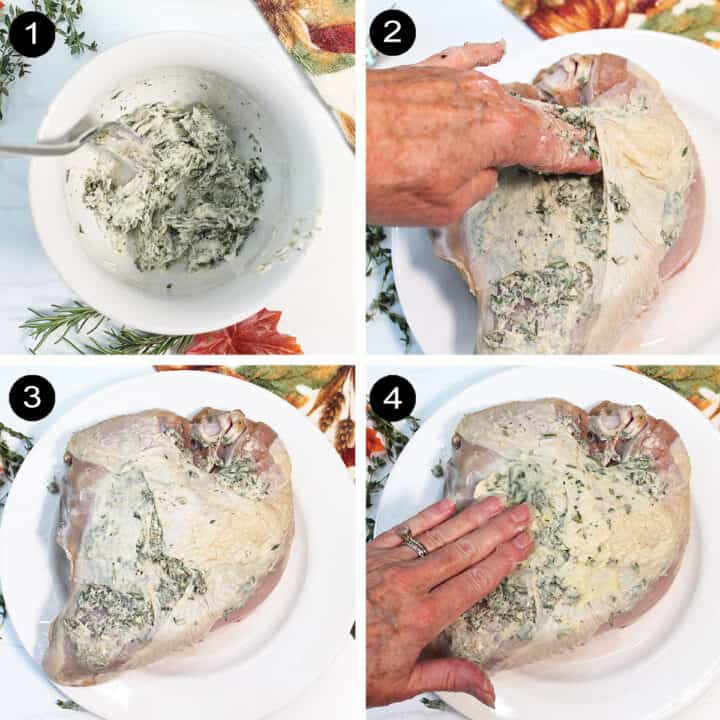 While you are prepping your turkey breast, turn on the air fryer and preheat for 4 minutes at 350 degrees.
Grab the herb butter and divide into two portions.
Take one half of the butter and push under the skin of the turkey breast.
This step will help season the breast as well as keep it moist.
Use the remaining butter and slather it over the entire top of the turkey breast. This will ensure that nice crispy skin that the family will fight over.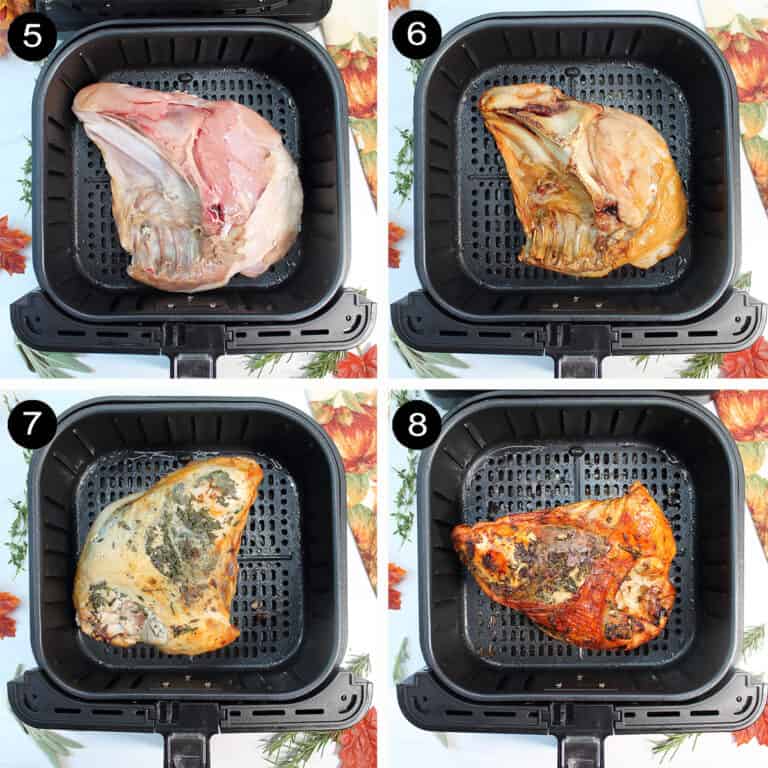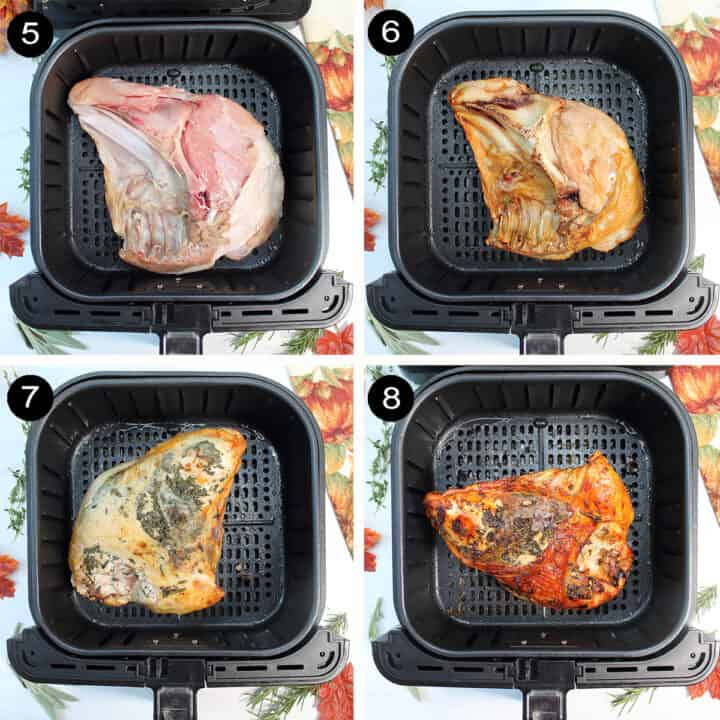 Spray basket of air fryer with nonstick spray. Place herb buttered turkey breast flesh side down into preheated air fryer.
Air fry for 20 minutes.
Turn breast over and baste with juices from bottom of basket.
Air Fry for 15-30 minutes depending on weight and type of turkey breast used. See notes in recipe section for specifics.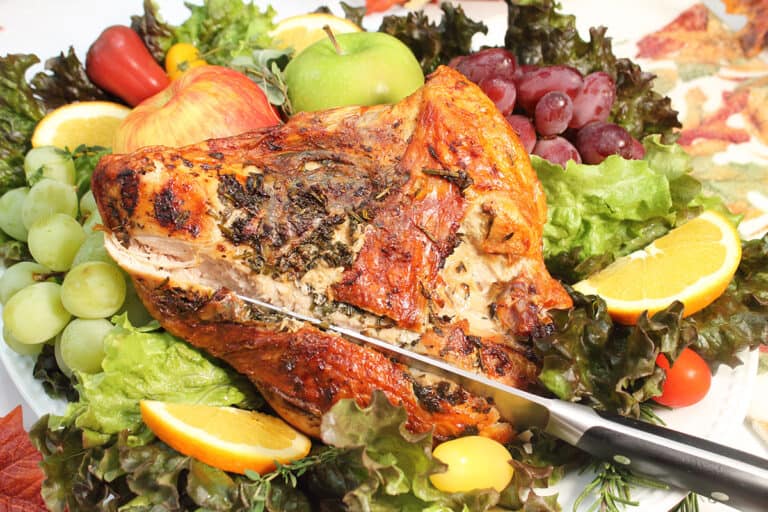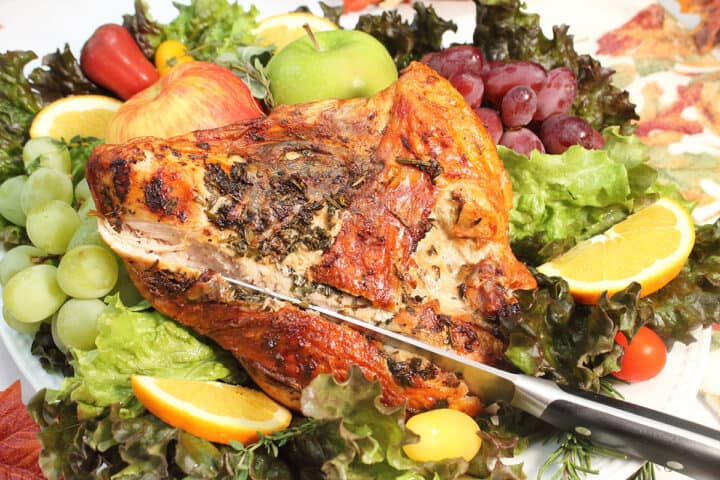 Time to carve this gorgeous bird up for a delicious dinner. If you want to know how to start carving it, check out this great tutorial on how to carve a turkey breast.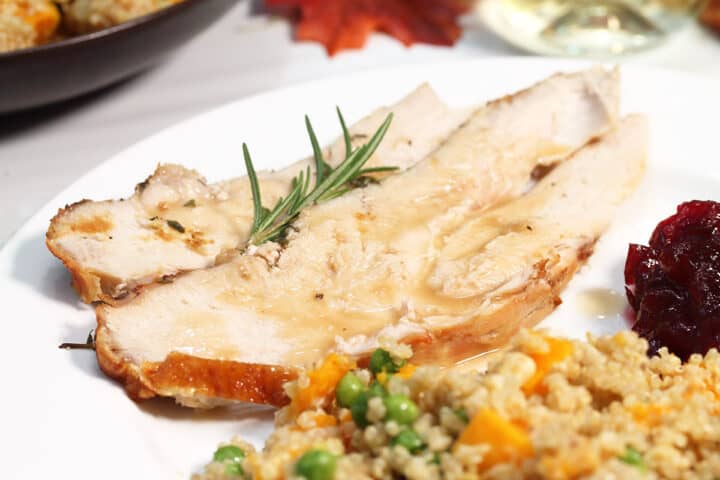 An easy dinner for any day of the week and delicious enough for company too. This meal takes less than an hour to pull together and comes out even better than an oven-roasted turkey. Enjoy!
Variations
Garlic Herb Turkey Breast - add 2 cloves of minced garlic to the herb butter
Lemon Butter Turkey - mix 4 tablespoons of butter with 3 tablespoons lemon juice, 2 teaspoons lemon zest, 1 teaspoon fresh thyme and salt and pepper in lieu of herb butter
Sage Butter Turkey - add 1 tablespoon chopped fresh sage, salt and pepper to 4 tablespoons of butter
Top Tip:
Measure the size of your air fryer before shopping for your turkey breast. If the breast you bought is too large, try removing the ribs with scissors so you are able to flatten it a bit more.
What to Serve with Air Fried Turkey Breast
Mushroom Wine Gravy - is a savory gravy with a flavorful, earthy punch that's delicious on anything it tops.
Mashed Potatoes - what's better with turkey and gravy than creamy, butter-rich mashed potatoes?
Roasted Brussels Sprouts - is a delicious side with just about any meal. The sprouts are roasted until crunchy and flavored with maple syrup, bacon, and pecans. They pair perfectly with the flavors of turkey and Thanksgiving.
What to Do with Leftover Turkey Breast
Turkey Pot Pie - Leftover turkey never tasted so good! Chopped turkey, frozen vegetables, and crescent rolls make a healthier pot pie in under an hour.
Turkey Tetrazzini - is my favorite dish to make after Thanksgiving. Pasta is tossed with turkey, bacon and mushrooms and nestled in a rich cream sauce for the perfect comfort food.
Turkey Pasta Skillet with Cranberry is a delicious one-skillet dinner made with leftover turkey, pasta, vegetables, and bacon stirred into a light cranberry cream sauce. All on the table in 40 minutes.
Pork Tenderloin in the Air Fryer
LOVE QUICK & EASY RECIPES? FOLLOW ME ON INSTAGRAM, FACEBOOK, & PINTEREST FOR ALL THE LATEST RECIPE INSPIRATION! PLUS JOIN MY EMAIL LIST AND RECEIVE A FREE E-BOOK.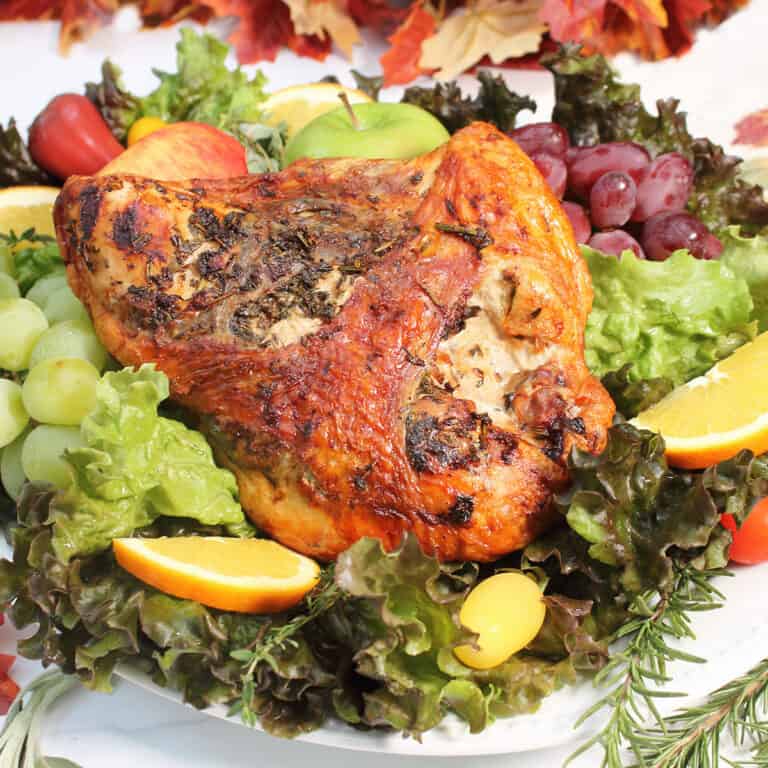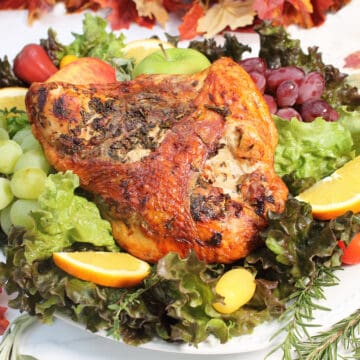 Air Fryer Turkey Breast with Herb Butter
Air Fryer Turkey Breast with Herb Butter is the quickest way to make deliciously moist, crispy-skinned turkey for Thanksgiving or even busy weekdays.
Print
Rate
Ingredients
3-4

lb

turkey breast

4

Tablespoons

Minerva Dairy unsalted butter

room temperature

4 ½

Tablespoons

fresh poultry herbs

chopped or 1 ½ Tablespoons poultry seasoning

½

teaspoon

salt

¼

teaspoon

pepper
Instructions
Preheat the air fryer to 350 degrees for 4-5 minutes.
Herb Butter
Mix softened butter with chopped herbs, salt, and pepper.
Prepare Turkey Breast
Pat the turkey breast dry with paper towels.

Separate the skin on the top of the breast gently from the flesh. Push under the skin then slather rest over turkey breast.

Gently take ½ of the herb butter and push it under the skin. Cover as much of the turkey under the skin as you can.

Use the remainder of the butter to slather over the outside of the turkey.
Air Fry the Turkey Breast
Spray the basket of the preheated air fryer with nonstick spray. Lay the turkey breast skin side down and cook for 20 minutes.

Carefully turn the turkey breast over, baste with juices from the bottom of the air fryer with a turkey baster, then cook for another 20-25 minutes or until it reaches the required 165 degrees.

*See cook times in recipe notes for your particular type of turkey breast

Check the temperature with a digital thermometer in the thickest part of the breast to make sure the turkey is completely cooked through.

Let it rest 10-15 minutes before carving
Notes
Cooking times for Bone-in & Boneless Turkey Breasts
Half breast (about 2-3 lbs with skin and bone-in) cooks with 20 minutes upside down and about 15 minutes breast side up.
Whole boneless turkey breasts (about 3 lbs) will take 20 minutes upside down and another 30 minutes breast side up.
Whole turkey breasts (about 4-5 lbs), with skin and bone-in, no ribs) will take 20 minutes upside down and another 30-40 minutes breast side up.
Nutrition
Calories:
394
kcal
|
Carbohydrates:
1
g
|
Protein:
73
g
|
Fat:
11
g
|
Saturated Fat:
5
g
|
Polyunsaturated Fat:
2
g
|
Monounsaturated Fat:
3
g
|
Trans Fat:
1
g
|
Cholesterol:
199
mg
|
Sodium:
992
mg
|
Potassium:
827
mg
|
Fiber:
1
g
|
Sugar:
1
g
|
Vitamin A:
244
IU
|
Calcium:
50
mg
|
Iron:
2
mg