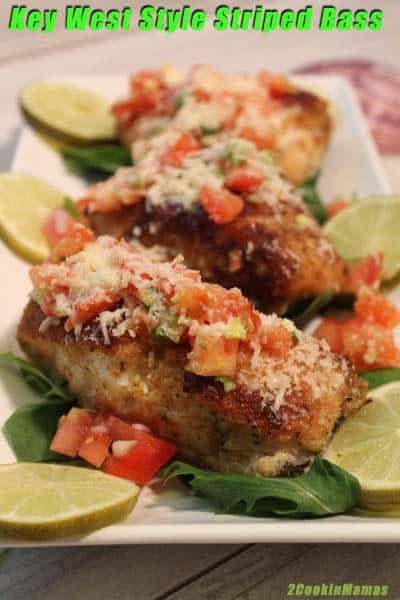 I am so excited about posting my first recipe as a member of the Secret Recipe Club. What is the Secret Recipe Club (SRC) you ask? It is a group of some 130 bloggers, separated into 4 small groups, who post at different times of the month. Each month we are assigned a blog from our group and given the chance to choose a recipe, bake it up and then share with everyone. And we get to keep it secret until our posting or reveal day! It was certainly a lot of fun this month and I look forward to finding new blogs to follow in the future and more delicious recipes to add to my repertoire.

And I can't think of another blog that would be better to start with than the one chosen for me this month -  Flavors by Four. Just like our blog, it is hosted by a close mother-daughter team. Susan and Nicole seem delightful as I got to know them through reading their stories of family life on their blog. I know from experience how much fun it is to be able to share the love of cooking with one so dear to your heart and it seems that is exactly what these two do. And they enjoy time away together too as Susan wrote about a vacation that her mom and girls took together to the Florida Keys. I love to see and hear about their close family ties and know that I would like the two of them immensely should we ever happen to meet.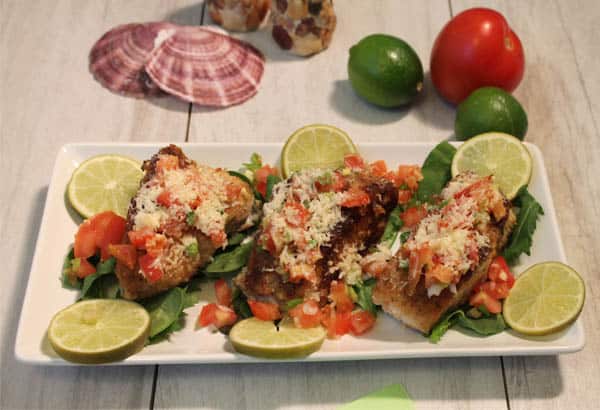 Now on to choosing one recipe out of so many wonderful recipes. It was really hard to pick just one! I was very tempted by their Copycat Carrabba's Chicken Bryan, drooling over their Seafood Paella and debating between trying out Grilled Romaine with Blue Cheese Vinaigrette, which sounds intriguing, or making my first Galette with nectarines. I knew I had to pick just one so, after looking through their delicious site some more, I decided to go with a dish from my favorite vacation spot, the Florida Keys, and make Key West Style Striped Bass.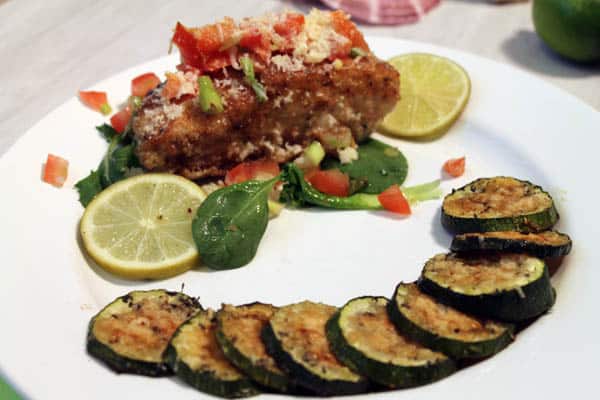 It turned out to be just what my husband and I like - fresh fish, plenty of fresh tomatoes and onions, with just the right touch of lime flavor. It was light and perfect for a hot summer night's meal. I served mine with Zucchini Parmesan Rounds to complete a healthy dinner.
Note: I cut the recipe in half since it was just my husband and I and used grouper, in lieu of striped bass, since it is in season right now and very reasonable down here in South Florida.
Key West Style Striped Bass


Ingredients:
5 key limes, juiced
1 egg, beaten
3 Tablespoon butter, melted
½ cup bread crumbs (use gluten-free if needed)
1 Tablespoon light extra virgin olive oil
3 fish fillets (flounder, grouper or striped bass)
3 tomatoes, diced
1 bunch scallions, sliced thinly
1 cup Parmesan or Pecorino Romano cheese, grated
Directions:
Preheat oven to 400 degrees. Prepare a baking pan by spraying with non-stick cooking spray.
Juice limes. Place 1 tablespoon of lime juice in a wide mouthed bowl and add egg. Stir to combine. Set aside.
Add remaining lime juice to melted butter and place in freezer for a few minutes to harden.
Sprinkle bread crumbs on a flat plate.
In a large skillet, heat olive oil. Dip fish fillets in lime-egg mixture then into bread crumbs. Pat to help bread crumbs adhere to fish. Place in skillet and saute until golden brown on both sides.
Remove from skillet and place in prepared baking dish. Take lime butter from freezer and divide over top of fish. Bake in oven for 10 minutes.
While fish is baking, mix diced tomatoes and scallions together.
Remove fish from oven and top with tomato-scallion mixture then sprinkle with Parmesan or Pecorino Romano cheese. Cook for 5-8 minutes or until cheese is melted.
Serve immediately.
Serves 3.
DON'T MISS A RECIPE!