Monkey bread with Nutella is fun to make and even more fun to eat. Little sweet balls of dough, stuffed with Nutella, and covered in caramel glaze that look as good as they taste. Make for Mom for Mother's Day or any day you feel like a sweet treat. Then just enjoy pulling off each little ball and popping it in your mouth. Oh, it's so good!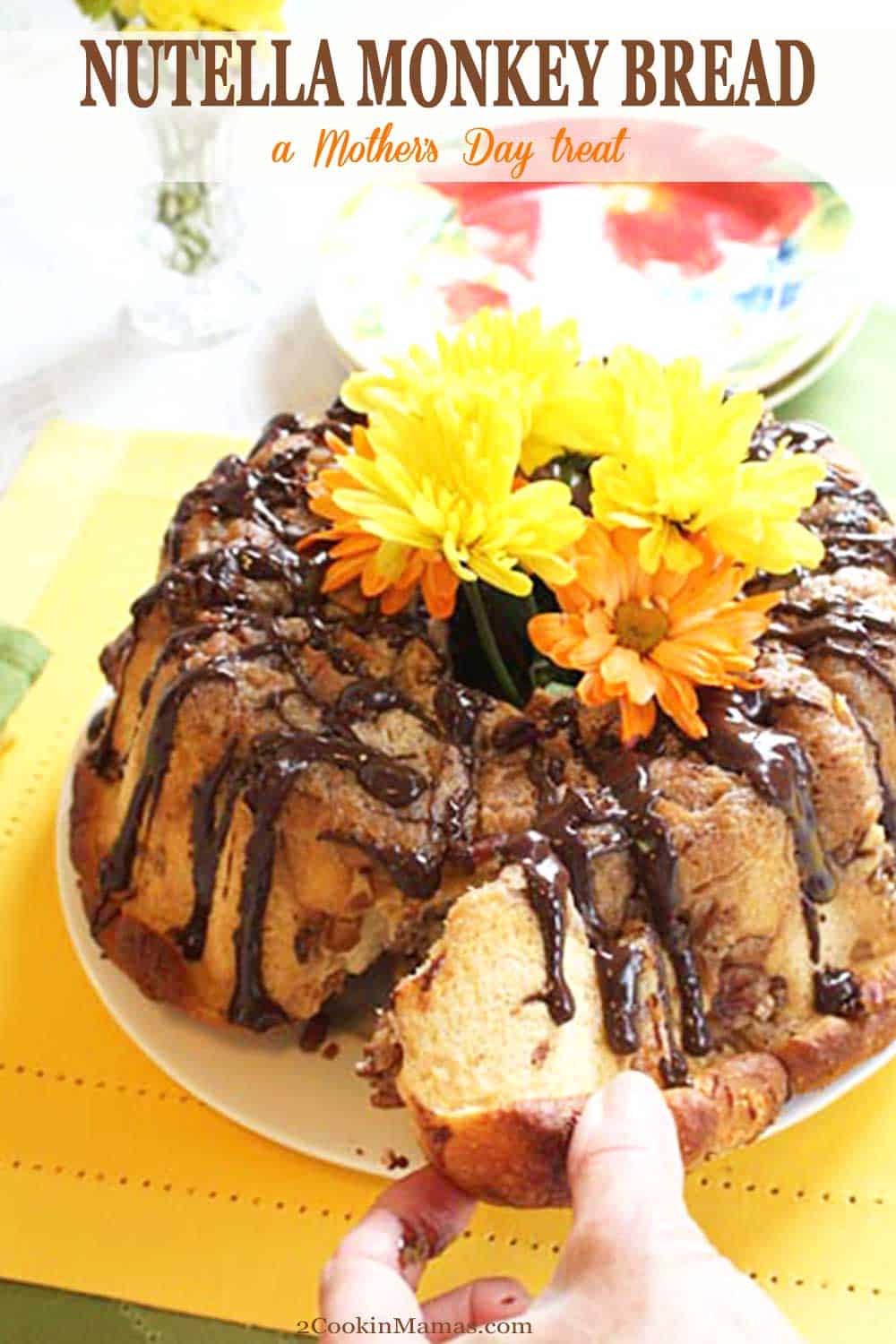 I was lucky enough to be asked by the Culinary Content Network of The Daily Meal, to bake something for Country Crock spread for the Mother's Day Bake-Off Challenge. It was hard to decide what to make since there were so many special goodies my kids made for me through the years (with a little help from my wonderful and thoughtful husband). I finally chose something that the kids will have a ball (pardon the pun) helping with and that they could be proud of presenting to Mom. Yep, it's Monkey Bread (aka Bubble Bread). Not to mention how much they love these sweet little balls of dough themselves!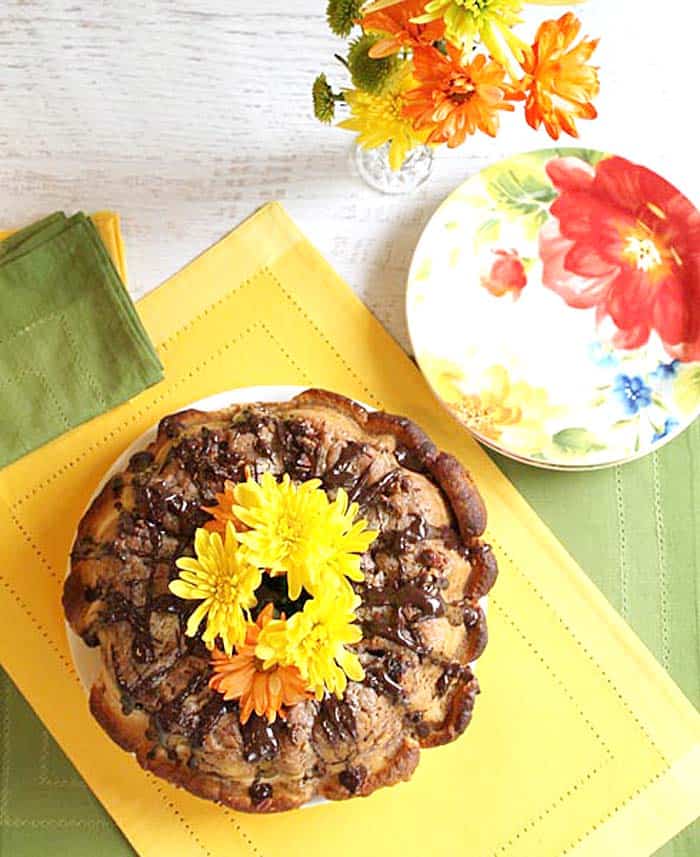 Why is it called Monkey Bread?
There are two lines of thought on why it is called Monkey Bread. One theory stems from the fact that the bread is derived from building it ball upon ball and looks like a barrel of monkeys. The second theory has it being called bubble bread because it looks like someone went wild blowing bubbles. But whatever you call it, it is really, really a decadent treat and one Mom is sure to love!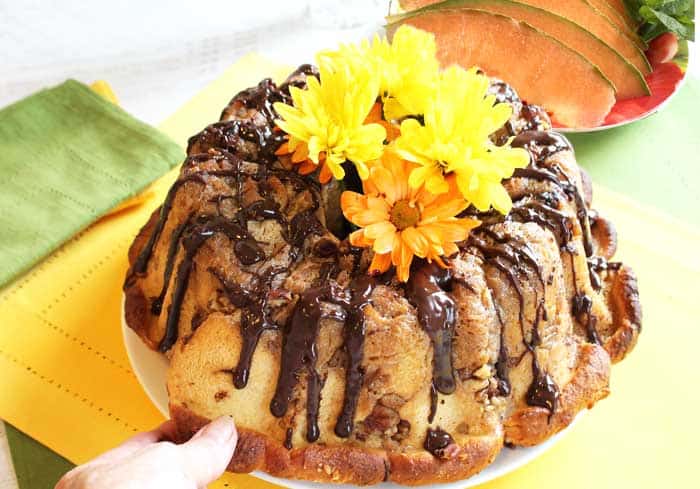 And it is so much fun for the kids to help put together. I know when mine were younger they loved forming all the little bubbles and dropping them in the glaze. Then piling them up and watching them rise over the top of the pan. Of course, the best part was pulling the deliciously sweet balls off the Monkey Bread, kind of like doughnut holes, and popping them in their mouth. And licking the fingers is definitely allowed!
How to Make Monkey Bread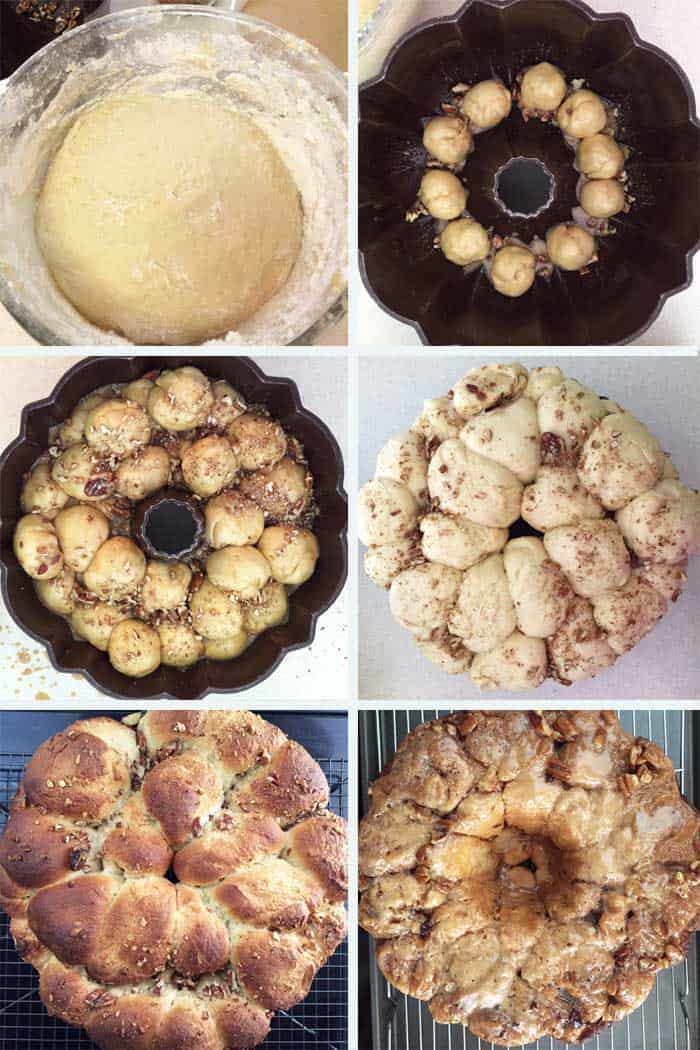 Make the bread dough, knead it for 3-5 minutes with a machine mixer then cover dough and let rest 10 minutes.
Make the sugar glaze and let cool slightly. Assemble by sprinkling some nuts on the bottom of the bundt pan. Form the dough into balls with nutella in the center, drop into sugar glaze then place some of the balls on top of nuts.
Repeat with nuts and remaining balls until all the dough has been used.
Let rise for 1 hour.
Bake for 45 minutes then let cool on wire rack for 10 minutes.
Invert on wire rack then apply chocolate glaze if desired.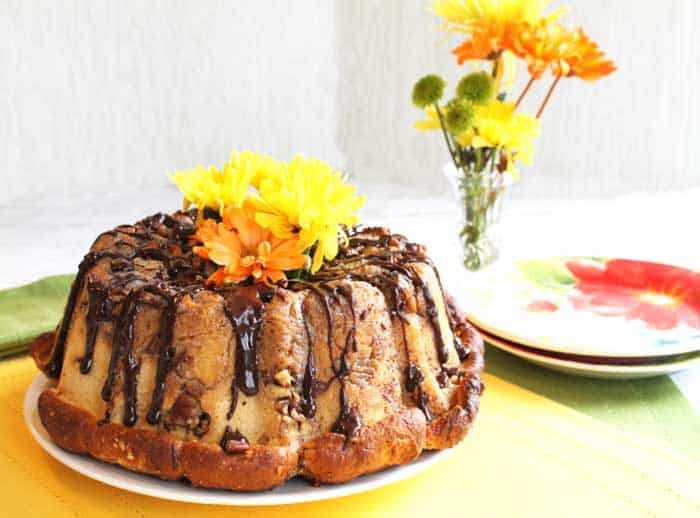 Now comes the fun part. Just let everyone pull off a ball or bubble and pop it in their mouth. Since it's Mother's Day why don't you let her go first! And don't forget to tell er how much you love her. It will make her day!
Have fun with more Monkey Bread Recipes
Cinnamon Apple Monkey Bread from 2 Cookin Mamas
Instant Pot Monkey Bread Recipe from Princess Pinky Girl
Pumpkin Caramel Monkey Rolls from 2 Cookin Mamas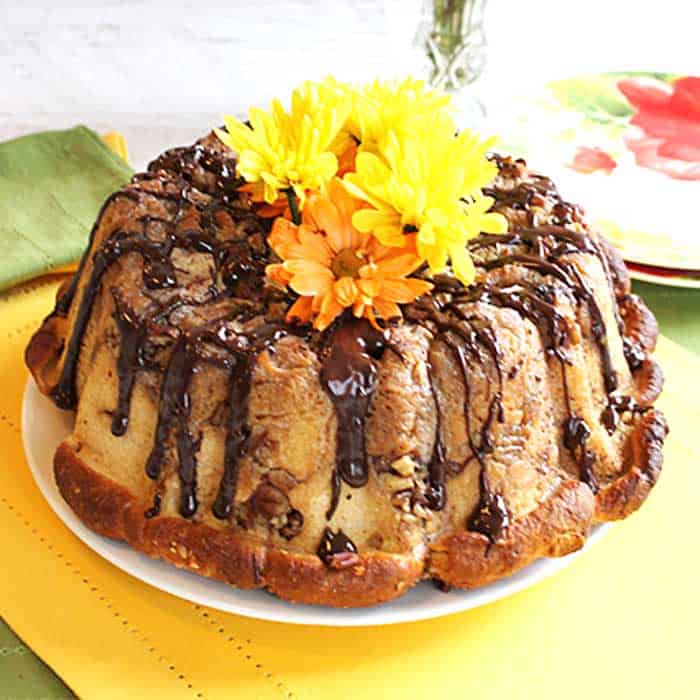 NUTELLA MONKEY BREAD
Monkey bread is fun to make and even more fun to eat. Little sweet balls of dough covered in caramel glaze that easily pull off and pop in your mouth.
Print
Rate
Ingredients
Bread
5-6

cups

unbleached all-purpose flour

2

envelopes

Rapid Rise yeast

⅓

cup

instant no-fat dry milk

½

cup

sugar

1

teaspoon

salt

1 ⅓

cups

water

4

Tablespoons

Country Crock spread

2

eggs

1

cup

chopped pecans

Nutella

(optional)
Sugar Glaze
1 ½

cups

dark brown sugar

⅓

cup

cream or evaporated milk

2

Tablespoons

corn or maple syrup

5

Tablespoons

Country Crock spread
Chocolate Glaze (optional)
½

cup

semisweet chocolate chips

2  

Tablespoons

half-and-half
Instructions
Preheat oven to 350 degrees. Grease a 10-inch tube pan with non-removable bottom or a bundt pan.
Bread
Place 5 cups flour and next 4 ingredients in a large bowl. Reserve additional cup of flour for later.

In a microwave safe bowl, heat 1-⅓ cups water to around 130 degrees. Add 4 tablespoons Country Crock and stir until melted.

Add to dry ingredients and stir well.

Add eggs and incorporate well.

Knead with machine mixer for 5 minutes, adding additional flour as needed until dough is no longer sticker and feels smooth.

Cover bowl and let rest for 10 minutes while making sugar glaze.
Sugar Glaze
Place all ingredients in a small saucepan and heat until it comes to a boil and sugar is dissolved, stirring frequently. Remove from heat and let cool slightly.
To assemble:
Sprinkle ¼ of the nuts around the bottom of prepared pan.

Tear off pieces of dough and roll into balls between lightly floured hands. Make the balls around the size of a golf ball.

When you have 10 made, prepare to add some Nutella to center (this is optional as it tastes just as good without it). I used the OXO Good Grips Silicone Decorating Kit and squeezed some Nutella into the ball. You can just as easily make a depression in the ball, put a little Nutella in the depression and wrap the ball back up around it. (Or you can leave the Nutella out altogether and it is still delicious!)

Drop each of the balls into the sugar glaze then scoop out with a spoon and place around the bottom of the pan making the first layer.

Sprinkle with ¼ of the nuts and a little more sugar glaze. Continue making the balls and adding layers to the bread, spreading the nuts and glaze in-between, until all dough has been used.

Top with remaining nuts and the rest of the glaze.

Cover the pan with waxed paper and a light towel and let rise, about 1 hour or until bubbles or balls rise to the top of the pan.

Bake for 45 minutes or until top is caramel colored. Check half way through cooking time in case it is getting too browned. If so,make a tent of aluminum foil and cover until it is done.

Remove from oven and place on wire rack to cool for 10 minutes.

Loosen around edges if necessary and place another rack over the top. Have a large cookie sheet ready so that drippings will be caught. Invert the bread and place rack on top of cookie sheet.

Apply chocolate glaze, if desired.
Chocolate Glaze
Place chocolate and half and half into a microwave safe measuring bowl and melt in microwave for 30 seconds. Stir until all chocolate is melted and mixture is smooth. If more time is needed, place back in microwave for 10 seconds.

Drizzle glaze over top of bread and serve bread warm.

To eat, just pull off a bubble (or ball) and enjoy! And since it's Mother's Day why don't you let her go first!
Nutrition
Calories:
554
kcal
|
Carbohydrates:
84
g
|
Protein:
9
g
|
Fat:
20
g
|
Saturated Fat:
6
g
|
Cholesterol:
41
mg
|
Sodium:
300
mg
|
Potassium:
252
mg
|
Fiber:
3
g
|
Sugar:
41
g
|
Vitamin A:
585
IU
|
Vitamin C:
0.4
mg
|
Calcium:
88
mg
|
Iron:
3.5
mg
Note: This recipe has been updated from it's original post date of May 7, 2015. I hope you enjoy it!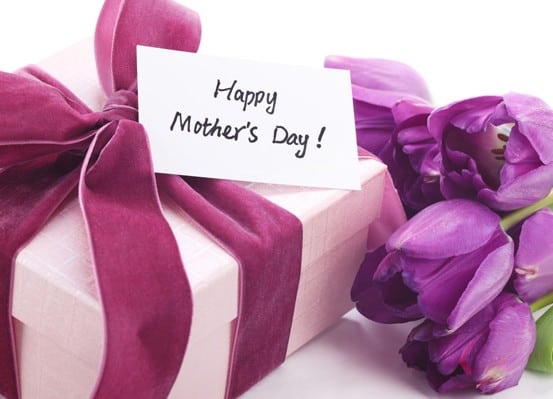 DON'T MISS A RECIPE!