Best gumbo this side of N'awlins! A wonderfully flavorful and easy seafood gumbo that is all about shellfish, andouille, okra, chicken and spice.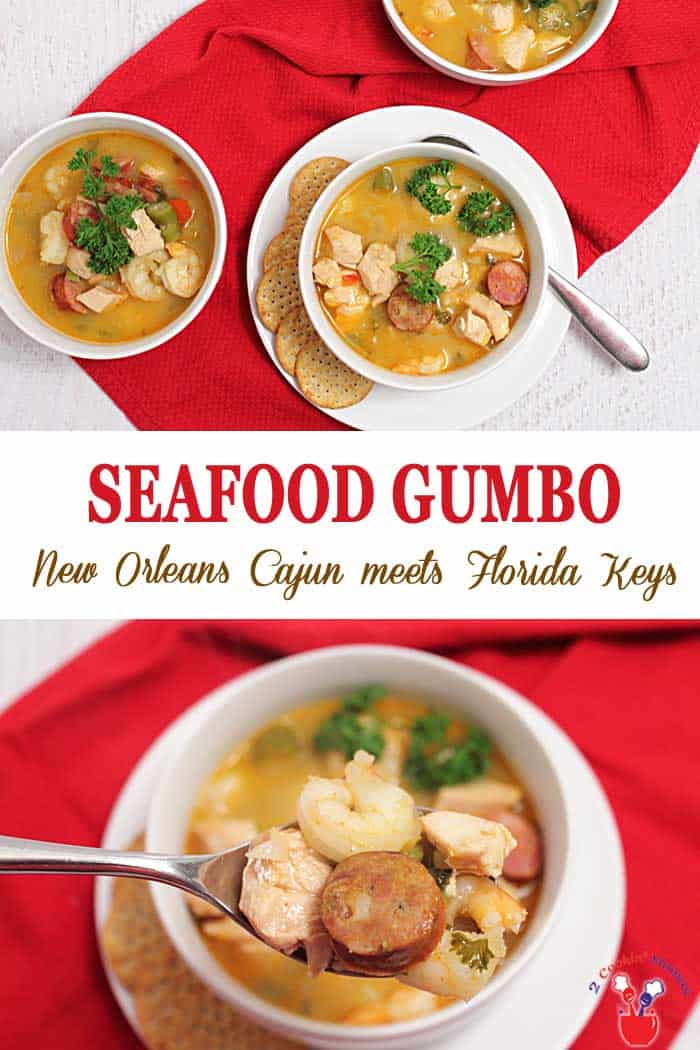 It's National Gumbo Day and who doesn't like gumbo? Gumbo originated in the United States in the southern Louisiana area from the Creole people sometime during the 18th century. The dish combines ingredients and practices from several cultures, including West African, French, Spanish, German, and Choctaw. There is still some argument over whether it is actually based on traditional West African dishes or is a derivation of the French dish bouillabaisse.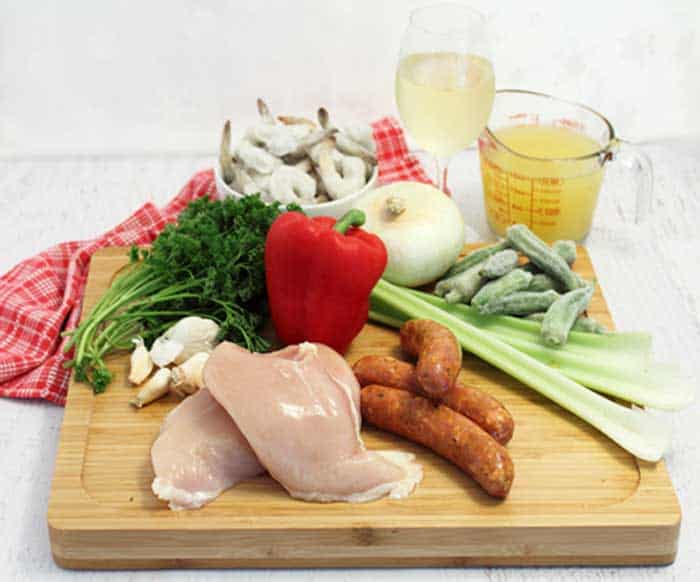 Wherever it comes from it is a wonderfully flavorful and easy to make all in one dish that is healthy too. You can add just about any meat or shellfish, along with vegetables, okra and a strong based stock, to suit your family's tastes and they'll rave about it!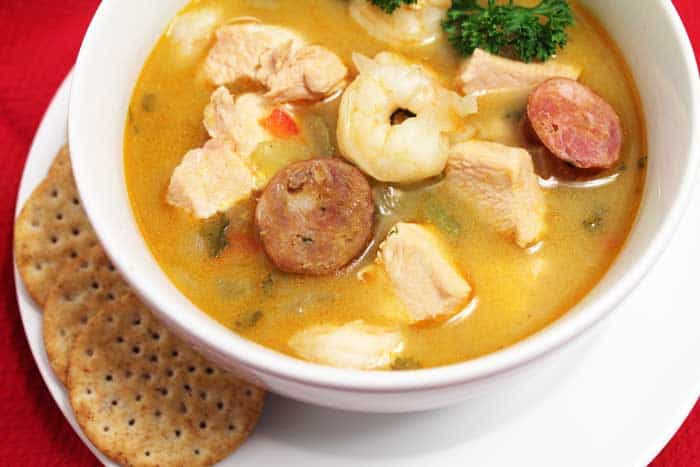 Benefits of Okra
Wondering whether you should add the okra? Here's some great incentive to do just that. Okra is a low calorie, high fiber, nutrient dense vegetable. Studies show that a high amount of fiber in a diet may help prevent diabetes and high blood cholesterol, lessen the risk of obesity and hypertension. Okra also has one of the highest levels of anti-oxidants which, when incorporated in a healthy diet, may help prevent heart disease, cancer and neurological disorders such as Alzheimer's disease.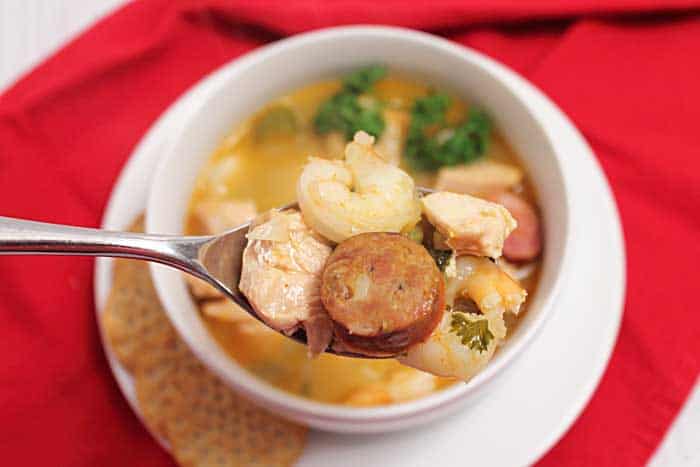 The recipe below is a take-off on a great New Orleans Cajun-style recipe similar to Chef Dan's Gumbo Ya-Ya served at the Green Turtle Inn in Islamorada. If you're ever in the Florida Keys, you've got to stop by the Inn and savor the real flavor of the Florida Keys. Enjoy!
More Winter Warming Soups
Love quick & easy recipes? Follow me on Instagram, Facebook, Pinterest & Twitter for all the latest recipe inspiration! Plus join my email list here and receive a free e-book.
SEAFOOD GUMBO
Best gumbo this side of Nawleans! A wonderfully flavorful and easy seafood gumbo that is all about shellfish, andouille, okra, chicken and spice.
Print
Rate
Ingredients
¼

lb.

butter

1

cup

flour

1

heaping Tablespoon minced garlic

¼

cup

chopped parsley

1

cup

chopped celery

1

cup

chopped onion

¾

cup

sliced okra

(I use frozen)

½

cup

chopped bell pepper

2

teaspoons

black pepper

¾

teaspoon

cayenne pepper

2

teaspoons

cumin

½

Tablespoon

onion powder

½

Tablespoon

paprika

10

cups

chicken stock

1

lb.

chicken

¾

lb.

Andouille sausage

¾

lb.

crawfish tails

¾

lb.

shrimp

(double up on shrimp if you can't find crawfish)

1

cup

white wine

Hot sauce to taste
Instructions
Make a roux -In a large heavy bottomed pan melt the butter on high heat and let brown a bit, stirring constantly and being careful not to let it burn.

Lower heat to medium and stir in flour.

Continue stirring until roux is brown in color and free of lumps.

Add vegetables (except for okra) and seasoning and continue stirring.

When onions are translucent in color, increase heat and add chicken stock and wine. Stir with whisk to prevent lumps and bring to a boil.

Add remaining ingredients, except for shrimp and crawfish, reduce heat to low and continue to cook 1-½ to 2 hours.

Add shrimp and crawfish just before serving and cook an additional 5 minutes.

Adjust seasoning with salt & pepper. Add hot sauce to taste

Serve gumbo over white rice.
Notes
This is a great dish for a large gathering. I actually served the rice on the side so that guests could spoon the gumbo over the rice or add the rice directly into their gumbo bowl.