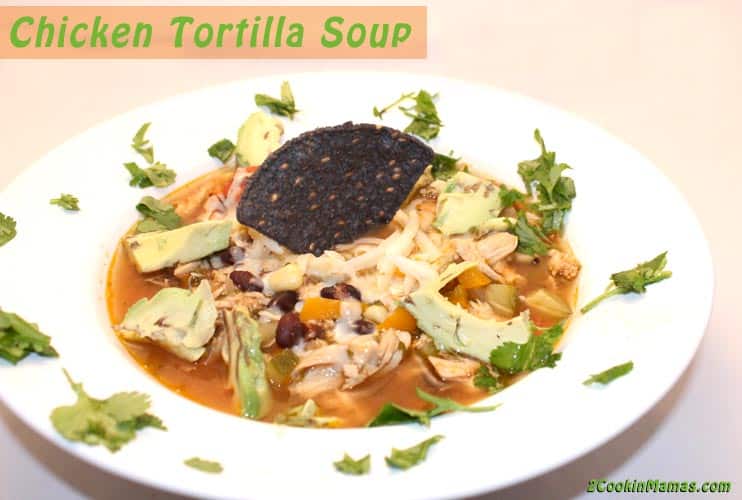 When it's cold outside and you want to put something hot on the table for dinner, this crockpot soup is easy and tastes awesome! Start it in the morning before you leave the house and it's all ready when you get home. And, if your kids are on all different time schedules, it is perfect for single servings.
Crockpot Chicken Tortilla Soup
 Ingredients
4 chicken breasts, boneless & skinless
1 teaspoon poultry seasoning
1 teaspoon cumin
salt & pepper to taste
1 onion, chopped
2 Tablespoons minced garlic
2-4 jalapenos, finely chopped
1 red or green pepper, chopped
1 can (14.5-oz) black beans, drained
1 10-oz frozen package organic kernel corn, thawed
1 small zucchini, diced
1 can (14.5-oz) fire roasted diced tomatoes
2 Tablespoons tomato paste
6 cups low sodium chicken broth
Later additions
2 limes, juiced + wedges for garnish
1 cup fresh cilantro, chopped + additional for garnish
Garnishes
1 cup jalapeno Monterey Jack cheese, shredded (plain Monterey or cheddar cheese can also be used)
1 avocado, pitted & sliced
1/4 onion, chopped
Tortilla chips, crumbled
Directions
Season chicken breasts with poultry seasoning, cumin, salt and pepper. Place everything up to lime juice into crockpot, making sure chicken is completely covered by broth. Cover and cook on high for 4-1/2 hours or on low for 8 hours.
Remove chicken and shred then return to crockpot. Stir in 2 limes, juiced and 1 cup cilantro. Serve in individual bowls topped with shredded cheese, cilantro, chopped onion, avocado, crushed tortilla chips and wedge of lime.
Serves 6-8.
Need a new crockpot? Check out this Hamilton Beach 7 Quart Stay Or Go Slow Cooker
 which had outstanding ratings from customers.