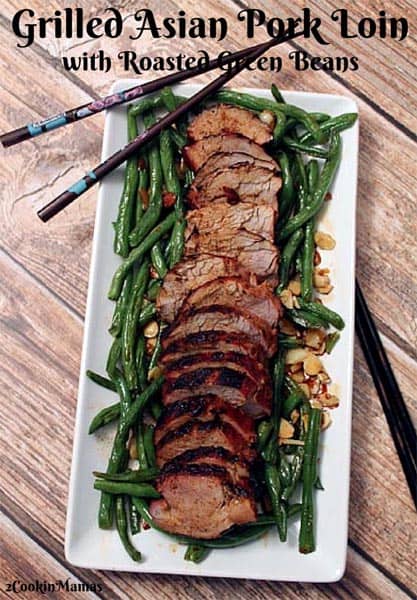 What a fantastic long weekend I had visiting the other Cookin' Mama in Georgia! I had never been to Marietta and was so impressed with the beautiful rolling hills, hardwood trees, ranches with horses and lovely neighborhoods.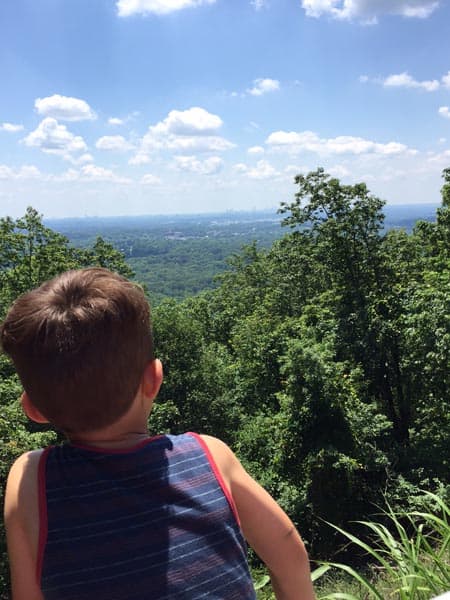 Of course, seeing my daughter, husband and cute little grandson was the best of the best. And he was a trooper, hiking to the top of Kennesaw Mountain and back! We were rewarded with a great view of Atlanta, Stone Mountain and surrounding area. While there, I saw the DDP Yoga Performance Center, set to open later this year, dined at Ted's Montana Grill, trying bison for the first time (which was tastier than beef and better for you too), walked and shopped at Marietta Square and just enjoyed hanging out with the fam!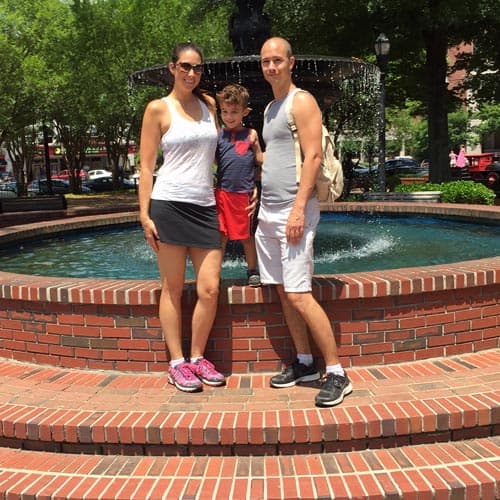 Now, I'm back home and it's time to get cookin'! I didn't have a lot of time to think of what to fix for dinner last night so I picked up a pork loin on the way home. This is such an easy dish to make and just takes a few hours to marinate. You will be surprised at how the earthy taste of the soy sauce and the sweetness of the sugar rub go so well together. (Doesn't it look like it's going to be delicious?) Add that little bit of smokiness and you won't find this hanging around for long!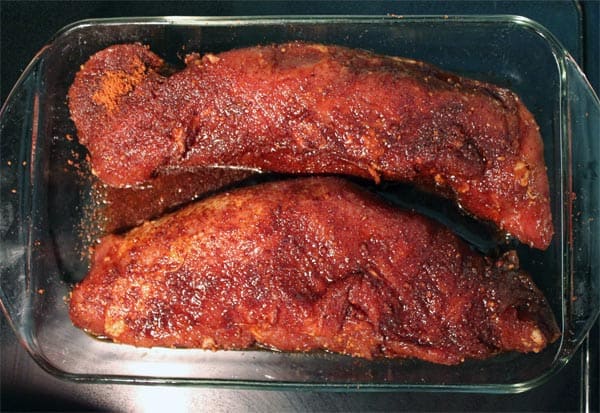 I also added some green beans since they are in season now and they had a great special in the store. I used my roasted green bean recipe but put an Asian flavor spin on them by adding a soy-garlic chili sauce. It gave the beans a little kick of spice from the chili sauce and just a hint of sweetness from the honey. It turned out to be the perfect combo to go with the pork. Yum!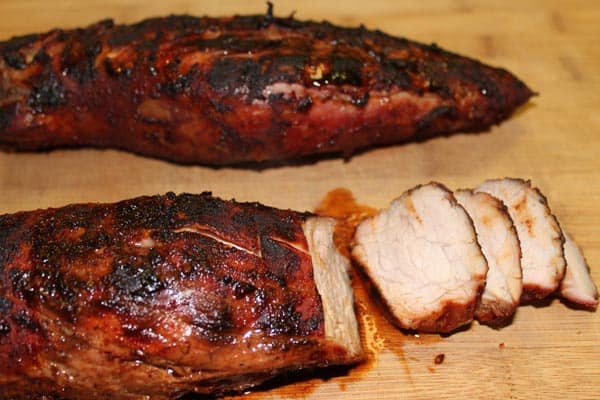 Hope you enjoy!
Sweet Asian Grilled Pork Loin with Roasted Green Beans
Ingredients:
2/3 cup soy sauce
 1 teaspoon ginger
4 garlic cloves, minced
1 2-3 lb. pork loin(s)
Rub
2 Tablespoons brown sugar
1 teaspoon smoked paprika
3/4 teaspoon chili powder
1/4 teaspoon ground chipotle
1/2 teaspoon cinnamon
Directions:
In a large ziploc bag, mix soy sauce, ginger and garlic. Place pork loin(s) in bag and rotate to coat. Allow to marinate in refrigerator for 3 hours, turning halfway through.
Preheat grill to high heat.
Prepare rub by mixing all ingredients in small bowl. Remove pork from bag and discard marinade. Pat rub into pork so that it adheres to outside. Let sit for 10 minutes.
Place pork on preheated grill and sear for 5 minutes on both sides. Turn heat down to medium and let cook for another 10-15 minutes or until meat is cooked all the way through.
Serve with roasted green beans.
Serves 6.
Roasted Green Beans
Ingredients:
1 lb. fresh green beans
7 garlic cloves, sliced
1/4 cup water
1 Tablespoon sesame oil
1/4 cup sliced almonds
2 Tablespoons soy sauce (Tamari for gluten-free)
1 teaspoon Asian sweet chili sauce
1 teaspoon honey
Directions:
Preheat oven to 450 degrees.
Place rinsed beans and garlic on large cookie sheet with sides. Pour water and sesame oil over top.
Bake for 15 minutes. Scatter almonds over top and bake another 5 minutes.
Mix soy sauce, sweet chili sauce and honey together.
Remove beans from oven and place in bowl. Pour soy mixture over beans and stir well.
Serves 3-4.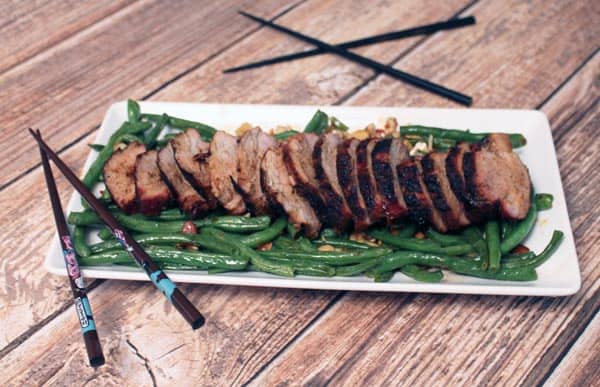 Like what you saw? Join our 2 Cookin' Mamas team by clicking here and receive a weekly newsletter keeping you up to date with every one of our delicious recipes and best of the best pins and instagram posts.