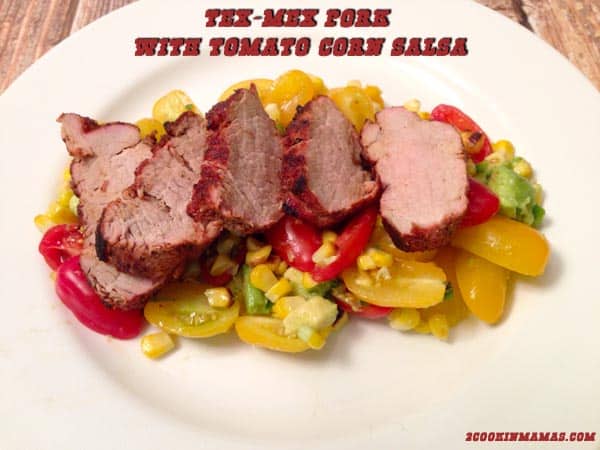 Some days you just don't feel like cooking dinner after working all day, running errands and doing laundry. Those are the days when I love my husband because he says that he will cook dinner that night. Yippee! See me dance around the room. Now don't get me wrong, I love cooking and being in the kitchen, but every once in a while it is great to have someone just take over and serve you something a little different than maybe you would have cooked yourself.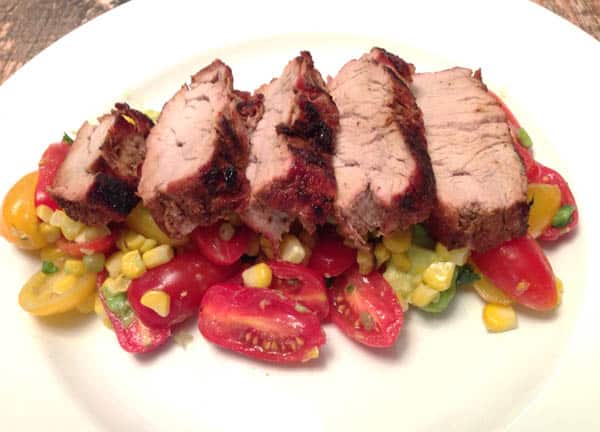 My husband is the master of the grill and he has fallen in love with the Weber Grill site's collection of recipes. So many good recipes there that I am encouraging him to try. 🙂  And being in Florida, we grill as often as the weather permits, which is pretty much any day we want to grill. (I know you're jealous right now if you live up north) It is also delicious and healthy, keeps the kitchen cleaner and the house cooler (but mainly it's because he cooks – only kidding).
My husband didn't change up this recipe very much but, whatever he did, it was awesome! I would have this again any time he wanted to fix it. When did you say you were cooking again honey?
Enjoy!
Tex-Mex Pork with Tomato Corn Salsa
(adapted from Weber Grill recipes)
Ingredients:
Rub
2 teaspoons cumin
2 teaspoons light brown sugar
1-1/2 teaspoons paprika
1-1/2 teaspoons salt
1 teaspoon chili powder
1 teaspoon garlic powder
1 teaspoon onion powder
1/2 teaspoon black pepper
2 pork tenderloins, trimmed ( about 1 lb. each)
Salsa
2 ears corn on the cob, husked
Olive oil
1 cup each red & yellow grape tomatoes, halved
1 avocado, diced
2 green onions, sliced thin
2 Tablespoons fresh cilantro, chopped
2 jalapeno peppers, chopped fine
1/2 teaspoon salt
Directions:
Prepare the rub by mixing all ingredients together. Lightly coat the tenderloins with olive oil then spread rub evenly over them. Let rest at room temperature for at least 30 minutes.
Heat grill to about 350-450 degrees, what they call a medium heat.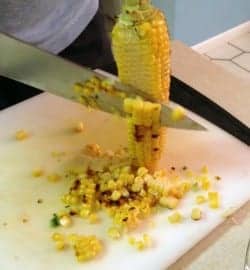 Husk corn and lightly coat with olive oil. Place on grill with cover closed and cook for 15 minutes, turning occasionally until corn is browned and tender. Remove and let cool slightly.
When corn has cooked about 10 minutes, place tenderloins on grill over direct heat with cover closed. Cook for a total of 15-20 minutes, turning every 5 minutes. The pork should reach an internal temperature of 145 degrees. Remove from heat and let rest 5 minutes.
While pork is cooking, prepare salsa by mixing all ingredients together. When corn is cool enough to handle, cut kernels off cobs and add to salsa. Stir.
Cut pork crosswise into 1/2-inch slices and serve with salsa on the side.
Serves 4-6.
Need a new grill? Weber Grills may be more expensive than most but they also last way longer and pay for themselves in about 2 years. We used to buy one of the regular brand grills for about $289, which lasted about 1-1/2 years before it needed replacement. When we bought our Weber, it was about $700 and  lasted us more than 10 years. That breaks down to about $70 a year for the Weber as compared to $192 a year with the cheaper one. It's a no-brainer! (And no, nobody paid me to say that, just wanted to pass on what I learned through years of experience.)
If you love to BBQ, maybe you'll enjoy these recipes.
Follow us on Twitter where you'll catch all our recipes as well as health & cooking tips. And if you cook one of our recipes tag it with #mamacooks and we'll share it.