This Turkey Cranberry Brie Panini is a mouthwatering grilled sandwich that combines the flavors of Thanksgiving into a savory golden crispy sandwich. Filled with slices of roast turkey and brie cheese with a smear of cranberry sauce its creamy texture with a bite of tartness will have you making this over and over. And no panini press needed!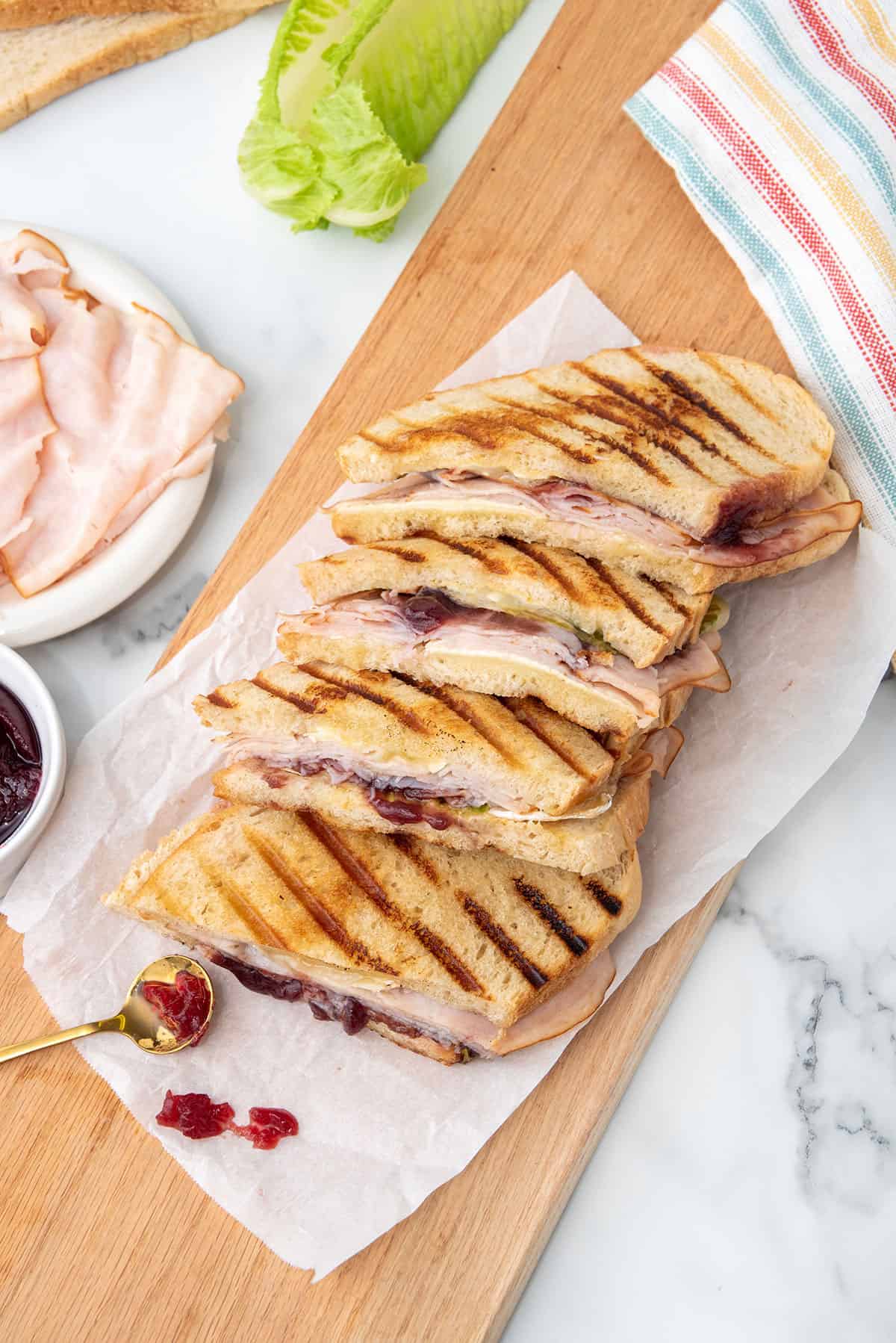 Recipes for Thanksgiving Turkey Leftovers
I think Thanksgiving turkey and all the delicious sides that come with it make some of the best leftover meals of the year. There are so many delicious possibilities to transform those post-holiday leftovers into delicious, satisfying meals.
Whether you're whipping up a Turkey Pot Pie with flaky crescent rolls, simmering a pot of hearty Turkey Chili that will warm the soul, getting your pasta fix with this Turkey Pasta with Cranberry Cream Sauce recipe, or indulging in a Taco Tuesday Turkey Enchilada Casserole, these dishes are so delicious that no one will believe they're leftovers!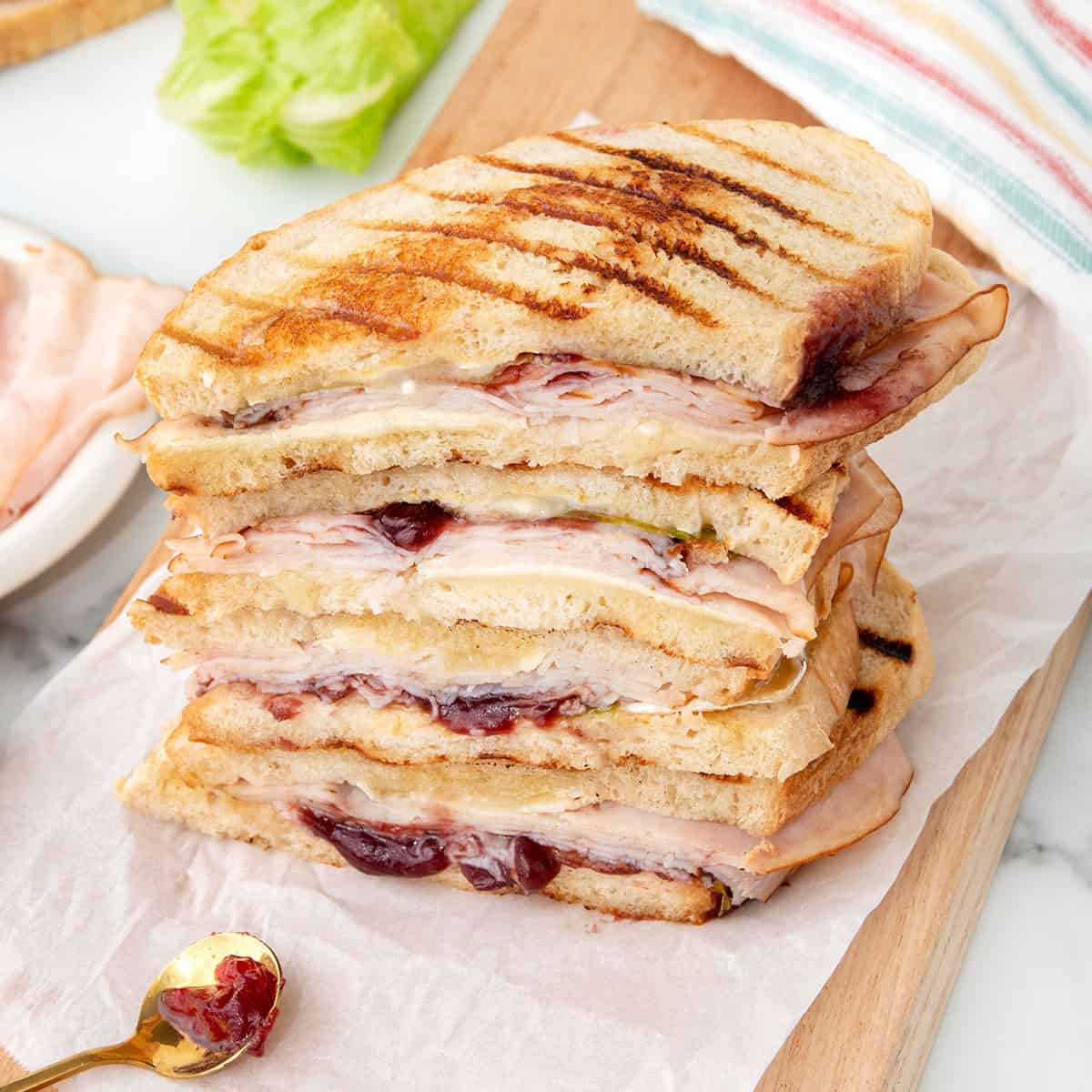 Why You'll Love This Turkey Cranberry Panini
The perfect way to use leftover Thanksgiving turkey
Easy to make with or without a panini press
Quick lunch or dinner in under 20 minutes
Flavorful combination - moist, tender turkey, fruity, tart cranberry sauce, velvety brie, crispy lettuce all piled on golden toasty bread
What is a panini?
A panini is an Italian word that translates to "small bread" or "bread roll". It is the plural of panino. Over time, outside of Italy, the term has come to represent a pressed and toasted sandwich made from a type of bread, typically ciabatta or baguette. The hallmark of a panini is its grill marks, which are achieved by cooking it on a panini press, a specialized grill that simultaneously toasts the sandwich on both sides.
Originating from Italy, panini sandwiches have been embraced worldwide for their warm, crispy exteriors and soft, melty interiors. While the traditional Italian panini might be simpler, containing cold cuts, cheese, and maybe a few vegetables, the globalized panini can be filled with a variety of ingredients, catering to diverse palates.
The beauty of a panini lies in its versatility. It's an excellent way to give leftovers, like Thanksgiving turkey and cranberry sauce, a delicious second life.
Ingredients for Panini
Here's what you need to make this turkey panini recipe. The exact measurement can be found in the printable recipe card below.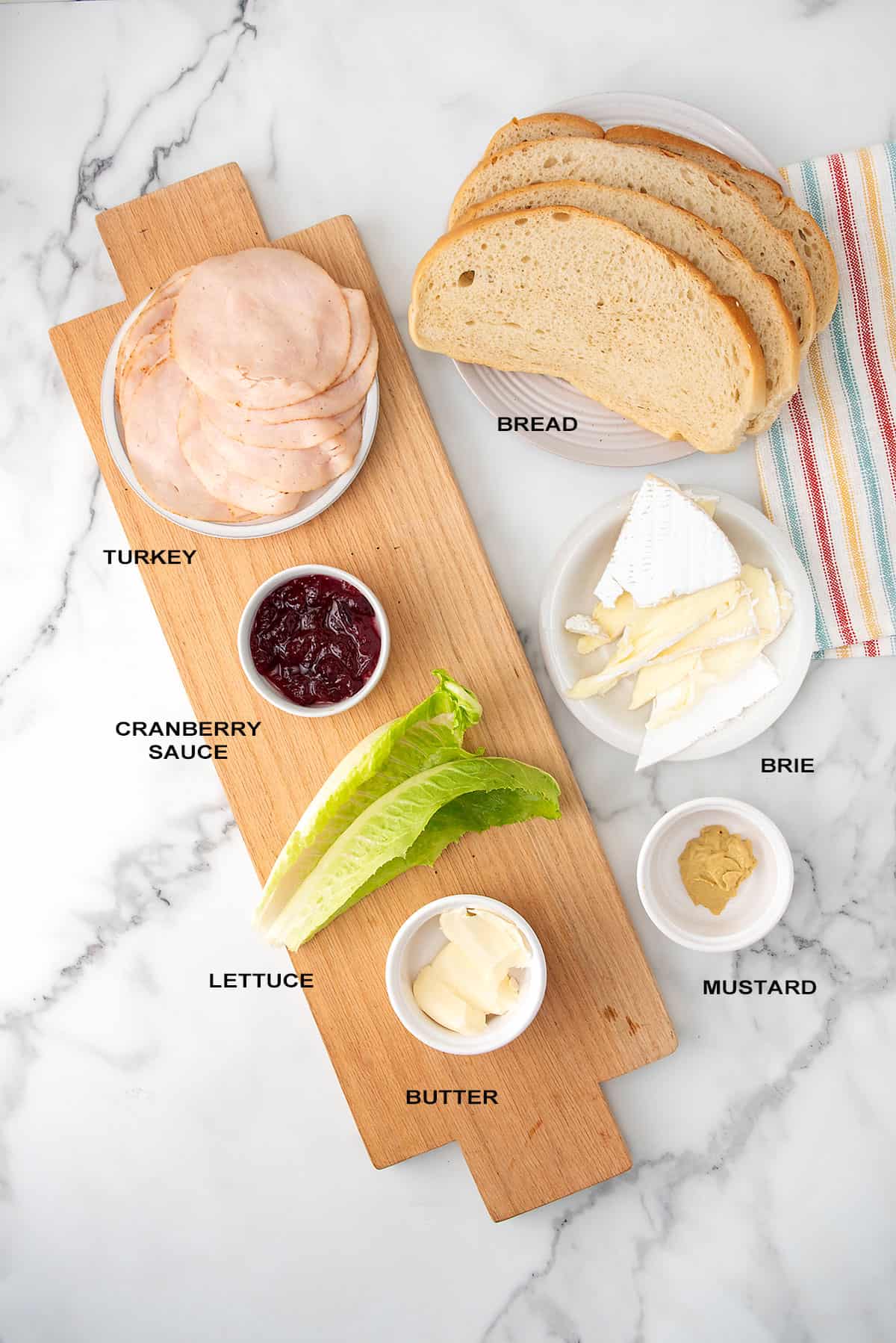 Thick-sliced bread - a sturdy bread that holds together well is best
Thin-sliced turkey - leftover or from the deli
Brie cheese - provolone, Swiss or mozzarella cheese can be substituted
Cranberry sauce
Romaine lettuce or fresh spinach leaves
Dijon mustard
Butter, avocado oil, or olive oil
Best Bread for Panini
When crafting the perfect panini, your choice of bread is paramount. The bread should be sturdy enough to hold up to grilling without becoming too soggy from the fillings, while also complementing the ingredients inside. Here's a breakdown of some popular bread options for panini:
Baguette: While typically used for French sandwiches, a sliced baguette can also be used for panini. It has a crisp outer layer with a soft inside, giving that sought-after contrast when pressed.
Ciabatta: A top choice for many panini enthusiasts, ciabatta boasts a crisp crust and soft, porous interior, making it ideal for absorbing some of those delicious flavors without becoming too soft or mushy.
Focaccia: An Italian bread flavored with olive oil and sometimes herbs, focaccia adds an additional layer of flavor to your panini. Its airy and chewy texture makes it an excellent choice for sandwiches.
Multigrain or Whole Wheat: For a healthier option, many turn to multigrain or whole wheat bread. These breads provide a nutty flavor and a sturdier texture, offering a delightful crunch when grilled.
Sourdough: For those who appreciate a tangy kick, sourdough is an excellent choice. Its firm structure can withstand the pressure of the grill, and its unique flavor profile can elevate the overall taste of the panini.
When selecting your bread, ensure it's fresh and of high quality. A good panini starts with good bread. Remember, the objective is to achieve a crispy exterior and a soft interior. Slice your bread to a thickness that allows for this contrast, usually about half an inch to an inch thick.
Best Cheese for Panini
The choice of cheese can make or break a panini. The ideal cheese for a panini melts smoothly, pairs harmoniously with other ingredients, and brings a rich, gooey texture that binds the sandwich together. Here's a selection of cheeses that work wonderfully in panini:
Brie: Soft, creamy, and with a mild flavor, Brie melts beautifully. Its delicate taste pairs especially well with sweeter components like fruit preserves or slices, making it an excellent choice for a turkey and cranberry panini.
Mozzarella: A classic choice, mozzarella provides a delightful stretchiness to panini. Its mild flavor makes it versatile, pairing well with a wide range of fillings, from tomatoes and basil to meats and veggies.
Provolone: Slightly sharper than mozzarella, provolone offers a tangy kick. It melts well and adds a bit more character to meat-based panini.
Gruyère: Known for its superb melting quality, Gruyère is often used in French onion soup. Its slightly sweet, nutty flavor complements a variety of meats and veggies.
Fontina: Another excellent melter, fontina has a strong flavor that can add depth to your panini. It pairs particularly well with mushrooms and spinach.
Cheddar: For those who love a sharper taste, cheddar can be a good choice. Opt for a medium or mild cheddar if you're aiming for a smoother melt.
Havarti: Creamy and buttery, Havarti has tiny holes throughout, allowing it to melt evenly. It's a versatile cheese that pairs well with both sweet and savory fillings.
When making a panini, remember to slice or spread your cheese evenly to ensure a consistent melt. While these are some popular choices, the world of cheese is vast, so don't hesitate to experiment and find your personal favorite panini pairing!
How to Make a Turkey Panini
Here are the simple steps to make this cranberry turkey panini sandwich: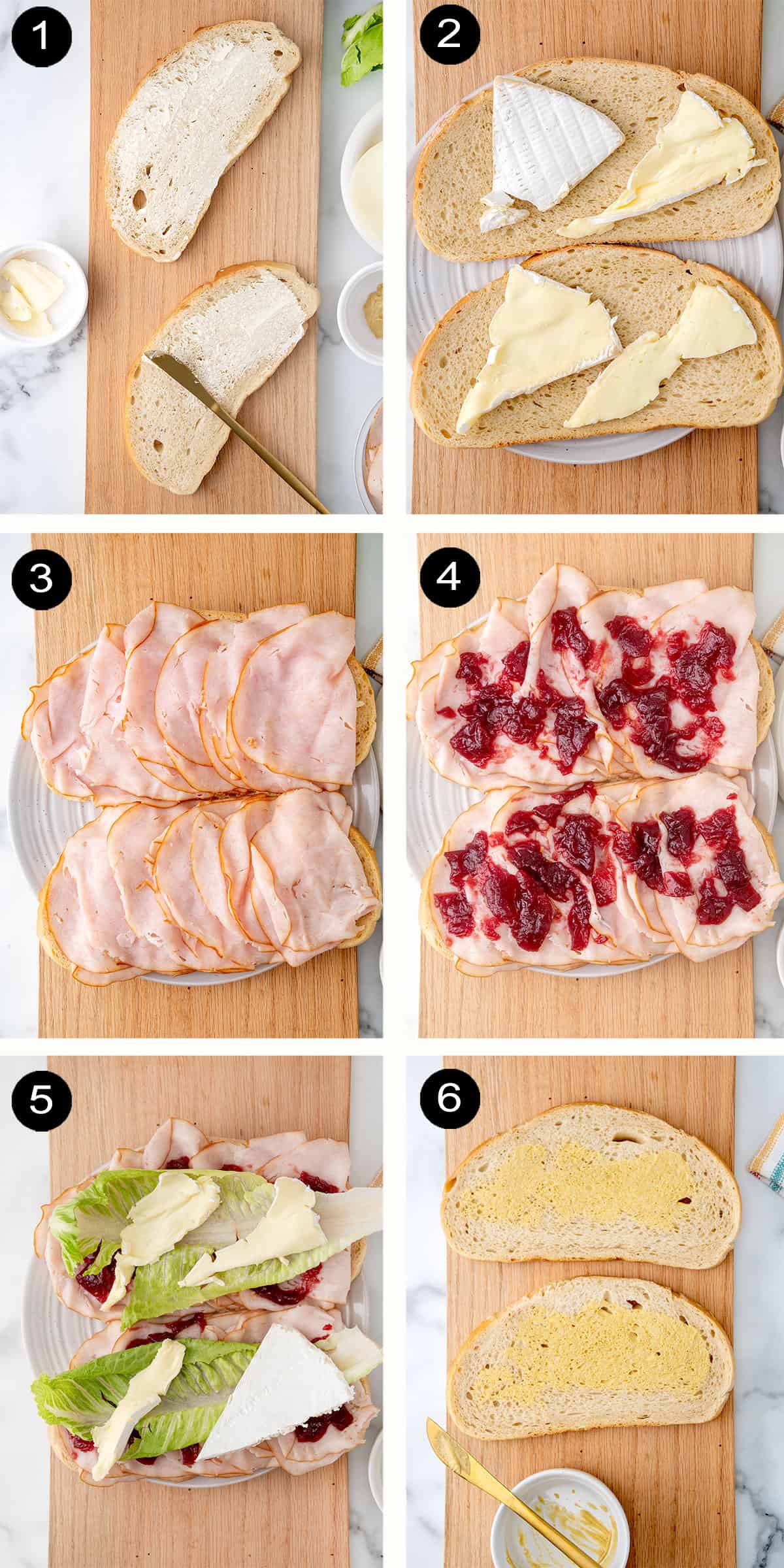 Butter the bread on one side.
Turn over and place 2-4 slices of brie cheese on top of the unbuttered side of bread.
Layer on the sliced turkey.
Spread cranberry sauce over turkey.
Add a leaf of lettuce to each sandwich and top with 2-4 slices of brie.
Spread some mustard on the unbuttered slices of bread, if desired.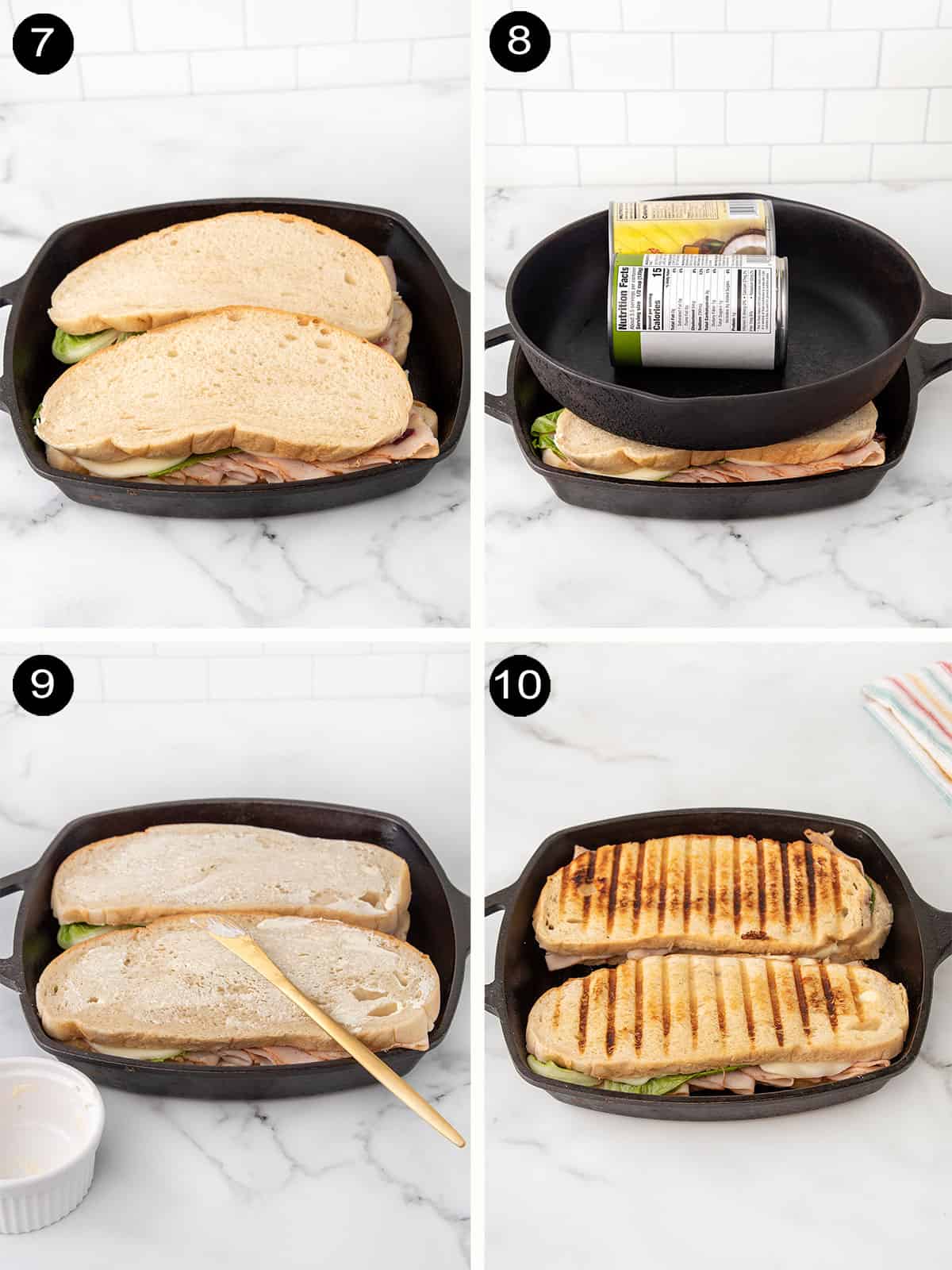 Place the mustard side of the bread on top of the ingredients in the sandwich and place the sandwich in the preheated griddle pan or panini press.
If not using a panini press, place an iron skillet which has been lightly sprayed with nonstick spray on top of the sandwich. Lay some cans on top to add weight so the sandwich is pressed together. Cook for 3-4 minutes or until sandwich is toasted on one side.
Spread the top of the bread with butter and turn over. Place the iron skillet back on top with the cans to toast the second side.
Let it cook for another 3-4 minutes or until toasted and the cheese has melted.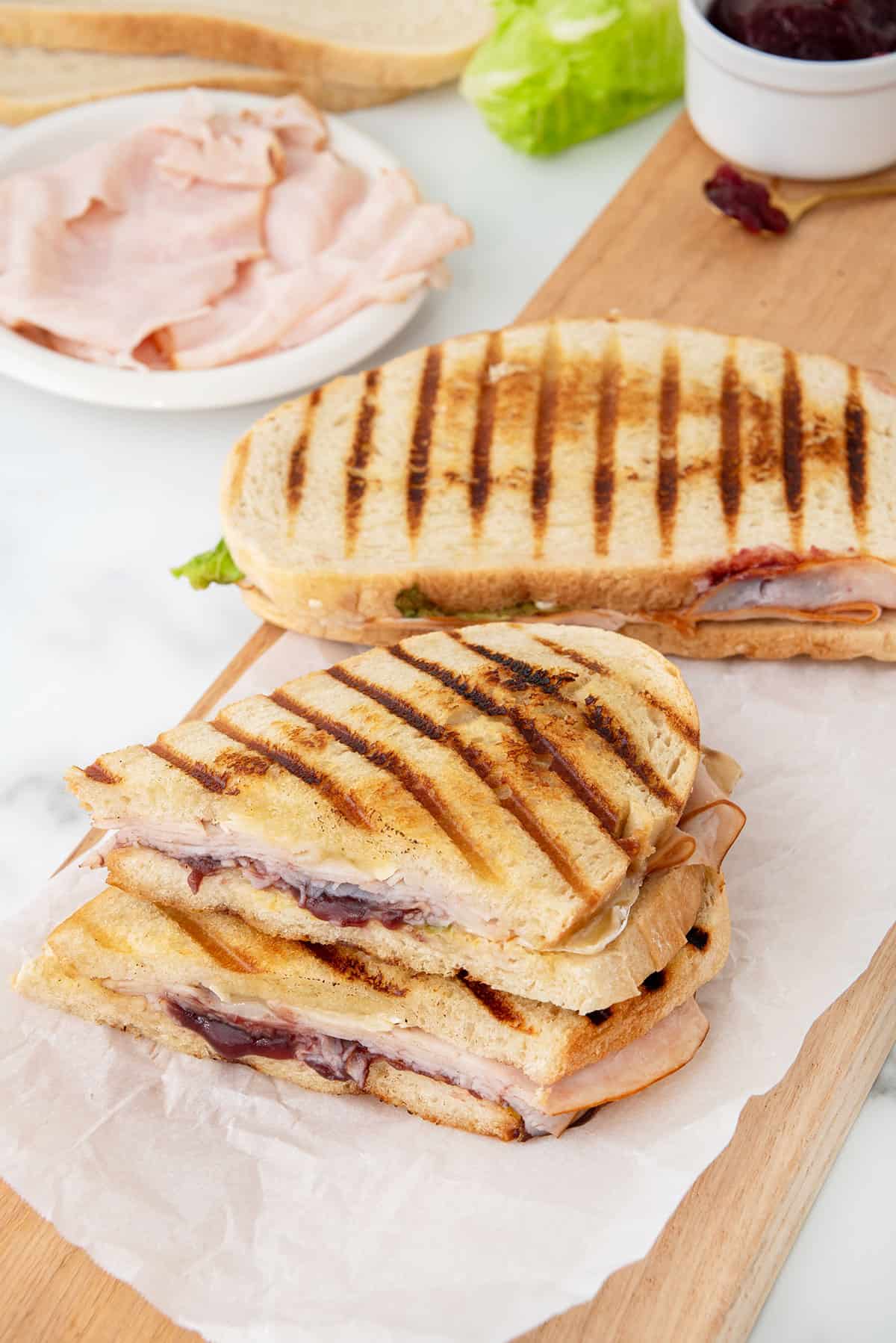 Cut each of the sandwiches in half and serve immediately. One bite will have you savoring the tastes and textures of warm turkey, creamy Brie, sweet and tangy cranberry sauce, crisp refreshing greens, and the crunch of perfectly toasted bread. This sandwich will bring back all your favorite holiday flavors no matter what time of year.
Recipe Tips
Creating a delicious panini doesn't require fancy equipment like a panini press. Using a griddle pan or skillet and some household items, you can make a mouthwatering sandwich with ease. Here are some expert tips to ensure success:
Preheat Your Skillet: Before placing your sandwich, ensure your skillet or griddle pan is adequately preheated over medium heat. A properly heated pan helps achieve that crispy golden-brown exterior quickly without overcooking the fillings.
Even Pressure: When using another skillet and cans for pressing, ensure the pressure is evenly distributed across the sandwich to ensure uniform toasting and melting. Rotate the top skillet occasionally to distribute the weight.
Brush with Oil or Butter: To get a golden and crispy crust, lightly brush the outer layers of your bread with a bit of oil or melted butter before placing it on the skillet.
Layer Strategically: Place the cheese close to the bread. This helps the cheese melt faster and envelop the fillings, ensuring that perfect gooey texture throughout.
Avoid Overstuffing: While it's tempting to load up your panini, too many fillings can prevent even toasting and melting. Strike a balance to ensure every bite is a perfect blend of crispy, creamy, and flavorful.
Rest Before Cutting: After cooking, let the panini rest for a minute or two before slicing. This allows the cheese to set slightly, ensuring the fillings don't ooze out too much when you cut into it.
Recipe Variations
The basic Turkey Cranberry and Brie Panini has a delectable balance of savory and sweet. However, if you're in the mood to mix things up, here are some variations that are equally delightful:
Turkey Apple Brie Panini: Replace the cranberry sauce with thinly sliced fresh green apples. The tartness of the apples pairs beautifully with the creamy brie and savory turkey.
Turkey Bacon Panini: Add a couple of crispy bacon strips to your basic recipe. The smoky, salty crunch adds a new dimension of flavor and texture.
Turkey Artichoke Panini: Swap out the cranberry sauce for marinated artichoke hearts, thinly sliced. Their tangy, briny flavor melds wonderfully with turkey.
Turkey Avocado Panini: Add some slices of creamy avocado to your sandwich. Its buttery texture and subtle flavor provide a refreshing contrast to the turkey.
Turkey Caprese Panini: Replace cranberry sauce and brie with fresh mozzarella, tomatoes, and basil leaves. Drizzle a bit of balsamic reduction or pesto for an Italian flair.
Turkey Club Panini: Layer in bacon, lettuce, and tomato to your basic panini. The addition of these classic club ingredients elevates the sandwich to a hearty meal.
Turkey Pesto Panini: Swap out cranberry sauce for a generous spread of basil pesto. The aromatic herbs in the pesto complement the turkey's savory notes.
Turkey Reuben Panini: Inspired by the classic Reuben sandwich, replace brie and cranberry with Swiss cheese and sauerkraut. Add a spread of Russian or Thousand Island dressing for that authentic Reuben flavor.
Ham and Turkey Panini: Enhance the meatiness of your panini by adding a few slices of good-quality ham. The combination of the two meats provides a fuller, richer flavor profile.
Each of these variations provides a unique spin on the classic turkey panini, allowing you to enjoy a different flavor combination each time. As always, feel free to experiment and find your personal favorite.
How to Store and Reheat
One of the challenges with panini is maintaining that delightful crispy texture when storing leftovers. But with a few tricks, you can enjoy your panini just as much the next day:
Cool Before Storing: If you have any leftover panini, allow them to cool completely before storing. This will prevent the sandwich from becoming soggy due to trapped steam.
Avoid Plastic Wrap: While plastic wrap might seem like a convenient storage solution, it traps moisture, which can make your panini soggy. Instead, wrap your cooled panini in parchment paper or aluminum foil.
Refrigerate Properly: Store the wrapped panini in an airtight container or resealable plastic bag in the refrigerator. Consume within 3 days for the best flavor and texture.
Avoid the Microwave: While microwaving is quick, it can make your panini soft and chewy rather than crispy.
Reheat in a Skillet: To recapture that just-made freshness, reheat your panini in a skillet over medium heat. Use the same method as before, pressing with a weighted skillet on top. This will restore the crispy exterior while warming the interior.
Use an Oven or Toaster Oven: Another method is to place the panini in a preheated oven or toaster oven at 350°F for about 5 to 10 minutes. This will heat the sandwich through and crisp up the exterior. Remove the parchment or foil before reheating.
Avoid Overheating: When reheating, be mindful not to overdo it. Overheated cheese can separate and the sandwich might lose some of its flavors.
Freezing: While a panini is best enjoyed fresh, you can freeze it if needed. Wrap it individually in foil and place it in a freezer bag. When ready to eat, defrost in the refrigerator overnight and then reheat using the skillet or oven method.
More Sandwich Recipes
Find lots of easy recipes for Thanksgiving and beyond right here on 2CM!
LOVE QUICK & EASY RECIPES? FOLLOW ME ON INSTAGRAM, FACEBOOK, & PINTEREST FOR ALL THE LATEST RECIPE INSPIRATION! PLUS JOIN MY EMAIL LIST AND RECEIVE A FREE E-BOOK.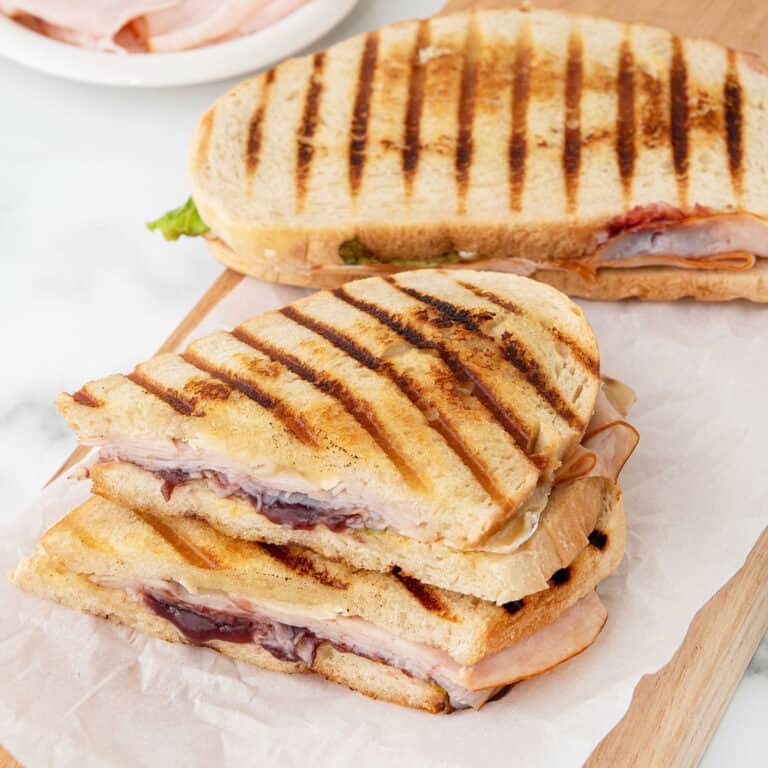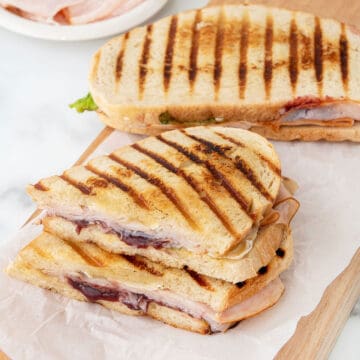 Ingredients
4

thick slices sourdough

ciabatta or focaccia (about ½" thick)

6

ounces

thinly sliced turkey

8

slices

cheese – brie

sliced thin with rind attached (options mozzarella, swiss, or provolone)

¼

cup

cranberry sauce

2

leaves

romaine or spinach

1-2

Tablespoons

soft or melted butter

avocado or olive oil can also be used

2

teaspoons

Dijon mustard

(optional)
Instructions
Heat nonstick griddle pan, lightly coated with cooking spray, over medium heat.

While the pan Is heating, construct the sandwiches.

Spread butter or avocado oil on 2 slices of bread.

Lay 2 slices of cheese on each slice of bread then pile 3 ounces of turkey on top of each one. Spread cranberry sauce on top of turkey, top with a romaine leaf and finish with 2 slices of cheese on each one. (The cheese will help hold the sandwich together) Carefully place butter side down on preheated nonstick griddle pan.

Top with remaining 2 slices of bread, spread with Dijon mustard on the side that meets the cheese, if desired.

Place an iron skillet that has been lightly sprayed with oil over the sandwiches, press down lightly, set several cans on top to help flatten sandwich, and let the sandwiches cook for 3-4 minutes or until the bottom piece of bread is toasted and golden.

Remove skillet, spread butter on the top slices of bread then flip the sandwiches, cover again with the iron skillet, and cook for another 3-4 minutes or until the bottom slice is golden brown.

Note: If using a panini press it will take just 3-5 minutes total since it doesn't need to be turned.