This Air Fryer Grilled Cheese is easy to make and hard to resist. In just 10 minutes you can have a delicious sandwich with a crispy, golden brown outside and warm ooey-gooey melty cheese inside. It's filling and delicious and the perfect lunch for the whole family.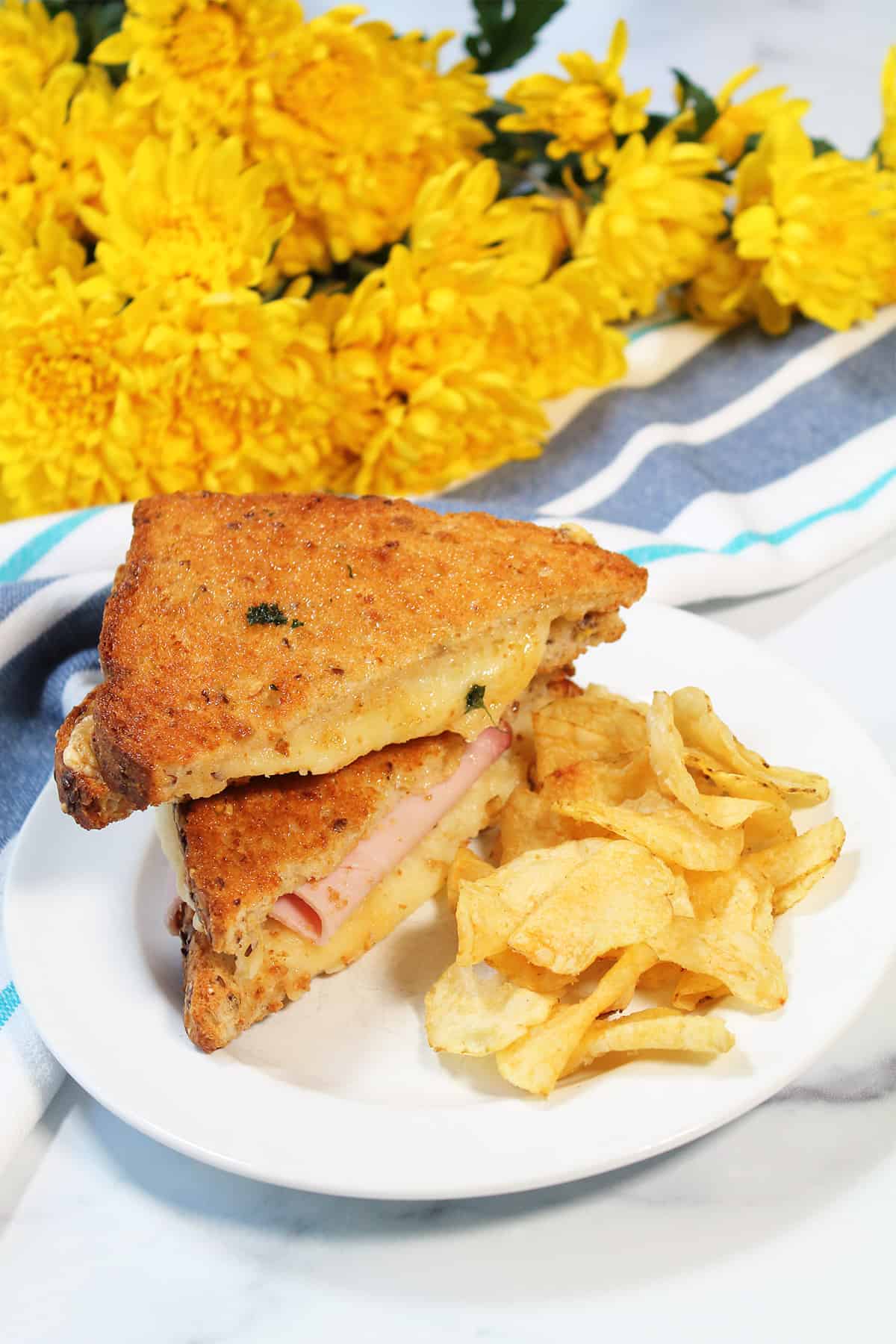 If you're into melty, ooey-gooey cheesy sandwiches then this air fried grilled cheese is for you! It's full of flavorful cheeses, like cheddar, gouda, and Parmesan, and finishes with the perfect crunch.
Now you're probably wondering why you should cook your grilled cheese sandwich in an air fryer? Well, 'cause it's the easiest, simplest way to get the perfect melt along with the perfect crunch all without being too greasy. And cleanup is a breeze.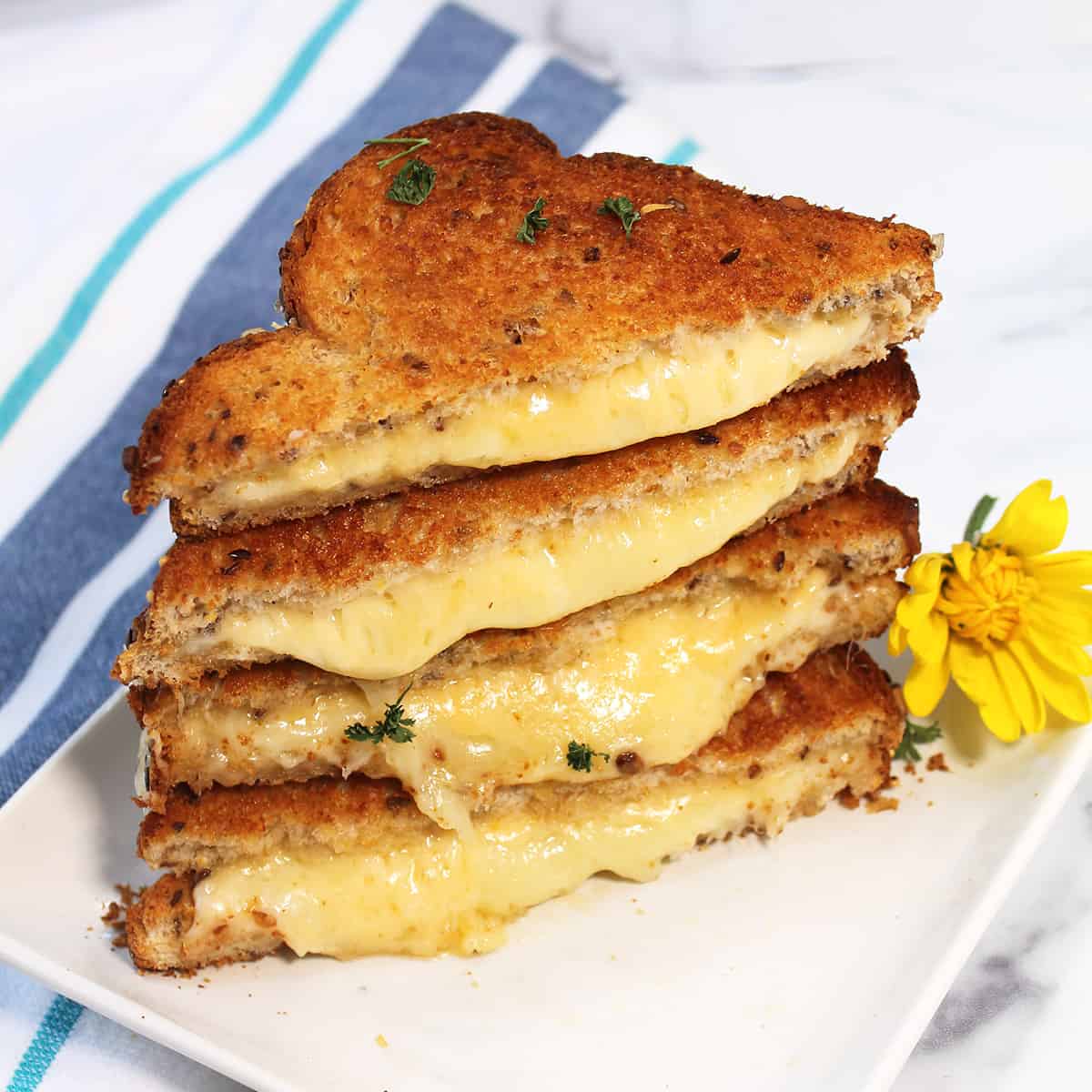 The air fryer is my favorite kitchen appliance ever! In fact, I don't know what I'd do without it! It cooks everything from appetizers to dinners to desserts quickly and easily. Favorites like Chicken Parmesan, Zucchini Fries, Filet Mignon ad even French Toast have never been tastier. And this grilled cheese sandwich is no exception.
Why You'll Love This Air Fried Grilled Cheese
Quick and easy to make
Toasty bread that gets perfectly golden brown on both sides
Melty cheese - who doesn't love that?
Less greasy than a stovetop version
Easy cleanup
Best Bread for Air Fryer Grilled Cheese Sandwich
The types of bread you can use for this air fried sandwich are practically endless. The one rule you want to adhere to is that the bread should not be too thin as it will burn easily and be sturdy enough to hold all that incredible melty cheese.
Brioche
Ciabatta
Deli Rye
Sourdough
Garlic Bread
Texas Toast
Mulitgrain
Best Cheese for Grilled Cheese in the Air Fryer
The most important rule of thumb for an excellent grilled cheese is to choose a cheese or cheeses that are good melting cheeses. You can also stick with just one type of cheese or combine them to make a gourmet grilled cheese. 'Cause more cheese is always better!
American
Brie
Cheddar
Fontina
Gouda
Gruyere
Manchego
Monterey Jack or Pepper Jack
Mozzarella
Parmesan
Provolone
Pimento Cheese
Swiss
Velvetta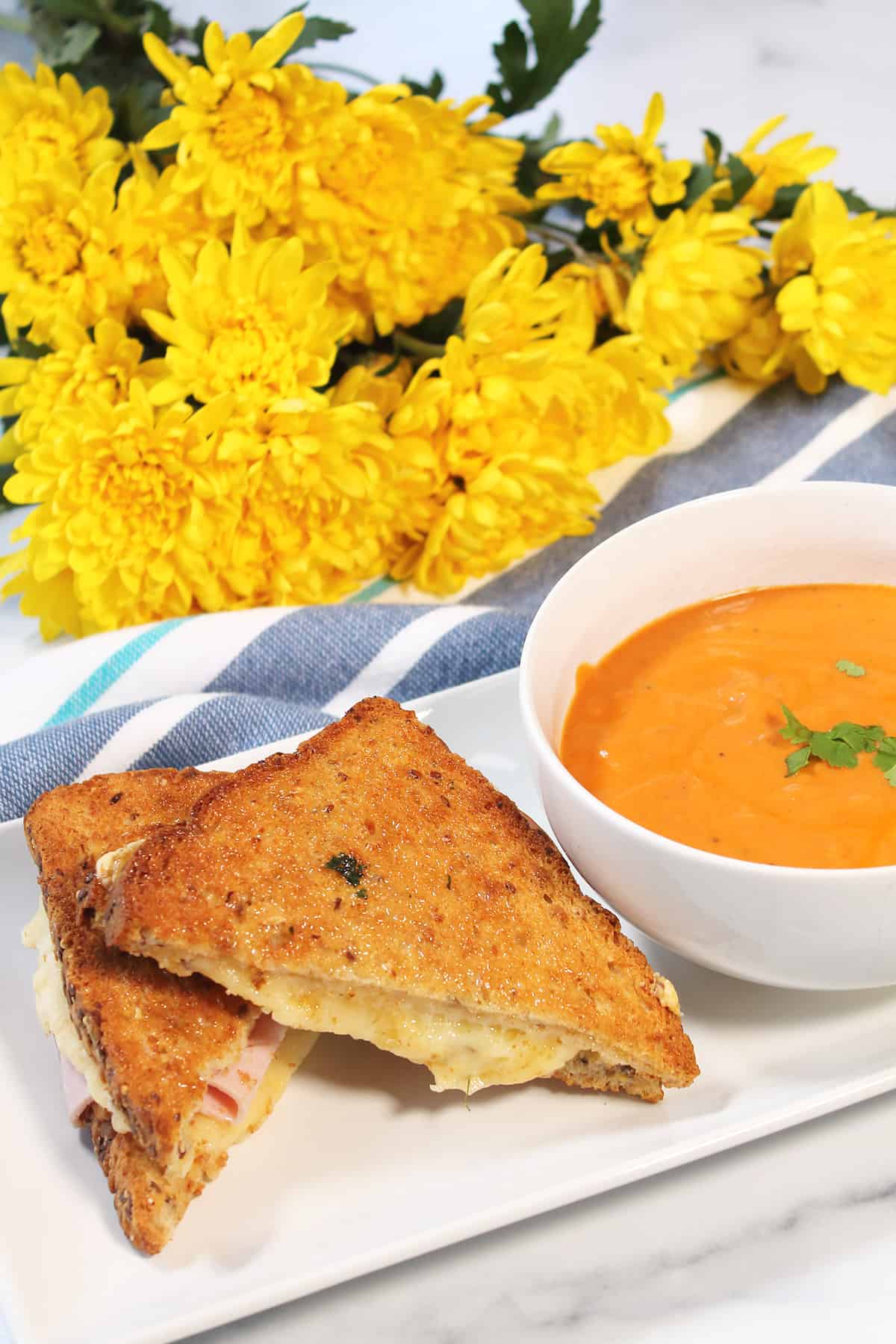 Tips for Making the Best Grilled Cheese in Air Fryer
No preheating is required to make this sandwich in the air fryer which is what makes this such a quick and easy recipe.
Make sure that there is plenty of room around the sandwiches in the air fryer basket so that the air can circulate. My Cosori 5.8-quart air fryer fits 2 sandwiches comfortably.
This grilled cheese recipe uses sliced cheeses and some grated cheese. When making with other types of cheeses, it is best to shred the cheese so they melt more quickly and evenly.
To cut down on fat you can substitute the butter for a light spray of olive oil, avocado oil or even vegan mayo.
How to Make a Grilled Cheese Sandwich in the Air Fryer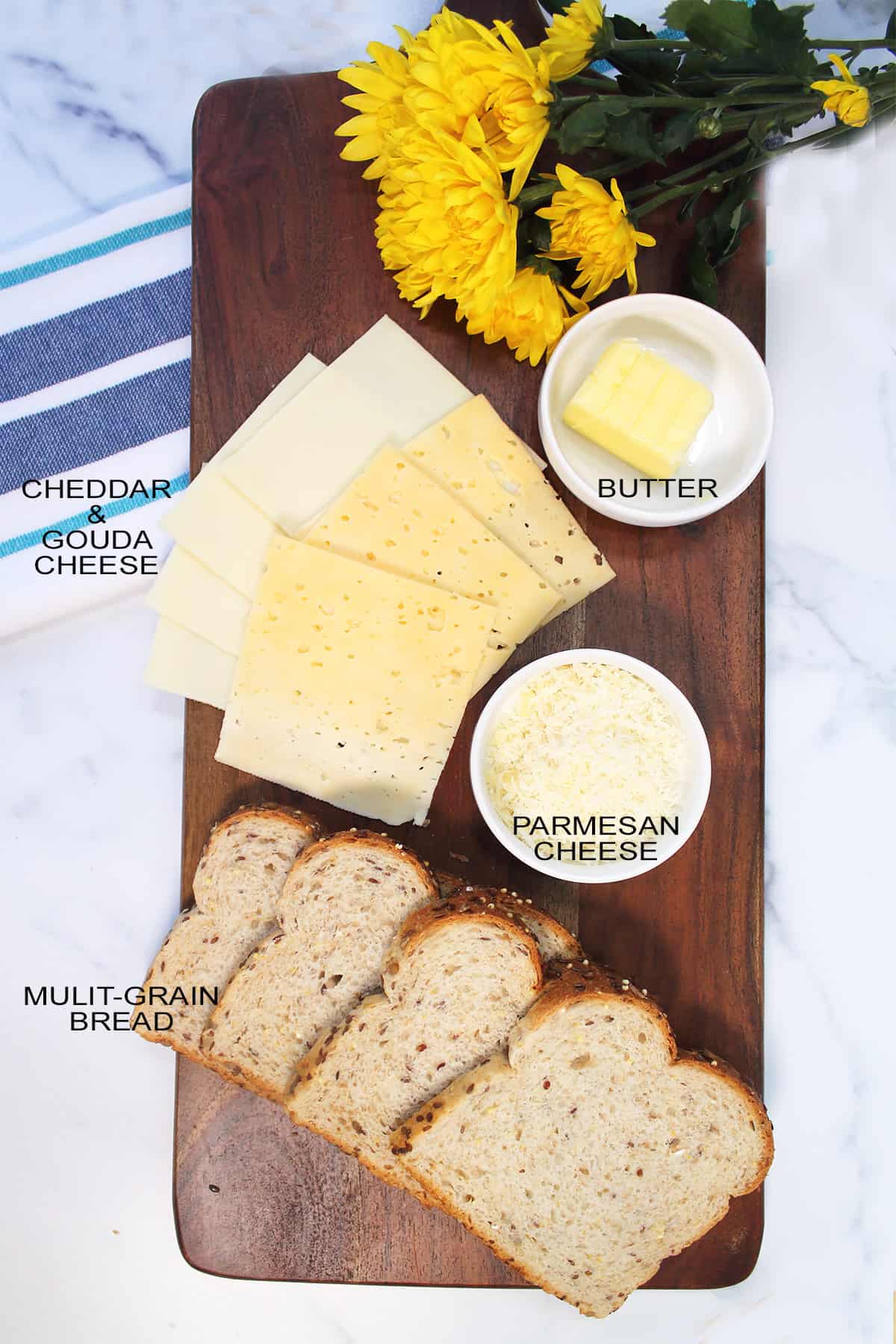 Gather the few ingredients you will need to make the perfect air fried grilled cheese sandwich. Choose your favorite cheeses, find the perfect bread, and make sure you have some soft butter so it easily spreads on the bread.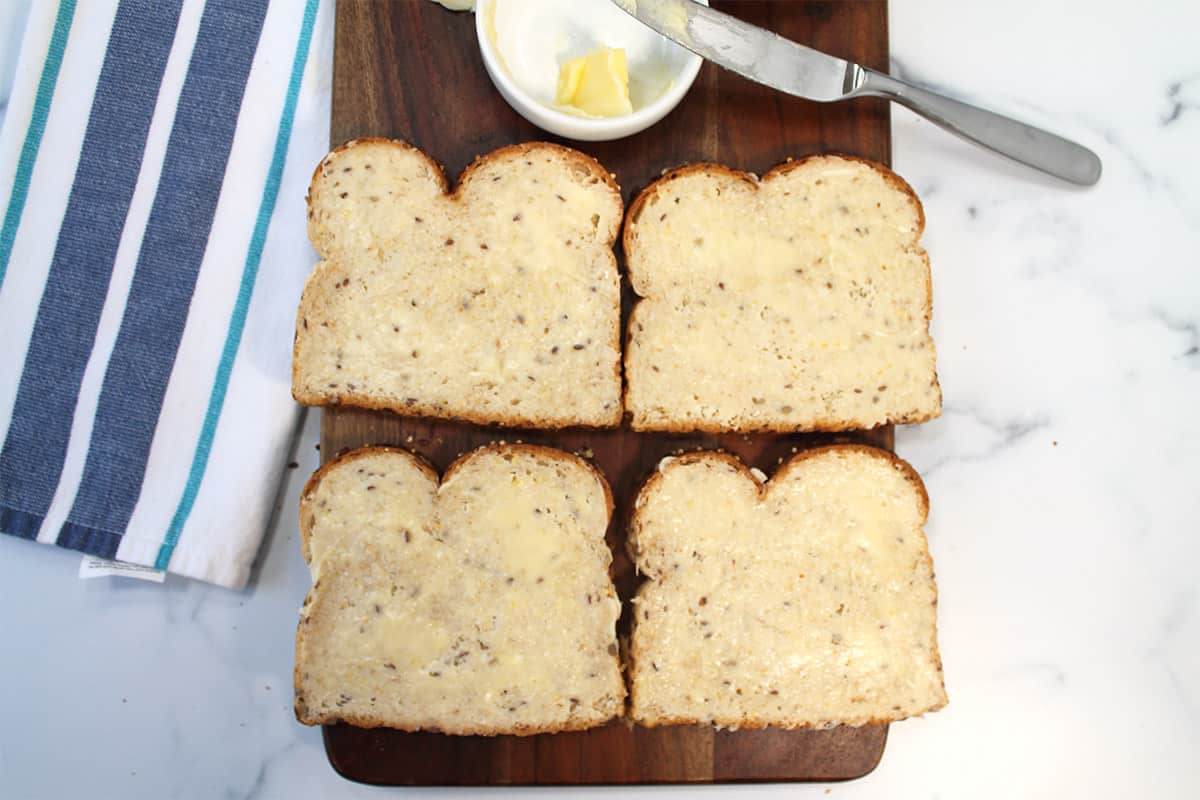 Butter four slices of bread on one side. You can also spray lightly with your favorite oil such as olive oil or avocado oil.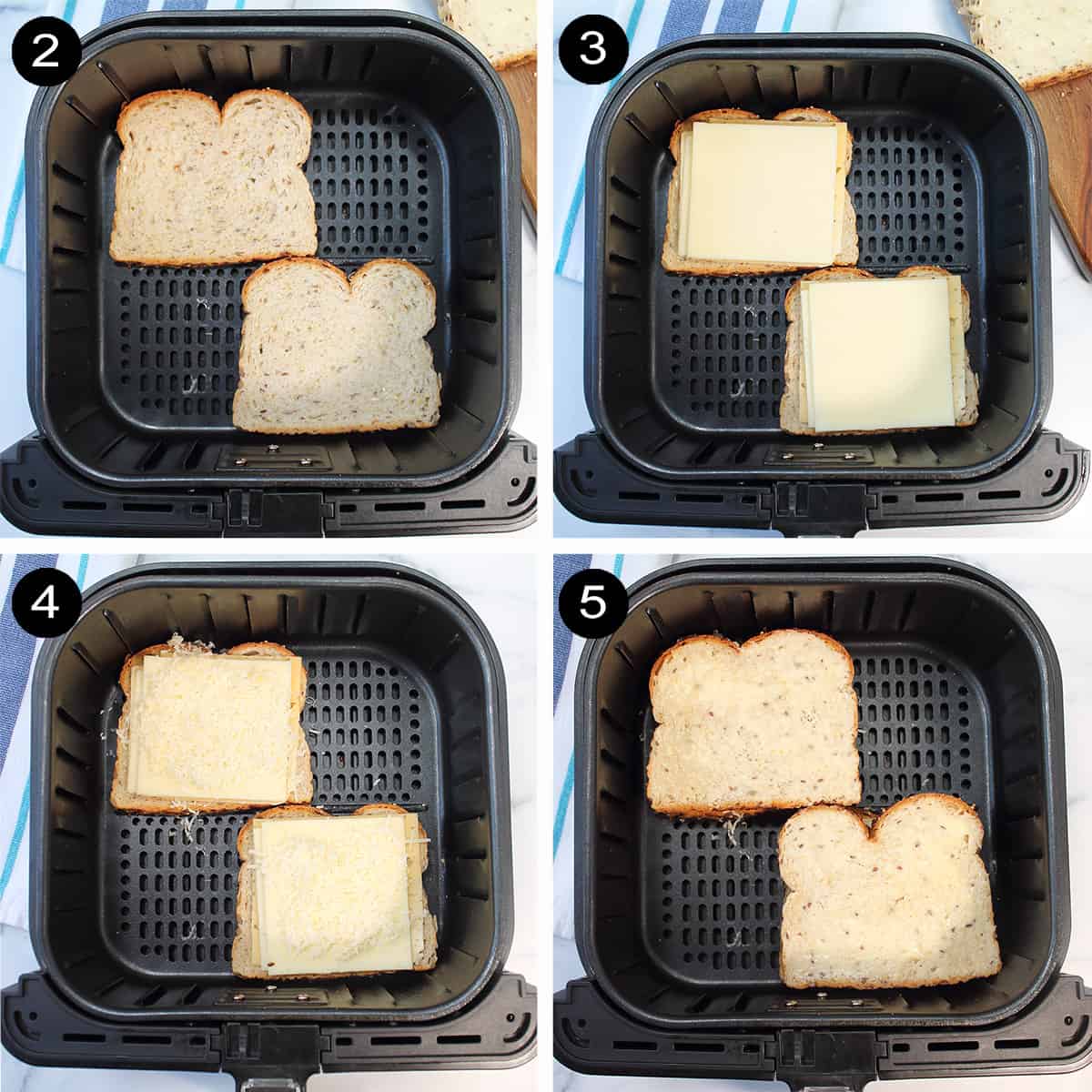 Place two slices of bread, buttered side down in air fryer basket. Make sure there is plenty of room for air to circulate around bread.
Place your sliced cheeses on top of bread.
Add grated Parmesan to top of cheese slices.
Top with remaining slices of bread, butter side up.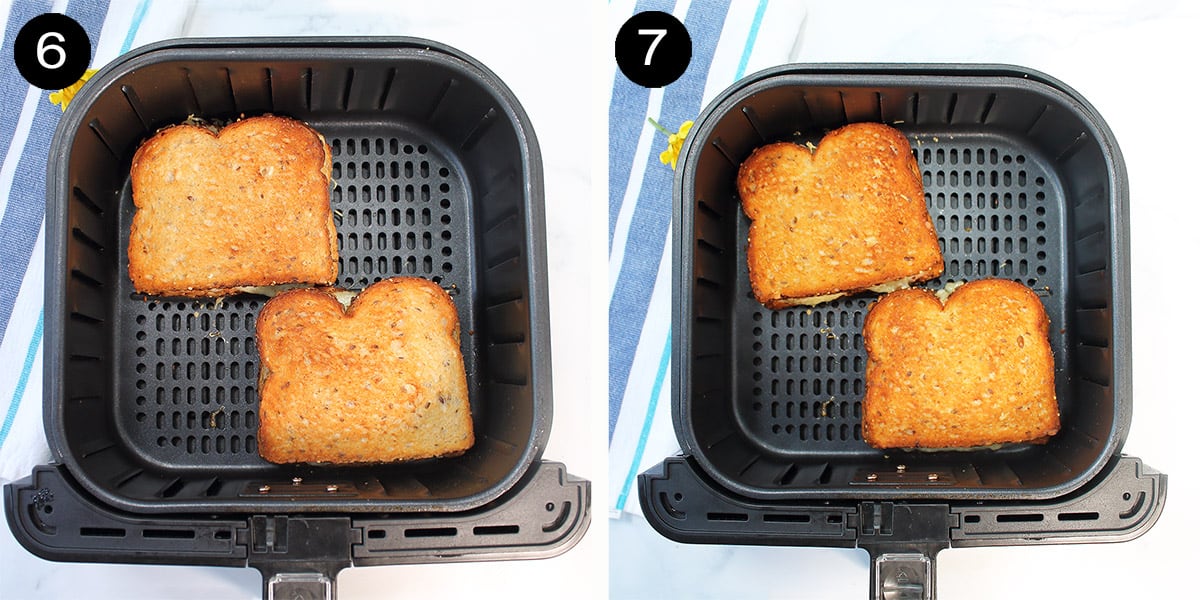 Air fry sandwich for 4 minutes at 370 degrees.
Turn sandwiches over and air fry another 4 minutes.
Note: Air fryers cook at different rates depending on brand and size so check your sandwich at intervals so that it doesn't get too brown. The type of bread and the thickness of each slice will also play a part in how long the sandwich takes to cook. White bread cooks the quickest while rye and pumpernickel take the longest.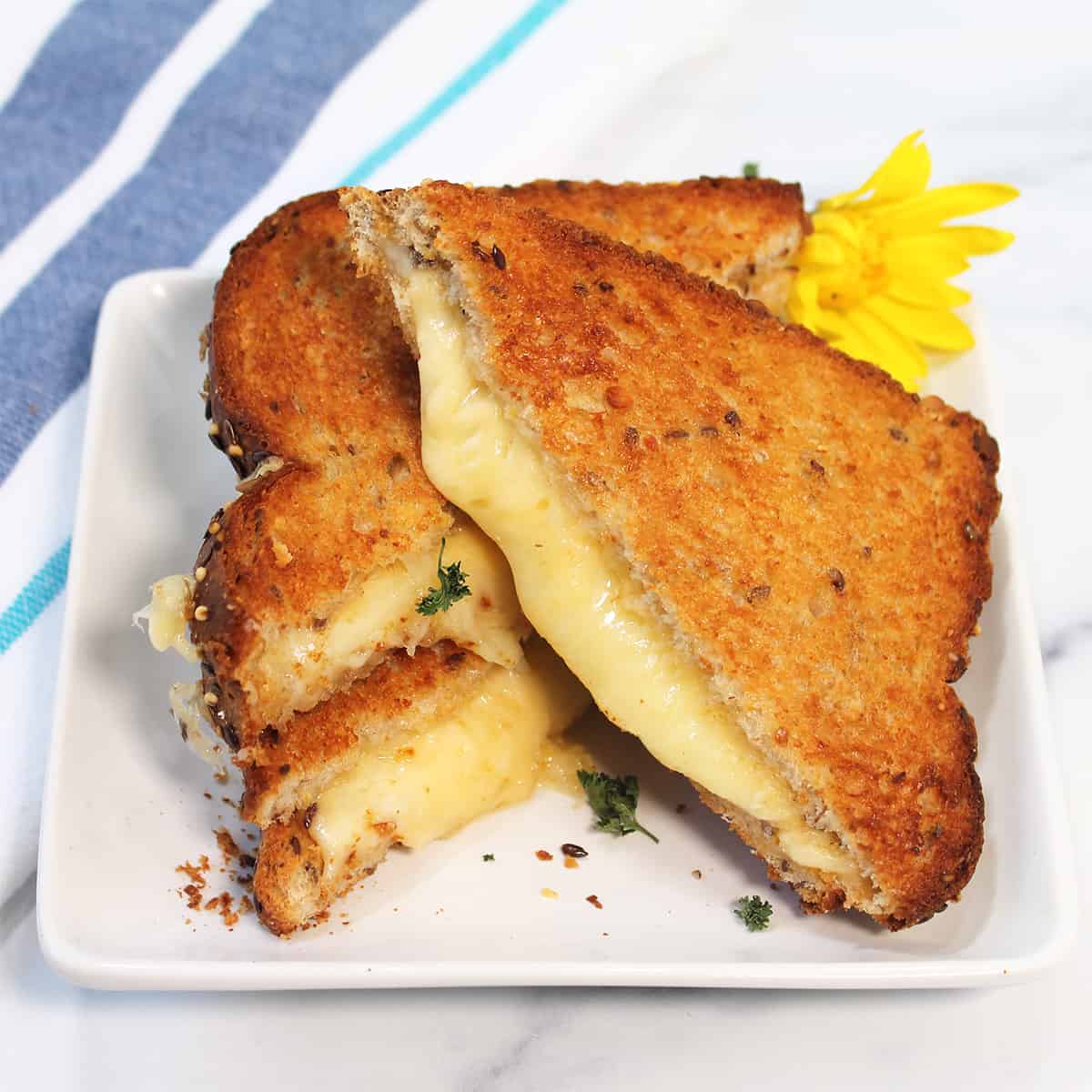 What to Put on a Grilled Cheese
Adding goodies to a grilled cheese takes this sandwich from ordinary to extraordinary. I like to add mine after the sandwich has cooked and the cheese has become a pool of melty heaven.
Think of all your favorites and add them to the sandwich or pick one from the suggestions below.
Simple additions include a spread of pesto, mayo, or grey poupon, some sliced avocado, spinach, or even pickles. For extra flavor add a pinch of garlic powder to the butter prior to spreading on the bread.
Adding meats - bacon, chorizo, buffalo chicken, pepperoni, prosciutto, roast beef, steak, turkey
Adding seafood - crab, salmon, shrimp, or tuna
Grilled Ham and Cheese - one of the most popular combos. Use deli ham and slide into sandwich before or after air frying.
Sliced tomatoes or sliced tomatoes and bacon
Sliced Apple Bacon Grilled Cheese with sliced apples and bacon or just stick to sliced apples
Pear and Brie Grilled Cheese with sliced pears
Chicken Grilled Cheese - easily done with sliced deli chicken, turkey, or even bbq chicken (shredded)
Grilled Cheese Ideas
Think outside the box and try making a breakfast grilled cheese such as French Toast Grilled Cheese or a Fried Egg Grilled Cheese.
Vegan - substitute vegan cheese and omit the butter for either vegan butter or a spray of olive oil.
What to Serve with Grilled Cheese
That's an easy one! I love to serve soup with sandwiches and the best soup to pair with this air fryer grilled cheese is Tomato Soup. Of course, chips are always a nice side for sandwiches too.
More Air Fryer Recipes
Air Fried Chicken Wings- easy prep and 30 minutes to cook and out come the crispiest tastiest wings you've ever had. Perfect for appetizers, lunch, or dinner.
Air Fryer Hot Dogs - take just 12 minutes and come complete with a toasted bun too! An easy lunch or dinner for any day of the week.
Air Fryer Fish Stips - Crispy on the outside and another kid's favorite.
Easy Garlic Bread in the Air Fryer - takes just 8 minutes and would be a tasty bread to use for this sandwich.
Find many more Air Fryer recipes on 2CM!
LOVE QUICK & EASY RECIPES? FOLLOW ME ON INSTAGRAM, FACEBOOK, & PINTEREST FOR ALL THE LATEST RECIPE INSPIRATION! PLUS JOIN MY EMAIL LIST AND RECEIVE A FREE E-BOOK.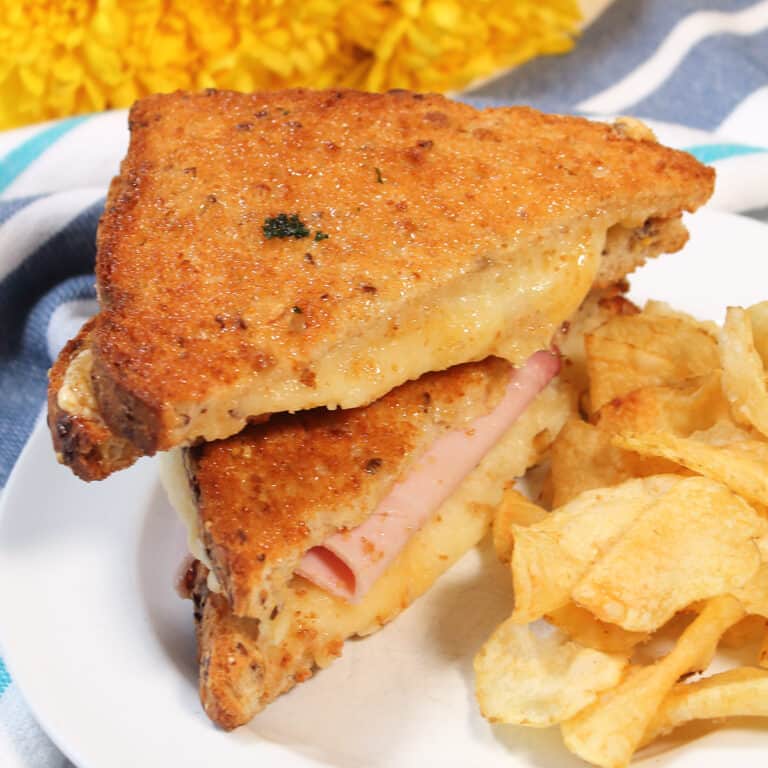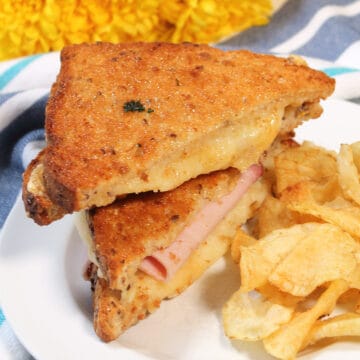 Air Fryer Grilled Cheese
This Air Fryer Grilled Cheese is easy to make and hard to resist. Air Fry 10 minutes for the perfect crispy on the outside, warm and cheesy on the inside sandwich.
Print
Rate
Ingredients
4

slices

of your favorite bread

I used multigrain

2

Tablespoons

butter

room temperature

2

slices

cheddar cheese

2

slices

gouda cheese

¼-1/3

cup

Parmesan cheese

grated

Optional: sliced deli ham, sliced tomatoes, bacon
Instructions
Butter 4 slices of bread on one side.

Place bread, buttered side down, into basket of air fryer. Make sure there is plenty of room around slices for air to circulate.

Place a slice of each type of cheese on top of each slice of bread.

Divide Parmesan cheese in half and sprinkle on top of cheese slices.

Air fry sandwich at 370 degrees for 8 minutes, turning halfway through cooking time. (If you have a shake button on your air fryer you can press that to have it remind you to turn sandwich.

Remove sandwich, add any optional fillings then cut in half and serve immediatley.
Notes
Best Breads - Brioche, Ciabatta, Deli Rye, Sourdough, Garlic Bread, Texas Toast, Mulitgrain Best Cheeses – American, Brie, Cheddar, Fontina, Gouda, Gruyere, Manchego, Monterey Jack or Pepper Jack, Mozzarella, Parmesan, Provolone, Pimento Cheese, Swiss, Velvetta Optional add-ons - bacon, chorizo, pepperoni, prosciutto, turkey, tuna, crab, sliced tomatoes, avocado, spinach, sliced apple or pear, pesto, mustard, mayonnaise
Nutrition
Calories:
463
kcal
|
Carbohydrates:
24
g
|
Protein:
24
g
|
Fat:
30
g
|
Saturated Fat:
19
g
|
Polyunsaturated Fat:
1
g
|
Monounsaturated Fat:
9
g
|
Trans Fat:
1
g
|
Cholesterol:
91
mg
|
Sodium:
875
mg
|
Potassium:
207
mg
|
Fiber:
4
g
|
Sugar:
4
g
|
Vitamin A:
788
IU
|
Calcium:
544
mg
|
Iron:
2
mg