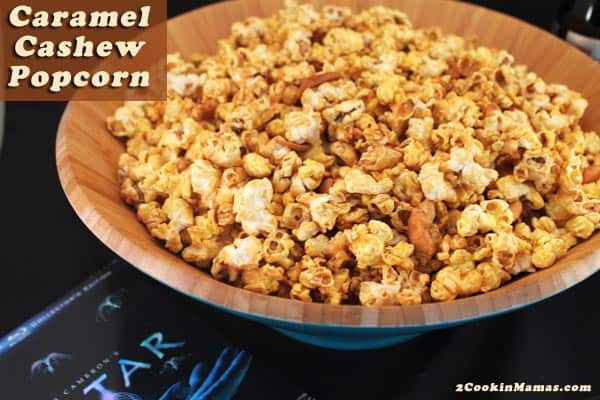 OK, I know this isn't our normal day for putting out a post but we just had to share this delicious recipe for an addictive popcorn in time for National Popcorn Day (which is today!). I made this for a car trip my husband and I took last year, in case we got the munchies, and it turned out so good that my husband wondered why I hadn't brought more with me. lol Like we needed it!
It is super simple to make and I am sure the whole family will devour it in no time. It is great to have for movie night, a kids slumber party or for Super Bowl parties.
Enjoy!
Caramel Cashew Popcorn
Ingredients:
10 cups popped popcorn
1-1/2 cups cashews, coarsely chopped (I buy the halves & pieces)
1 cup packed light brown sugar
1/2 cup butter
1/4 tsp. salt
1/4 cup water
Directions:
Preheat oven to 300 degrees. Spray a large rimmed cookie sheet with non-stick cooking spray.
Pop popcorn or purchase already popped. I found mine, at a great price, at my grocery store deli. Pour into a large bowl and add nuts.
Mix brown sugar, butter, salt and water in a small saucepan. Place over medium heat and bring to a boil while stirring constantly. Pour over popcorn-nut mixture and stir to coat well.
Spread out on prepared cookie sheet. Bake for 20 minutes, mix well, then bake for another 20 minutes. Remove from oven and place on wax paper to cool.
Store in plastic bag popcorn came in or in an airtight container.
DON'T MISS A RECIPE!