Now your favorite snack made quickly & easily. It's our family's favorite recipe for Microwave Peanut Brittle. No more cooking & stirring on the stove, just pop in the microwave! Cuts the time in half and comes out perfect every time! Makes the perfect homemade holiday gift too!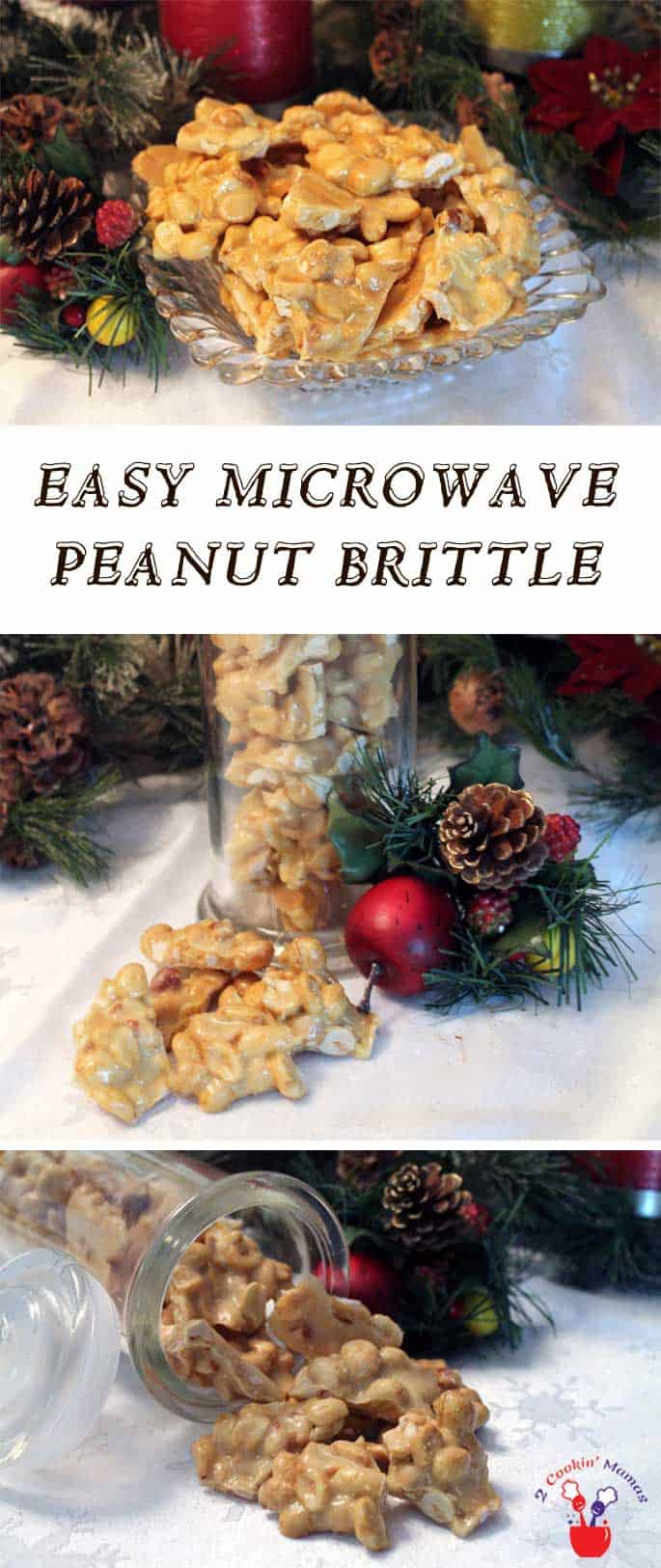 I know it is after the holidays but when I saw that it was National Peanut Brittle Day I just had to share our family's favorite recipe.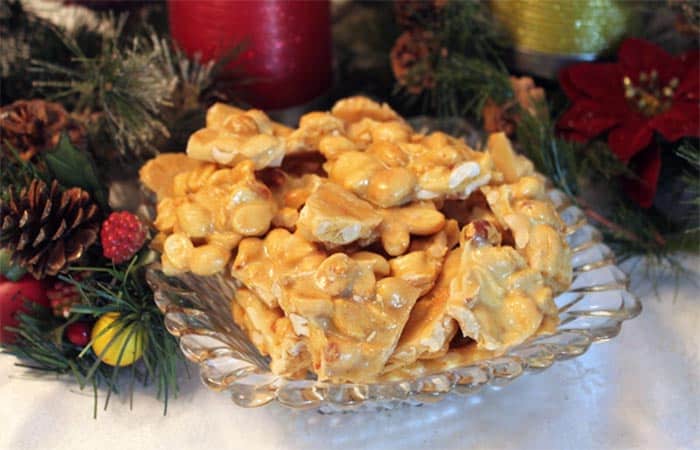 I have been making this peanut brittle recipe for the last 30 years and it has become a holiday favorite with both my family and close friends. I usually make between 10 and 20 pounds for Christmas and give it away as gifts and even send it to my kids if they aren't coming in for the holidays.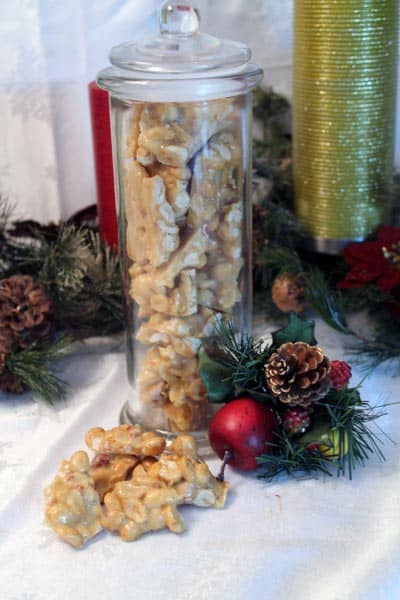 In fact, when my Dad was still alive, this was his favorite treat of the Christmas season and would always ask for some to bring home with him. That way he said Christmas would last that much longer! Good rationalization right?!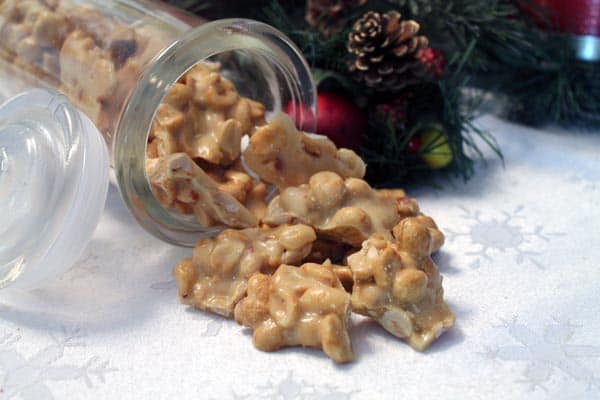 This is not a hard recipe to make but it does involve several steps and lots of trips to the microwave. I usually set up an assembly line of ingredients so that I don't forget anything. I would advise having 2 large bowl and 2 separate spoons or spatulas. When you have finished cooking the first batch, put that bowl and spatula in the sink and fill with very hot water. Let it sit while you make the next batch. Once it has sat long enough, you should be able to clean it easily and get it ready for the third batch.
Enjoy!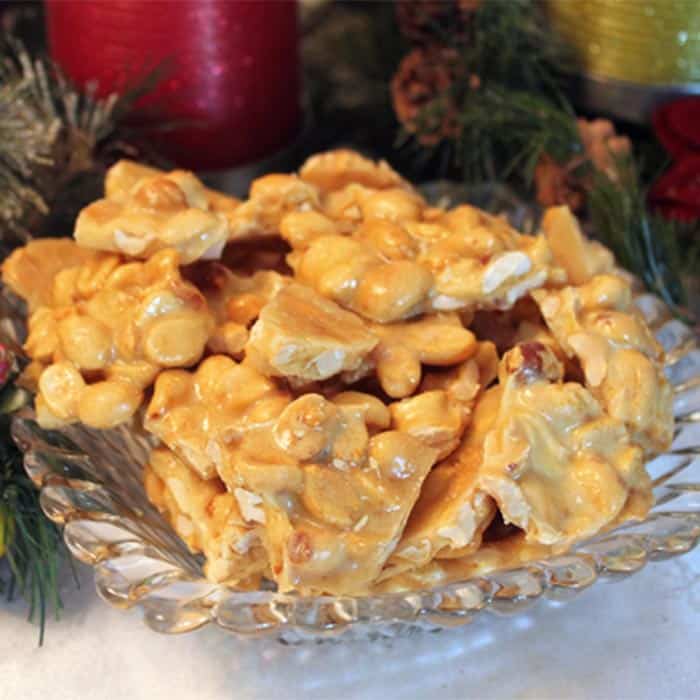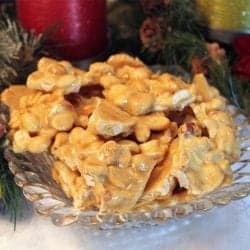 EASY MICROWAVE PEANUT BRITTLE
Quick & easy peanut brittle. No more cooking & stirring on the stove, just pop in the microwave! Cuts the time in half and comes out perfect every time!
Print
Rate
Ingredients
1

cup

sugar

½

cup

light corn syrup

2

cups

roasted or dry roasted peanuts

1

teaspoon

butter + additional for baking sheets

1

teaspoon

vanilla

1

teaspoon

baking soda
Instructions
Butter for greasing baking sheets. Generously grease cookie sheets with butter and set aside.

Combine sugar and corn syrup in a microwave-safe bowl and cook in microwave (based on 1000 watt) on high for 3-½ minutes. Remove from microwave.

Stir in peanuts using wooden spoon. Place back in microwave and cook on high for 2-½ minutes.

Remove and stir in butter and vanilla, return to microwave, and cook on high, again for 1:40 minutes. Candy should register 300 degrees on candy thermometer. (Once you know how your microwave cooks you will not need to use a candy thermometer but can rely on the time.)

Blend in baking soda and stir until light and foamy (happens quickly) and pour immediately onto prepared baking sheet, spreading quickly to thin out.

Set on wire rack to cool. Once cool remove from sheet and break into pieces.

Store in airtight container for up to 3 weeks.
Notes
WARNING: This mixture gets very hot and can burn you very badly as it sticks to the skin when melted. Be very careful!
Check out more sweet & delicious treats from 2 Cookin Mamas!
DON'T MISS A RECIPE!